Transfer data and enjoy compliance using your site, Install best GDPR compatible WordPress plugins
GDPR stands for The general data protection regulation which is passed by the European union having numerous website owners on the list, seeking the best way to enjoy compliance. You have to install these GDPR compatible WordPress plugins to transfer data and make your site GDPR compliant. Without one, you may not be able to perform these actions at all. It is a rule which is passed by the European Union and has several complications restricting website owners to enjoy compliance. Install these plugins to enjoy maximum benefit right now.
You should know that if you fail to comply with the regulation passed by the European Union then you may be charged with a fine. This fine can go up to twenty million Euros or four percent of your total earnings from the business.
So you have to take prior permission from the user for collecting and sharing his personal information. You cannot take a step further if the user refuses your proposal. Mostly, websites tend to collect data through Google analytics and if you don't have prior consent then you can't do this action at any cost.
Here is the list of best GDPR compatible WordPress plugins to make your site GDPR compliant:
1. MonsterInsight
Is it one of the best Google Analytics plugin in the world which is GDPR compliant. The best WordPress plugin is out now so don't wait and hit the install button right away. It allows you to remove details and disable personal data tracking. If you are willing to track data then you can do it by enabling a consent box through plugin integration which is unlocked with MonsterInsights addon. Once the consent box is active, this plugin will wait for consent to be made by the user for loading the analytics script.
2. WPForms
It was once the best contact forms plugin but now it is the best WordPress GDPR plugin worldwide. You can store and collect IP addresses and user info associated with form entries. You can attach a GDPR agreement field and easily add a consent checkbox to the forms which are possible because of the presence of a new form field option. It is helpful when you use the form data to pass the information to CRM software or an email marketing service.
3. Cookie Notice
It comes free and lets you create messages fully customizable informing the users about you using cookies on your website. Apart from that, this plugin lets your users check-in and out of viewing your site. Additional features like attaching a redirection link on the notice board to pass more information to the users regarding cookies and privacy. It is compatible with MonsterInsights and using both the plugins together will serve the best purpose. Do not wait and enjoy the benefits of outstanding plugins right now.
4. Delete Me
If you have trouble holding your customer count on your website then install Delete Me. Once you have installed this plugin, users will be able to sign up for an account on the website and can delete their profile instantly as per their requirements. Delete me reminds the users confirming their action of deleting their profile in the first instance. This way, users who are about to delete their profile unknowingly are saved. Isn't a great feature helps the user to take action instantly but safely? If you have this feature on your website, both users and you would be benefitted.
5. OptinMonster
It is a lead generation plugin which uses targeting features in the best way to fire up the conversions. On the other hand, it is GDPR compliant. It has a check which can be customized for safeguarding your field. You can guide the users towards your policies such as privacy policy and can also directly ask for explicit consent. Technical support is available if you make a mistake and get into trouble. You only need to fill-up the form after which a member from the audit team will get in touch with you.
6. Shared Counts
This plugin allows you to attach tracking cookies and the shared count varies. The plugin has a static share button which is preloaded and displays the share counts. Don't worry as it only activates cookies when receives a consent. Don't worry as it is a safe process. It can be customized the way you want to and the developer may find it friendly in the first instance.
7. WP GDPR Compliance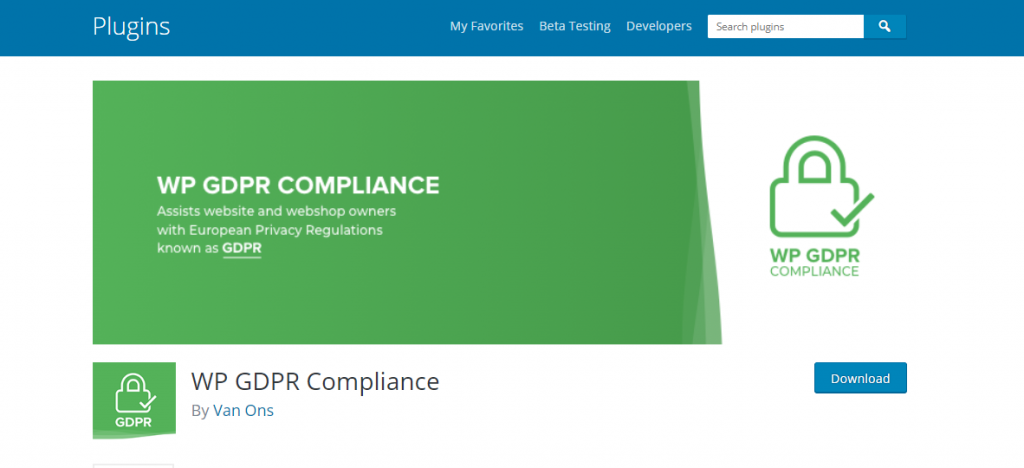 People who use Gravity forms, WooCommerce or WordPress Comments should try WP GDPR Compliance which is meant for these platforms. This plugin allows you to attach a GDPR consent checkbox to your website into different sections. Users can easily drop a request into the inbox asking for their data which might be stored in the website's database. It is possible only after consent. Users drop this request using a data request page available. Once the request is made users would get temporary access to the particular information and could demand to get their data erased if want to.
8. Compliant
It has positive reviews made by the users and has outstanding features that make it different and one of the best GDPR compatible WordPress plugin. It has a premium version providing A/B testing for cookie banners. You can use fresh layouts to get an idea regarding the best consent ratio. Easy to use and has a free version which usually blocks cookies that comes from social media sites. The best way for more conversions is here now. Install it now.
Keeping your site Compliant is necessary
Install the plugins mentioned above and get huge European traffic on your website irrespective of the regulation made by the European Union. To prevent trouble and hear from the users, just give these plugins a try. You can now reduce the burden and utilize your time in some other productive activity.