It is mandatory to take care of your website security and maintain the security of your WordPress installation. Just think of the disaster that can strike if your website gets hacked with your personal information and those of the users stolen and the long hours of your work all messed up with. So, you need to make your WordPress secure.
Free WordPress Login Page Security Plugins
To assist you in that effort, we have conducted our research and assorted a list of WordPress Security Plugins that enhance the security of your website. Let's scuttle forward with the ongoing list.
#1  WordFence WordPress Security Plugin
The maximum downloaded WordPress Security plugin with over one million active installations till date, WordFence is a feature packed, powerful, and regularly updated security plugin. This plugin extends security from hacking, malicious traffic, and disruptive software designed to gain illegal access.
Some of the features of WordFence that add an additional layer of WordPress Security includes:
WordPress Firewall
Scanning of Security
Blocking Properties
Login Security
Multi-Site Protection
Monitoring Features
Major Theme and Plugins Packed
IPv6 friendly
WordFence also contains premium API key which supplements it with additional features like scheduled scans, country blocking, premium facility and 2-factor certification that permits you to log-in to WordPress applying password and your mobile. The premium scheme also verifies if your website IP is getting utilized for spamvertize.
#2  Sucuri Security WordPress plugin
Sucuri is a market leader in the WordPress and Website Security domain and their WordPress Security plugin consist of a scanning and surveillance tool for WordPress. The 4 primary features of this free WordPress Security plugin includes:
Auditing of Security operations
Remote Malware Scanner
Monitoring Of File integrity
Overall Hardening Of WordPress Security where steps are taken to secure your website from external threats
Sucuri is ideal for expert users and developers as basic knowledge is required of codes and files in WordPress. Besides operating a manual scan and handling the hardening features and settings once, the users do not have to do much.
#3  WP Antivirus Site Protection WordPress Security Plugin
As indicated by its name, WP Antivirus Site Protection WordPress plugin serves to safeguard your site against malware and viruses. This free plugin scans every WordPress installation files and identifies spyware, malware, hidden links, worms, Trojan horses, backdoors, adware, and fraudulent tools and eliminates them. This plugin examines your files applying Siteguarding.com API against the everyday updated virus database. When any threat is detected by the plugin, it exhibits it in the dashboard of the WordPress Admin and also sends an email if you so desire.
#4 All In One WP Security & Firewall
This feature-loaded free security plugin offers a simple interface and moderate customer support with no premium plans. A highly graphical plugin with meters and graphs to make the beginners understand metrics such as security strength and the things to implement for a stronger site.
Its features are segregated into 3 classifications:
Basic
Intermediate
Advanced.
This gives you the opportunity to efficiently use the plugin if you belong to the advanced developer category.
This plugin operates by safeguarding your user accounts, thwarting forceful entry on your login, and improving the user registration security. File and database protection has also been packaged in this plugin.
Some of the primary features of this plugin include:
A blacklist tool where you are able to fix certain conditions to obstruct a user
You are allowed to backup .htaccess and .wp-config files and a tool for restoration if any defect occurs
The plugin presents a graph to indicate the strength of your website and another graph that delegates point to some regions of your site. It is one of the finest features that helps an average user to estimate the exact performance of site security.
A free plugin with no upsells along the course
#5 BulletProof Security WordPress plugin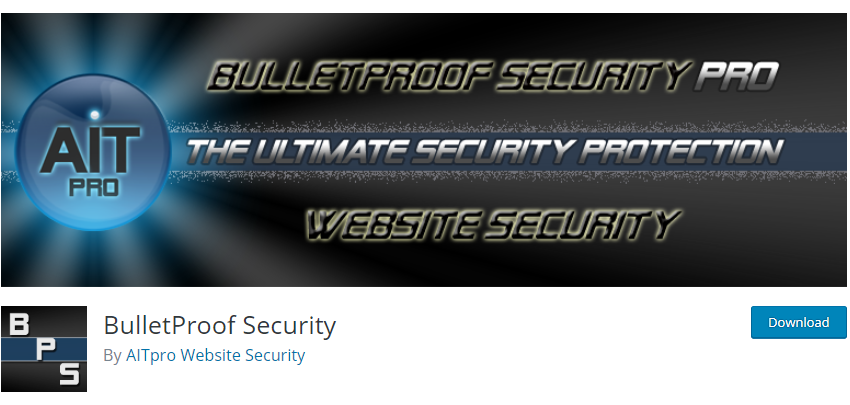 Though not amongst the user-friendly WordPress security plugin, BulletProof Security plugin performs the work for advanced developers who want to get advantage from its unique settings and functions such as the anti-exploit guard and the online Base64 decoder.
The leading features of BulletProof security plugin include:
Contains advanced security tools with features such as BPS Pro ARQ Intrusion Detection and Prevention System solutions in encrypting, along with cURL scans, locking of folders and much more
Its free version sufficiently features laden for an average website
Database backups and restoration are also provided
You can conceal individual plugin folders
It contains maintenance mode functionality which is not present in various security plugins
Login security and surveillance
MScan Malware Scanner
Tools for anti-spam and anti-hacking
Bulletproof Security safeguards your WordPress site or blog by adding a strong firewall, securing the database and its backup and extending protection from Brute Force Login Attacks, It also examines the .htaccess file for codes that are malicious and influence both website security and speed. This plugin has easy installation due to its single click install wizard. You can also configure the advanced features by activating manual mode.
I'd suggest you try out the free plugin first since it offers the following tools:
It's not the most user-friendly WordPress security plugin, but it does the job for advanced developers who want to take advantage of unique settings and features like the anti-exploit guard and the online Base64 decoder. It also has a setup wizard auto-fix feature to help make it a little easier.
# MalCare Security and Firewall WordPress Plugin
This comprises another interesting free security plugin for WordPress. As is indicated by its name, the plugin is both a firewall as well as a security plugin. It also contains an in-built login protection mechanism that secures the WordPress admin dashboard from attempts of Block brute force login.
The malware scanner examines your site's code against the presence of 100 signals of malicious code. Such malware scans are conducted automatically on an everyday basis. A manual scan can also be performed by you anytime with a click of a button. This plugin maintains a close watch on file modifications to identify any malicious action of malware and viruses beforehand.
MalCare free WordPress plugin also incorporates a smart, rule-based firewall which supervises all traffic such as visits, login attempts, and errors and preserves them inside the database. The servers of MalCare gathers the data at regular periods from every website, examines it and utilizes it to curb attacks on the sites on their network. The best part is that a major part of the work is performed at MalCare's end and the security processes are conducted on MalCare servers. This does not let the plugin impact the performance of your website and its speed. For additional feature, you can utilize MalCare's premium WordPress security service that houses automatic malware removals, inbuilt offsite backups and more.
# WPS Hide Login
As WordPress is open source, its code is available conveniently for everyone. This makes it more vulnerable to bug fixes and security breaches and allows potential hackers a direct view of your login form structure.
Every site of WordPress uses wp-login.php as its main login page. But with WPS Hide Login you can alter this URL.
An excellent plugin, WPS Hide Login does not alter any of the core WordPress code. The login page name remains the same, but the URL is managed dynamically through PHP as it checks every incoming traffic. It can also shift your/wp-admin folder to a particular location of your choice. This plugin also effectively makes the wp-admin directory and wp-login.php page hard to access. The reason behind such action is that various brute force attack just skims the web to find the standard login page URL till they detect one for the attack. Changing the login page can aid in preventing such attacks by mindless bots.
This simple to use plugin can ensure your website security on a long term basis and performs with every WordPress add-ons such as BuddyPress, WooCommerce and bbPress.
[idea]To know about WordPress Usage Statistics on WordPress Security, click here.[/idea]
Conclusion
And so here you have our top picks of free WordPress security plugins that can help you to neutralize online threats, These listed plugins will operate to safeguard your site from hacker and malware and bring improvements to your website that would keep you ahead of competition, offer an improved user experience and attain the goals you have placed for yourself. Get started with these powerful WordPress security plugin right away.