Available in more than 68 languages, WordPress provides excellent opportunities to thousands of people to build their businesses online. It can be downloaded and used by anyone in the world for free. So, if you are a budding developer, designer or entrepreneur and are curious about what to do after you are Installing WordPress, take a look at the important points below.
General Settings
The first step is to assess the necessary components that make your site unique and inform search engines and visitors of your website. These include your Site Title, Tagline, Time and Date Format Settings, Timezone, Permalink Structure and WordPress and Site Address URLs. You'll find all these under the General tab of the Settings menu, in your WordPress dashboard.
Site Title represents your website's name. Tagline comprises of a catchphrase or slogan that describes your site or its services. Both of these will appear along with each other in the browser's title bar. Hence, they must be short and crisp.
In Site Address, type the URL you want users to enter to visit your site. The WordPress Address is the complete URL of the directory that contains your WP core files. The Site address and the WordPress address must be identical unless you give WordPress the directory of its own.
Timezone helps to synchronize your posts' time with the timezone you follow. This makes scheduling posts easier. The Time and Date format settings let you work with preformatted options or generate your own format for the time and date to be exhibited on your site. These generally are visible as your posts' metadata and maintain your timeline.
Permalink Settings
Permalinks are permanent URLs assigned to individual pages, blog posts and tag and category archives. You can create your own permalink or chose one of the given options. Always insert the name of your respective posts in your URLs or permalinks for best SEO results.
Site Identity
Site Identity Tab includes functionalities like Site Title and Tagline. You can find this tab by clicking on Appearance, then Customize and then by going on Site Identity. You already have set up the Site Title and Tagline under General Settings. All versions of WordPress after 4.3, let you add a unique Site Icon to your site from your WP dashboard. This icon acts as a unique representation of your site on the web and helps people to instantly identify and relate to your website.
Comments and Discussions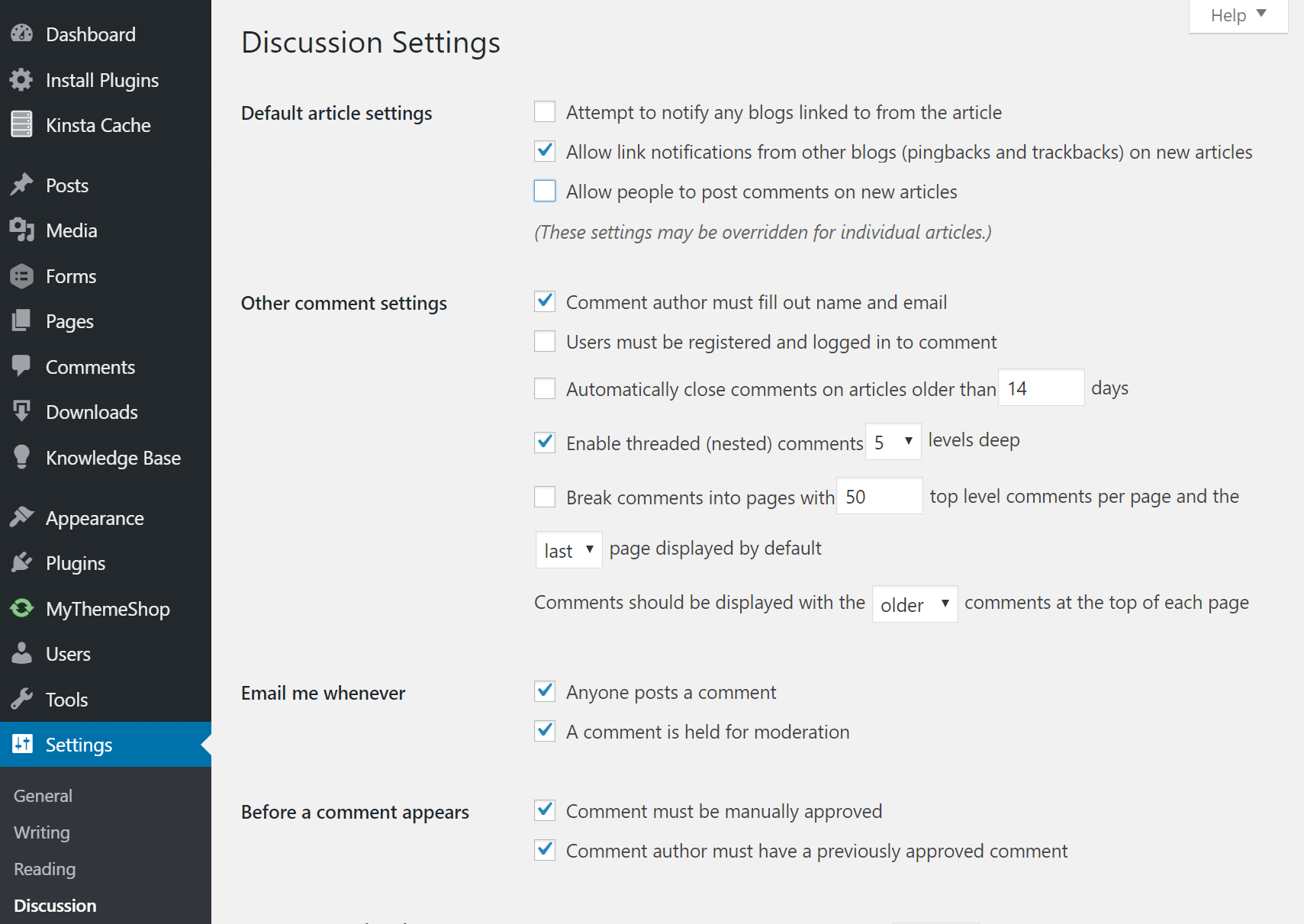 Moderation of comments on your site is important as it helps you prevent spam. It lets you control who comments on your site and how. You'll find this option by clicking on Settings and then on the Discussion tab. Here, you can get users to register and login to review or comment or individually accept or reject every new review or comment to control spamming on your website. You can also control the situations in which notifications in the form of emails about all comments will be sent to you.
Content Settings
Content has the power to change people's decisions. Great content creates space for people to pause and reflect, transforming them into loyal clients. WordPress comes with the same mock post titled 'Hello World!' and a mock page for every site. Since it is useless, it needs to be removed. To delete the mock post, you can click on Posts and move your cursor on the post named 'Hello World!'. As soon as you get Trash symbol there, click on the symbol. Now, go to 'Trash', move your cursor on the post again and click on the button, 'Delete Permanently'. To delete the mock page, you can click on Pages and move your cursor on the mock Page tab. You will get the Trash symbol. Follow the same steps and click on 'Delete Permanently'.
To add posts, you can go to Posts and select Add New button. You would be directed to a word editor where you can add your new blog.
WordPress requires posts to be classified under at least one category. The default category is 'Uncategorized'. Hence, if you don't specify the category when writing a blog post, it will be filed under the 'Uncategorized' category. You can select your desired default category, by clicking on Posts and then Categories page to generate a new category. This will be used as your new default category.
Search Engine Optimisation
Search Engine Optimisation or SEO is the process of getting visitors from free, organic, editorial or natural search results on search engines like Google and Yahoo. WordPress is already quite SEO friendly. However, there are better ways to achieve maximum efficiency for your site's SEO and bring even more visitors to your site. The most efficient and complete SEO solution is the plugin, Yoast SEO. It automatically directs you through the steps needed to achieve maximum efficiency on your site. It also helps you create better content with increased readability and important keywords.
Yoast generates an XML Sitemap of your website automatically. Sitemaps understand the structure of your blog or website and enable search engines to index them. Not only this, it also informs major search engines about your newly created posts every time you create them. If you didn't install the plugin, Yoast SEO or if the SEO plugin you selected doesn't automatically create a sitemap, you will have to do Google XML Sitemap installation.
Remember, the most appropriate time to set up any site's SEO is just after WordPress installation.
Google Analytics
It is said that rowing harder doesn't help if the boat is headed in the wrong direction. Hence, analysis of what you are doing helps you attain success. As a site owner, you must have a deeper understanding of your targeted audience. You need to know what your clients want, and how can you deliver it to them. Google Analytics helps you do exactly that. It lets you assess the number of visitors that come on your site, their geographical insights and even the actions they take on your site. This helps you to take wiser steps to flourish your business. Google Analytics can be installed using MonsterInsights plugin which shows a simple and comprehensive analytics report in WordPress itself.
Cache
Cache is used to store data locally in order to speed up subsequent retrievals for a particular site. It is the most efficient way to optimize your WP sites. This is because during caching, servers return a "static page" for the entered URL, that decreases the use of resources and vastly improves the loading speed and as well as the number of pages loaded per minute. WordPress has a few good caching plugins but we would suggest you the WordPress Super Cache or W3 Total Cache plugin. Remember, caching can considerably enhance your website's speed and user satisfaction.
Backups, WordPress Security and Spam Protection
Data is what makes the world go round. WordPress itself is a very secure platform but accidents don't tell and come. They just happen. Imagine someday you lose some of your important data accidentally. What would you do to recover the data?  You can do nothing unless you have a backup. Thankfully, there are many WP plugins that can be used to generate backups automatically. These plugins allow you to schedule automatic backups and store these safely on cloud storage and file sharing services like Dropbox and Google Drive.
Not only for data recovery, WordPress also offers useful plugins and features that provide additional security to your website. A few of these are easy like selecting a strong password, installation of timely updates and protecting the WP admin area. We recommend you to use a strong firewall plugin like Sucuri or WordFence to protect your site completely.
Spam comments linked to websites containing malware have a degrading effect on the reputation and search rankings of your website. We have already told you about moderation of comments in the Content Settings section. But it is quite tedious to moderate comments as spam grows. Hence, to combat this WordPress has a pre-installed plugin called Akismet which takes care of the spam automatically.
Themes
The most important step that still remains is setting up your WordPress theme. WordPress offers more than 5000 free and exclusive themes with different features and customization options. If you do not want to use one of these themes, you will have to install and activate the theme you like. You can upload any of your external themes either through WordPress or FTP.
For uploading through WordPress, go to Appearance, select themes, go to Add New option and then click on Upload Theme. Then, choose the .zip file for the desired theme.
For uploading through File Transfer Protocol (FTP), unzip the .zip file first and then upload the appropriate folder using any FTP clients like FileZilla, WinSCP, and Cyberduck into the WordPress-content/themes on your purchased domain.
Once you upload the desired theme, you can click Activate in both the cases. Your theme is activated and ready to use and customize now. Explore options like color schemes, layout choices, header styles, and more in your theme and design what you desire.
Blog and Front Pages
The blog and front pages of a website are your primary engaging weapons and the face of your business. On WordPress, blog posts are displayed on your site's homepage automatically. Although if you want your site to have a static homepage with custom layouts, you can click on Settings and then select Reading Page and choose the particular pages you need as your blog page and front page.
Add a Contact Form
Once visitors start flocking to your site, they may want to contact you or need your help to understand some of your services. Hence, for this, all websites on the internet need a contact form. For WordPress, a plugin called WordPress Forms allows you to generate attractive forms for your website visitors to quickly contact you.
We hope now you know about everything you need to do after installing WordPress. For more information and tips on WordPress, you can please subscribe to our website and follow us on YouTube, Twitter, and Facebook.