Build a Website like Indeed and Glassdoor have always been one of the smartest ways through which many people can rummage and gain opportunities related to various jobs. People have found many potential jobs and almost every person seeking a better job outlet will always access websites like Indeed to have better work possibilities.
Job search websites have huge potential to ensure regular traffic and let people from all walks of life discover the best of job experience and skills. In this article, we have compiled important points through which a brand can easily build a strong sturdy website like Indeed.
Build A Website Like Indeed
1. Understanding Your Niche
Many job portals often create websites that serve the two different industries altogether. Firstly, certain websites cater to versatile job industries and professions. These websites have many job listings that have been related to different industries and generally are quite expensive and time-consuming to prepare and develop archival data.
Similarly, preparing a website that caters to the single work industry is a smart way to begin and is a wiser attempt to create a website that is complete in its core. The website can list a particular industry and can list all important jobs related to that particular niche.
One of the most important things for a web admin to do is to research thoroughly about the niche that is booming in the market and possesses a revenue-generating flair for the admin to work with. There are a few ways through which a niche can be chosen to work with:
One of the primary ways of researching for a job portal website niche can be through personal experience and knowledge. A person can apply his statistics and logic to create smart ways of putting job listings live on the site.
Secondly, the website admin can either study the blogs and articles or keep a track of industries that have been on a successful course to rise. Also observing sites like Quora and Reddit to seek popular job niches can be a good idea to study and seek inspiration from.
Searching the keywords for jobs via google trends and studying the pattern collected via google to study various job niches.
2. Selecting A Niche And Developing A Job Model
Once the niche has been selected, the web admin will later put more force into developing a job model that will consist of all standardized data related to that niche and jobs to be published on the website. This model will also be segregated in terms of categories and subcategories such as job types and industries, salary and manpower, locations and duties, etc. A job model will portray the space where adequate jobs can be found as well as employers can list their job notifications to find suitable employees at the site's discretion.
Also Read: Top Video Background WordPress Plugins
A site model should have listings divided among categories such as company, job type, keyword, and title.
The site infrastructure should also include internships, volunteer programs, and services.
The site should also have a space for advertisements for various job sectors with details on the type of jobs and duties assigned.
3. Monetizing Your Website
A career job website can be monetized in many ways. SEO optimization can drive considerable traffic to the website through which a website can earn money and revenue with. Similarly, adding advertisements on the website and directories can also be an exciting way to earn revenue. Including a payment gateway to make the employee register for the job can also be a way to popularize the site. Revenue generation via ad promotions is also a profitable way to monetize your website.
4. Choose A Potential Content Management System
With Drupal, Joomla and WordPress, the choice becomes quite difficult to begin creating your indeed-like website from scratch. However, a potent CMS can provide plenty of ways in which a website can gain its full functionality and access various domains.
Here, I will explain to build a website like Indeed using WordPress as it offers a wide variety of plugins and themes that can make any website more lively and enriched with content. To create a WordPress website a user has to follow these points:
Buy a web host to fuel your website through annual subscriptions.
Buy a domain name, a unique address to have an internet identity through which people will access your website.
Install WordPress CMS on your website.
Add plugins and themes that you think will help make your website more functional and proactive.
Choose a Plugin to Create Job Board Like Indeed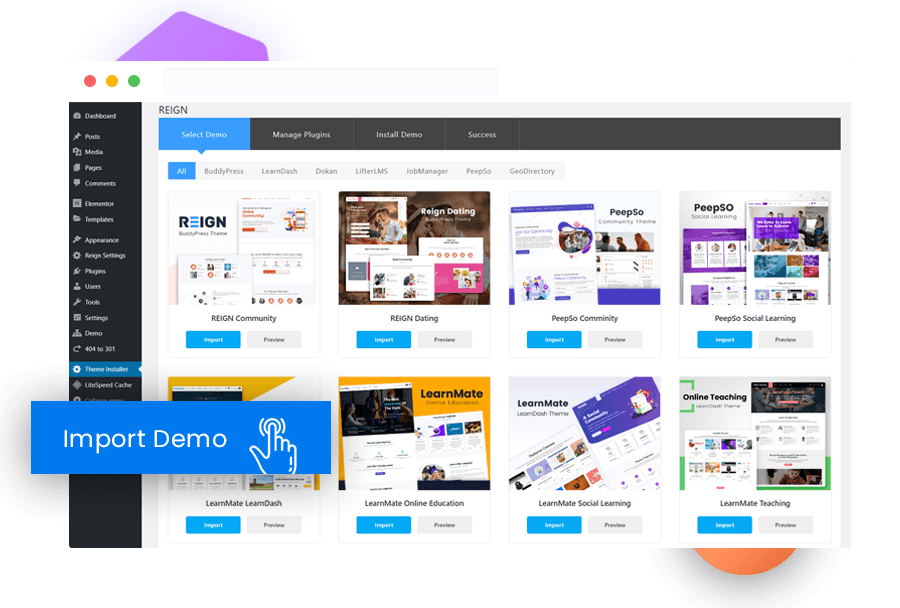 There are various Job board plugins available in the market like WP Job Manager, Simple Job Board, Job Board Manager, Job Portal. Here, I will be explaining to you the steps to create a job board website like indeed using the WordPress Job Manager plugin as this is the widely used and most popular plugin. Also, it has a variety of addons available that help you to add more features to your site.
WP Job Manager – Job Listing Plugin
WP Job Manager plugin is an essential plugin for job listing websites that adds credibility and functionality to your WordPress website in terms of job listing and professional opportunities. The plugin provides features such as:
Add, manage and categorize job postings based on niches.
Ajax powered searchable and filtered job listings.
Front-end forms for guests and registration for users.
Allow employers to view their listing first without publishing it.
Listing can be tied to emails or website addresses for public coverage and broadcast.
Searches show RSS links to notify users of potential jobs.
Logged in users can see the view and edit jobs.
Developer-friendly code and templates.
How Reign JobMate Theme Can Help You Build Your Job Search Website From Scratch
Once the website has been designed with all the necessary content and details, a theme that embraces the website's vision and objectives need to be prioritized to develop an impression online. A jobmate theme is an impeccable approach in this direction through which a job search website can gain influential traffic and generate revenue for the same.
Also Read: Benefits of Building an Open-Source Knowledge Base
Reign JobMate is the ultimate WordPress Job Board theme that is fully compatible with WP Job Manager Plugin, that helps you create a site like Indeed in a few swift clicks. The theme has a fantastic smooth layout and offers a multidisciplinary approach to create job listings with adequate attention and care.
Notable Features:
1. Advanced Live Search And Filter Option
JobMate contemporary techniques make it easier for the employees to search for potential jobs and also filter them to suit their individual needs. This enables faster job results and listings to apply and get responses quickly.
2. Multiple Job Listing Option
The theme also offers a comprehensive display facility to make your job listings look appealing and impressionistic. The jobs can be viewed in various formats including listings, grid, card, and slider to make the job browsing experience fun and easy.
3. Single Product Customization
The JobMate theme provides an essential option to display the single product page with brand information and credentials
4. Different Resume Listings
The theme offers a complete holistic job experience by offering three different template designs for resume building and enhancement.
5. Community Integration with Buddypress or BuddyBoss Support
The theme is highly customizable and offers great support for BuddyPress or BuddyBoss platform to have an enriching community experience in the Job Board Website.
6. Social Gamification and EDD facility
The theme ensures an all-round approach with providing the facility of social gamification to unlock digital rewards and also let the users have access to easy digital downloads to sell services as potential products
7. Sell Courses Online
The theme is well equipped with LearnDash that can provide instant facility to make a website transform into a place that sells online courses and curriculum
8. Create Social Marketplace
With the help of the WC vendor or Dokan plugin, the JobMate Theme also gives access to a WP site to create a social marketplace where vendors can sell their products and services with ease.
9. Easy To Use And Responsive
The JobMate theme is easy to use and comes with an advanced customized for further theme advancement. The theme is Gutenberg supported and fits all screen resolutions with minimal lagging.
Also Read: What is WordPress? An Overview of the World's most popular CMS
Reign WP Job Manager Addon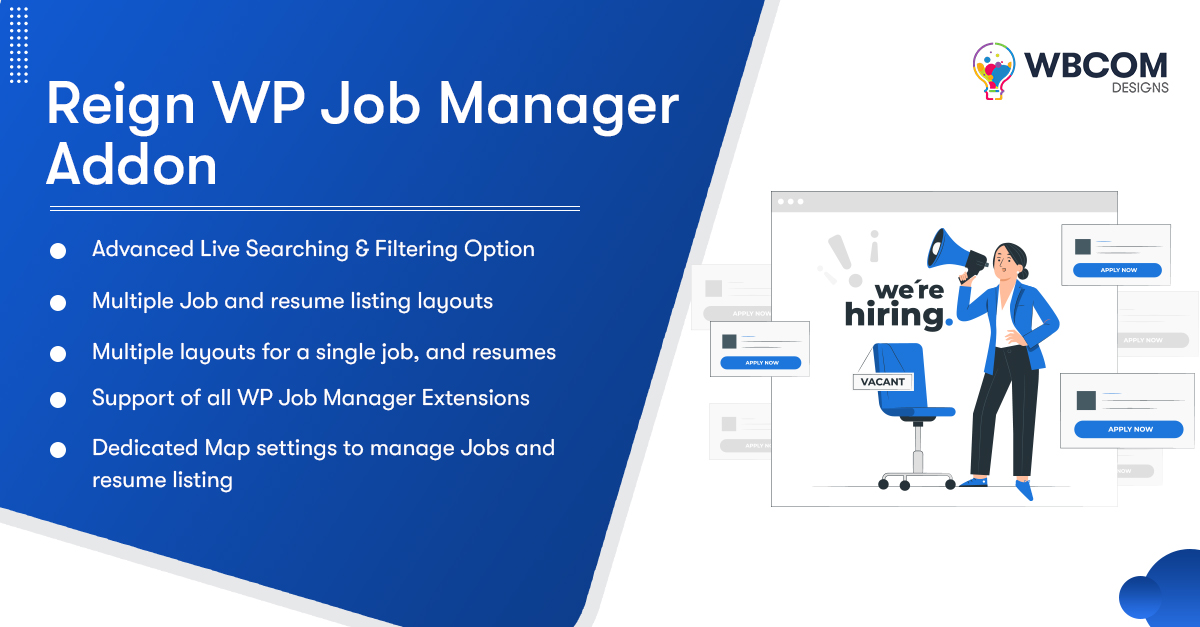 Reign WP job manager addon can add more functionality to your WordPress website and can render the website much easier for any job listing. The addon provides features such as:
Advanced live search with filter.
Multiple job listings.
Multiple header variations.
Distinctive Resume listing types.
Job listing that is embeddable.
Job manager map settings.
Various job and resume layouts and templates
Gutenberg ready
Color and typography options.
Optimized to fit mobile screens
Conclusion on Build A Website Like Indeed
Job search engines have become a new norm where job profiles can be accessed easily and are one of the most popular ways to generate traffic and revenue. Hence to ensure that the portal works fine and in sync, the article provides useful insight to create any job search portal from scratch.
Interesting Reads:
How to Create a Dating Website Using WordPress Plugins
BuddyX Theme Review: An Ideal Free Social Membership Theme