Are you trying to create your membership website? If the answer is yes, then this post is for you. Here we will try to cover every aspect of a membership website and tell you about creating a membership website at the most affordable cost using the world's most extensive Content Management System (CMS) WordPress.
Let's first know what exactly is a membership website.
What is a membership website?
A membership site is a website with restricted access to specified content and a member login page. People must have an active member account on your site to access the material on these protected pages. If they do, they'll be able to access your site's members' section and read the content you've hidden behind the login screen.
In more simple words, A membership website is a section of your website that is only accessible to registered users and provides them with access to exclusive material.
Both free and paid members can join a membership site. It can also have multiple tiers of members, each having its own set of access privileges based on its membership status. A membership site's advantage is that you may charge users regularly (monthly, semi-annually, yearly, etc.) for access to the restricted material.
Some great examples of membership websites are Amazon Prime membership, Netflix subscription, SkillShare subscription.
Pros of a Membership Website
Recurring Revenue: The majority of premium membership sites charge their customers periodically. Customers will be automatically charged a membership fee when they sign up or when their membership will about to expire. Paid membership models ensure that money continues to flow into one of your business's channels, even during slow seasons or unforeseen downturns.
Motivation: We need a schedule or a deadline to keep ourselves motivated. A membership website does just that. To achieve tremendous success, we have to provide our members with a continuous stream of new content, and we have to keep updating the old content. 
Referral benefits: The members tell their friends and family about the influence of your website on their lives. Their referrals bring more members; hence, more revenue is created. Many premium membership sites have affiliate programs to reward users who bring in new paying members regularly.
Highly analytical data collection: Paid membership models assist organizations in creating a database of prospects and customers who are eager to receive emails and try out new products or services. This increases the value of your email marketing efforts and other content distribution initiatives like blogs and newsletters. This can help us in the marketing of many products and services that create value for our members.
Good marketing: You have the potential to cross-promote many products and increase your earnings. Your consumers are paying members, and if you bond with them well, you'll be able to propose additional products or services that will benefit them, allowing you to earn extra money in addition to your member sales.
Cons of a Membership Website
No break: Whether you have an illness or other issues that created a hurdle, you have to provide content for your members. If you're going to a paid model, you'll need an excellent editorial schedule and plan in place. The paying clients want a consistent experience, and without it, they are no longer hanging with you.
Reputation matters: When you build a premium membership site, each paying client who refers a new customer puts their reputation on the line alongside your brand promise. Paid membership models must be aware of the importance of a recommendation and aggressively guard the reputation of the referring client.
Giving money's worth: If you're going to charge a client repeatedly, you must provide a consistent experience and product. If your competitor starts providing the same experience at a low cost or more enriching experience at the exact price, paid membership models fail.
Now let us move on to the membership models.
What is a membership model?
A membership model is a form of business strategy in which people pay a recurring charge to access the value created by an organization. It specifies the layout for various membership levels, income streams, finances, marketing activities, events, and conferences. Membership websites enable you to:
Create a community by gathering the like-minded people who are most active and engaged in your niche.
Monetize information by placing top-level insights that you wouldn't publish on your blog, YouTube, or social media.
Some of the successful membership models around the internet are:
Netflix
Code Academy
Harmon Brothers
And many more. You can also get your name on the list. You have just a few more steps to crossover.
How to validate your membership site idea?
If you are going to launch a membership website, you must have worked out an idea. It is crucial to validate that idea. It will give an insight into the future and will plan accordingly. Here are a few tips for validating your idea.
Know your competitors
The first stage in verifying your membership concept is to do a competitive analysis. A quick Google search will reveal your competition. You must understand that a high level of competition is not always a bad thing. It motivates you to work hard and create differentiation and get a step ahead of your competition.
If similar items are available, make sure to look into what they have to offer. If necessary, sign up or purchase, which will tell you precisely what you need to do to compete with them.
If there is less or no competition, try to understand the reason behind it. It may be because your idea is unique; if so, you can turn that idea into your forte. But do thorough research for the current demand. How can you create a market for your product? Is your idea a red flag? Did anyone tried before and failed?
Get the answer to these questions before moving ahead.
Target and reach out to prospects
There are individuals out there interested in what you have to say and the expertise you provide on a specific subject. You have to find them and create a marketing strategy to influence them.
Investing in lead generation specifically, getting people to subscribe to your email list is an excellent method to do this. Now is the moment to approach anybody who you believe may be a good match for the project. Whether you locate them in person at networking events, conferences, special interest meetings, or online via Facebook groups or other social media platforms and websites, ask them a few questions about your idea to see whether it scratches an itch or addresses one of their issues.
Run a Pre Launch Offer
Once you've received positive feedback from your target audience, it's time to move on to the next step: running a pre-launch promotion. Once you've completed all of the prerequisite steps, you may begin working on the fun things, such as setting up a membership site for your website.
You will be collecting valuable analytical data from various prospect members in exchange for a freebie, discount, or prepayments for your membership site access. Verifying your idea using the latter approach has extra duties since you must ensure the goods are delivered on time.
Launch an MVP (minimum viable product)
Except under extreme circumstances, I strongly advise against building a complicated membership site before releasing your product. Instead, focus on developing a minimal viable product (MVP) that has just the required elements. Don't spend your time and money on something that you think others will find boring.
Creating an MVP is a viable alternative to operating a business (MVP). Then distribute it to a small group of people or the whole internet. If you're ready, inform your target members and begin developing the necessary marketing tactics for your membership site as soon as possible. You may be able to enhance your concept and content based on early member comments.
What features should your membership site offer? 
Your choice is entirely dependent on the nature of your membership site. Always keep your target audience in mind and offer the kind of content they want. Having said that, certain types of content are shared across a variety of membership sites:
Standalone videos or video training/courses: Video is the most widely used kind of content. That is one of the primary reasons why membership websites use it as the foundation of their membership business.
Resources: These may contain various types of PDFs, such as e-books, checklists, and guidelines, among others.
Interactive Content: Questions, games, and other forms of interactive material are all available on the site. A fantastic approach to keep your audience interested in your membership site is to provide them with this kind of material.
Community forums and private chat groups: Many membership site owners want to establish a private community, such as a forum or a Slack channel, to facilitate communication. Because of this, members are made to feel unique and that they are a part of "something" that shares the same interests.
8 Steps to build a membership website
Now knowing most of the things about a membership website, let us move towards creating one. Here I will be providing you with steps. If you follow them accordingly, you shall have no problem whatsoever in building a membership website.
Get a domain name and hosting service
Install WordPress
Install required WordPress Plugins
Install the BuddyX theme
Import demo and customization
Explore and install several other addons and plugins for extended functionalities
Pricing
Continuous management
Step 1: Get a domain name and hosting service
Domain Name will be the name your company is known by throughout the world. The market has several domain registrations companies, such as GoDaddy Domains, Domain.com, HostGator, Google Domains, and more. The easiest way to register a domain name is to compare the various websites and pick the least pricing.
Rental or purchase of Internet space is required to make a website active and accessible, which is what 'hosting' is. Hostgator, BlueHost, Hostinger, and DreamHost are among the numerous hosting service companies. Find out whether your web host offers a dedicated WordPress server or other similar services for WordPress management.
Step 2: Install WordPress
Install WordPress at this point. This may be accomplished quickly, either via a manual installation or by purchasing a WordPress package from the hosting provider.
Step 3: Install required WordPress Plugins
A WordPress plugin is software that improves or expands the functionality of your WordPress site. Plugins may completely change your website, from minor tweaks to significant redesigns. We must incorporate particular plugins into our WordPress website based on our requirements. We'll utilize the following plugins to build a membership website:
Membership Plugin
A membership plugin is intended to assist you in creating memberships and then providing members with access to content.
A membership plugin makes it simple to:
Make email lists so that you may send coupons or updates to your customers.
Share free-content to gain a devoted audience.
Access to members-only material is charged for.
The two top-notch membership WordPress plugins are MemberPress and Paid Membership Pro. They will both provide you with all the functionalities you desire from a membership plugin. Some of the features they will be providing are:
These plugins are straightforward to set up. You have to click a few times here and there, enter details about products, upload videos, and your plugin is up and running managing content.
You don't need to move around pages, sub-pages, and custom posts to manage your website UI.
Easily handles externally hosted videos.
Both plugins have an automated notification feature built-in.
You can integrate the Easy Affiliate plugin for starting an affiliate program.
You can also assign subscription types and tiers easily.
Run a comprehensive email marketing program with the ActiveCampagin plugin, However, or more such plugins.
It is easy to manage members, group them, and marketing strategies based on their preferences.
You have fine control over your content when using MemberPress. You can decide whether to give full access or restricted access to the students and instructors.
Double your traffic and sales with the support of Monster Insights and its analytics tools.
There are several reports and analysis tools to choose from for getting insights about members, sales, and much more.
BuddyPress Plugin 
BuddyPress is a free WordPress plugin that converts your website into a social networking site. Users may build and edit profiles, as well as issue friend invitations. Send private messages, create and join groups, and engage in forum discussions, among other things. The following are some of BuddyPress's features:
Users can build and update social media profiles.
Users can send each other private messages.
Users can establish groups and ask others to join them. They might also be a part of several groups.
Users can keep track of various activity streams.
Users can create and manage blogs.
WooCommerce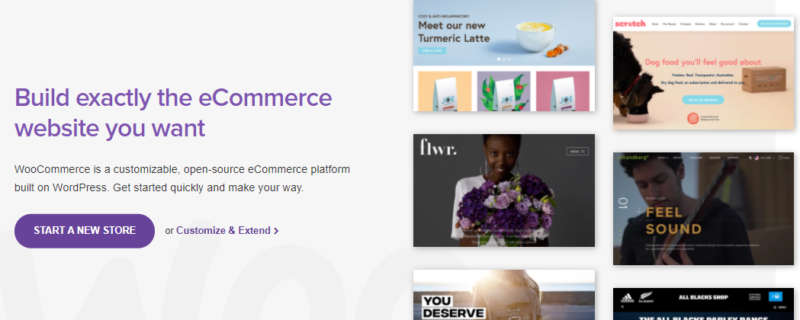 WooCommerce is an open-source WordPress eCommerce plugin designed for small to large businesses. The following are some of WooCommerce's features:
WooCommerce facilitates the integration of payment gateways onto your website.
You may use this ecommerce plugin to manage sales, coupons, and discounts.
It gives administrators access to several analytical tools and reports that aid in corporate decision-making.
It aids in the establishment of a single-vendor store.
We can now go on to multivendor plugins after installing WooCommerce.
A WordPress theme allows you to customize your website. The WordPress theme is in charge of the website's design, layout, color schemes, typography, and much more. Themes display the information and data that WordPress has saved in the browser. When you create a WordPress theme, you get to pick how the content looks and is presented. There are several options available to you.
The BuddyX theme
BuddyX is a free WordPress community plugin that supports BuddyPress and BuddyBoss platform to build community websites, also can be integrated with many other plugins easily. BuddyX is a lightweight, highly responsive community theme that can be easily customized without requiring technical expertise. This WordPress community theme has received a five-star rating on WordPress.org. The BuddyX theme is a great choice for startups as it is a free theme. You can easily upgrade the functionalities later by getting the BuddyX Pro. With the help of this WordPress theme, you can easily create the membership website any way you like.
Some BuddyX features are:
You may choose from a selection of demos and import them with a single click to have your website running in minutes using BuddyX.
BuddyX is a user-friendly, lightweight, quick, and responsive theme that adjusts to the size of the screen.
Personalize your website's header with a choice of header alternatives. You may also upload and modify logos, as well as change the color schemes.
The Advanced Theme Customizer option allows you to change the color schemes, fonts, and other theme elements. Not only that, but page builder plugins like Elementor and Gutenberg will enable you to create and design pages precisely as you want them.
BuddyX includes a BuddyPress widget that simplifies the administration of social websites.
Buddyx is compatible with all significant form plugins, including Gravity Forms, Contact Form 7, WPForms, and Ninja Forms.
Many plugins are BuddyX theme compatible, enabling you to improve your website's functionality. You may use bbPress, GamiPress, LearnDash, LifterLMS, LearnPress, WooCommerce, Dokan Multivendor, Yoast, and a variety of additional plugins to build your website.
Step 5: Import demo and customization
For a membership platform, the BuddyX theme offers a lot of demo choices. You may pick from a variety of options and see what you prefer.
Now, after selecting a demo, download and install it with a single click on your website. Then go to customization; you may skip this step if you want.
There is no need for modification anymore but go ahead to express yourself and make something unique. You can do anything using BuddyX's extensive customization options. There are many choices available to you, like controlling color schemes, altering typographies, and selecting from various header variants.
Step 6: Install Addons and plugins for extended functionalities
For creating a perfect membership website, you have to include many other plugins and addons to your website. Some of them are:
bbPress: For integrating a forum section in your site.
GamiPress: For adding gamification feature to your website.
eLearning plugins: LearnDash, LifterLMS, and many more plugins for setting up and selling courses.
Some BuddyPress addons to add to your membership website
BuddyPress Community Moderation Pro: BuddyPress Community Moderation is a plugin that allows site owners to keep their communities organized. Community members can use the community policing approach to moderate material throughout the site by adding flags to content produced by the different components.
BuddyPress Private Community Pro: It has a feature that locks down BuddyPress Components and requires users to log in before seeing the profile or any other protected information. You may remove the profile from Google's indexing. It should only be accessible to logged-in members. It allows specialized features such as private messaging for specific user roles. It will enable users to keep their profiles confidential for friends, and it does a lot more.
There are many more free and premium add-ons to add to your BuddyPress or BuddyBoss Platform-powered community. 
Furthermore, you may save up to 50% on premium plugins by purchasing the BuddyPress Community Bundle.
Step 7: Pricing
Charging the right price is one of the essential aspects of a membership website. You should be very clear about the pricing and be able to differentiate between free and paid content. The price you are going to set can differ on a variety of things. For charging the right price, you must know about:
The cost of creating content, hosting service, website development, and marketing cost.
The price your competitors are charging.
The value you are creating for your members.
The membership model your website is based on.
Step 8: Continuous management
Managing your membership website and giving your members a proper update in content and website structure is the most important part of being a membership website owner. You must work hard and work continuously to achieve the success you deserve.
When your content and BuddyX theme with its supported plugins are combined, you will be providing your members with a platform they deserve. So, buck up the saddle and prepare for the ride.
---
Interesting Reads:
Create Your Own eCommerce Site Just Like Amazon And Flipkart 
How To Create a Freelance Service Marketplace
Widely Used Plugins To Create Social Network Website With WordPress