One of the topmost plugins in the WordPress market, the bbPress WordPress plugin allows you to add forum functionality to your WordPress website. With the help of this plugin, you can create a discussion board where users can reply on topics thus increasing the interactivity around your site. Furthermore, if you want to create a complete forum website where users can communicate with each other by way of discussions, you can easily use this plugin. However, this plugin is limited to some basic functionality only and does not offer all the features to make your forum website rich and highly interactive. To give your site an added functionality, you will be required to install different bbPress add-ons suited for the purpose. Luckily, WordPress offers a whole set of add-ons that can be used to create a feature-rich forum website with bbPress. Let us discuss WordPress bbPress Plugins one by one:
WordPress bbPress Plugins
1. bbPress Access – Limit Forum Access
bbPress Access is a premium bbpress addon that allows you to restrict the access of your forum for some specific users. It allows you to restrict your forum pages based on your user or login roles. This plugin is very useful to protect your site from unwanted users. Furthermore, you can set individual conditions for each forum which will restrict the forums including pages and topics.
This plugin also allows you to create a customizable page to which a user who is restricted will be redirected.
Get The Plugin
2. GD bbPress Attachments
A very useful and easy-to-use plugin for all bbPress forum users, GD bbPress Attachment allows you to add a file upload feature for bbPress Forums topics and replies. It also allows you to set the number of files a user can add in a single forum reply. Also, it allows you to set a maximum size of the file which can be uploaded in forum topics and replies. The attachments are handled through the WordPress media library only.
Moreover, with this plugin, you can control thumbnail size, upload errors, and more.
3. WP User Avatar
This plugin is a very useful plugin as it adds features to the default functionality of WordPress. By default WordPress allows you to use custom avatars that are uploaded through WordPress Gravatar. This plugin offers the ability to use any photo uploaded into your Media Library as an avatar without having to depend on your Gravatar upload. You can simply upload your own default avatar in the plugin settings and display it as your WordPress avatar. Also, you can limit upload file size and image dimensions for contributors and subscribers of your site.
4. bbp Style Pack
Another free and useful bbPress addon, bbp style pack plugin allows you to style bbPress and add display features to your forums. With this plugin, you can change forum styling for elements, to match them with your existing theme. You can also create vertical lists, hiding counts, adding new topics links, and more.
5. bbPress Notify (No Spam)
bbPress Notify add-on for bbPress allows you to give a personal touch to your bbPress notifications by allowing you to decide who receives the email and what these emails look like. With the help of this plugin, you can send notifications in HTML, Plain text, or Multipart format with images as well. Also, you can send background notifications, override bbPress' core subscription messages, and can also customize it with around 40 filters and actions.
6. PeepSo bbPress Addon
If you are running a PeepSo community website and want to integrate bbPress into it, this addon can be an ideal option for you. PeepSo bbPress Addon allows you to set up discussion forums inside your PeepSo community website. With this plugin, you can sync your forum discussion with PeepSo activities.
It offers features like adding options for forums inside individual profiles, links bbPress forums with PeepSo Groups, sharing forum activities, dedicated tabs, simple customization features, and more.
7. BuddyPress and bbPress Hashtags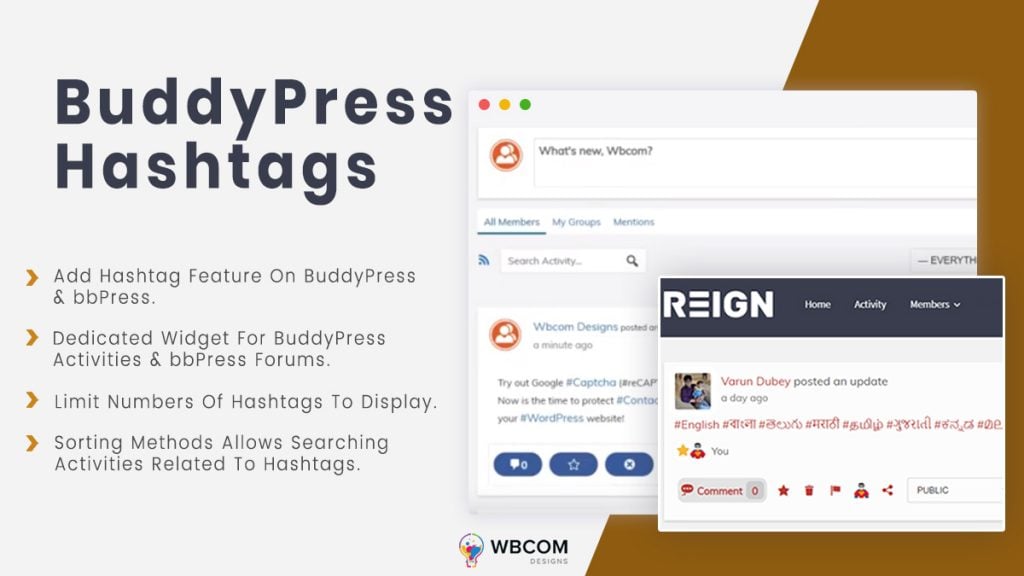 BuddyPress Hashtags for bbPress and BuddyPress give you and your site members the feature to add hashtags to BuddyPress activity and bbPress topics. Hashtags play a very important role in improving the interactivity and traffic of a website. With the help of this addon, you can add hashtags to your bbPress forums topics which turn into links and are used to search items based on topics.
Final Thoughts
bbPress is a very efficient WordPress forum plugin giving you the ability to add forums to your WordPress website. In order to add extended functionality to your bbPress forum website, you can add these bbPress plugins and take your forums to new and improved heights.
We hope you liked this article on WordPress bbPress plugins. If you have any suggestions for us, let us know in the comments below.
Interesting Read: 10 Essential BuddyPress plugins For a Community Website