WordPress users use Gravatar to show user avatar in a blog or even business sites which are powered by WordPress. Gravatar is a product by Automattic, and it is the most widely used option for user profile image that works perfectly for any WordPress powered site. In fact lot of community sites which are based on WordPress uses Gravatar as the source of user avatar because it doesn't need any built-in tool or external plugin, you just need to upload your Gravatar image, and you are good to go. Today in this article we will learn the Best Blog Avatar plugins.
Best Blog Avatar Plugins 
1. WP User Avatar
This plugin does exactly what the name suggests it does. You can choose to let users upload their own avatar on your WordPress website if you wish to or you can choose to have a default avatar for everyone who is a user of your website. You can also set certain parameters like avatar image size, width, height and more. These types of settings, add an extra layer of customizability in which the users can choose to have their own preferred avatar on your website.
2. Author Avatars List
If you run a multiuser blog, this plugin can be effective for you, with this plugin you can show user list with avatars in the sidebar widget or any post or page with shortcode.
Especially if there are are some authors for your blog who contribute to your blog regularly then this plugin can play a vital role as it gives you a nice option to showcase your authors.
3. SVG Avatars Generator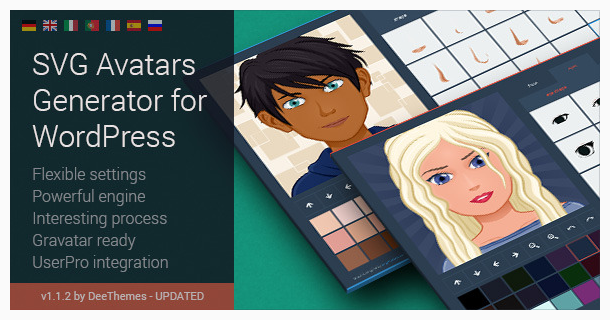 If you want to do more with your user's avatar, then this premium user avatar plugin for WordPress is the perfect option for you, with this plugin user can create custom profile image which is based on Scalable Vector Graphic.
It's a fully responsive and retina ready plugin so your images will look great in any modern devices.
4. Avatar Manager
Avatar Manager for WordPress is a sweet and simple plugin for storing avatars locally and more. Easily.
Enhance your WordPress website by letting your users choose between using Gravatar or a self-hosted avatar image right from their profile screen. Improved workflow, on-demand image generation, and custom user permissions under a native interface. Say hello to the Avatar Manager plugin.
5. WP First Letter Avatar
Just in case you are choosing to go for image-less pages on your WordPress website, then this plugin will work the best for you. Instead of showing images as an avatar for your users, you can choose to show the alphabets from their name as their blog avatar. This plugin will let you show the first letter of the user's name as their avatar on your WordPress website. It could be useful in many cases, especially if you are trying to bring down the page load times of your WordPress website and fewer images mean faster load times, right?
6. Uni Avatar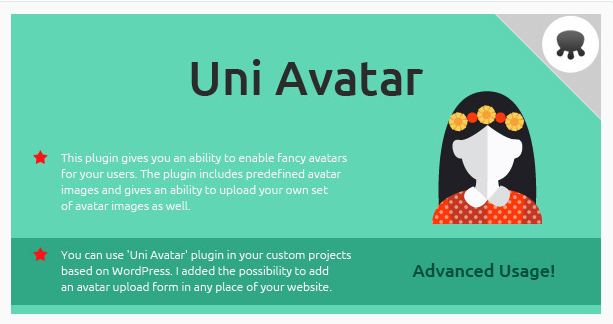 This is a premium plugin that is available for $13 which can be used to provide your website users with a set of fancy avatars that they can choose from. Apart from being able to choose from a set of predefined fancy avatars, your website, users will also be able to upload their own custom avatars using this plugin.
This plugin also works flawlessly on BuddyPress based websites which is a good thing if you have a private social network on your WordPress website so that you will be able to use this plugin to its full potential on the website.
Conclusion
There are some WordPress users who don't like the default WordPress blog avatars or use Gravatar. In fact, many newbie users are not aware of the Gravatar functionality, so for those users, the above-mentioned avatar plugins can play a very important role. Thanks for reading.