WordPress users use Gravatar to show user avatars in a blog or even on business sites that are powered by WordPress. Gravatar is a product by Automattic, and it is the most widely used option for user profile images that work perfectly for any WordPress-powered site. In fact, a lot of community sites that are based on WordPress use Gravatar as the source of user avatar because it doesn't need any built-in tool or external plugin, you just need to upload your Gravatar image, and you are good to go. Today in this article we will learn the Best Blog Avatar plugins.
Best Blog Avatar Plugins 
1. Author Avatars List
If you run a multiuser blog, this plugin can be effective for you, with this plugin you can show a user list with avatars in the sidebar widget or any post or page with a shortcode.
Especially if there are some authors for your blog who contribute to your blog regularly then this plugin can play a vital role as it gives you a nice option to showcase your authors.
2. SVG Avatars Generator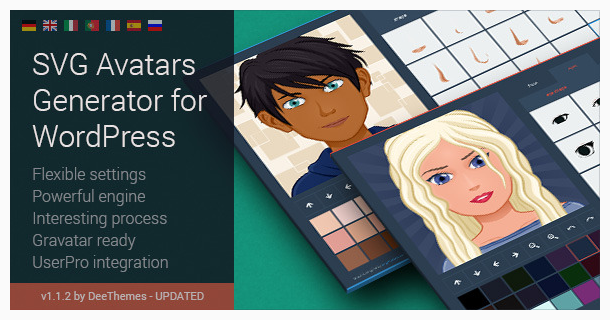 If you want to do more with your user's avatar, then this premium user avatar plugin for WordPress is the perfect option for you, with this plugin users can create a custom profile images which is based on Scalable Vector Graphic.
It's a fully responsive and retina-ready plugin so your images will look great on any modern device.
3. Avatar Manager
Avatar Manager for WordPress is a sweet and simple plugin for storing avatars locally and more. Easily.
Enhance your WordPress website by letting your users choose between using Gravatar or a self-hosted avatar image right from their profile screen. Improved workflow, on-demand image generation, and custom user permissions under a native interface. Say hello to the Avatar Manager plugin.
4. WP First Letter Avatar
Just in case you are choosing to go for image-less pages on your WordPress website, then this plugin will work the best for you. Instead of showing images as an avatar for your users, you can choose to show the alphabets from their name as their blog avatar. This plugin will let you show the first letter of the user's name as their avatar on your WordPress website. It could be useful in many cases, especially if you are trying to bring down the page load times of your WordPress website and fewer images mean faster load times, right?
5. Uni Avatar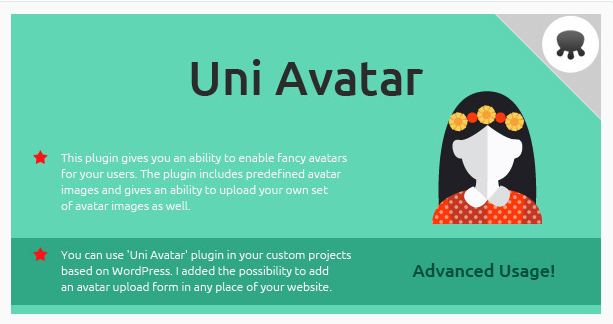 This is a premium plugin that is available for $13 which can be used to provide your website users with a set of fancy avatars that they can choose from. Apart from being able to choose from a set of predefined fancy avatars, your website, users will also be able to upload their own custom avatars using this plugin.
This plugin also works flawlessly on BuddyPress-based websites which is a good thing if you have a private social network on your WordPress website so that you will be able to use this plugin to its full potential on the website.
6. WP User Avatars
WP User Avatars is another alternative to Gravatar. It is a lightweight plugin so you don't have to worry about your website speed. Install it in your WordPress and activate the plugin. After activating the plugin you will see an "Avatar" section on your WordPress dashboard. From where you customize this plugin and your avatar. 
You can select the images from the media folder to use on your website. If you are facing any queries while using it, WP User Avatars have a community so you can ask there. 
7. Simple Local Avatars
Simple Local Avatars is lightweight and simple just like its name. To edit a user profile scroll down to the avatar section. You just need to upload the image, this plugin will take care of the cropping and resizing process. 
It also allows you to sync your Gravatar images with your WordPress profile. And if you didn't upload the profile picture it will create the default Avatar profile.
8. Basic User Avatar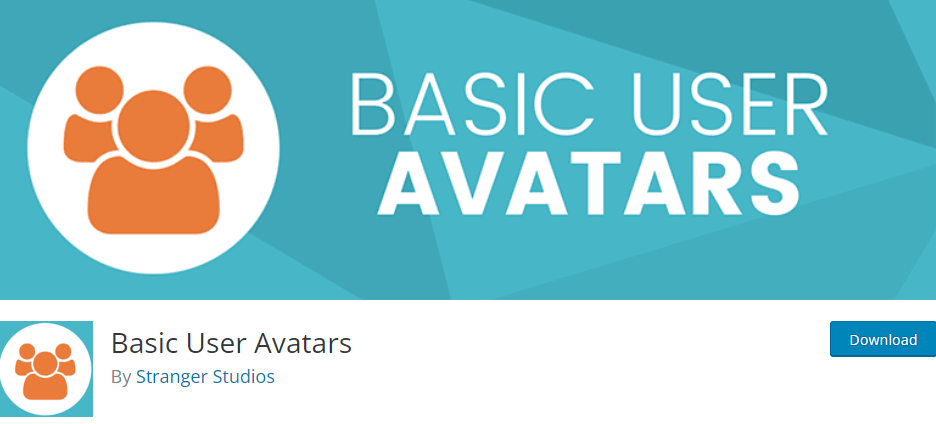 Basic User Avatar supports font-end management for websites so you don't have to go to the WordPress dashboard for every customization. This plugin is mostly used by Community and Membership Websites. And it's compatible with bbpress and other popular plugins with profile management features. 
You can even control your website user's Avatar for example if you don't want your users to change their Avatar, you can easily the settings
9. ProfilePress
ProfilePress is a paid membership plugin with a one-time payment. You can create a user profile, member directories, front-end login, and user registration forms. Its drag-and-drop builder will help you to create nice forms. ProfilePress is usually used for non-physical goods such as online courses, paid membership, subscriptions, and more. 
10. User Profile picture plugin
User Profile picture plugin allows you to change your user profile as you desire. You can change your Avatar image in a few simple steps. You can even change/remove the custom profile image in case you don't like the old one by standard WordPress media upload. It is a free plugin with so many useful features.
Conclusion
There are some WordPress users who don't like the default WordPress blog avatars or use Gravatar. In fact, many newbie users are not aware of the Gravatar functionality, so for those users, the above-mentioned avatar plugins can play a very important role. Thanks for reading.
Also Read:
How to Change the Default Gravatar on WordPress
Customize BuddyPress Avatar Size
Useful Hacks And Customizations For Your BuddyPress Powered Website Via Reign Theme