A lot of businesses out there are using WordPress to create their business or community website. They are looking for something simple and effective that has a great user experience. One of them is the WordPress Poll plugins. If you want to know whether your readers love it, read our review.
It's true that the majority of the web today runs on WordPress. This open-source content management system was created in 2003 by Mike Littlejohn and Matt Mullenweg. At its launch, it had only two developers who coded it alone. Today, it has millions of downloads and tens of thousands of plugins.
WordPress Poll Plugins are tools that make creating polls easier for you. It allows you to add multiple choices, images, audio files, and even video clips to your polls. It also lets you customize the text and colors for each choice. In addition, it gives you real-time statistics, so you know what your audience thinks.
So, do vote plugins really work well? Read our full review to find out.

What is a WordPress Poll Plugin?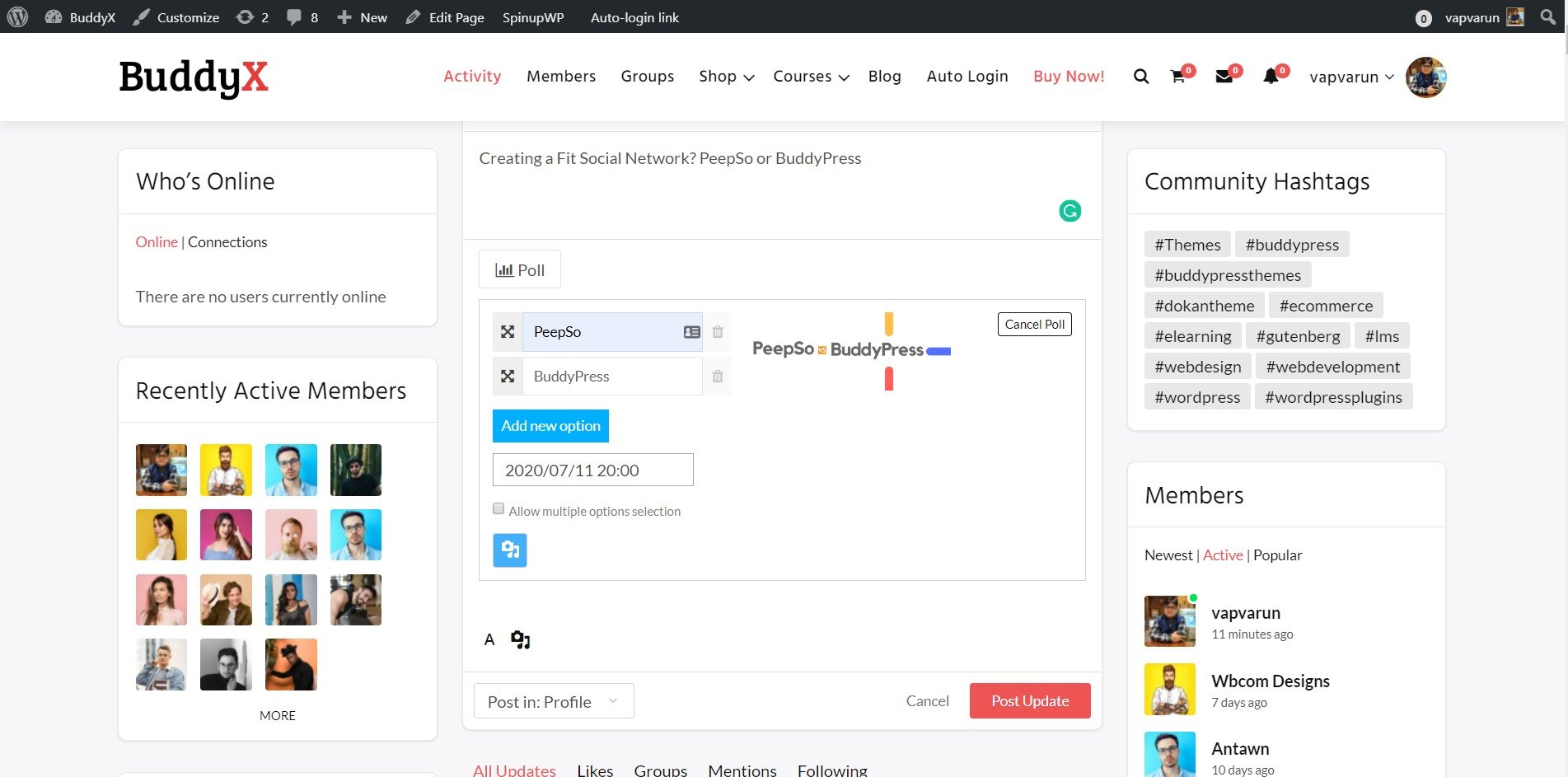 A WordPress poll plugin is a tool that allows you to create polls on your website. It's an easy way for visitors to vote in real-time, and it can be used as a great way of engaging with your audience.
The best part about using a WordPress voting plugin is that it doesn't require any coding knowledge or technical skills. You don't need to worry about installing plugins, themes, or anything else. All you need is the basic knowledge of how to use WordPress.
How Does WordPress Poll Plugin Work?
Using a WordPress voting plugin is very simple. First, you install it on your site. Then, you choose which type of poll you want to create. Next, you start adding questions and options. Finally, you publish the poll. That's all!
There are many different types of vote plugins available. Some allow you to create polls with just one question, while others let you create up to 100 questions. The more questions you add, the more complex the poll will become.
You can also select from several different styles for your poll. For example, you can choose between a horizontal layout or a vertical layout. Also, you can change the background color, font size, and other design elements.
There are also some features that come built into most of these vote plugins. These include:
Real-time stats – You get real-time results showing how people voted. This makes it possible to see if your poll is working properly.
Multiple choice – You can add up to three answers per question.
Images – You can add images next to each option.
Audio/Video – You can add audio or video files to each option.
Customization – You can customize the look and feel of your poll.
Statistics – You can track how many votes were cast and how many people viewed your poll.
Responsive Design – Your poll will automatically adjust to fit the screen size of your visitor.
Also Read: Top 5 Photo Communities To Follow (And Their 4 Alternatives)
Introducing BuddyPress Polls
BuddyPress Polls is a premium voting plugin that allows you to create polls for your site. You can use the poll results in a variety of ways, including displaying them on your profile page and/or as comments on posts. BuddyPress Polls enables your community members to create polls as an activity to which your members may reply. Furthermore, these poll activities may be shown via a shortcode on any post, page, or CPT.
Poll activities can be time-bound with a single choice or multi-select options, and website administrators can restrict who can initiate them. It also allows you to associate a picture with a Poll description. The poll result will then be accessible to everybody when it is submitted.
Also Read: How To Create A Poet's Community Website?
It comes with power-packed features
1. Simple and Quick
BP Polls allow your audience to engage in a very easy and structured manner.
2. A look at the activities
Site visitors can ask real-time inquiries about the website's content.
3. Re-engagement
Consider utilizing BP Polls to send site visitors to an older post for further feedback.
4. Have a good time
Poll creators may have engaging interactions with their audience by asking fascinating, unique questions.
5. Educational objectives
Polls may be used in educational channels such as external virtual learning to determine what topics viewers are struggling with and where they need extra help comprehending.
6. Re-voting
Allows users to alter their previously selected poll selections.
More Power-packed features of BuddyPress Polls
Allows you to set the after-poll message
Allows you to specify a limit for each poll choice.
Set the poll's end date and time.
Hide the current poll score from non-voters.
Allow for the attachment of relevant photos to the poll description.
Members can examine the voter list and poll results.
Allows members to revote
Limit poll creation based on user role and member type.
Control the color palette of polling operations.
BuddyPress Polls for Extreme Customer Engagement
Audiences enjoy answering questions, and polls are an excellent way to do so. Everyone has an opinion, and
most people aren't scared to express it on social media (after all, it's called "social" media).
BP Polls allow you to pose questions to your community and have people vote on them.
Polls may be published by users under activity and groups.
Members may find the poll Icon under the What's New section.
Poll Results widgets are available for Poll developers on the WordPress Admin Dashboard.
Poll results may be exported as a CSV file.
Submit the poll results with an appealing animation.
The plugin has a responsive design that works on mobile devices as well.
It works nicely with third-party themes.4
Also Read: Wbcom Designs Updates Of June Month
WordPress Poll Plugin – Final Thoughts
Integration of a poll plugin to your website will increase user engagement. Content creators at your community website will love this update. As with polls, they can ask questions from their group of followers directly. We recommend you buy this voting plugin as soon as possible. It will definitely bring a positive change to your online community or business. Want to make modifications to the plugin? Contact us for a detailed discussion of your requirements.
---
Intersting reads:
BP Poll Activity Update New Features and Support for BuddyPress And BuddyBoss
Six Successful Progressive Web Apps (PWA) You Need To Know About