Hey! Web designers, are you searching for the best  WordPress photoshop plugins? Well, It's not easy to choose the correct photoshop plugin which goes with your type of work. But in this article, I'll make everything simple for you. By helping you to find the best photoshop plugins. Before that let's discuss   Photoshop. Well, Photoshop is the most powerful tool to have in the field of web design, especially if you have the right plugins to help you with your workflow. While Photoshop was never originally intended for web design, it does come with plenty of under-the-hood power right out of the box. Photoshop comes with some of the best tending plugins. The plugins we'll describe will help smooth over the gaps that naturally appear in a photo editing tool reconfigured for web design.
List Of WordPress Photoshop Plugins
1. Polaroid Slider
Polaroid Slider plugin is one you the best photoshop plugins for web designers.  let you create an eye-catching slider with cool CSS3 filter effects and realistically animated thumbs that can be used as the main slider or a neat photo gallery in your posts and pages.
This plugin features a really simple settings page. A cool "camera-like" preloader, autoplay that can be stopped on user interaction, a cool init animation for all thumbs, and lots more to discover. It Comes with some of the amazing features- Eye-catching animated thumbs. Simple and intuitive admin page with drag and drop support. It is highly Responsive. Works in all major desktop and mobile browsers.Cool loading effect. It comes with Multiple sliders supported on the same page. Images can be wrapped inside links. There is so much to do with these plugins. So, install this plugin today.
2. Image Elevator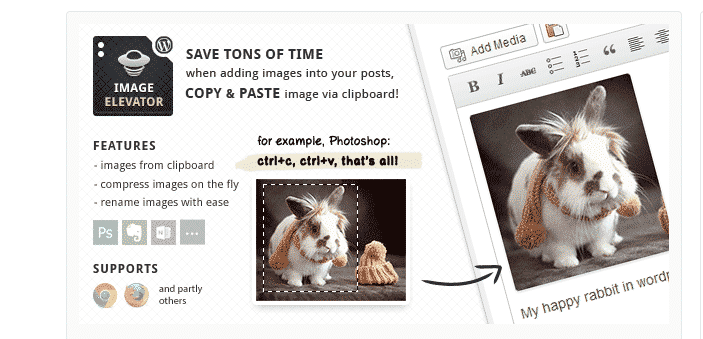 Another trending photoshop plugin is image Elevator. This creative plugin allows you to paste images into the post editor directly from the clipboard. You can paste images directly from your favorite graphical editors or from any screen capture program. Just copy & paste. What's more, you can rename and compress images after pasting.
With Image Elevator, you can take screenshots and paste them directly into the post editor in just a matter of seconds. We recommend you to use one of the following great programs which allows you to make screenshots of the entire screen or a portion of the screen, edit and then copy them to clipboard: Jing, TinyTake, pixclip, Skitch, OneNote. This is not all! You can do a lot more with this plugin. Paste regions from your favorite Graphical Editor.
you can copy the images from other websites and then paste them into your post by using Image Elevator. You can use Image Elevator to paste images in the Text Mode as well as the Visual Mode. Rename images with ease for better SEO. This plugin saves a bucket load of time and it works. Install it today.
3. Ultimate image filter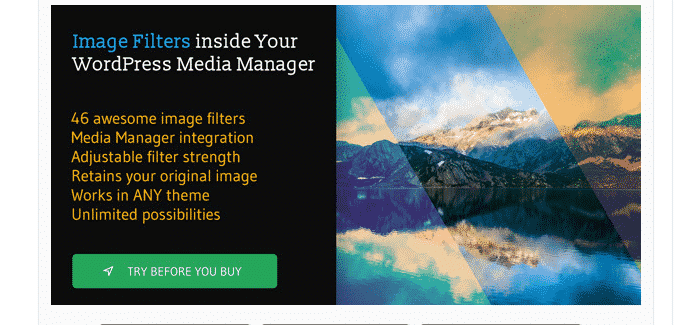 Now it's time Say goodbye to Photoshop! Because Ultimate image filter WordPress plugin is one of the best photoshop plugins. This plugin integrates directly into your WordPress admin's Media Manager. Adds filters that you can use to enhance your photos for your site. With the help of Ultimate Image Filters, you can compose the perfect photos for any slider, page header or blog featured image.
The best thing is that Ultimate Image Filters do NOT bloat your website since the filtered images are saved as new image attachments. So there are no front-end performance impacts. It also works with any theme. It comes with 46 Awesome Image Filters. Works with any image. Works with any theme. Very easy to use. So, designers don't wait for anything to install this photoshop plugin today.
4. WP pro image editor
The wp pro image editor allows you to edit/create images directly on your website. You can add extra images, shapes, and text to existing/uploaded images on your website. You can also change the look/style of your images. There are multiple options to customize your own style or you can choose one of the multiple preset image styles.
This plugin has some excellent features which I would like to discuss – Simply use existing or upload new images from your website. Add multiple images on top of each other. You can change image styling with the help of brightness, contrast, hue, saturation, exposure, sepia, noise, blur, sharpen, clip, vibrancy. Fully responsive. Edit your images just like in Photoshop but then directly from your WordPress website!
5. WP Beautify Pro
Last at not least. WP Beautify Pro has so much to do. It comes with major 3 functions-
Search for royalty-free images online, edit them on the fly and insert them into your posts, or share them on your social networks.
imports images directly from your social networks
Import over 650 fonts and 50+ font effects to use in your WP editor
7 video skins to give your videos a unique look. Add a logo to your videos.
WP Beautify Pro makes your website results better. With this plugin is so easy to customize the look and feel of text, images, videos, pages, and posts.
Lots more, Install today and see the results.
Final Thought On WordPress Photoshop Plugins
What's your favorite photoshop WordPress plugin? If missed any of your favorite plugins. Please comment below. Thanks for reading.