Would you like to translate your WordPress site? There are a lot of WordPress Translation Plugins that permit you to make multilingual content or give machine translation of your current content. These WordPress plugins allow you to translate posts, pages, categories, tags and other parts of your WordPress website in any language you want. These plugins also support the Right to Left RTL translation. You can either choose the manual translation or allow the plugin to automatically translate the content in your language. Moreover, these multilingual plugins are easy to use and the core features of all these plugins are available for free. In this article, we will demonstrate to you the 15 best WordPress Translation Plugins for your site.
Top WordPress Translation Plugin are listed
Weglot WordPress Translation Plugin

Weglot is currently the highest rated WordPress translation plugins on the WordPress Directory. It's also one of the easiest plugins to install – with just a 5 minutes setup process and no need for code or developers. There's no manual string by string translation involved – install Weglot and you'll have a multilingual WordPress website up and running in minutes. It has a free plan for websites with 2,000 words or less and paid plans starting at €9.90 a month. There's also the option to try Weglot for free through its 10-day free trial.
Features:
Automatic and human translations
100+ languages available
Compatible with all WordPress plugins and themes (incl. WooCommerce)
Front-end language switcher added to your site with no coding required
1 intuitive translations management dashboard
'In context editor' where you can edit translations in a live preview of your site
Follows Google multilingual SEO best practices (translated URLs, metadata and hreflang tags)
Expert support: a fully dedicated technical support team at your disposal
WPML  WordPress Translation Plugin
WPML is a standout amongst the most prominent WordPress Translation Plugins. It is a complete solution with WPML you can translate pages, posts, custom types, taxonomy, menus, and even the theme's texts. It's compatible with every theme or plugin that uses WordPress API runs multilingual with WPML.
It is a paid plugin and accompanies one year of premium backing. It additionally associates you with expert interpretation administrations, so you can procure somebody to translate your current.
Features
One WordPress Installation, Multiple Languages-You can arrange different language contents in the same domain (in language directories), in sub-domains or in completely different domains.
Powerful Translation Management-WPML sends notification emails, provides a translation management screen, a jobs-queue and side-by-side translation editor.
Multilingual E-Commerce-Available in the Multilingual CMS version only.WPML lets you easily build and run multilingual e-commerce sites with WooCommerce (using WooCommerce Multilingual).WPML shows you which texts need translation and builds the complete translated store for you.
Translation for Theme and Plugin Texts- You can translate texts in other plugins and in Admin screens directly from the String Translation interface.
Affordable Professional Translation- If you need help with translation, WPML connects you with leading translation services. Conveniently send content to a translation directly from WPML's Translation Dashboard. When translations complete, they appear back on your site, ready for publishing.
Works with Most WordPress Themes-Just use the WordPress API functions and WPML takes care of the rest.
Reliable Support and Proactive Development- They offer support for WPML 6 days per week, 19 hours per day and in 9 languages. WPML support starts from Asia-Pacific morning and ends in the US-Pacific evening.
Polylang
Polylang is a free WordPress Translation Plugins. It permits you to make multilingual content in the same number of languages as you need. You can use as many languages as you want. RTL language scripts are supported. WordPress language packs are automatically downloaded and updated. You can translate posts, pages, media, categories, post tags, menus, widgets, etc. You need a separate addon to make Polylang and WooCommerce work together. A Premium addon is available. If you want to use professional or automatic translation services, install and activate the Lingotek Translation plugin.
Installation Instructions
Here are the instructions that you need to follow to install the plugin on your website.
Deactivate multilingual plugins installed previously before activating Polylang.
Install and activate the plugin as usual from the 'Plugins' menu in WordPress.
Go to the language settings page and create the languages you need.
Add the 'language switcher' widget to let your visitors switch the language.
Take care that your theme must come with the corresponding .mo files (Polylang automatically downloads them when they are available for themes and plugins in this repository). If your theme is not internationalized yet, please refer to the Theme Handbook or ask the theme author to internationalize it.
qTranslate X
qTranslate X is another effective free WordPress Translation Plugins. It is like Polylang and WPML in usefulness. It offers a simple approach to making multilingual content. Clients can switch language while altering post to at the same time take a shot at the content in various languages. It has a growing list of third-party add-ons, and a large portion of them are free. They permit you to coordinate qTranslate with different stages and plugins. To deal with dynamic content, qTranslate-X provides language switching buttons on applicable admin editing pages, which, once pressed, make all the text of multilingual fields to be filled with the language chosen. The instant language change happens locally in your browser without sending an additional request to the server, which makes it most convenient for bi-lingual or few-lingual sites. Plugin qTranslate-X provides a convenient way to describe which fields need to be multilingual through a JSON-encoded configuration file. The plugin does not currently offer any kind of translation services.
Goo Translate Widget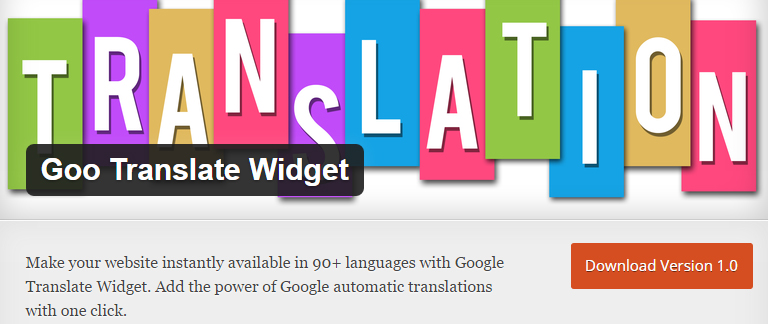 Another simple approach to adding Google Translate to your WordPress site is by utilizing a Goo Translate Widget plugin. This easy plugin adds a great widget to your WordPress site. Basically customizable the widget to a sidebar, select your language, and after that save gadget settings. That is all, we trust this rundown helped you locate the best translation plugins for your WordPress site.
Features
Add the power of Google automatic translations with one lightweight widget
Track translation traffic using Google Analytics
No manual translation is needed
No programming skills required
No shortcodes, sitewide active
Lightweight, no performance impact
Gtranslate – Google Translate
Gtranslate is another free Google Translate plugin for WordPress. It permits you to include a language switcher fueled by Google to effortlessly decipher your website pages. Paid versions are fully SEO compatible which will increase your international traffic and sales. GTranslate is a budget multilingual WordPress solution that combines automatic and human translations to save money and is easy to implement. It stows away propose better interpretation popup and Google Translate bar from the top. Gtranslate additionally has an alternative to open the translated page in another window.  It has several free features but with the paid version, it includes some awesome features.
Free Features:
Translates the site on the fly along with Posts, Pages, Categories, Tags translation, Menus, widgets translation, Themes, and Plugins.
Available styles Dropdown, Flags, Flags with dropdown, Nice dropdown with Flags, Flags with language names, Flags with language codes, Language names, Language codes, Globe, Popup
Floating language selector
Language bar with flags in menu
WooCommerce shop translation
Paid Features:
Multilingual SEO – Enable search engine indexing
Neural machine translations with human level translation quality
Increase traffic and AdSense revenue
Search engine friendly (SEF) URLs
Yoast SEO compatible
WooCommerce compatible
MultilingualPress

Multilingual Press allows you to connect multiple sites as language alternatives in a Multisite installation. This plugin lets you connect an unlimited amount of sites in a multisite with each other.
Set the main language for each site, create relationships (connections) and start writing. You get a new field now to create a linked post on all the connected sites automatically. They are accessible via the post/page editor screen – you can switch back and forth to translate them.
Features
Set up unlimited site relationships in the site manager.
Language Manager with 174 editable languages.
Edit all translations for a post or page from the original post editor without the need to switch sites.
Show a list of links for all translations on each page in a flexible widget.
Translate posts, pages and taxonomy terms like categories or tags.
Add translation links to any nav menu.
No lock-in: After deactivation, all sites will still work.
SEO-friendly URLs and permalinks.
Babble
Babble is a completely free, open-source and fast translation plugin for WordPress. The plugin authors claim that this plugin works 20% faster and 40% fewer queries than other plugins.
This plugin allows you to run your website in as many languages as you want in any script or any direction. You can download this plugin from the Github repository for free.
It is fully compatible to the core and required you to handle all the translation by yourself.
TranslatePress
Another free plugin available in the WordPress repo, TranslatePress gives you a better way to translate your site directly from the front-end using a user-friendly interface. It allows you to easily translate the entire page at once including output from shortcodes, forms, and page builders. Moreover, it is also fully compatible with WooCommerce.
Free Features:
Live preview of your translated pages, as you edit your translations.
Ability to translate dynamic strings (gettext) added by WordPress, plugins, and themes.
Native Gutenberg support
Support for both manual and automatic translation (via Google Translate)
Paid Features:
This plugin provides amazing add ons for extended functionality. These include:
Allows you to add an unlimited number of translation languages
Allows you to translate meta information (like page title, description, url slug, image alt tag, Twitter and Facebook Social Graph
Allow existing users to translate the sire without admin permission
Make translate visible only to a particular user role.
WooCommerce Multilingual
This plugin allows you to run a multilingual e-commerce site using WooCommerce and WPML translation. You can translate all WooCommerce products such as simple, variable, grouped and external. It also provides easy translation management for products, categories, and attributes.
Free Features:
Compatible with popular WooCommerce add ons
Keeps the same language through the checkout process
Sends emails to clients and admins in their language
Enables running a single WooCommerce store with multiple currencies
Allows inventory tracking without breaking products into languages.
WP Multilang
WP Multilang is a fully-featured plugin to translate your site pages in different languages. It allows you to translate post types, taxonomies, meta fields, options, text fields in multimedia files, menus, titles and text fields in widgets.
Features:
Compatible with REST
Support multisite
Separate menu items, posts, terms, widgets, comments per language
Many filters for dynamic applying translation settings
No limits by languages or by possibilities
Support WordPress in sub-folder
Compatible with all the popular plugins including WooCommerce, BuddyPress, Gutenberg, Yoast SEO and more.
Google Website Translator
This plugin allows you to translate your site into 100+ languages with the help of Google's automatic translation service. It is easy to set up with simple settings.
Features:
It's the fastest as it doesn't load any external file;
All the settings are stored in only one record in the database
It includes all the options of the original Google Website Translator
Import/Export settings to easily transfer configurations
Use it as a widget and as a shortcode.
Lingotek Translation

This plugin offers a simple and convenient cloud-based translation and localization for the WordPress website. This plugin works in conjunction with the Polylang plugin and offers three types of translation services. These are free machine translation, community translation, and Lingotek's professional translation services.
Features:
Faster Translation Times
Real-time Monitoring
Eliminate the Copy/Paste Method of Translating
Use as many languages as you want
Custom post types, custom taxonomies, sticky posts and post formats, RSS feeds and all default WordPress widgets are supported.
Multilanguage by BestWebSoft
This plugin allows you to first create your pages, categories, and tags as they are and then assign languages to each piece of the content. This plugin supports 80 languages. You can also add more languages if you wish as well as select a default language.
Free Features:
Change display order in the language switcher
Multiple language switcher layouts
Translate Open Graph meta tags
Translation-ready admin dashboard
Add hreflang links to section
Pro Features:
Translate custom Post types, Taxonomies and custom Fields
Compatible with Elementor Page Builder
Change language slug position in the website URL
Display/hide widgets for different languages
Add short language slug to the URL
WPGlobus
Translate pages, posts, categories, tags, menu, and widgets manually with the help of the WPGlobus plugin. It comes with a frontend language switcher and also provides an option to change the language from the backend.
Free Features with free addons:
Allow setting featured images separately for each language.
Enable selective translation of the wp_options table strings
Enable WPGlobus on certain themes that use WPBakery's Builder
Add multilingual editing capabilities to the visual editor widget.
Premium features with paid addons
Add multilingual capabilities to WooCommerce-based online stores.
Add URL fine-tuning, publishing status per translation, multilingual Yoast SEO analysis and more
Multilingual widget logic: show and hide widget depending on the current language
Display different header images per language. Show images depending on the settings in the Customizer
Show or hide menu items depending on the current language.
Final Thoughts on Top Multilingual Plugins For WordPress.
So, this as an updated list on top multilingual plugins for WordPress. There are many plugins available in the WordPress repo to help you translate your website in more than one language. We will keep on increasing this list for more amazing plugins. If you use any other plugin and think it's suitable for the above list, please let us know in the comment section and we will make sure we add it to our list.