Spammers and Hackers are pretty much seen everywhere on the internet. From your site's comments, contact form, referrals, traffic to Google Analytics, these spam can be found anywhere. And when you have a community-based site like a BuddyPress site, there is a much higher risk of getting spam. As your website grows, you will need to keep a close eye on the spam activity of your website especially when it's a BuddyPress website. Spammers can comment on irrational things on your blogs, run wild in the activity streams, forums and even attack your private messaging inbox with different offers and deals.
Sadly, spam is one of the most irritating and unexpected problems for all site owners. And before you get fed up with these monsters and plan to delete your account, let me tell you that this can be reduced with the help of a few ways and solutions.
How To Find Out If Your BuddyPress Site Has Been Attacked By Spam
If you have started with a Buddypress site without any prior protection, you will soon notice getting a lot of traffic in very less time. This traffic will likely be coming from spammers masked as your users. You will see dozens of spam among your community members with false usernames.
BuddyPress spam can attack your website at a few major places. These include :
BuddyPress Activity Streams
BuddyPress Private Messages
BuddyPress Members Directory or Groups Directory
Once the spambots get past your registration page, they are most likely to attack your activity stream. they will start posting irrelevant and lengthy posts on your activity updates. These may include promotional posts for embarrassing products, using profane languages, giving false news that you would probably not want your members to see.
Other than your activity streams, bots will also get into your private messages and send false messages to your members which can even cause some members to delete their accounts or stop their activities on your community.
They may also get access to your custom post types, site pages and other BuddyPress components like members and groups as well.
Ways To Stop Spambots From Entering Your Community Website
Breathe!! When it comes to tackling spambots, you are not alone. Everyone who has a website online is struggling with this problem of spam and is also able to keep them at bay. There can be a few really effective WordPress and BuddyPress plugins that you can adopt to reduce spam from your BuddyPress site.
You can either stop spam at your registration page only and if by chance they enter your website, you can stop them even after that.
Take a look at these useful plugins to help you out.
No CAPTCHA reCAPTCHA
No CAPTCHA reCAPTCHA is a really simple plugin that allows you to add a CAPTCHA to your WordPress login form, registration form, comment section and also BuddyPress Registration form to protect your site against spam. You can simply activate this plugin, choose a theme for the CAPTCHA, enter your reCAPTCHA keys and you are done. This plugin will start displaying CAPTCHAS on your login and register pages making sure that no bot can enter your BuddyPress site.
Akismet
One of the topmost and essential plugins developed by the Automatic Team, Akismet automatically checks all comments on your blogs and simply filters the ones that look like spam. An admin can easily moderate those comments by approving, deleting, replying, or spamming those comments.
Moreover, Akismet also works for BuddyPress websites and can also help in keeping BuddyPress activities under control. This is because BuddyPress has already introduced activity management integration with Akismet.
BuddyPress reCAPTCHA
BuddyPress reCaptcha plugin integrates the Google reCAPTCHA Service to the BuddyPress registration page or template page 'register.php'. By installing this plugin to your site, you can easily stops spams registrations and keep your site safe from bots and spams.
Ban Hammer
Ban Hammer helps prevent unwanted users from registering to your site. On installing WordPress, instead of using its own database table, Ban Hammer prevent spam by using your list of prohibited emails from the Disallowed Comment Keys feature. As emails never have equal IP addresses, it skips and ignores them.
BuddyPress Security Check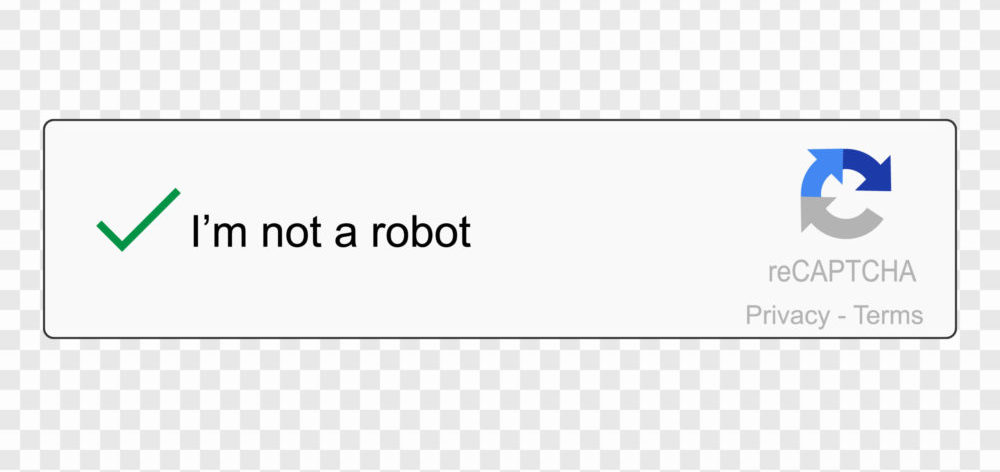 This plugin prevents bots from registering to your website by adding Google reCaptcha to the WordPress page and BuddyPress registration page. This helps to make your site free from spam registrations.
Introduce a security check by installing this plugin and then register your website with Google and have to enter the site key and secret key on BuddyPress settings under the admin menu option. You can also add a security check without registering on Google. For this user has to answer a simple math problem, this setting can be turned on the Settings > BuddyPress > Options menu.
BuddyPress Lock

A BuddyPress addon BuddyPress lock is a really useful plugin if you want a fully private community away from any spambot. This plugin allows the admin to lock certain parts of their site such as BuddyPress Components, WordPress Pages, Custom Post Types for public view without the help of any membership plugin. You can simply set the locked content which will be displayed on the locked page.
You can lock BuddyPress components like Members and Groups, Custom post types, and different WordPress pages. You can also choose which pages will be public or private.
So, you can easily protect your BuddyPress components from bots. Only the users that are registered will be able to view the protected pages and any other user who tries to access such pages will be redirected to the login page.
BuddyPress Moderation Pro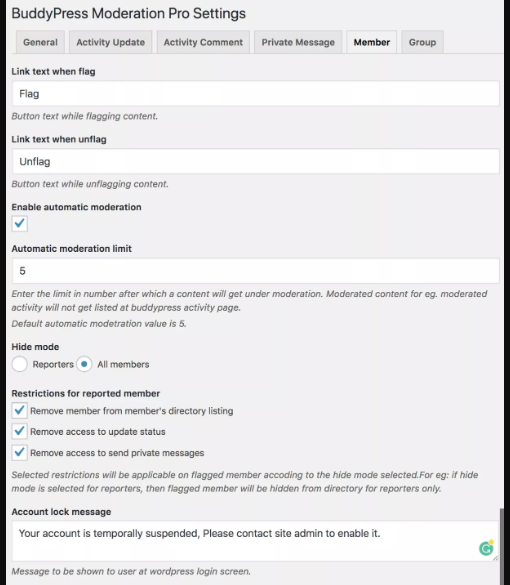 Another way that can help members stay away from any inappropriate and spammy content on their community is by using the BuddyPress Moderation Pro plugin. This plugin allows admin to enable the auto-moderation feature for BuddyPress activities, comments, posts, and even private messages. With this plugin, members can moderate sitewide activities by attaching flags to the content they feel inappropriate. This plugin will add links/buttons to allow members to flag content sitewide.
Moreover, the admin can see all the flagged content in an organized manner and can take actions against it such as setting limit individually for each component, remove access of particular member to perform any activities, temporarily deactivate member accounts, as well as hide blocked members to be displayed on the member directory page.
Thus, this plugin plays an important role in removing spam content and spammy users from your BuddyPress community site.
4. BuddyPress Profanity
If you are worried about any unwanted activities on your BuddyPress pages then this plugin can be an ideal option for you. BuddyPress Profanity plugin allows you to censor content in your community. You can easily censor all the unwanted and profane words in activities, activity comments, and private messages contents by specifying a list of keywords to be filtered out.
An admin can decide which type of filter character he wants to use to hide such words. They also have options for strict filtering to filter characters within words. BuddyPress Profanity is very useful to protect your community against spammy content.
BuddyPress Private Community Pro
This plugin is basically a premium version to BuddyPress lock and offers additional features of lockdown. By default, all BuddyPress member profiles are public and can be indexed by Google by default. So anyone can easily view your profile via Google which is again a big threat as it may expose a lot of profile data to spammers planning to attack your website.
BuddyPress Private Community Pro offers a lockdown for all the BuddyPress components in a profile and will asl users to log in further to check the profile or any other protected content.
This plugin offers many useful features such as adjusting what people can see on your profile, options to limit excessive group creation, joining and a maximum number of members in a group. Furthermore, BuddyPress Components can also be limited based on user role or specific user and a lot more.
Get BuddyPress Private Community Pro
7. Spam protection, AntiSpam, FireWall by CleanTalk
This Anti-Spam plugin for your WordPress BuddyPress website is a great solution to protect logins, comments, contact form as well as BuddyPress registration forms all at once. This plugin allows you to move spam comments to the SPAM folder or simply set options to ban spam comments silently. When it comes to BuddyPress, this plugin offers anti-spam against BuddyPress registration pages. You will also receive a spam comment analytics which will show the reason for blocking comments.
There are many great features that this plugin offers. It offers a 14-day free trial after which you will be required to purchase a license.
Get Spam protection, AntiSpam, FireWall by CleanTalk
Take Full Control Over Spam On Your BuddyPress Site
There is no one final solution to completely clean all the spam from your BuddyPress site. Instead, you will need to apply a combination of these solutions to tackle BuddyPress spam. All the above-mentioned plugins will allow you to keep full control over the spambots. So, give a try to these proven ways to tackle your spam and see what works best for you.
If you have any suggestions for us or are using any other solution to tackle BuddyPress spam, let us know in the comment section below!