Do you want to add badges to your community members' profiles? By incorporating the badges feature will help in driving more engagement in your online community, also helps you to recognize your most engaged members.
Everybody around us is currently practically busy making an online presence to share their interests, convictions, and likes with others. Social Networking Sites make it feasible for anybody to join the discussion happening everywhere on the web. Rather than simply reading what others are saying, you can participate in imparting your insights on the web.
Whenever you have joined a social network, you can begin posting your considerations as status updates, your photos, your mindset to specific updates, and whatever else you might want your friends to know. These posts will show up on your activity feed which will be then obvious to your friends. Hence friendly posts can be considered as a truly useful piece of a social community website.
Here, we'll discuss some ways using which you can add badges to your members' profiles or allow them to status by on their profile.
Some Ways to Add Badges and Status
1. BuddyPress Status & Reaction
BuddyPress Status & Reaction plugin allows your members to set a status icon and tagline beside their profile header and show their status icon on all posted activities using this BuddyPress addon.
This plugin allows your community members to update their status with what they are doing at that moment and give reactions on all activity actions.
Features of BuddyPress Status & Reaction plugin
Status Icon and tagline options to display at the frontend beside a member's username on his profile page.
Activity Reaction Icons to give reactions to activity updates.
Drag and drop feature to select icons from a variety of emoji sets available to be displayed at the frontend for members.
Allows admin to upload custom emoticons.
BuddyPress notifications when someone reacts to your activity.
General settings of status icons for certain components include:

Enable or disable the status icon in the activity loop.
Enable or disable the status icon on the user profile page.
Enable or disable reaction icon in BuddyPress activity actions.
2. Using Gamification Plugins to Add Badges
we'll discuss here three popular gamification plugins which help to add points, ranks, and achievements to your users. These are GamiPress, BadgeOS, myCred. The principal advantage of adding game-like features for your BuddyPress community is that they make socializing more fun.
How to Gamify your BuddyPress Community With GamiPress
GamiPress lets you award your community members with digital rewards for interacting with your WordPress website. This keeps your clients more connected with, anxious to offer more content, and invest more time on your site. Getting a prize is a good incentive for posting, commenting, and interacting with other community members. Various rewards additionally make achievement and healthy competition to keep your clients hooked.
GamiPress – BuddyPress integration
BuddyPress plugin helps users to build any kind of online community website using WordPress, with member profiles, user groups, messaging, activity streams, and more. Add a gamification plugin to your BuddyPress online community website to engage and motivate your members. This plugin automatically integrates GamiPress with BuddyPress adding new activity events and features.
New Events
Account activation: When a user account gets activated.
Get assigned to a specific profile type: it works when a user gets assigned to a specific profile type.
Profile updates: When a user changes their profile avatar, cover image.
New Features
It gives the capacity to block users by profile type to earn anything from GamiPress.
Drag and drop settings are accessible to choose which points types, achievement types, or rank types ought to be shown on users' frontend profiles.
Provides a setting to select which elements should be displayed in user activity streams.
How To Gamify Your BuddyPress Community With BadgeOS
The Badge community add-on permits you to make all your client's community and site exercises more game-like. The badge permits you to reward clients dependent on specific activities, known as triggers. For example, with the Badge Core plugin you can grant points, badges, or positions for the following triggers:
Log in to the website.
Comment on a post.
Comment on a specific post.
Publish a new post.
Publish a new page.
Register to the website.
Daily visit website.
A specific achievement.
Any achievement.
All achievements.
Visit a page.
Visit a post.
Profile Updates
Activate Account.
Change Profile Avatar.
Update Profile information.
Social Actions
Write an Activity Stream message.
Write a Group Activity Stream message.
Favorite an Activity Stream item.
Send a Friendship Request.
Accept a Friendship Request.
Send reply to a Private Message.
Group Actions
Create a Group.
Join a Group.
Join a Specific Group.
Invite Someone to Join a Group.
Get Promoted to Group Moderator/Administrator.
Promote another Group Member to Group Moderator/Administrator.
Discussion Forum Actions
Add a New Forum Topic.
Reply to a Forum Topic.
These codes can be shared by the administrator during live webinars or online classes to confirm participation. When using Badge with BuddyPress, the Invite Codes add-on gives you the possibility to automatically add clients to a particular BuddyPress group when they utilize an exceptional Invite Code. You can likewise make an accomplishment the client will get for joining the group.
Social Display of Badges and Achievements
Show acquired badges and achievements of any sort on client profiles.
Add activity updates to client Activity Stream when badges and achievements are acquired.
Every client might share their earned badges on social networks via Credly.
Reward System For BuddyPress With Badge
Achievements (Badges and Quests)
You can grant badges for explicit community milestones your clients achieve on your site to encourage participation.
Examples of badges you can add to a BuddyPress site include:
Community activists can be awarded to a user once they post more than 20 comments.
Group Leader can be awarded to customers when they get promoted to Group Administrators.
Active Communicator can be given badges to a user that has written more than 10 messages in the activity stream.
Conversation Starter can be awarded to a customer that has started 5 forum topics.
Points
In your BuddyPress online community, you can give points for any of the available triggers. Few examples you could create include:
Give 10 points to users for updating their profile complete information.
Award 1 point for each activity stream message posted by the user.
Give 20 points to users that create a group.
Reward 5 points to users each time they reply in a forum message.
As your users gather points by connecting with the community members, you can additionally inspire them by allowing them to use points to open selective badges or ranks. You can even permit them to recover their points for something significant, similar to exclusive content or discounts on other products available on your website.
Ranks
Make a hierarchy of community members dependent on the number of points they have utilizing Badge rank. Moreover, to set brand identity with your clients, make a naming show reliable with your image.
Leaderboards
Cultivate a sound feeling of contest among clients by adding Leaderboards to your site using the Badge Leaderboards add-on. With all client points, achievements, and ranks or positions on display, clients will be roused to interface with the site to keep moving up the leaderboard.
Progress tracking
Utilizing the Interactive Progress Map add-on, you can visually display the client's progress through your award framework in an advancement map. This guide features the accomplishments or positions that have been acquired and those which remain pending. This way, customers can clearly visualize the path they must follow to advance on the site.
Using myCRED for BuddyPress Based Site
myCred is a flexible and intelligent points management system that allows users to create and manage a huge range of digital rewards including points, ranks and, badges on your WordPress website. It builds brand loyalty by rewarding your users through store reward systems, community leaderboards, monetizing your website content, and much more.
myCRED has built-in support for BuddyPress which allows you to display your users' points, ranks, and badges on the member profiles.
myCred allows three different ways through which users can award other users:
1. Points
Points set events and triggers to allow real-time tracking and automatically award website users with points.
2. Ranks
Ranks set ranks within your leaderboards and reward website users with significant advantages after they reach a certain milestone.
3. Badges
Badges boost website users' participation by rewarding them for their remarkable performance.
myCred Features
Point Balances: Each user on your website will have their own point balance sheet, where they'll be able to viewpoints that were gained or lost.
Account History: Each time when a user gains or loses points or rewards on your website, the deal is logged into a central log for liability.
Points Management: It gives you full authority over your clients' point balances; You can change your client's balance by adding or removing points with or without a log entry.
White Labeling: myCred provide built-in support for white labeling. It permits you to rename the plugin in your administrator region to anything you like.
Import & Export: It gives three built-in import devices that allowing you to import log entries, points, or migrate your CubePoints installation.
Automatic Points: Automatically grant or deduct points from your client's balance for their cooperation on your WordPress site.
Multiple Point Types: It makes multiple point types through the administrator region to oversee things without any problem. There is no restriction to the number of point types you can have available to you.
Multi-Site Support: myCred has built-in support for multisite, it will allow you to choose between using a unique myCred installation or centralize balances across your social network.
myCred supports a considerable set of WordPress interactions through which you can undoubtedly give or take points from a user. These actions can be as simple as publishing website content, logging in, or leaving a comment. These automatic changes are managed by a component called "Hooks" that can be set up in your admin area.
3. BuddyPress User Badges
BuddyPress User Badges adds badge functionality to BuddyPress-based websites. The BuddyPress User Badges plugin allows you to create any number of custom badges and assign these badges to users' profile pages. The badges can be allocated manually or automatically. These badges will show on the BuddyPress member list and also on the profile page.
Badges can be an incredible method to show appreciation to your users. It adds a feeling of contrast, a feeling of having a belonging. You can offer Badges to cause your clients to feel special. Having the badge functionality adds that x-factor to your online community. Here are a few models use of badges:- You can make badges for a top performer, best cricketers, footballers, best student, instructor, etc. Go ahead and use your creative mind.
BuddyPress User Badges features:-
Custom Badges:- Custom badges can be made and assign to clients. For example, you can make a badge with the symbol of bat and assign it to all baseball lovers.
Sortable Badges:- Custom badges can be arranged using drag and drop. You as a BuddyPress Site administrator can handle the request wherein badges are displayed on a client's profile. The position will think about the front-end posting of badges.
Multiple Badges:- You can make and assign out however many badges as you like.
Member Type Based Badges:- In case you are using member types you might need to explore the magnificent Member Types Pro plugin, You can add badges for every member type. All clients with the member type will get the badges pertinent to their member type. Member type badges can be enabled or disabled per member type.
Role-Based Badges:- You can allocate badges to WordPress roles. All clients with the job will get the badges allocated to them. Job-based badges can be enabled or disabled for every job.
Activate or Deactivate Badge:- You can mark a badge as active or deactivate it when you need it.
Role/Member type Badge position:- Role and Member type badges position can be changed utilizing settings. Site administrators can choose 'before' or 'after' custom badges alternatives.
Screen to show Badges:- Badges can be displayed to the chose screen by utilization of settings. Options are Members directory, Single client profile, or Group individuals posting.
Badge Position:- The badges position can be set utilizing settings. Accessible alternatives are the Before and After names.
You can transfer a png/jpg or SVG to use as the symbol. By default, we utilize 32 px yet you can handle it via CSS.
Admin settings screen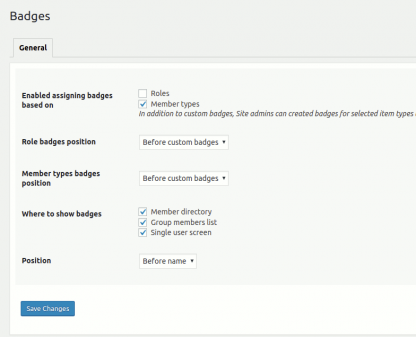 Admin Badges Screen

Add new Badge form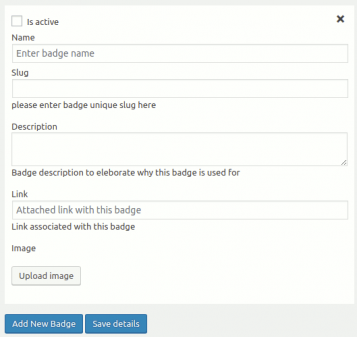 Role-Based Badges
Member Type Based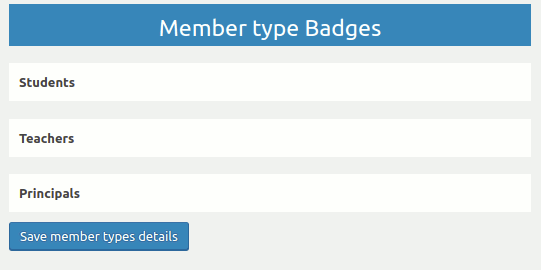 Members Listing page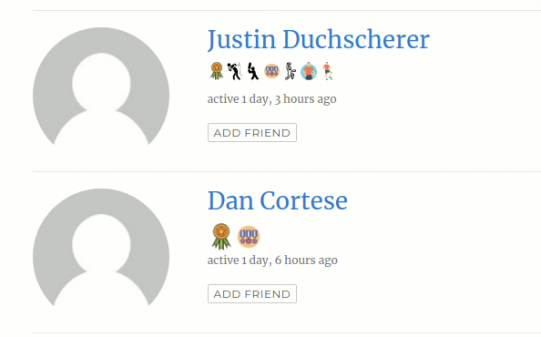 Single User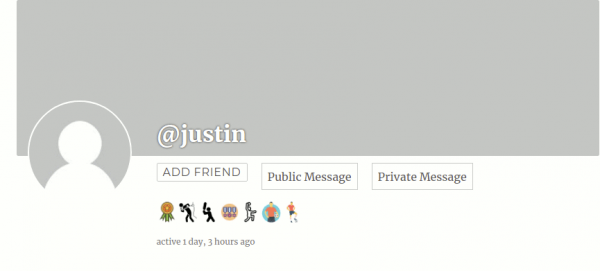 Restrict Image dimension with CSS
You can add custom CSS by visiting Dashboard > Appearance > Customize and click on the "Additional CSS". You can set any measurement however you see fit.
Conclusion
This is all about how to implement Badges in your BuddyPress social community. Try our WordPress themes to complement your online store with amazing layouts and advanced customization options. If you want to build a website for free, you can use our amazing free WordPress theme BuddyX that helps to build your website for any niche. For more advanced features, you can use our BuddyX Pro and Reign Theme.
Interesting Reads:
Social Marketplace Using Dokan, WC Vendors, or WCFM With BuddyBoss Platform
Free Elementor Templates for LearnDash Based Site With Wbcom Essential