Fiverr Alternatives are platforms where businesses and freelancers come together for work. It is an online marketplace where freelancers can sell services online to businesses worldwide.
With the increasing number of outsourced jobs, the number of freelancers is also growing worldwide. The giants like Microsoft and Amazon also prefer skilled freelancers for software development, testing, and other such jobs. A recent study shows a 30% increase in outsourced work on platforms like Fiverr and Upwork. Not only that, in the coming years, about 80% of top companies will substantially increase their outsourcing to freelancers. There is a huge opportunity coming, as the freelancing sector will boom in the upcoming time. And to take advantage of this great opportunity, why not create a freelancing website to sell your services. It is not complex and expensive, with proper tools and information it can be built easily.
Before giving information about how to create a freelancing website, let's take a look at some best alternatives to Fiverr:
1-Upwork
Upwork Global Inc. is an American platform for freelancers and businesses. Freelancers can work with clients from all over the world. It is the largest marketplace for freelancers. It has 18 million+ registered freelancers, and 5 million+ registered clients. Upwork is the strongest competitor of Fiverr and amicable for beginners. Upwork benefits you in functionalities, secured support, and secured payments.
2. Guru.com
Guru.com is a platform where freelancers and businesses come together for work. It is a platform where freelancers can find clients easily. Unlike Fiverr, Guru provides services that are essential for business.
3. 99Designs.com
If you are a graphic designer, then 99designs by Vistaprint is an alternative to Fiverr. Designers all over the world are available on this platform. It has a talented designer community that focuses on graphic design only. This makes 99designs different from others.
4. Toptal
Toptal is an abbreviation of Top Talent. Toptal has 3% of talent in the freelance industry. It provides quality work to its clients. But the quality demands prices that means you have to pay higher for quality prices. Toptal is one of the most expensive platforms for freelancers.
5. Freelancer
In the Freelancer business, post jobs that freelancers complete through bidding. There is a 10% commission on Freelancer, which is relatively low as compared to other platforms. 
Also Read: 7 Steps to Building an Online Community
6. PeoplePerHour
PeoplePerHour is easier for businesses to find the right person on PeoplePerHour. PeoplePerHour is like Fiverr. It offers services in all the fields. If you are comfortable working on Fiverr, then you may go for PeoplePerHour.
7. Truelancer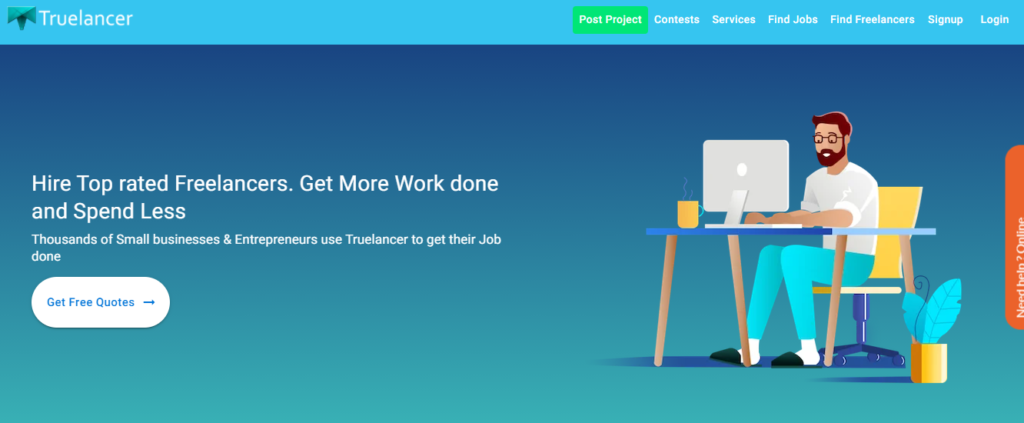 Truelancer is an online website that provides a platform for businesses and freelancers to work together. Truelancer is the cheapest alternative to Fiverr. Truelancers is a good platform for international freelancers but not for local ones.
8. Outsourcely
Outsourcely is another platform which brings startup and freelancers to work together. It connects businesses with remote workers worldwide. It has more than 400000 talented remote workers. 
9. Solidgigs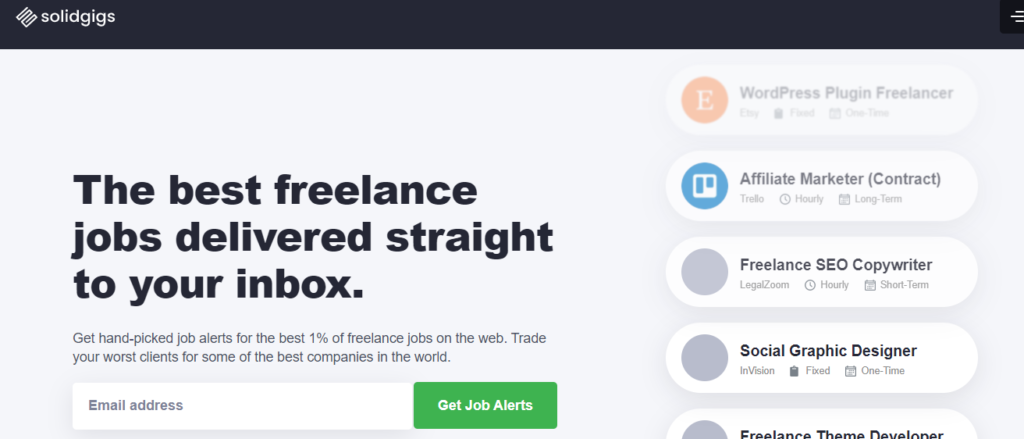 If you are starting as a beginner, then solidgigs is the best website for you. It has a variety of jobs, such as media consultant, guest blogger, etc.
10. Flexjobs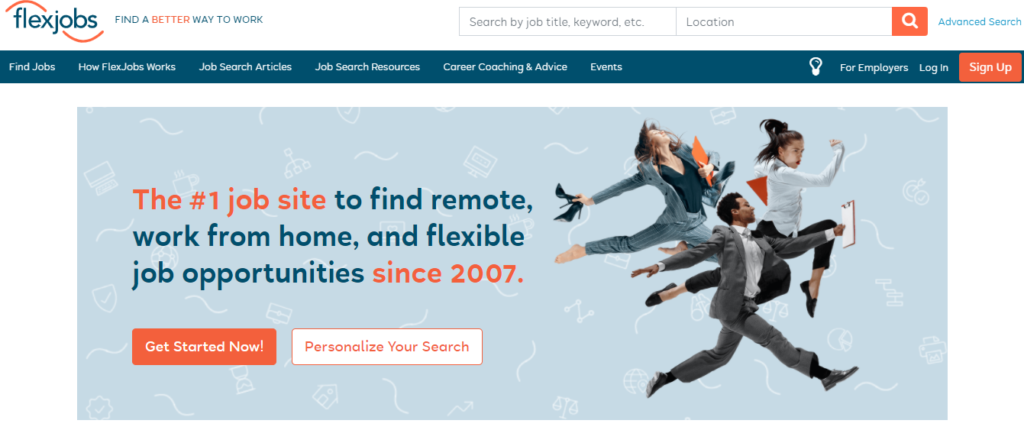 Flexjobs helps freelancers to find jobs more efficiently with flexible schedules and many more things. With the help of WordPress and some plugins, it is a hassle-free process. But let us first know what a freelancing website needs:
Features Required in a Freelancing Website
Registration and verification
For every freelancing website, it is necessary to register and verify their freelancers and clients to set up their profiles and eliminate the risk of fraud.
Profile Setup
After registration and verification, there is a profile setup for both freelancers and clients. Both profiles have different aspects to them. 
A freelancer's profile
will showcase skills, qualifications, experiences, and other such things.
A client's profile
will consist of a dashboard from where they can track progress, see history, access the marketplace, manage payments, and more.
Also Read: What is WordPress? An Overview of the World's most popular CMS
Order Management
Each order placed by clients should be managed appropriately and delivered timely by freelancers. Order Management helps to track that.
Communication
There should be an unbroken communication channel between the freelancer and the client.
Payment
Integration of payment gateway for smooth financial transactions.
Ratings and Reviews
Helps to know about the quality of each freelancers' services.
Now, we can move ahead and know about the steps to create a freelancing website like Fiverr:
Get a domain
Get a hosting service
Install WordPress and choose a WordPress Theme
Developing UI and customization
Integrate Plugins
Start managing and marketing
Step 1: Get a domain
Getting a domain is very easy. You can get one from Godaddy or similar websites. Choose the domain name wisely as it will be representing your business.
Step 2: Get a hosting service
This service will manage your database, store your files, provide you with an SSL certificate, which is important for integrating a payment gateway. It will keep your website online. You can choose one from many options like Bluehost, Dreamhost, Hostinger, etc.
Step 3: Install WordPress and choose a WordPress Theme
You can set up WordPress manually by following some simple steps or choose a WordPress plan from your hosting website.
Now, after installing, you have to develop an attractive and smooth User Interface (UI) for your website; it is a must. The success of your website depends upon the ease of its users. For UI creation, you must choose a WordPress theme. 
Choose a WooCommerce Compatible Theme
There are thousands of themes you can find on the WordPress repository to choose from. Here, I will suggest the BuddyX theme.
BuddyX is a light, fast, responsive theme that supports tons of different plugins and addons like WooCommerce, Dokan, making your website full of attractive features. BuddyX theme is a free community WordPress theme with a premium version known as BuddyX Pro, which comes at a quite reasonable price for yearly and lifetime support.
BuddyX Pro pricing
Single website: $59/year or $199 for a lifetime
Five websites: $129/year or $299 for a lifetime
Unlimited websites: $399 for a lifetime
With the BuddyX theme, you can design your website just in a few minutes and clicks.
Step 4: Developing UI and customization 
After selecting a theme, it is time to develop a kick-ass UI. You can either do it yourself; select the different options, dropping widgets, setting color schema, backgrounds, typography, etc., or you can leave that to BuddyX theme by importing the demo installer to get all that in a single click. Now, you have to change some names, heading, and other things, and hurray, you have completed designing a freelancing website.  
Step 5: Integrating plugins
There are thousands of plugins on WordPress, but we will talk about plugins needed to build an excellent freelancing website. The main purpose of a freelancing website is to create a secure marketplace for different services provided by freelancers to different clients worldwide. For that purpose, we will integrate the WooCommerce plugin and its addon Woo Sell Services.
What is WooCommerce?
WooCommerce is a general-purpose, open-source plugin for all your e-commerce needs. It will help you set up your store online, integrate payment gateway, showcase your products, and much more. A rating above four stars makes it the most loveable ecommerce plugin in the WordPress plugin collection. 
Features of WooCommerce
WooCommerce provides your website several layouts for your ecommerce platform.
Integration of a payment gateway was never easy before the WooCommerce plugin. It provides easy integration with Stripe, PayPal, Amazon Pay, and many more such platforms.
WooCommerce dashboard helps you with managing orders, live tracking, logistics, and much more.
You can easily manage coupons and discounts with the help of this ecommerce WordPress plugin.
WooCommerce also provides you marketing tools such as Google Listings and Ads, Automate Woo, and many such marketing tools to influence your customers.
You can easily make automated tax calculations and other statutory computations by integrating WooCommerce Tax or other supported plugins.
Since it is an open-source plugin, which makes it very flexible, and you retain the ownership of content and data of your website. 
About Woo Sell Services Plugin
For a freelancing website, selling services and its management is the most important thing, for the Woo Sell Services plugin is recommended. It will help you sell services like any other tangible product along with providing many more features.
Also Reads: Signs That Shows Your WordPress Website Is Hacked
Features of Woo Sell Services plugin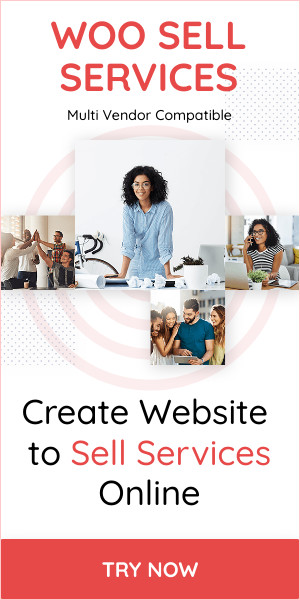 Woo Sell creates a new product type called "services." This allows vendors to sell their services as products on a digital platform.
Vendors can add service-related requirements like estimated date of completion and delivery for the knowledge of the customer.
Vendors can also add service-related questions to be answered by the customer for further service customization.
Woo Sell Services plugin provides real-time email notifications for both vendor and customer.
The 'services management feature' helps the vendor to manage all his services and order quickly.
A real-time messaging service is provided to the vendor and customer for clear communication. This helps both sides in resolving queries, building a long-term professional relationship. With the complete understanding of the customer, the finished work will be of high quality, increasing the customer's overall satisfaction level.
The final delivery option provides the vendor with a final delivery checkbox. To make the delivery final, the vendor has to check the box. After that, the delivery will move forward for customer verification.
Customers and vendors can track the status of the ongoing order on their respective dashboards.
Buyers can personalize their ordering requirements to make things happen perfectly.
Freelancers can communicate with other freelancers, share their services, take their expertise on ongoing projects to create enhanced value for clients, and deliver services on time.
Freelancers can ask the clients to change the delivery dates, earlier or later, as the work progresses.
Woo Sell Services helps the vendor to get reviews and ratings on various services from customers. The ratings are automatically synced with the woo review.
Pricing of Woo Sell Services
Single License: $59/year or $199 for a lifetime
Five websites License: $129/year or $299 for a lifetime
Unlimited websites License: $299/year $499 for lifetime
Choose a WooCommerce Compatible Theme
Add the multi-vendor Marketplace Feature
The other plugin we can integrate into our freelancer website is Dokan. It adds multi-vendor marketplace functionality to your WordPress website. This allows the other vendors to sign up on your website and create their services to sell it on your website.
For overall UI development of our website and the integration of e-commerce plugins like Dokan, WooCommerce, and Woo Sell Services, and to create a splendid freelancing website like Fiverr, StoreMate Dokan theme is the best alternative to the BuddyX theme.
This theme aligns the ecommerce plugin together and provides you with the best-in-class design for your freelancing website with smooth UI management.
Some StoreMate Dokan theme features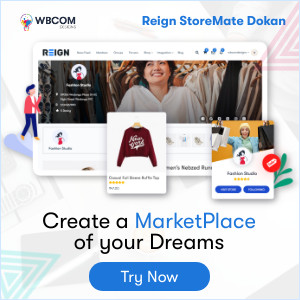 You can easily integrate and work with different ecommerce plugins like WooCommerce, Dokan, Woo Sell Services, and many more such plugins
Easy integration with the BuddyPress community plugin for the creation of online communities.
You can have bbPress integration for managing forums.
The StoreMate Dokan theme provides Multiple-layout options for creating your ideal freelancing portal.
You can set up your website in one single click with its Import Demo feature.
These are only some of the features that are listed here. A long list of features and supported plugins provide you with many functionalities that will make your freelancing portal stand out from the rest.
Alternative solutions
You can also prefer EDD Sell Services as an alternative, for that your service website must be powered by EDD plugin, instead of WooCommerce. It provides about the same features and has the same price range.
Now, you are good to go live. You have a kick-ass UI, integrated and simple user management system, payment gateways; you have to do only one thing; manage and market your website. 
Step 6: Start managing and marketing
Robust marketing and management are the two pillars for success in any business. With the help of the BuddyX theme, you can do it very easily. With the support of the BuddyPress plugin, you can create communities for promoting your websites. WooCommerce integration provides many different ways of advertising your websites, such as email marketing, social media marketing, and many more. With the help of BuddyPress Resume Manager, you can help your vendors to display their resumes on their profiles. You can use BuddyPress Private Community Pro addon to make your users' profiles safe. All these small strategies and integration of these plugins can create a difference for your freelancing websites from the others.
Conclusion
Many freelancing websites present in the current time like Upwork, Guru, Trulancer, FreeLancer, PeoplePerHour, and many more. The freelancing business is growing at a top-notch speed. There is still a void that needs to be fulfilled. The question is, are you ready to fulfill that void with your own freelancing website?
Interesting Reads:
How to Start Your Own Social Network Website