The times have changed phenomenally, and the businesses that don't have reviews on their product or services cannot keep up with their competitors and are doomed inevitably. Reviews provide a better customer understanding and create confidence among customers that influence the decision-making process.
The fact is that the internet has turned into a platform where the customers share their experiences, whether good or bad and give reviews on the product so that other customers who are thinking to get the respective product or service can perform their analysis and make themselves satisfied regarding various criteria of the product. Let's explore these points.
Importance of reviews in a Community Site
The importance of the reviews can be understood by the fact that 95% of shoppers read reviews before making a purchase or about 83% of the prospective employee depends on reviews of a company before dropping the Curriculum vitae. Moreover, people nowadays make their choices based on reviews. From selecting movies to watch to buying tablets, confirming appointments with the doctors, and so on. People first analyze the reviews and ratings online before deciding. Some major advantages of reviews in this online world are:
Persuading potential customers
Reviews are a great way to provide the necessary information and the hands-on experience of different customers to the potential customers searching for a particular product and service.
Just launching the product and advertising is not enough to achieve the desired success in the current scenario. The reason is that people crave knowledge. The more positive information about the product, the better it is. In other words, the more positive reviews about the product, the more success the product can achieve.
Improved customer service
Whether the reviews are negative or positive, it helps a company do analysis based on different criteria and improve customer service and a personal relationship with them. And when this happens, many negative reviews are re-written by customers to a positive one.
I can add many more points here, but I think you have a basic idea about the importance of reviews.
Now, in a community page where there are many groups and members, having a reviewing feature is a boon for the members and the various groups. Members can review each other professionally on various criteria and provide ratings. The various groups created on different topics can be rated and reviewed as per the content they are providing.
How to add review features using BuddyPress addons
Now, you must be thinking that incorporating reviewing functionalities must be typical and costly. So, let me inform you, they are free and easy to set up and use. You just have to integrate the BuddyPress community plugin into your WordPress website and install and activate these two add-ons BuddyPress Group Reviews and BuddyPress Member Reviews.
How to install the BuddyPress addons?
Step 1:
Download the addons: BuddyPress Group Reviews and BuddyPress Member Reviews
Step 2:
Upload the entire "BuddyPress Member Review" and "BuddyPress Group Reviews" folder to the /wp-content/plugins/ directory.
Step 3:
Activate the plugin through the 'Plugins' menu in WordPress.
Now, let us know more about these WordPress review plugins.
BuddyPress Group Reviews
This BuddyPress addon enable the members to give reviews based on several criteria and rate the groups present on the respective community platform. The users can give text reviews and express their thoughts easily, along with a star rating system.
Features
Members can post reviews to various groups on the site.
Users can provide ratings to the groups easily.
Admins can create multiple criteria on which the review is based.
Admins can set up multiple review functionality. This function can be easily enabled or disabled by the Admin.
Users can get information about the reviews with email and notification functionalities.
A shortcode can be created to submit group reviews from any post or page.
Admins can either approve reviews by themselves or set up auto-approval.
Rating colors can be changed easily as per the website color scheme.
Users can filter the groups based on ratings.
A widget showing top-rated groups can be easily incorporated.
BuddyPress Member Reviews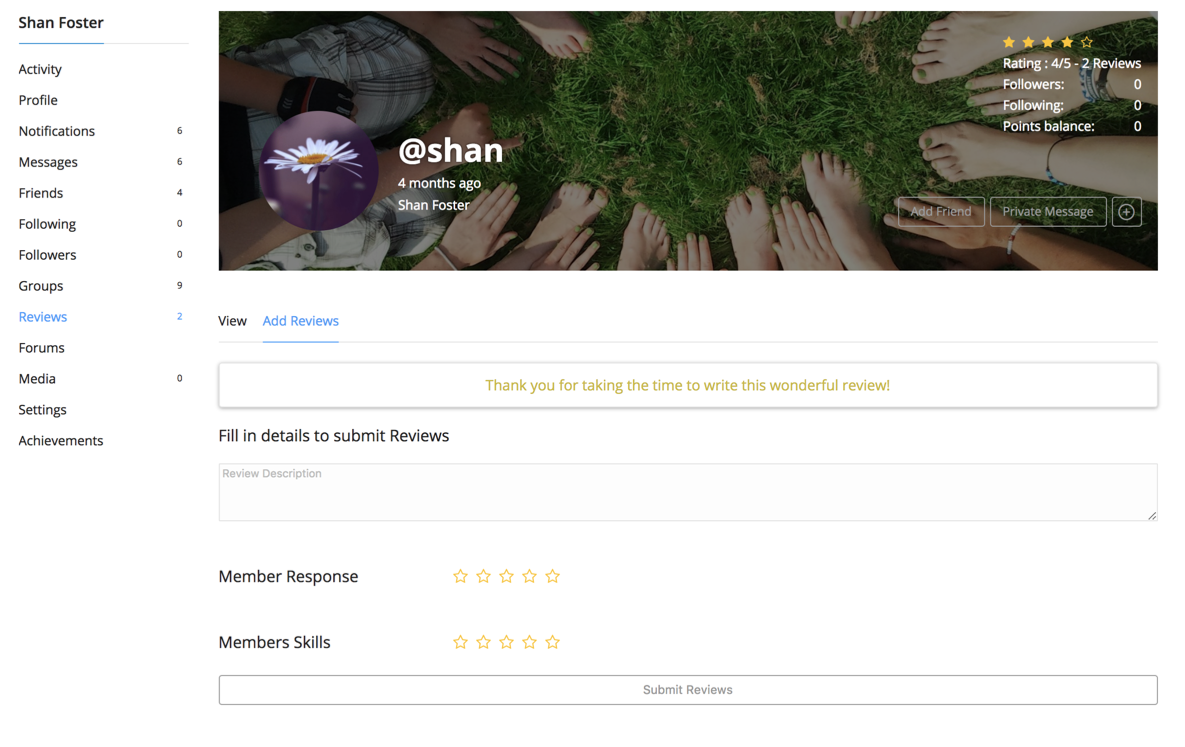 This BuddyPress addon permits the website members to rate and review each other on a different set of criteria. The members cannot review themselves, nor can they rate anyone if they are not logged in. Members can write reviews and give ratings easily without much hassle and without risking their privacy to outsiders.
Features
Members can leave reviews and ratings on other members' profiles.
The Members Review widget displays the members' list on the website.
Easily add the shortcode to submit a review from any post or page.
Admins can create multiple criteria for review.
Admins can choose to exclude a member from review functions.
Users remain up-to-date with email and profile notifications.
Match the rating and review color with the website's color theme.
There is a choice among different rating templates to display ratings.
Adjust labels for Review Form and BuddyPress tab in the backend of the website.
Admins can enable or disable multiple reviews for members.
Admins may approve reviews on their own or configure automatic approval.
Easy filtering of members based on ratings.
Widget containing information about top-rated members.
The best way to use the BuddyPress Group and Member Review Addon
These both are BuddyPress addons, so you have to integrate BuddyPress plugin into your website. And to use the BuddyPress plugin to its full potential, it is recommended to use the compatible BuddyPress theme like our BuddyX theme, which is free to use.
With the help of this WordPress community theme, BuddyX, you can easily integrate various community functionalities of the BuddyPress plugin that integrates many other features such as e-commerce plugins like WooCommerce, LMS plugins like LearnDash, Dokan and WC Vendors for multivendor feature,  forum integration with bbPress, and much more are just a few clicks away.
---
Interesting Reads:
How to Create a Dating Website Using WordPress Plugins
How to Start Your Own Social Network Website?