A marketplace represents a platform enabling buyers to purchase and sellers to exhibit their goods. To put it differently, a marketplace brings sellers and buyers together to carry out deals and is generally a two-sided channel, implying that it has two categories of users receiving benefits from the platform namely, buyers on one end and sellers on the other.
Marketplace is limited not only to buying and selling in its main sense, but can also include accomodation rentals such as Airbnb, HomeAway, or even services like TaskRabbit.
Here, in this post we take a glimpse of the string of benefits that accrue from creating a local marketplace. After all, local knowledge is prime to global success. This holds true because any business that decides to thrive in various markets across the world has to know the deep divide that prevails among cultures and nations. 
Advantages Of Starting a Local Marketplace
Your local marketplace creates a win-win situation for your digital business as the services you offer are appreciated immensely by the online community you target, that is both the sellers and purchasers Some of its key benefits includes:
#1. Local Marketplaces Solve Real Problems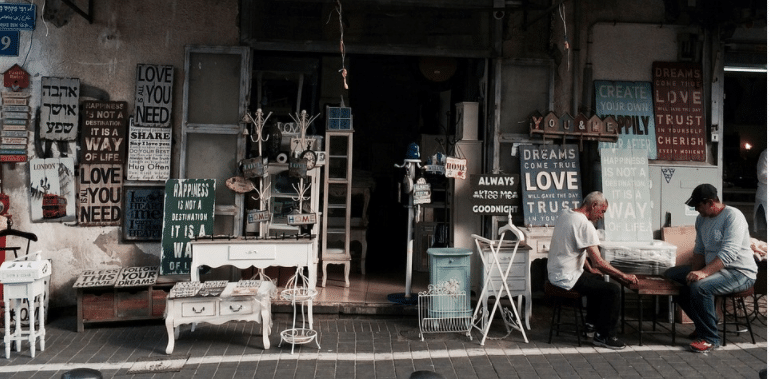 Just the way any startup does, your marketplace to has to solve a real problem. To put it differently, you should visualize positively about the service offered being admired by both buyers and sellers. 
Based on the real situation, you can build a marketplace that houses different kinds of goods to be sold or can target a specific industry such as food items, apparel, or services. For instance, platforms like TrueFacet deal with the purchase and sale of luxury watches and jewelry. 
Such a vertical marketplace with its effective concentration on the niche product has the capacity to display the goods in an advantageous way.
#2. Better Knowledge Of Customer Needs And Habits
Local marketplaces on account of their better knowledge of the preferences, cultural sensitivity, and buying habits of the customers tend to dominate the market.
This sensitivity enhances the ability of local marketplaces to connect deeply with customers through marketing interactions, messaging, and the value proposition that it offers. It brings the consumers in contact with the vendors who are in close proximity. It works well with the customer psyche as they feel that they are served better and their needs are fulfilled.
Moreover, customer satisfaction can be quickly achieved in a local marketplace with less cost and little endeavor. On the part of the sellers, it gets immensely convenient to attend and deliver a consumer who is located nearby. The vendors understand the aesthetics of their buyers and therefore can operate their business models in accordance with it.
# 3. Offers An Exclusive Networking Opportunity
Purchasing locally also offers an exclusive networking opportunity for businesses. Preferring to purchase from different businesses inside your community can create new connections, scope to collaborate, avail special discounts, and promote each other's brands.
# 4. Helps In Discovering Inventory FIrst
Local marketplaces helps in making you discover inventory, so that if a woman is looking for a party wear dress right now, can search a local source for that product before they deafault to Walmart or Amazon.
# 5. Works Similar To Real-World Counterparts
Not considering the discourse about a smaller world made possible by technology, the digital marketplace remains one such segment where control by a few mega-global -syndicates has not happened. This is due to the fact that, eventually, digital marketplaces are liable to work similarly to their counterparts from the real-world. They are formed on the basis of relationships and reflect pride for the communities surrounding them. 
Like for instance, if you are in Singapore, you will see that the classified marketplace app has transformed C2C selling and is more popular compared to eBay or Amazon. This smartphone plus online C2C marketplace for purchasing and selling the latest and secondhand products has emerged as a flourishing marketplace and a mark of pride for residents of Singapore. 
Also Read: Keyword Research Tools : Free, Freemium and Paid Options
# 6. Creates A Sense Of Local Pride
In no small measure, local pride forms a tangible benefit for a local or homegrown digital marketplaces compared to global conglomerates. It has been observed that at many places, residents experience pride in supporting companies that are homegrown, and are making an effort to succeed while facing challenges from overseas big players.
Such a sense of pride is based from the fact that the local marketplace is able to cater properly to customer service and expectations of product selection. But above all, people have a tendency to support and promote their local marketplace.
# 7. Adapts Quickly To Local Economy And Needs
Local marketplaces are more suitable to adapt to any change in the local economy or collective perceptions. Are you familiar with the name Mudah? Perhaps no – since you do not reside in Malaysia. But it is a huge marketplace- the massive one in that part of the globe. Actually, Mudah lists millions of products to be sold daily, draws millions of consumers annually, and of late collaborated with premium lending markeplaces of Southeast Asia to provide personal loans to users of Mudah. Though probably, actually none would have any reason in New York to have ever known this company which is in business for 12 years.
The expansion of Mudah into personalized loans is derived from a deep understanding of local economic needs, which was nearly impossible for any outsider looking to enter the market. Uber too faces a powerful homegrown competition in India from the Indian ridesharing company, Ola that has expanded and thrived based on the know-how of the subtleties of the Indian market.
Though Amazon may be dominant in the U.S., it is not a leading shopping website in several nations across the globe. Local providers and operators generally manage to get the best deal because they are well aware of their market, its norms and maintain close networking with sellers.
A general notion in America is that Amazon has its imprint over the globe, though that is not the reality. It is powerful in the U.S. without any doubt, but many Americans would experience a shock to know that there exists huge diversity and influeices with regard to global marketplaces.
# 8. More Organized Inventory Management
When you create a local marketplace, it becomes easy to collaborate with credible vendors, who are your suppliers and maintain a steady supply of products as and when required. In this manner, you can avoid remitting huge amounts of money for maintenance of your inventory.
Every time you get an order, you can accept or nullify it depending on factors such as its availability and deadline with regard to delivery. Hyperlocal marketplace platforms are very useful as they can automate routine tasks and use their inventory tools and logistics to operate your marketplace business efficiently. 
# 9. Explore Products Efficiently For Sale
Marketplace starts with images of products listed for sale by users near you. In a local marketplace you can find specific products and filter your choice by category, price or location. You can even view the products present under various categories like Electronics. Garments, Sporting Goods,and Home Decor. You can apply the location tool embedded to alter the region you are searching for, or switch to an altogether separate city.
Your local online marketplace creates product description and more information from the seller that includes their profile photo and general location. For a customer, these local marketplaces are very popular and provide an easy way to compare products and prices from one source, and they ensure a degree of trust between you and the potential buyer.
# 10. Make initial Categories For Your Community
Your community can be formed as a large forum, or can be classified by topics. Like for instance, you can create a formum for traveling and next classify topics by location (Venice, Berlin, Paris). In case, your community deals with business providers, your categories can include Marketing, Accounting, Automation etc.
Based on your products, you can make categories within your community displaying its efficacy in solving the problems of commnity members. Creating a local marketplace helps you to know about the community members who are interacting with which type of categories frequebtly, and the kind of products that would be ideal for them.
Summing Up
A local marketplace operates as a suitable destination to explore, purchase and sell items with your community members. Marketplace makes it convenient to locate new things you value, connect closely with consumers, and discover a new home for the products you're willing to part with.
Interesting Read:
Must-Have Digital Marketing Tools