Having an online marketplace is in vogue these days. Platforms like Etsy, eBay, Fiverr have gained huge success and popularity in the last few years. This success has proved that creating an online marketplace is pretty much scalable and not a very expensive proposition. So, if you have ever thought of building a marketplace but found out that it is not your cup of tea, this is the right time to build one. Today, in this article, we will tell you about how you can build a marketplace of your own and that too with zero coding skills. Take a look.
What Is Marketplace?
For those who are not aware of a marketplace, A marketplace is simply a collection of stores where customers come and browse goods from many different vendors.
Stores like Amazon, Etsy, eBay, Airbnb are some of the top marketplaces. Earlier building a marketplace online was really expensive as the process involved in creating a marketplace required a number of things to be done.
Nowadays, this has become pretty much easier and cheaper and a lot profitable as well.
But how? Be patient and read forward for the answer.
Create A Marketplace With WordPress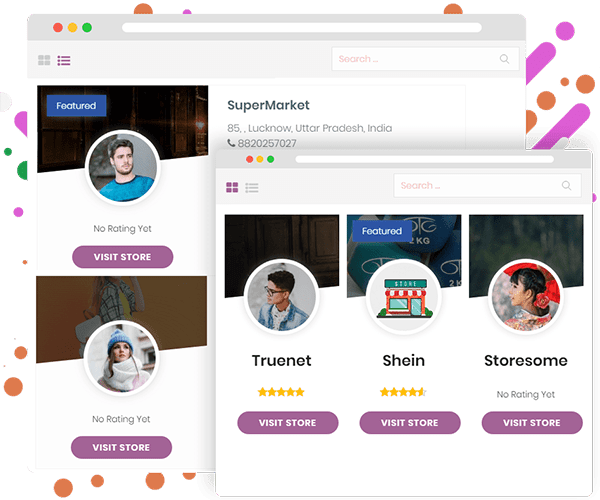 Yes, you read that right. WordPress is one of the most incredible as well as the easiest platform to create an eCommerce website and that too without any coding knowledge.
And most importantly, You can easily build a marketplace with WordPress with just two things:
1. Plugins
2. Theme
Yes, All you need to create an online marketplace is a few plugins and a theme that makes your website look just like a professional marketplace.
Is it as easy as said?
Technically, not like making a cup of tea but also not like spending thousands of bucks on getting it made.
What Will You Require?
If you already have a WordPress website of your own, you will simply require two things, one or two plugins and a theme.
But If you are a beginner, you will first need a WordPress website of your own. Creating a WordPress website is simple. All you need to do is follow these steps and you are done.
Create a marketplace using WooCommerce and Dokan
Once you have a website that can be converted into a marketplace so that vendors can create their own stores, you will be required to install two amazing plugins that will give you all the functionalities of an eCommerce website. These are WooCommerce and Dokan Multivendor Marketplace Plugin.
1. WooCommerce:
Stats suggest that around 42% of all WordPress stores run on WooCommerce. This plugin allows you to convert your website into an eCommerce store with some incredible features. It is highly customizable and extendable as per your requirements.
WooCommerce offers the following features:
1.  You can create your own online store with ease
2.  From physical products and digital downloads to subscriptions, content and even appointments, you can sell anything with WooCommerce.
3.  WooCommerce offers you endless customization options.
4.  Features such as Ember products, checkout, adding product categories, tags, attributes and reviews.
5.  Shipping options, shipping rates, built-in payment processors, Geo-location support, tax options and more.
6.  Features to manage orders and customers such as Customer accounts and guest checkout, One-click refunds, Customer accounts and guest checkout, One-click refunds, Inventory and order management and a lot more.
You can browse the complete list of features here.
2. Dokan Multivendor Marketplace Plugin
Powered by WooCommerce, Dokan Multivendor is the most trusted frontend multivendor marketplace plugin on WordPress. Fast and flexible, it allows you to create your own marketplace and earn through commissions with digital as well as physical products.
Some of the amazing features of Dokan include:
1.  Allows you to create a Marketplace with Independent Stores.
2.  Dokan supports simple, variable, downloadable, virtual product, grouped and bookable products. So your vendors have endless opportunity to sell.
3.  Dokan offers frontend dashboard for vendors and customers for easy management of orders, inventory, discount, sales and coupons.
4.  Allows you to Charge commission globally, on a vendor or get a special commission on a single product.
5.  Vendors can also see their store insights with reports and statement.
6.  Other features include Coupon Management, Stylish Storefronts, Manage Orders, Easy Withdraw System and a lot more.
Find the complete list of features here. Both these plugins will allow you to create a fully fledged marketplace of your own.
Make Your Website Look Professional With A Compatible WordPress Theme
The most important part of an online marketplace is to bring customers to your website and this is possible when your website is appealing to them. There are many factors that play an important role in bringing customers to your marketplace. These include easy navigation, an appealing design, categories, easy searching, easy checkout, secure payment and a lot more.
All these features can be achieved with the help of a well-designed theme which is compatible as well as fully-responsive. We will suggest you go with StoreMate Dokan Theme. This is a Dokan plugin based theme and is fully compatible with WooCommerce so you can create a stunning marketplace.
Features of StoreMate Dokan include:
1.  Storemate offers a wide range of color combinations and typography options for even the smallest design elements of your site.
2.  Storemate has been designed keeping in mind the most important aspects of a marketplace like store listings, vendor listings, unique single product page customizations, automated mega menu support, user experience, and marketing and sales enhancement.
3. StoreMate provides you with several unique, live and interactive ready to use demos, that makes it easier for you to take the right decision.
4.  Other features of this theme include vendors management, Vendors Manage, Online Store, Extra Shop Layout, Shop Options and a much much more.
You can check out the free live demos of Storemate Dokan theme.
Get Started With Your WordPress Marketplace Today
If you have the right platform, plugins and theme, creating a marketplace of your own is very much possible and easy task. So, if you had this plan in your mind, bring it to action and create a marketplace of your dreams.
If you have any questions, you can leave them in the comment section below or simply contact our support.