In this era of competition, the issues are that eCommerce marketplace start-ups are more complex than offline companies. Multivendor eCommerce platforms have become the popular fashion in the world of eCommerce. Ecommerce marketplaces are online platforms, and an owner of a business has to find clients on both the demand and supply sides.
The first thing to focus on in the beginning phases of creating your marketplaces for online sales is to concentrate on building your supply base by encouraging sellers to sell their goods in your marketplace.
If you wish to run your eCommerce marketplace sites efficiently, there should be a good selection of vendors that can provide the services and products to customers. It is crucial to think about how to find vendors to make sure they're the right ones you're looking for.
What is the best way can you attract more sellers or even the first handful of sellers on the possibility that you've recently launched your marketplace online? We're here to offer you some useful tips for how to do that. First, we need to make the basics in order!
What exactly is an online marketplace site?
In the beginning, we considered asking and answering questions from a beginner's point of view. We believe it's vital to know the fundamentals of an eCommerce marketplace site before launching one. This way, you'll be able to easily develop as well as manage the online market.
A marketplace website is a site that lets different brands and sellers sell their products on a single platform. The admin or owner of the marketplace for eCommerce deals with bringing vendors onto the platform, as well as the administration and management of the marketplace's website. The other aspect is that the third-party vendors take responsibility for the production and delivery of the goods they represent. In essence, the online marketplace simplifies everything involved in purchasing and selling items through a single platform. While the admin oversees the marketplace, the various vendors market their products directly to customers, and the customers can pick from a range of items.
Also Read: Reign Best BuddyPress Theme
If you're a person who's contemplating a move into the world of online shopping making an eCommerce marketplace is the best option for you.
Why are Vendors an important part of a Multivendor Marketplace?
Vendors are regarded as the foundation of a Multivendor Marketplace. The more reliable vendors you can find the greater your market will draw buyers.
A larger number of vendors means that you can provide more products. So your customers can select from a wide range of options and receive different prices and qualities for the same item. This is an achievement that is difficult to achieve for an eCommerce site with just one vendor.
The addition of more vendors gives your market stability. As a result that your supply chain stays in place even when certain vendors have issues.
How to find vendors to join your Multivendor Marketplace?
We've discussed before the importance of vendors in an open marketplace with multiple vendors. For the owner of a brand new market, the process of finding vendors may appear to be a difficult task. It's because many new marketplace owners aren't sure where to begin when it comes to finding vendors. If you're among the majority, you've found the right website. This is how you can find the right vendors for your multivendor marketplace.
1. Advertise Your Marketplace online
It is the best method to advertise your marketplace with multiple vendors than to promote it on the internet. There's not a single company that is not online, so promoting your market online will assist in connecting with your customers. What exactly are you able to do to accomplish this? Here are the steps.
Promote on Social Media
Promoting your social media presence is the very first step you must do. Why is that?
It's because of the large number of people who use social media, which equates to four percent of the world population. You can be certain that the majority of vendors are already active on the social networks, selling their products or creating a business profile. Instead of searching for them everywhere, join them where they are on social media.
Promote your business by using ads
The Internet has become a part of our daily lives. Even if your suppliers aren't on social media, they'll require other websites to perform their day-to-day work do they not?
This is why ad networks play an important role in bringing people to your site. They can help you target your ads by their online activity and it is easy to find suppliers who are selling the kind of items you require on your website.
Reach out to the right audience
When you're trying to promote your product or service through an ad platform or via social media, you need to choose the right target people to reach. If you don't tailor your campaign to the most appropriate target group of people then all the effort you put into it will go wasted.
Utilizing keywords with care and understanding the kind of vendor you're looking for will aid you in locating the appropriate best vendors to host your site.
Also Read: How to find related keywords and How to use them?
2. Find Offline Sellers
The age of digitalization. Even offline giants such as Walmart are selling online to stay ahead of the trends in the market. However, despite the rise of global online businesses the majority of businesses are operating offline. This kind of business is dependent on word of mouth and goodwill. If you're knowledgeable enough, you are aware of the importance of integrating such sellers into your marketplace. Yes, you'll gain access to their customers, and also help the sellers sell their goods on your platform more efficiently.
3. Meet with vendors from Merchant Associations
Each type of business has associations. Based on the kind of products you'd like to sell on your market it is possible to contact the appropriate association and locate the sellers easily.
This is the most effective, and quickest method to locate sellers offline for the majority of marketplace owners.
Contact your Vendors directly
If you know of any vendors who could be ideal for your market and you want to contact them, you can reach individuals directly for them to offer their services on your market. While it's unlikely you'll come across a lot of sellers doing this but you could, nevertheless locate some well-known brands on the market and allow the opportunity to offer their products in your online marketplace. This can improve the selling and trustworthiness of your online marketplace.
Utilize Word of Mouth
Then there is the classic one. Offer your existing vendors amazing deals that will inspire other sellers to offer on your site. Finding vendors consistently who are passive can be the best thing that could occur for your website.
Also, you can boost the chances that your vendors spread the message of your services by offering referral bonuses to your current vendors.
How to Attract Vendors to your eCommerce Marketplace Site?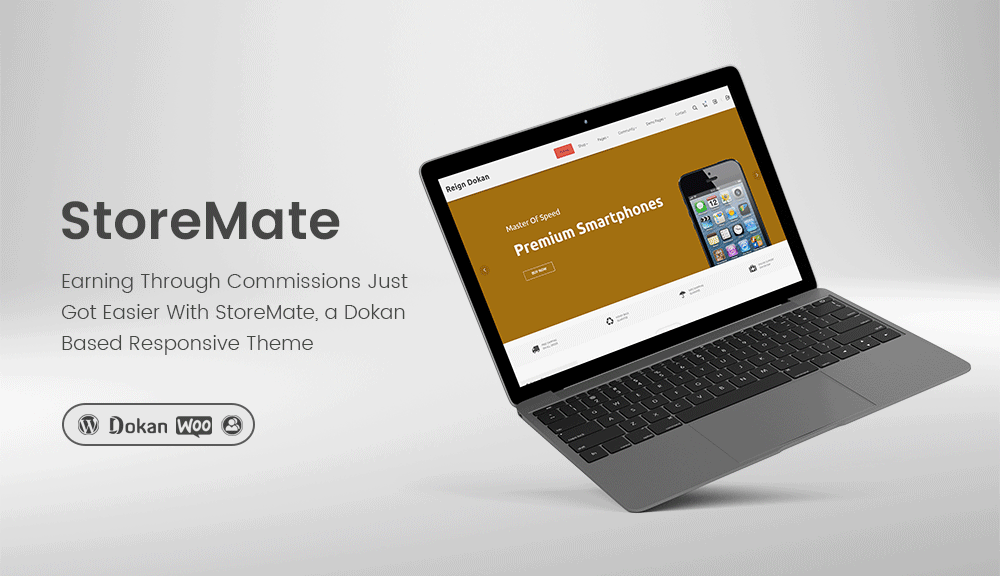 Being multivendor on an eCommerce marketplace platform means more merchants, and ultimately, more revenue for all. If you're able to offer more products available on your marketplace, then more people will visit your site and more sales will occur.
Here's a figure from Statista that indicates that in the year 2020, retail eCommerce sales in the world totaled 2.8 billion US dollars. The e-retail revenue is projected to rise to 4.1 billion US dollars in 2025.
1. Reach Vendors using the currently trending platforms
How do you begin seeking vendors to sell the eCommerce site you are using? One option is to use the platforms that already have potential sellers are currently active. It is possible to do this via using offline or online methods. For instance, Facebook groups or online forums, where users with similar interests gather. These platforms promote discussion which enables potential sellers to advertise their services.
Also Read: 7 Steps to Building an Online Community
How can you convince these suppliers to put their services and products on your multi-vendor market? You must be able to prove that you provide them with a solution that is superior to marketplace options currently available. After collecting the contacts of sellers, you can create an analysis that compares your eCommerce marketplace versus an alternative marketplace. You should make sure that you distinguish your eCommerce marketplace as an alternative to the competition.
2. Use Marketing on your marketplace for eCommerce effectively
The most effective and efficient technique you can use to advertise a multi-vendor market. A successful marketing strategy aids in drawing vendors to the multivendor market. Here are a few strategies to advertise the benefits of your eCommerce marketplace:
Make the most of this Advertising Platform Efficiently:
You can draw in vendors by using social media. It's a great method to connect with vendors. Posting informative and promotional content on social media sites can result in amazing results for your business. It is also possible to contact local businesses that aren't active on social media by visiting them in person. There are plenty of vendors who don't know about social media, yet they can provide great worth to your eCommerce market.
Ads that are targeted correctly:
The Google display and search ads campaign is another excellent way to advertise your marketplace. Make your ads to encourage sellers to sign up on your marketplace site as sellers. Your ads should be reflective of your motives, otherwise, the information you provide could be incorrectly interpreted.
Make use of social media groups Forums, communities, and groups:
Participating in communities, groups, and forums of merchants on various websites and social media channels will allow you to establish a direct connection with them. This will allow you to connect directly with them. The regular sharing of information through these platforms will keep vendors up-to-date with the latest information.
3. Find the vendors you want to connect with on your marketplace site and connect to them directly
The only thing we've covered is ways to draw merchants via advertisements, social media, or other platforms. Let's look at a few ways to outbound promote and specifically work with merchants for an online business.
However, first, you have been aware of where to find the data of vendors.
Web-based Business Listings for Businesses: Search for top business listings such as Google Maps, Apple Maps Yellow Pages, Manta, Yelp, and more. Find the company that is offering the service you are looking for. Merchant Associations: You can look for local vendors associations and get details about the vendors in your particular field.
Exhibit your business through trade shows. You can participate in regional trade exhibitions. When you attend trade shows there is a chance that you'll meet with suppliers who have a connection to your business. Inform them about your business and request the contact details of their company to reach them shortly. Once you have the correct details about the dealer Now is the perfect time to begin contacting dealers via offline and online methods of communication, Skype and social media, etc.
When you write an email layout, try to highlight the key points why sellers need to join the eCommerce marketplace. Be sure not to spend your space in the letter with the appearance of you and the possible plans for establishing an additional Amazon. Send the link for your "About Us" page, or write it later. The last thing to think about is personalizing your email messages. Personalized messages saw a 5% increase in open rates, compared to emails that have no personalization according to research conducted by Statista.
5. Blogs can be written to draw in sellers
A blog can also be an effective way to get people interested in your advertising your online marketplace. Offer them reviews and the stories of success from your current vendors, as well as business information and other valuable information for sellers to stay in touch with your business. When you search on search engines like Google blogs can rank quickly when they are optimized properly. Within a short period, you'll find links to your website on Google indexes. It's the ideal choice for ongoing growth. As per Hubspot, 55 percent of marketing professionals agree that blogging is their primary approach to marketing through inbound.
Also Read: What is WordPress? An Overview of the World's most popular CMS
6. Be sure to mention the commission structure
The structure of the commission and payment is a major concern for sellers. It doesn't matter whether you charge commissions based on the category of the product, the product, or the amount that should be clarified.
It is necessary to set up the modules on your eCommerce site, and then you can divide the cost and ROI. The module should be moved on the page for payment. Delaying this process could confuse sellers. In terms of payment, the most commonly followed method is each week. This ensures that the books are clean and ensures that liquidity is always available when the merchant's account is closed.
7. Supply the eCommerce logistics and customer support
The promotion and the attraction of customers are among the primary reasons why individuals and small businesses are likely to be attracted by your eCommerce website. The creation of a large number of customers is just one aspect of the issue. The next challenge is getting products onto your site, offering 24/7 customer support as well as establishing an efficient returns process.
If your eCommerce site offers physical products that are shipped in the future, you'll require solutions to packaging, warehousing, and then finding transportation partners and order fulfillment firms that can handle complete delivery logistics for your items.
Finding sellers, helping them move online, generating traffic, communicating an item, and monitoring the needs of customers are all links to your business chain of e-commerce. Your suppliers will turn to you for logistics of delivery in addition to your advertising strategies.
8. Find out what sellers are looking for and then frame an ideal offer
Two fundamental points of interest attract sellers to try an online multi-merchant enterprise:
An opportunity to explore new markets and increase the possibility of a large customer base
Ability to make use of an eCommerce marketplace's advanced features and frameworks;
A different sales channel, and further growth;
The chance to assess the online sales, and then start your own business.
It's important to gain an understanding of the intriguing features and requirements of your attention to merchant gathering. This will help you create an offer that is unique and will convince them to sign up with your multi-seller platform.
Also Read: Benefits of Building an Open-Source Knowledge Base
Therefore, it's better to conduct research specific to your particular audience of viewers.
Conclusion
The diverse strategies described in this article aren't only for traditional product selling websites and can be used for all types of marketplaces for eCommerce where many vendors are involved, like online grocery markets clothing websites, food ordering websites, and more.
It's possible that because of different business models, you may require differently, however, in the majority of cases the strategies will perform well.
Interesting Reads:
How To Start a Community Membership Site
How to add an event calendar in WordPress?