Creating an impressive website may be rather challenging. However, it's not a problem if you have a powerful assistant that can do almost everything on its own. The name of this effective solution is Monstroid. No wonder that it's considered to be one of the best multipurpose WordPress themes. Using it for your website, you may be sure of its flawless performance. Let's have a look at the main features to understand why Montroid has become so popular.
The Features Of Monstroid Review
More Than 50 Awesome Template Sets for Various Business Niches
Yes, and it's not a joke. You will find exclusive demos for any business you can think of. Do you need a band landing or a skin for gadget repair services? A website for a web design studio or a coffee shop? These are just some examples to let you evaluate a wide choice of options to choose from. Moreover, due to regular updates, you obtain three new demos free of charge every month. One more advantage is that you may install demos with one click.
Elementor Visual Page Builder
It's difficult to overestimate the benefits you receive with this drag-and-drop builder. To start with, it's very easy to work with Elementor, as it's user-friendly. Thus, you can build an appropriate page layout or edit it yourself even without having special coding skills. Moreover, due to regular updates, it acquires new features that make the process of constructing or customizing website pages more useful. It's possible to create any page layout you want, applying a variety of icons, shortcodes, and other elements.
A Set of Jet Plugins for Elementor
Besides the Elementor Page Builder, Monstroid is equipped with Jet plugins to contribute to the website's functionality. The theme comes with such plugin, as JetElements that includes different widgets to satisfy various needs. Moreover, there is the JetMenu plugin to add a mega menu to the website. You may also customize its appearance.
JetBlocks plugin allows inserting different types of content into headers and footers. It can be a logo, an authorization link, or a search form. Do you want to take advantage of the visualization effects? Here is the JetTricks plugin that will help you achieve this goal. What is more, there are also the JetTabs, the JetPopup, and the
JetBlog plugins that are responsible for adding the corresponding elements to the website.
Optimized for Speed
The website's performance is one of the key points to pay attention to while choosing a theme. People won't wait for a long time for your website to load. Thus, there are two ways to solve this issue. The first one is to apply different techniques that improve website speed. The second one is to use a theme that is already optimized for speed. Monstroid offers you the second option. It's fast and lightweight to make your website run like clockwork.
Customer Support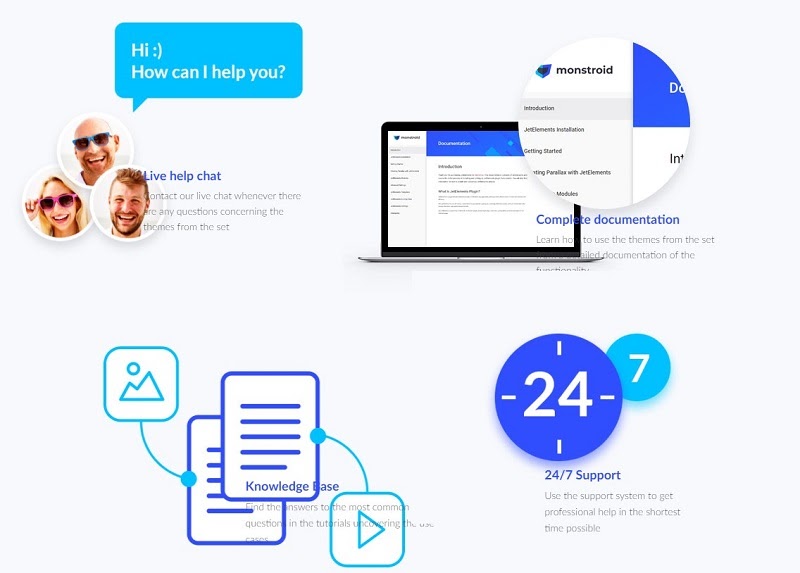 Customer support is a separate point that is worth talking about. First of all, Monstroid comes with detailed documentation describing its functionality. Moreover, you may find answers to your questions in the tutorials explaining the most popular cases. There is also a live chat where you may ask various matters connected with the theme. If you still have some issues to fix, the customer support team is available on a round-the-clock basis.
E-commerce Integration
Do you want to add an online store to your website? Monstroid provides you with such an opportunity, as it is compatible with the WooCommerce plugin. So, just a few clicks and your site becomes a functional e-commerce website ready to attract clients to your newly-opened store.
Monstroid vs. Monstroid2
Besides Monstroid, there's one more powerful and multipurpose Elementor WordPress theme that may seem similar to it at first sight. It's Monstroid2. However, Monstroid and Monstroid2 are two different WordPress themes. Yes, they have something in common. Still, both of them have their peculiarities, starting from the target audience and finishing with the features. Let's compare these two titans.
As for the similarities:
Both themes offer a wide choice of skins on various topics. They are ready to use at once, without modifying. Even if you want to change something or customize them according to your needs, you may do it quickly;
Elementor Visual Page Builder is one more common feature. You don't need coding skills to operate the themes. It's possible to do everything yourself and see the result at once while creating the layouts or the whole pages;
There is also a set of Jet plugins that enhance the functionality of both themes. Using the plugins, one may add the necessary elements to the websites, making them more user-friendly;
both Monstroid and Monstroid2 are smooth in the performance that makes the themes even more attractive to users. They are super-light and speedily.
What is more, among other advantages of both themes you will find:
regular updates with new products that appear as a result of the updates;
excellent customer support that is always ready to help you;
WooCommerce package to enrich the website with e-commerce functionality.
As for the differences, Monstroid2 includes Slider Revolution 6 that allows adding various visual effects to the website pages. It's possible to benefit from the 3D parallax effect or animation effects that you may apply to text or images. Moreover, one may create video layers due to this functional plugin.
Furthermore, Monstroid2 is compatible with more plugins; for example, the Timetable and Event Schedule or the Yoast.

We have already mentioned that two themes have different target audiences. So, Monstroid is suitable, first of all, for the end-users who build websites for themselves. Monstroid2 is the right solution for web developers who make websites for their customers.
Thus, both themes offer fantastic features and great functionality. The choice depends on the purpose of using a particular theme.
Now let's come back to the Monstroid theme and talk about the price issues.
Pricing
One Time Usage License for Monstroid costs $79. In this case, you will use the theme only once and for the final product.
If you need Monstroid for more than one project, it's worth paying attention to the Developer's License. It will cost you $148, but you will have more opportunities to work with the theme.
A superb WordPress theme and such a reasonable price to pay. Do you agree? What about getting Monstroid for free?
It seems to be unbelievable. Still, you may have this opportunity if you join the ONE Membership.
The ONE Membership is a goldmine of resources necessary for creating websites. More than 13 000 products are at your disposal collected in one place. You will find WordPress and other CMS themes, presentation templates, graphics items, stock photos, and much more.
Why is it more profitable to get access to Monstroid within the ONE Membership?
The answer is simple. If you purchase the One Time Usage License, you will use the theme only once. If you have the Developer's License, you are also limited in your actions. You may work with the theme on up to 5 domains. But what to do if you need Monstroid for more projects?
Within the ONE Membership, you may download the Monstroid theme and use it without limits due to the flexible licensing terms.
Moreover, if you are looking for some images or graphic items to add to your website, you will find everything you need. For instance, logo templates, illustrations, product mockups, items for social media, just to name a few.
One more advantage of being the ONE member is an opportunity to get additional benefits. If you would like to get an exclusive product that is not included in the Membership, you will have a personal discount. It may reach 50%. Isn't it a real bargain?
The last but not the least point in favour of receiving Monstroid within the ONE Membership is an opportunity to obtain extra services. Creating a website is half the battle. The second half is its maintenance and correct functioning. You may always receive help with online store installation and configuration or with your project promotion.
Are you looking for someone to assist you with SEO optimization or create a logo for the website?
Being the ONE member, you don't have to worry about such issues. You may leave them to the experts and enjoy the result.
And here comes the logical question about the price of membership. There are two pricing plans. They seem more than advantageous. The first one grants Yearly Access for $229.
You may download and work with WordPress and CMS themes, e-commerce themes, plugins, and graphics. You will also take advantage of unlimited installations and one year of technical support.
There's one more pricing plan. Having opted for it, you receive unlimited Lifetime Access to the mentioned items. In this case, you pay a one-time fee, which is $849.
Wrapping Up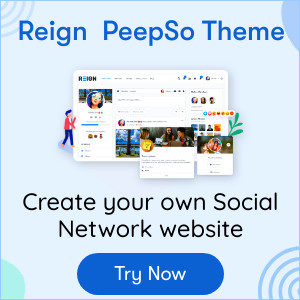 Thus, we can conclude that Monstroid is one of the most powerful WordPress themes. It can be used for a variety of purposes. The features that it contains excellent open opportunities for everyone who will purchase it to create a website. What is more important, it's not necessary to have a unique social background to install and customize the theme. Then why not try to build a profitable website for your successful business?
Interesting Reads:

How To Safely Change The WordPress Theme On Your Website
How To Change WordPress Theme Without Losing Content?