If you want to grow, expand and make your business bright, selling service online on your stunning professional website. You can easily grow your business online, apart from selling your services on the different freelancing websites, the masterstroke will be selling services online on your website. It will gain trust and also advertise your professional skills which ultimately takes you to the zenith of glory.
EDD Sell Services Introduction
EDD Sell Services allows the vendor and site owner to sell his services online. Selling services means customers are paying so that you will do something for them after transactions are completed. Phone consultations, video editing, software installation, and direct support are all examples of services, even if they end in the distribution of a digital file. Many Easy Digital Downloads users sell WordPress plugins and themes and choose to offer installation services. While the sale of a plugin or theme is instant and does not require the store owner to be involved in most cases, installation services require that special attention is given to the customer.
This plugin satisfied the vendor's need of selling services online by providing a product type 'Service' apart from the default EDD product.
As you are selling services, You need to know the requirements from the customer to fulfill his desires. Ex: you are building a website for a client you need to know the following things.
Purpose of the website like if you are introducing an e-commerce website or a learning management system, an informational site or just a blogging site, page design and layout, color scheme, site images, content, etc.
These all things can be done easily with the EDD SELL SERVICES plugin as it provides a dedicated and interactive requirement section. As we know that Communication is the key to success and you can attract more and more customers if you have a smooth connection with your customers.
Full authority to accept or reject final delivery is a Plus feature that is under the customer's control, Whether he wants to accept the delivery or not. The customer can neglect to accept the final delivery if he is not satisfied. Once the final delivery is made both customer and vendor can rate each other.
Feature Highlights
Creates a new product type called Service to sell services.
Allows vendors to add questions that will be required to process service.
Vendors can add multiple questions and the order will start after the customer will submit the order requirements.
Customers and Vendors can easily manage their orders in a tabular form.
Provides an easy-to-communicate feature, a dedicated conversation section for each order.
Vendor and customer will also receive emails for each conversation trigger.
Allows customers and vendors to add reviews and ratings!
Dedicated support to EDD FES.
Option to recurring payment.
EDD Sell Services General Settings
Navigate to Dashboard > WB Plugins > EDD Sell Service > General you will get the following options:
Manage order Page – This allows you to map the "manage order" page, from here vendor and a customer can easily manage all their orders in a tabular form in one place.
Enable emails on a conversation – Allows you to enable/disable email notifications for all conversation so that one can receive those directly in their email inbox.
Enable Live Notification – This allows you to enable/disable live Notification. No chance of missing a single conversation.
Display reviews on the single product page – This allows you to enable/disable the reviews list on the single product page.
How to set up images of your choice for different process levels of order
Head towards Dashboard > WB Plugins > EDD Sell Services > Images you will get the following option to set your own brand image or image of your choice at different order process levels.
You will get the following levels to set images at:
Order Started Image.
Order Requirement Image.
Order Complete Image.
Order Delivery Image.
Order Review Image.
How vendor can add services to sell online
A vendor can easily sell his services online by adding those via Dashboard > Downloads > Add New.
Enter the following details:
Product type option – You will get this option inside the "download files" widget, select the product type service here to enable the "EDD Services Widget".
EDD Service widget
How vendor and customer can manage their orders from a front end
Customers and vendors can manage their orders via the manage order page which the admin has already mapped from backend settings. You will get a clear tabular format to easily navigate to a required order.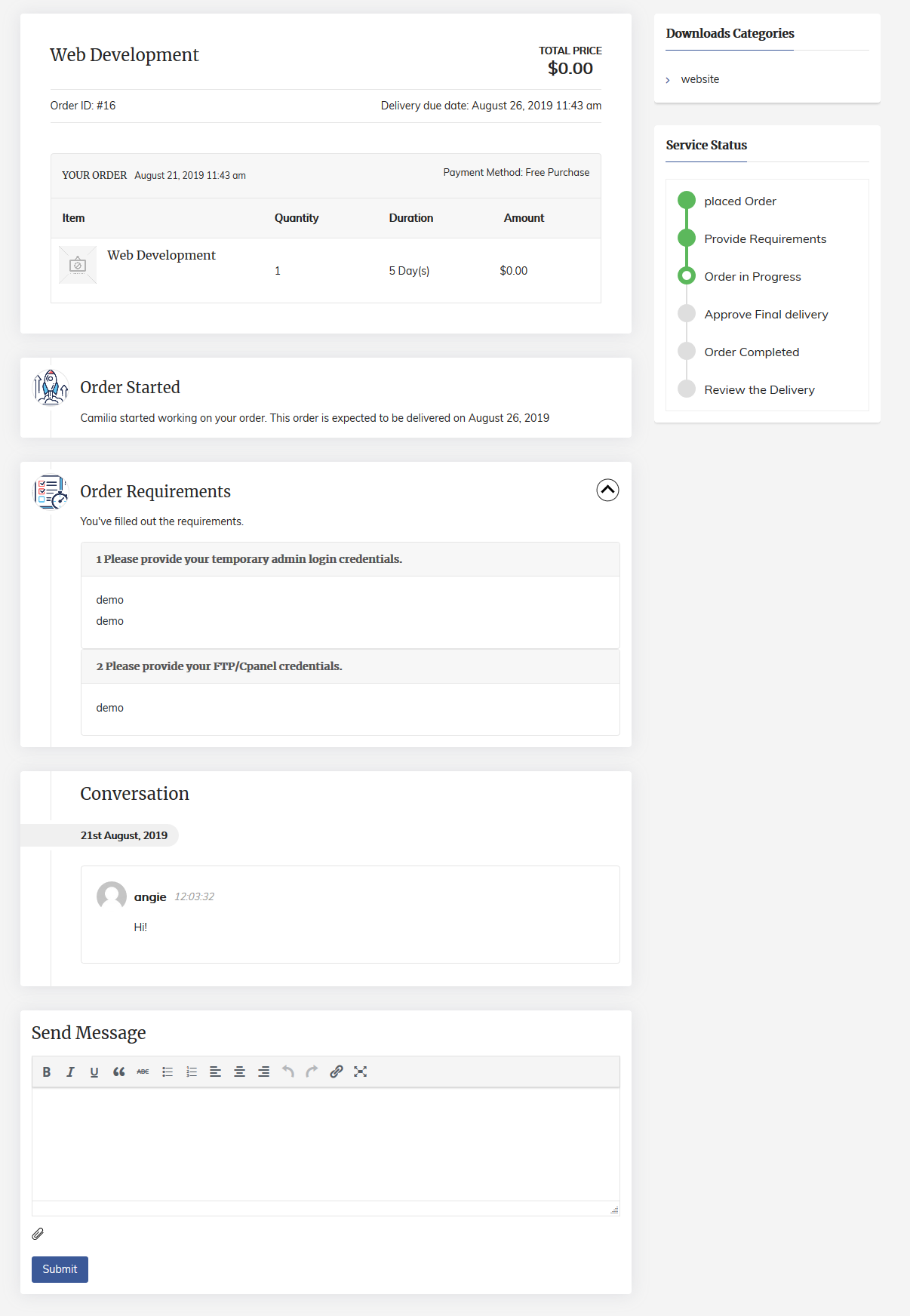 How to set service status widget
Edd Sell Services provide some useful widgets by which customers can easily look for the progress of each order by a single widget.
Admin can follow the below steps to set the widget:
Navigate to Dashboard >> Appearance >> Widgets.
Set an "EDD service order status" widget inside the "Download archive sidebar".
Set the particular sidebar on the "manage order" page.
Our EDD compatible WordPress Theme
Reign Theme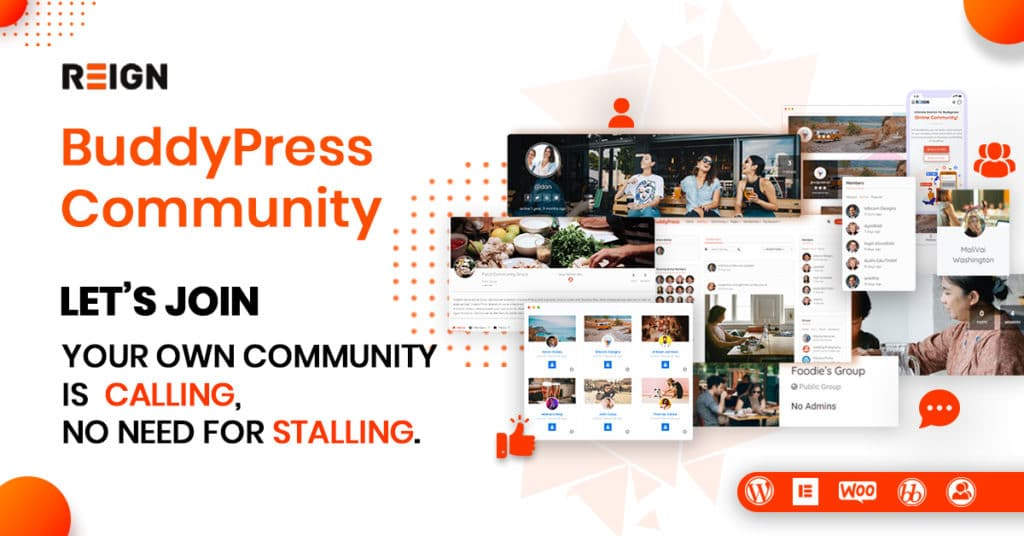 Reign theme is a premium or pro WordPress theme that will provide your vendors to sell their own products. Its meaning is prepared and gives unlimited color and layout, Frontend structure support alternatives, and more. Reign Theme support Easy Digital Downloads to add social multivendor marketplace store features. Reign theme rapidly imports the whole demo content that includes every one of the settings, customizer choices, required plugins, and widgets with only a single tick.
Benefits of selling service online on own website
Increase your credibility with multiple services promotion – If a client is on your website so apart from looking for the service he wants, he ultimately looks at what else you provide.
Price comparison – You can display a different price quote for different versions/levels in one place. This will be easy for clients instead of hunting deep down and confusion they can see what's included in what price which shows loyalty, an important asset for a growing business via increasing potential customers.
Mailing list – Having your own website also benefits in a way that you can easily convert a visitor into a potential client. You can spread your fame by offering mouth-watering offers and discounts.
Start selling service online today
All you need is easy-to-use CMS for a website and a product having functionality that helps you sell service online.
The following can make your dream website live and you can simply reign over the internet:
WordPress – Powerful free content management system. Supreme for selling service online as you can easily expand its functionalities via thousand of free plugins already available in the market.
Easy Digital Downloads – Free e-commerce WordPress plugin for selling digital products.
EDD Sell Services – EDD add-on that allows the vendor and site owner to sell services online.
Let's make it easy for you by discussing its features one by one and take to the shore from this long voyage.
 Conclusion
Reach the majority by selling services online. It is a long-term process and if maintained with proper consistency then you will get success. Increase your potential clients with lower setup costs, just by maintaining a mailing list and higher profit. With the help of these simple steps, all these multivendor marketplace themes and plugins are very flexible to create a multivendor marketplace website. I hope that this article helped you to Create professional services online using EDD and Reign for your website. So, For any query feel free to comment below. Thanks for reading.
Interesting Reads:
How to Start Your Own Social Network Website?