If I ask you to create a website, what'll be your preferred choice? No doubt, many of you would like to go for a Content Management System. The reason is obvious. It allows you to manage your website content easily.
You can brilliantly create, publish, update, and manage all your content including posts, pages, images, etc. using CMS.
There are many CMS available in the market today. For example, WordPress, Contao, Joomla, Drupal, Magento, SquareSpace, Wix, and many more. Among all, WordPress has a large market share.
Here, in this article, we've covered 2 Content Management Systems, WordPress Vs Contao.
Before, understanding the difference between both, you should take a quick overview of these.
WordPress
WordPress is a free and open-source content management system which is based on PHP & MySQL. It contains a plugin architecture and a template system.
It allows you to create a beautiful website without any need to handle coding. It could be a blogging site, an LMS site, an online store, a job portal or anything else that you would like to create.
More than 50,000 WordPress Plugins are available in the WordPress Repository that you can choose from to extend your website.
Powerful Features of WordPress Include
Customizable Designs and SEO friendly
Responsive Mobile Sites and High Performance
High Security and Powerful Media Management
Easy and Accessible
And, a lot more!
Contao
Other than WordPress, Contao is also an open source content management system that you can choose to build professional websites and web applications.
With Contao, you can easily make Intranet and associated applications, manage multiple domains and multiple instances, develop your own extensions, and a lot more.
Powerful Features of Contao Include
Steadfast and Current.
Easy and Intuitive.
Versatile and Mobile friendly
Based on open web standards
Multilingualism and SEO features
And, a lot more!
Quick Comparison WordPress Vs Contao
Let's take a look at what makes both the content management systems different from each other:
1. System Requirements:
WordPress
Contao
PHP Version 7.3 or greater, or

MySQL version 5.6, or

MariaDB version 10.0 or greater.

Apache, Nginx or IIS web server

PHP version 5.4.0 or greater

MySQL version 5.0.3 or greater

PHP extension GDLib to allow image resizing

SOAP to access to the extension repository
2. Market Share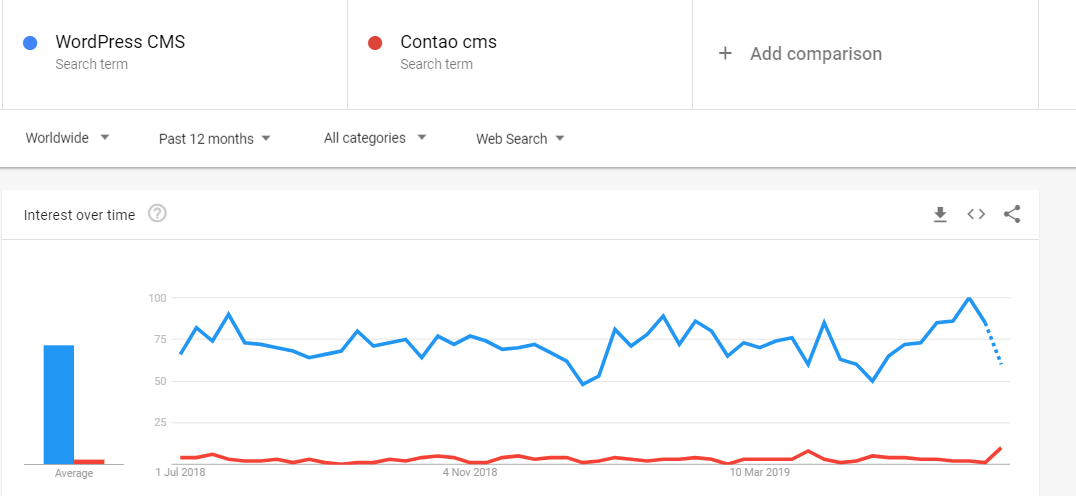 | WordPress | Contao |
| --- | --- |
| Huge Market Share than Contao. | Comparatively less Market Share than WordPress. |
3. Core Features
WordPress

Contao

Flexibility and Publish with Ease
Publishing Tools
User and Media Management
Full Standards Compliance
Comes with theme directory
Extend with WordPress Plugins
Built-in Comments
Use WordPress in Your Language
Easy Installation and Upgrades
Importers for Blogger, LiveJournal, Movable Type, TypePad, Tumblr, and WordPress
Freedom to install it, use it, modify it, distribute it
Vibrant and supportive community
Contribute with your answers, documentation or speak at a WordCamp
Developers can create themes & plugins to extend WordPress
Application Framework
Custom Content Types include custom post types, taxonomies, and metadata.

Advanced editing features
Supports different page types and multiple websites in one tree
Permission system to control the access to each and every form field in the back end
Flexible form generator
Uploaded files will be sent as an attachment and can optionally be stored in a folder on the server
Full-text search engine for supports phrase searching, wildcard searching and AND/OR searching.
Responsive Images
Built-in file manager
Built-in calendar module
Built-in news/blog module
Built-in newsletter module
Easy updates with a few clicks directly in your browser
Supports a variety of deployment tools and CI workflows
Use additional Contao packages for more functionality
Powered by Symfony Full Stack Framework
Words over to you
Now, it's your turn to choose. Analyze the features and then choose the best as per your need.
Don't forget to leave the comment with your best option.
Interesting Reads: Thinkific vs WordPress