Try out, these ultimate online project management tools for managing your projects and team members professionally
Working while managing your projects and team members are crucial for succeeding
A project management tool is required for the perfect management of your project and team members. These tools assist in collaborating with your teams by notifying them via email and issuing task comments. A good management tool should have the ability to plan projects and also track work projects regularly. Either is assigning, managing or giving feedback on task, project management can help with that. If you will be able to access and manage every project on a single dashboard, it means you save time and need to worry about your geographical location anymore.
These online project management tools also help you in managing your team and tasks and projects on one platform. These tools include features such as one dashboard view, time tracking, milestone visualization, email notifications, shared calendar, report generation, invoice generation and much more. How can you fail with your projects when everything is in your hands and you can manage everything right on time with better control and a perfect management tool by your side? Install these ultimate online project management tools now.
20 Ultimate Online Project Management Tools :
ProofHub
Productive
Scoro
Workzone
Zoho Projects
GanttPRO
nTask
Functionfox
Workbook
Redbooth
Celoxis
10,000FT Plans
TeamGantt
ProWorkflow
Mavenlink
Insight
Clarizen
Comindware
Easy Project
Crocagile
Producteev
1. ProofHub
This is a powerful project management system preferred by a top organization such as NAS A, Disney, Taco Bell, and other leading brands. It is a complete package having core features for eliminating the requirement of having various tools for running your business.
Key features:
You can save time during the feedback sharing process by using online proofing software
Simplified task management for teams
By using Gantt Charts it can generate the image of projects
You can install a mobile app for Android and iOS
2. Productive
With Productive you can streamline your project management workflow by setting up and delivering each billable and non-billable service. Collaborate with teammates on tasks in real time, customize each project, and invite clients aboard to save time on getting feedback.
Key features:
Centralized project communications
Quicker project delivery through project templates
The ability to visualize progress and project data with custom fields
Faster feedback from clients and stakeholders
Price details: Pricing starts from $12.5 per user per month. You can try a 14-day free trial.
3. Scoro – Team Management Software
This is one of the leading business management software designed for professional and creative services. It is for those who need bringing the structure to their work.
Key features:
A simplified platform for projects, clients, and teams
Due to seamless workflow, you can stay organized in every aspect of your business
Provides a real-time overview and automated reports
Integration with tools such as DropBox, Mailchimp, Outlook and much more
Price details: you can try its premium starting at $33 per user or a month.
4. Workzone – Project Management Tool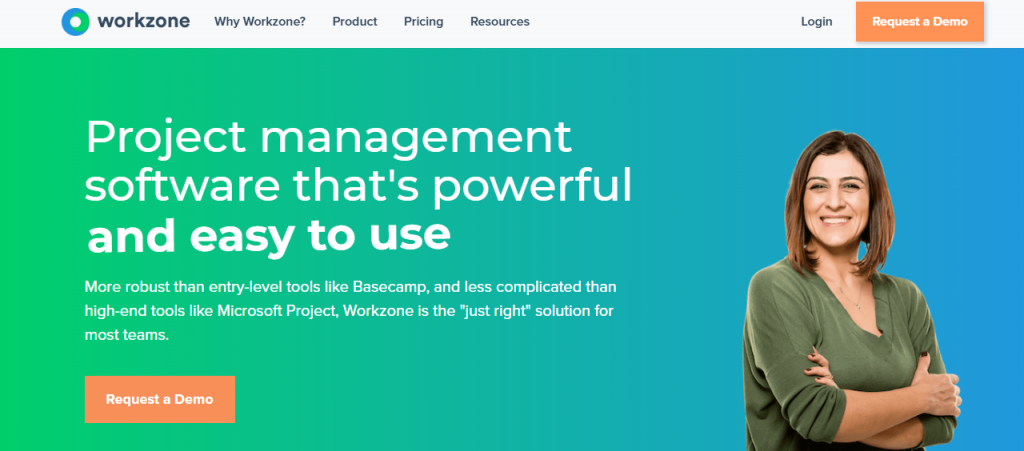 This tool is designed by a team of professionals for helping individuals and organizations for gaining full control and visibility in work management. You get a central place for managing and sharing work so that everybody is present on the same page.
Key features:
Provides top-level reports letting everyone know what's next on the list
A clear way for faster communication
Includes features such as to-do lists, create tasks, share files for improved collaboration
You can easily set permission for various users including clients
Price details: you can get it for $200 a month
5. Zoho Projects
There is no doubt that this tool is one of the leading and best-simplified project management tools helping its users streamline their upcoming projects and tasks with a click.
Key features:
Efficient and quite effective file management
Gantt Charts to track project progress
A complete tool for teams for creating, collaborating, and communicating
Integration with ZOHO CRM and various tools for managing every aspect of a succeeding agency
Price details:
Pay $25 a month for up to 20 projects
6. GanttPRO
This tool falls in the category of best project management software which is preferred and admired by 250k project management across the globe. This is a tool that helps in building project plans and timelines, tracking workflow, control expenses, follow deadlines, and arranging productive collaboration in a single place. You can use ready-made templates for getting started.
Key features:
You can control the engagement and balance of all resources
Use project templates for getting started
7. nTask
Though it is recently launched but is continuously updated with better features and AI. It is a better software design that is soothing and easy to use making it best suitable for start-ups, solopreneurs, and also enterprises.
Key features:
easy to create tasks and projects using task checklists, updates, progress meter
makes the best use of risk matrix for identifying and assessing potential risks and their frequency of occurrence
You can start creating and managing issues using customizable severity, priority, and status options.
Price details: free plan and a pro plan for $2.99.
8. Functionfox
This is an advanced tool that is preferred by creative professionals across the globe. It is a modern but easy to use tool and can be used for tracking projects accurately from conceptualization to completion, lessen admin time, increasing productivity and profit scale.
Key features:
Simplified project creation and management
Budget estimates can easily be compared with actual figures
Price details:
Get it for $5 per user or a month and you should know that it is available at $35 a month for the first user.
9. Workbook – Project Planning Software
This is a big boy show tool designed for projects and resource management, CRM, collaboration, file sharing, forecasting, and accounting. Those who are choosy can select what they require and pay for that only.
Key features:
You can start creating projects and tasks easily
This tool is fully customizable
Also supports a client portal
Price details: pay $19 a month, a minimum of thirty users.
10. Redbooth – Team Management Software

This is ready to use online task and project management tool for busy bees. However, keeping your entire team organized, in alignment, and on schedule is easy using this software.
Key features:
Simplified task and project management
You can start delegating and assigning tasks right away
There are mobile apps designed for iOS and Android
Price details: get it for $5 per user or a month
11. Celoxis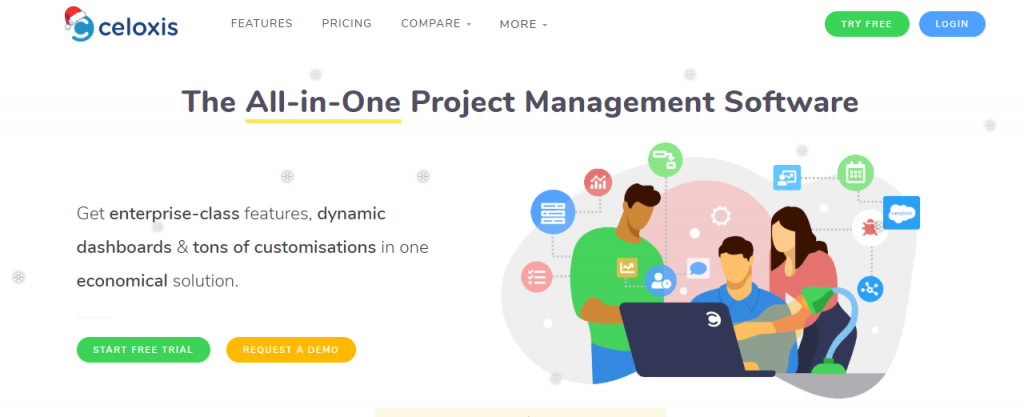 This tool has won several awards and is a complete package helping organizations for planning and tracking their projects, tasks, portfolios, timesheets, issues, and risks from a single platform or place. This tool has some core features and one of those is a customizable free client portal. It has tremendous dashboards and reporting abilities which makes it one of the leading pm in the market.
Key features:
A complete solution for project management
You can start collaborating, sharing files, discussing and exchanging comments not only with your colleagues but also with your clients
Price details: you can get it for $25 per user or a month and can try it on-premise $450 per user.
12. 10,000FT Plans
This is simplified but an advanced pm solution helping its users for making a confident operational decision about their teams and projects. It also possesses capabilities like resource management and time tracking.
features:
Advanced visual resource planning software
Simplified and detailed project tracking
Price details: you can get the basic plan for $10 a month.
13. TeamGantt
This is the best pm solution bringing project scheduling software online. Start managing projects using the ready to use Gantt software. Now you can easily invite co-workers, teammates, and friends for viewing and editing your Gantt chart using this software.
Key features:
Offers quick drag and drop scheduling
Simplified and ready to use
Price details: you can get its standard plan for $7.90 per user or a month only when billed annually.
14. Proworkflow
This pm guarantees preference by your team side once used. It is quite appealing, versatile and ready to use. This tool ensures seamless integration with every tool you require for saving your time and streamlining your processes.
Key features:
You can use this tool for assigning the staff, tracking time or rescheduling projects
Full support and better consultation
Price details: get it for $22 a month or per user for team
15. Mavenlink
This is an advanced but modern pm solution focusing on service organization allowing them to connect with people, projects, and earn profits. In the present time where better communication, honesty, and performance is the need of an hour, these tools assist its users in delivering projects successfully and on time.
Key features:
Start managing various projects with full control
you can highlight all your projects in the portfolio
Price details: get the professional plan for $39 a month or per user.
16. Insight
It is one of the most powerful CRM designed for handling projects and business management. It lets you promote your business by maintaining a healthy relationship with your customers'.
Key features:
You can easily track your project activity
Boost sales and manage your leads
Price details:
Get it for $15 a month or per user for teams
17. Clarizen
For those who seek a cloud-based project management tool that can help grow their business, Clarizen is an ideal choice for them. Though it is a single collaborative pm system but can perfectly manage projects plus helps you connect with team members effortlessly.
Key features:
Processes and workflow automation
UI is quite flexible
Price details: get it for $60 per user or a month.
18. Comindware
This tool is one of the most popular workflow and business process management solutions providing key capabilities for task, data and document management.
Key features:
Givers priority to process optimization
Possesses CRM capabilities plus custom order management
Price details: get it for $29.99/user.
19. Easy Project
This tool is a pm solution for you and your team and even the whole organization which professionally manages every aspect of your project management strategy. This pm solution is trusted by big and famous brands such as Toyota, Lenovo, Bosch, and is an ideal choice for multiple IT or educational industries.
Key features:
Seamless integration with Outlook, Project, Excel, and Redmine
Fully compatible with modules for Finances, Help Desk, CRM and resources
Price details: get the pro plan for $21 a month or per user including 60 portfolios plus 100 custom fields.
20. Crocagile – Online Project Planning Software
This is a simplified project workspace specially designed for streamline communication and aims at software development teams. Its advanced pm tools and the unique design is professional engineered suiting agile developers. It has useful stuff such as collaboration and gamification features providing a powerful boost to agile practices with sleek edge technology.
Key features:
For eliminating email it has an option for Group chat plus smart alerts
Automated team member updates displayed in one place
Price details:
Get it for $2.50/user/month with a 30-day free trial.
21. Producteev – Team Management Software
It is the best suitable task management solution designed for small and medium-sized teams. Project managers are allowed to access all their projects, tasks, and various other collaborators. While using this pm solution you can instantly plan projects, map your route, also organize files plus assign tasks, and other elements.
Key features:
Fully controlled organization
Strong collaboration
Effortless tracking
Price details: get the premium plan for $99 a month.
Creating Content that Gets Shared and Discussed
Final thoughts on Online Project Management Tools
You can use these pm solutions or tools for keeping a strong check on your team, project details, track progress, and much more. These tools are easy to use and provide numerous features such as smart alerts, Group chats, personalized support, and much more. Give your organization a helping hand in achieving the desired progress or results, install ultimate project management tools now.