Sell your products, services and more,
in your single WooCommerce store.
Are you tired of paying the bidding fee to sell your services online?
Here is an option with one of the most important WooCommerce add-on, "Woo Sell Services". Now you can sell your services online simply as you sell your products. A super-easy way to interact with your clients, asking question sharing doc/pictures, confirming contract, payment and providing a review of service what makes a whole process even easier and attractive.
I am a blogger and a developer and for me, it is an amazing product. Now, I have a platform to sell my services, can keep track of all my orders and can manage all my services at a single place on my dashboard.
Chatting feature between client and vendor is a cherry on the cake, no more long stack of mails.
How To Start To Sell Your services online
To create your own website to sell your services online, download and install the following:
WordPress – A most popular free open source content management system to build your own website.
WooCommerce – A popular e-commerce plugin to sell products online for free.
Woo Sell service – WooCommerce add-on to sell your services online.
Let's have a tour of Woo Sell Services to know about its features how to use them and what it is all about in detail.
Also, Don't forget to check out:
How easily you can build an online marketplace with WordPress
1- An Ultimate Admin Options – Woo Sell Services Settings
Concerned about emails and notifications? Navigate to settings
Services email notification – You will have the option to enable or disable email settings related to services.
Conversation email notification – Do you also want each conversation notification in your email inbox? Here you can enable email settings related to the conversation.
Conversation notification – Do not miss any conversation by enabling this option and receive a notification related to conversation each time.
Enable conversation notification tab – Allow customer to see all conversation notification within a tab of WooCommerce my account page.
Redirect to conversation page – Redirect to conversation page after service order place.
Seller role(s) – Here you can select all the related seller/vendor roles.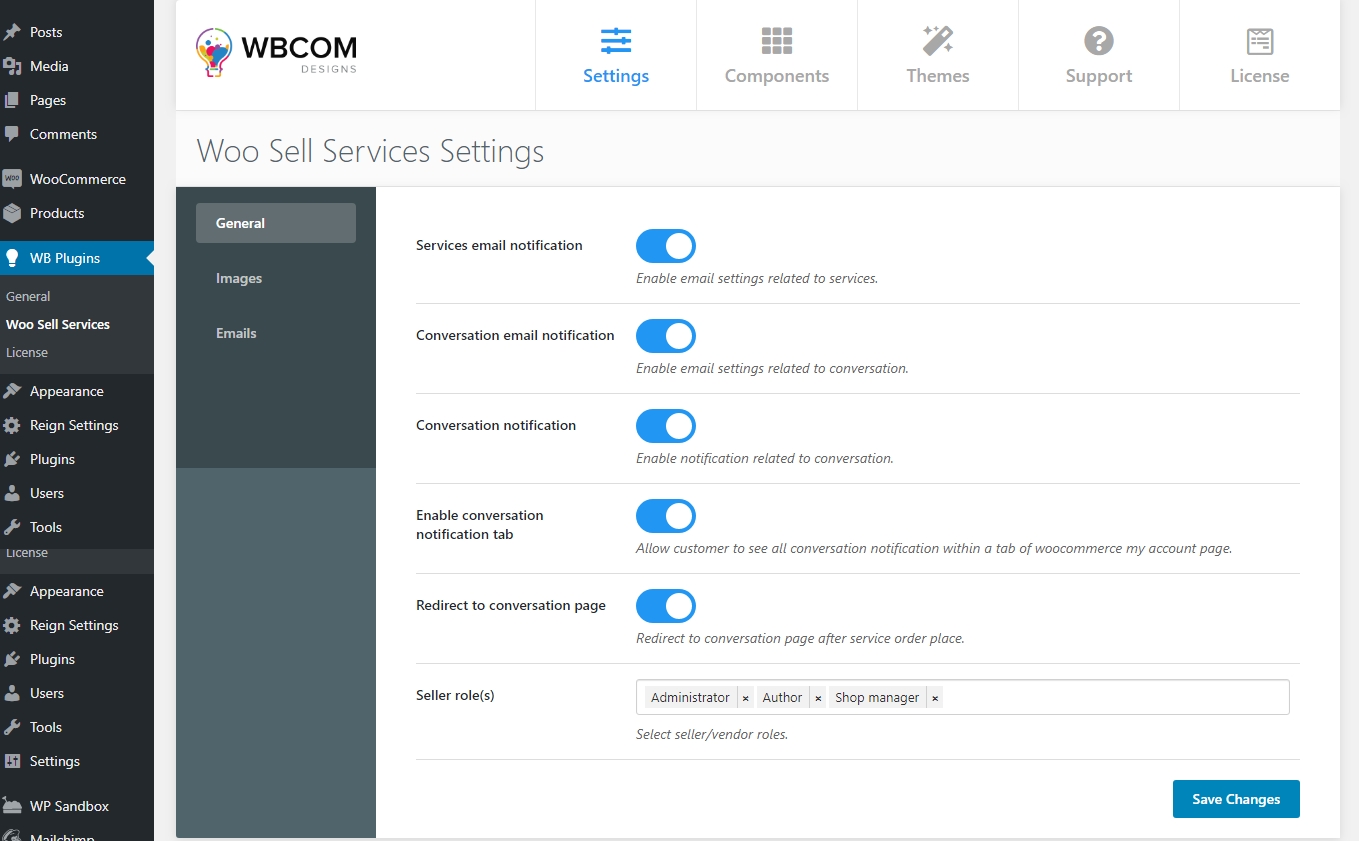 Set up images of your choice at different levels
Order started – This image will be displayed on requirement page at order started logo place.
Order requirement – This image will be displayed on requirement page at order requirement logo place.
Final delivery sent – This image will be displayed on the requirement page at final delivery sent logo place.
Final delivery accepted – This image will be displayed on the requirement page at final delivery accepted logo place.
Order review – This image will be displayed on requirement page at order review logo place.
Order completed – This image will be displayed on requirement page at order completed logo place.
Manage emails
This tab will redirect you to the WooCommerce << Settings << Emails here you can manage all your emails.
A dedicated service status widget
This ultimate feature allows vendors and customers to keep track of the individual order easily. Admin can assign the service status widget.
Let's move forward and see what's there inside a barrel for vendors and customers.
2- Vendors and customers capabilities
Vendors can create a product of type service – Plugins add a new product type called "service" if your product is a service type then do not forget to check the corresponding checkbox.
Vendors can add multiple questions – As soon as service type is selected "requirement" tab will appear that will allow a vendor to add multiple questions that are required to process service and the estimated time in which work will complete, make sure to set a delivery time that you can easily meet! Late deliveries can result in cancellations or affect your reputation. Order will start after the customer will submit order requirements.
Customers and vendors can easily manage their orders – A sleek tabular layout is available for customers and vendors to easily manage their orders via my account page from front-end.
Easy conversation between a vendor and customer – This add-ons provides an easy to communicate feature, a dedicated conversation section for each order.
Mail Notifications – Do not miss any important messages. Vendors and customers will also receive emails in their inbox for each conversation trigger.
Expand your business with ratings and reviews – Allows customers and vendor to add reviews and ratings! To share their experience of working with each other.
Ready To Sell Your Services online?
There is no easy way to expand and promote your business other then selling your services through your website. It not only builds the trust of clients towards you but also shows some of your work and capabilities.
So, get started with your service selling eCommerce store. If you need any assistance, don't hesitate to contact our team.