Your success for creating an online course selling site depends on the way you present your courses and expertise to the world. And, LeanDash offers the best eLearning platform to create a successful course selling website on WordPress. If you're a university providing students higher education, an institute providing training for professional courses or an individual having knowledge or expertise in specific domain and want to provide access to the whole world, LearnDash is awesome in making your dreams comes true!
Today, in this article, we're covering important updates of the best WordPress LMS Plugin LearnDash, i.e. LearnDash 3.0
How to update LearnDash?
LearnDash 3.0 has come up with an entirely new standard to create an eLearning website on WordPress.
If you're a WordPress user and already using LearnDash, you'll find it simply visiting under settings tab of LearnDash Plugin.
Head over the settings tab under the LearnDash Plugin.
Select the new front-end design from Legacy Template to the LearnDash 3.0

Major Updates of LearnDash
Let's discuss its major highlights on what changes have been made. All about LD3!
#1 Visually Appealing Courses
Every template of Learndash 3.0 makes your content look beautiful and keep your learners engaged in your online course.
The new appearance adds credibility to your online brand with amazing features like optimized display of course content, intuitive profiles, clear notifications, clear navigation, and more!
#2 Provides Distraction-Free Layout with Focus Mode
Use this focus-mode option to provide a distraction-free course experience to your learners. Hence, it allows your learners to just focus on the content while studying.
Where will you find the focus-mode option?
Visit on LearnDash Settings.
Turned on the LearnDash 3.0 Template under Active Template tab.
After activation, you'll find Focus-Mode option.
#3 Customization Options
Not every feature or design fits your business. So, LearnDash 3.0 has come up with many customization options that allow you to give a style and beautiful appearance to your courses. Let's roll on to its amazing customization options:
1. Accent Color
This option allows you to change the main color of your eLearning site that can be used throughout the theme including the buttons, action items, and highlights.
I've applied Blue color and see, how it appears at the front-end!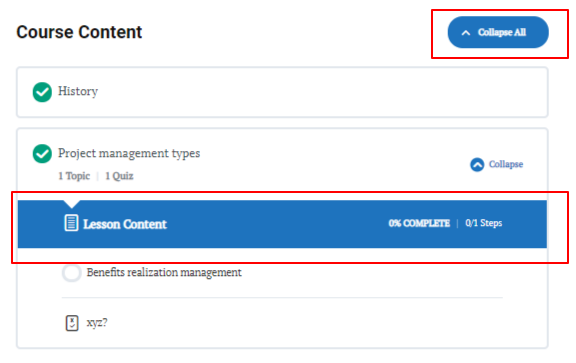 2. Progress Color
Change the color of successful progress-related items using Progress color option. It includes completed items, certificates, and progress bars.
I'm using green color for all successful progress-related items and see, how it appears at the front-end!
3. Notifications and Warnings
If you would like to give any notification or a warning to your learners, you can specify a color for it.
4. Login and Registration
You can use this option to allow your users to either login or register to your courses. When it is active, you can use the LearnDash Templates for user login and registration pages.
5. Logo Upload
Use this feature to make your logo appear in the focus mode and LearnDash Login form
6. Video Responsive CSS
Use this option to make your video responsive according to the size of the device screen.
#4 Hassle-free Login and Registration Process
Other than the user-experience, LearnDash 3.0 also provides the hassle-free process to login to the courses. Use LD3 (i.e. LearnDash 3.0) and allow your learners to go through a simple, straight-forward, and better login and registration process. They can even customize the colors and logo for this as well.
#5 Create courses with a new experience
LearnDash 3.0 has come up with a totally new experience for the course creation process. Let's take a look one by one-
Drag and Drop Feature
LD3 provides a clean interface of course builder that allows you to drag and drop content easily. Have a look at how you can do it: You can check the video here.
Reuse your previous content
You can use your existing course content again using drag and drop feature. For example, if want to copy the lesson or quizzes, just drag and drop it from your sidebar.
Add Lessons, Topics, and Quizzes with Ease
With amazing course builder settings, you can now create your course content easily. You'll find options to add new lessons and quizzes. Here is how you can do it. Check Video
Add new sections
Not just lessons, topics or quizzes, you can even create new sections to your course with ease. This allows you to divide your course content into different sections. Here is how you can do it: check video
#6  Create Quizzes with a new experience
Quizzes allow you to interpret or understand about your learner's progress. You can create more than one quizzes throughout a particular course content. Even, you can also put a quiz at the course end.
Just like course builder, you can uses drag and drop feature to manage your quiz content, reuse previous quizzes from the Question Bank, add new quiz questions directly in the course builder, and also edit your existing quiz.
#7 LearnDash Bootcamp  and New Documentation
New to LearnDash? or already used it? Whatever it is! Here is something new for you!
LD3 offers you a LearnDash Bootcamp and new documentation that will help you to get started with LD3 like a Pro. Must watch the video tutorials so that you can have an in-depth understanding of what changes has been made and how to use them properly.
You will find it here:
LearnDash > Overview
It covers the following:
Creating Courses with the Course Builder
Adding Content Using Lessons & Topics
Creating Quizzes
Setting-up User Registration
Creating a Course Listing
Adding a User Profile Page
Important Resources
Gear up your online course site with LearnDash Themes
I've something more to enhance the appearance of your eLearning site. You can use LearnDash Themes to make your WordPress eLearning website more functional and classy.
One of the best eLearning Theme is LearnMate which is compatible with LearnDash. I'll recommend you to try its live demo to explore how your site will look like.