WordPress website development and managing websites properly is not an easy job as it needs a lot of effort and time to run a website in a better way. Sometimes you want to automate your daily work effort. Searching for suitable tools that help you with WordPress automation workflows? Here is the best option.
"ZAPIER-Create your first Zap" is the tool that automates your work and can connect your WordPress website with 1500+ of different apps and tools. Besides this tool, you can manage your daily task automatically without interrupting your important task. Just need to integrate, automate and innovate one app into another.
Here in this article, we will discuss 10 useful "zaps" that help to automate your workflow in less time. Let us take some brief introduction about "Zapier" before going to Automate Your WordPress site with Zapier
What is Zapier?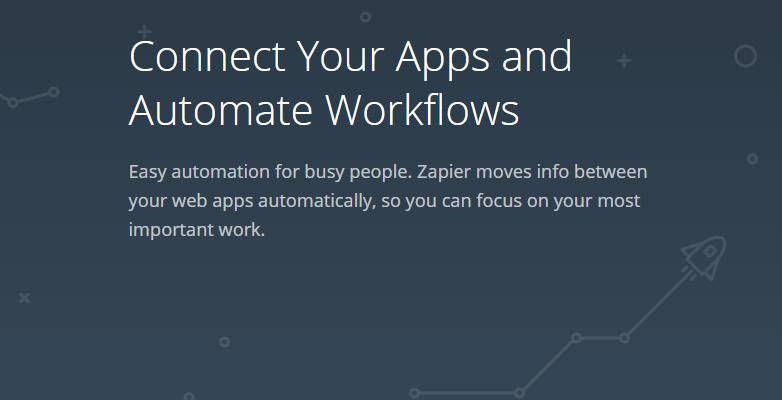 Zapier is an online automation tool used to connect one app to another and work together. For an Example, If you want to share your content automatically then you must connect your WordPress with your social media account then you can easily automate your content and complete your repetitive task. No coding skills are required and without taking help from the developer, you can set up your Zap, Just follow some steps and a few clicks.
Zapier supports 1000 of Apps like Gmail. Slack, Social media networks, CRM and many more. Why Zapier? It's Easy, Free and Secure
Key Features of Zapier:
Zapier is a kind of Tool that allows connecting more than 1,000 web apps.
Zaps are Workflows which connect your apps, so they can work together..
Anyone Can Create Workflows with few steps.
Easy automation process for busy people
Zaps Start with a Trigger
How to Create Your First Zap?
First, you need to create your account on Zapier either free or paid and Then Go to Setting option and you will get 1000+ Apps options.
Step 1: Select the app for that you want to create Zap or you can type App name on the search bar and pick that one.
Step 2: If you want to integrate the additional app, pick that one also
Step3: Scroll down to view popular Zaps using that app.
Step 4: Click "Use this Zap" button and then the "Make this Zap!" button on the Zap description page.
Step 5: For the First time user, Click the "Connect" button to link your account in the app to Zapier and complete your information page. Or, if you've previously connected the app to Zapier, click the "Use this one" button next to your app account.
Step 6: In this subsequent step, When mentioned, select the optional or mandatory fields for a specific app in your Zap. It supports to customize the pre-built Zap and use exact data you want to display.
Step 7: Click "Save + Finish" to add the Zap to your account also turn it on.
10 WordPress Tasks That Can Be Automated With Zapier
Let's discuss in detail 10 WordPress Tasks that can be automated with Zapier.
Now, it's time to introduce some of the popular ZAPS which automate and integrate with WordPress website.
1. Automatically share your WordPress post to Facebook Page
Facebook is one of the best platforms to engage your audience and get more traffic, but due to our busy schedule, we don't have enough time to write unique content for our Facebook page, But with the help of Zapier, you may post unique and new content on the facebook page.
You just need to connect your WordPress site with a Facebook page, even you have an option to select what content you want to post.
Create a post on WordPress Website and it automatically gets posted on your Facebook Page.
Trigger: Create and publish a new post on WordPress blog
Action: Zapier will automatically post to a Facebook Page
What Do You Require?
A WordPress blog
A Facebook Page
2. Post New YouTube Videos to a WordPress Site
For online promotion, we are using Youtube channel as well. But it is a too long process to embed youtube video link in the WordPress blog and then publish. But with Zaps, you can automate your video into your WordPress post and it depends on you whether you want to publish immediately or save it as a draft.
If you publish any video on your youtube channel you'll get that video on your WordPress post by using embed shortcode.
It's a time-saving process
Trigger: Create and upload a video on your Youtube channel
Action: Automatically shown in your WordPress website
What do you Require?
Youtube Channel
WordPress Website
3. Share published WordPress posts in a Slack channel
As we all know that Slack is best for communication. Zapier makes it more useful in terms of getting an update of your WordPress blog. Whenever a new post will be published on your WordPress website, an alert message will be displayed on your slack channel and you can directly access from there and check your new post, you can do this by selecting #channel or @slackbot
Trigger: Zapier will keep focus and check for any new post on your WordPress website
Action: A post will be published, automatically alert msg will show in your slack channel and intimate you for the update.
What do you Require?
WordPress Blog
Slack Account
4. Post New Instagram Photos to Your WordPress Blog
Creating and sharing a blog post from a WordPress site to social media is essential and common, Along with that sharing from social media to WordPress will also worthy.
With this Zap, Post your Instagram Photos to Your WordPress Blog automatically.
When you upload any new photos on your Instagram account it is automatically displayed in your WordPress Post.
Trigger: Upload Media in your Instagram account
Action: Automatically available in your WordPress post
What do you Require?
Instagram Account
WordPress Blog
5. Make Trello cards for new WordPress posts
While creating a new blog post, you always keep in mind many other tasks like social sharing, editing, email marketing and many more. For a proper reminder, Zap work perfectly.
It automatically creates a Trello card and makes sure all tasks should be done in the best way.
Trigger: Add New Post into a WordPress blog
Action: Zapier will create new Trello with Post info.
What do you Require?
WordPress Website
Trello Account
6. Buffer Your WordPress Post
When you create and publish any post on your WordPress site and If you want to share on several social network sites, It seems a quite long process. This Zap integration helps you automatically add all WordPress post to Buffer, from where you can easily share them on other social platforms. It is important to all your social network account must be connected with Buffer.
Trigger: Create and publish a new WordPress post
Action: Zapier will automatically add in your buffer Account.
What do you Require?
Buffer Account
WordPress Blog
7. Backup WordPress posts to Dropbox
Manually backup of Individual blog is quite difficult. But, it is important to have a backup of all your Blog, because, obviously, you don't want to lose your valuable content. Backup of a single blog will happen with the help of this Zap.
Whenever you publish any new WordPress post, Zapier will automatically save it into your Dropbox.
Trigger: Publish a new WordPress post
Action: Automatically will save into your Dropbox
What do you Require?
Dropbox account
WordPress Blog
8. Create Google Calendar Events for New WordPress Posts
Whenever you create and Publish a new post from multiple authors, to keep track, record and maintain it, becomes crucial.
This Zap works perfectly. As and when a new post will get published, Zapier will add it in Google Calendar as an Event to maintain its record.
Trigger: New WordPress post gets created
Action: Automatically create Event at Google Calendar
What do you Require?
Google Calendar Account
WordPress Blog
9. Post new MailChimp campaigns on WordPress
MailChimp-WordPress integration Zap makes less effort during the marketing campaign, As you set up or start your MailChimp campaign, this Zap will automatically create a new post at WordPress
Trigger: New MailChimp created
Action: Automatically created New WordPress Post
What do you Require?
MailChimp Account
WordPress Blog
10. Create new WordPress posts from new Google Sheets rows
If you are using Google Sheets for the content that you need to write to site followers then this Zap is best for you. As you add a new row and fill information, Zapier will automatically create WordPress post
Trigger: New row add in your Google Sheet
Action: Automatically create WordPress Post
What do you Require?
Google Sheet Account
WordPress Blog
Conclusion:
In this Article, We have discussed, How Zapier makes workflow easy, fast and allows you to focus more on your important work. Hope you understand to Automate Your WordPress site with Zapier
If you have any suggestions please drop your comment here.
Thanks for reading.