Are you looking for LearnDash Notes? To forget is human and we all are humans who sometimes forget what we read, heard, or learned earlier. Therefore, we are always told to make notes of important stuff so that we do not forget it later. Similarly, students who study courses and lessons online, especially on an e-learning website have to make notes when they are learning something. This way they can accumulate all the important notes of lessons and topics in one place for easy revision at a later time.
If you also own a Learndash-based E-learning website and are planning to give your users a feature to create notes of different courses, topics, and lessons, we have an incredible add-on for your LearnDash-based website. Say Hi to LearnDash Notes add-on for LearnDash. This plugin will extend the functionality of the LearnDash plugin by allowing your students to create notes for courses, lessons, and topics respectively. It is very convenient and easy to use.
What is LearnDash Notes
LMS Notes will enhance the capability of your LMS plugin to make real-time notes for courses, lessons, and topics. LearnDash students' notes will be shown on specified pages, such as LearnDash Profile, by using shortcodes. It also supports our LearnDash Dashboard plugin, which displays notes for LearnDash on the Student Dashboard. You can also take the LearnDash LMS tutorial if you like.
Features
This plugin is simple yet highly useful for your E-learning website as it adds a completely new feature for your learners. With the help of LearnDash notes, it will become easier for them to record the content they consider important. They can also easily navigate to these notes via their profile without having to go through a complete course or lesson from the beginning.
Few features of this plugin include: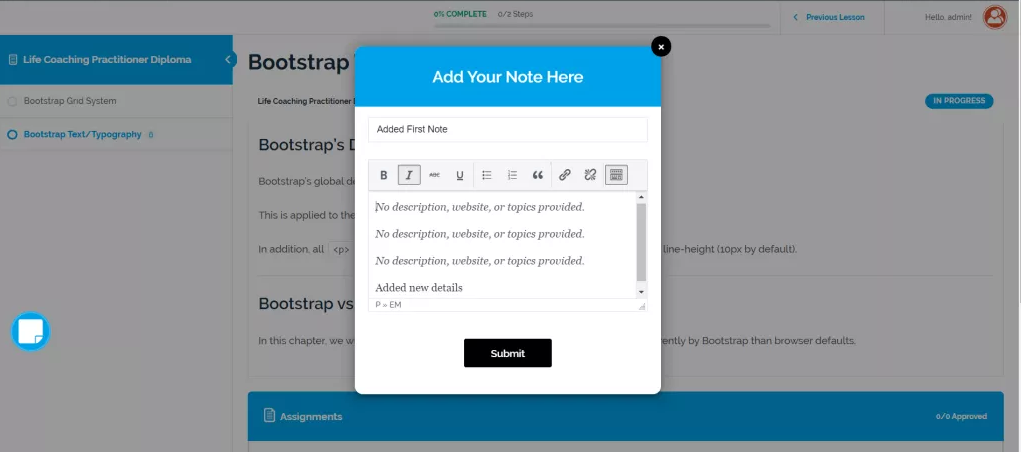 1. Learners can easily add and save notes for any course, lesson or topic by clicking on Add Notes button.
2. The notes prepared by students can be displayed on their specific profiles with the help of a simple shortcode. You can list user notes with shortcode [lcn_notes].
3. This plugin also offers support for the LearnDash Dashboard plugin and displays notes on a student's dashboard.
4. Notes created by the students will also be visible to their instructors and admin respectively. It will also allow the instructors to add their feedback to those notes. This feature will make it easier for students to communicate with their instructors and know their feedback as well.
5. LearnDash Notes also offers some useful custom settings that an admin can enable or disable from the backend. These include:
Enabling Notes Section on LearnDash Profile
Enabling Notes Section at a BuddyPress Profile Page (this will only be available if you have the BuddyPress plugin installed)
Enabling Notes Section on LearnDash Dashboard page
Setting the position of Notes
Setting any custom position of Notes
LearnDash Notes – The Wrap Up
LearnDash Notes also helps in improving the engagement and retention of your E-learning courses. It is compatible with most of the themes and we offer dedicated support for the LearnDash plugin. Your Learners Will Just Love It !!
You can purchase the add-on here.
And for any assistance or suggestions, drop a comment below or contact us.
BuddySocial: An Interactive WordPress Social Community Theme