Marketing Automation Software a range of duties, including prospecting, engaging with prospects, learning their preferences, and sustaining long-term connections. And all of this helps to bring them into paying customers. Managing all of these parts of marketing isn't easy; you'll need a system that allows you to work more efficiently.
Marketing automation tools allow you to automate all of your routine operations so you can spend more time focusing on high-intent leads. You can automate the prospecting process, keep leads engaged with personalized automated emails, and nurture them with helpful materials.
With enhanced automation, a marketing automation platform automates the entire marketing process for you and removes the need for human operations.
Best Marketing Automation Software & Tools
Some of the best and most commonly used automation software are listed below:
Drip
Drip strives to provide advanced automation to online businesses. It gives you a single place to manage all of your data, send automated email campaigns, and personalize it according to your company's needs.
Drip offers automation workflows, email campaigns, email builders, multi-channel marketing, and analytical analytics. If you own an eCommerce business, you should certainly check into Drip.
Marketo
Marketo Engage by Adobe is among the most prominent marketing automation platform. It provides a wide range of automation functions for any developing company. It is a comprehensive marketing automation platform with significant features, including email marketing, lead nurturing, and statistics.
Marketo also has sophisticated functionalities like mobile engagement, online retargeting, and personalization of content. It is a marketing automation system that is best suited for big firms. However, organizations of any level can use employ it.
Sender – Email tool for eCommerce
Sender.net is a multipurpose email marketing platform that fuses all necessary features and tools for a complete marketing experience. You are able to nurture your clients via different marketing channels using a combination of SMS + Email automation, popup, high deliverability, and much more.
The best way to save time and increase your revenue is to automate your online marketing. Sender.net helps you to do that too. You can build beautiful newsletters, adjust SMS marketing and reach thousands of potential customers. This hustle-free platform will help you create personalized messages for your customers and ensure an easy workflow.
EngageBay – Comprehensive, Affordable
EngageBay is among the most affordable marketing automation software for small businesses and startups. You get a plethora of features, including drip campaigns, omnichannel marketing, newsletters, A/B testing, segmentation, and automation with good value for money.
EngageBay's powerful dashboard offers deep insights into various marketing metrics and allows you to get a 360-degree view of your customers. While small businesses benefit the most from using EngageBay, any organization can use the platform.
Movavi
Nowadays, video production is at the forefront of every marketer's thoughts. And Movavi provides you with all of the resources you need to build the finest content for your target group. You have the option of using an online video editor or a desktop version with greater functionality.
You can use the online tools to create a short slideshow or make minor modifications to your clip. Along with that, you can trim, rotate, compress videos, apply filters, and add subtitles to your video. Whereas the editor app can help arrange numerous media like movies, audio, graphics, and titles on a multitrack timeline. It also has some additional functions that might be productive.
Pardot
Pardot helps the marketing and sales teams to work together, engage buyers, close more deals, and establish long-term partnerships.
Pardot has potent features like lead management, email marketing, sales alignment, artificial intelligence, and comprehensive ROI reporting. All these features will ensure to generate more revenue and accelerate the sales cycle. Large-scale businesses prefer Pardot as it enables them to boost marketing efficiency.
ActiveCampaign
With automatic follow-ups, extensive integrations, and contact segmentation, ActiveCampaign enables simple and innovative automation procedures.
One of the most appealing aspects of this marketing automation system is its customizable feature. And therefore, users can set up various marketing automation flows. With 500+ pre-built automation, an email template library, and contact management, you have the freedom to personalize.
ActiveCampaign is a powerful marketing automation tool, but it takes time and effort to master.
HubSpot

HubSpot is one of the leading marketing automation software in the market currently. It allows you to construct sophisticated automated workflows using a simplified visual interface.
With automated email drip campaigns, customizable workflows, lead scoring, analytics, and much more, it eliminates monotonous activities and helps your business flourish. HubSpot's sophisticated marketing automation platform offers an all-in-one solution for any organization looking to increase revenue and reduce dependence on manual chores.
Mailchimp
Mailchimp is the most effective marketing automation tool for small and growing enterprises. It assists you in automating monotonous tasks so that you can concentrate on completing other tasks.
Mailchimp comes with features, including automated marketing emails, personalized engagement, targeted ad campaigns, building landing pages, and many more. If you want to create a long-term consumer connection, Mailchimp is the best option since it provides a user-friendly, AI-powered tool.
Also Read: Best Mailchimp Alternatives
Ontraport
Ontraport is an excellent marketing automation platform for small firms, entrepreneurs, and solopreneurs.
Ontraport is the ideal complement to sophisticated CRM and marketing automation software. It offers a smooth user experience and allows you to automate the entire marketing process.
SharpSpring
SharpSpring is a simple yet powerful marketing automation software for businesses of all sizes. It focuses on increasing conversion rates and providing a better customer experience.
SharpSpring provides an integrated approach to automation with tools like patterned email marketing and visitor monitoring. It also has a workflow builder, CRM connection, and actionable reports to help you create a better marketing plan. Essentially, it automates the complete marketing plan, allowing you to reach any marketing goal.
Also Read: Grow Your Business With Lead Generation Platforms
Omnisend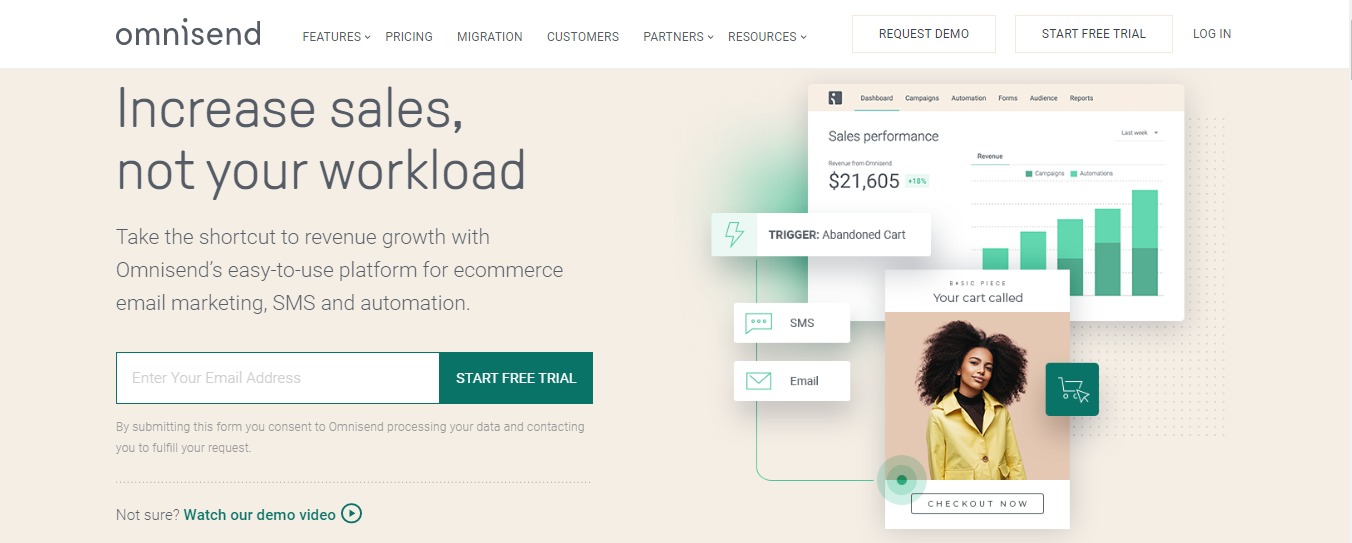 Omnisend is another powerful eCommerce automation platform. It has pre-built automation for cart abandonment, welcome series, and many more.
This is an omnichannel marketing software that includes tools like customer segmentation, email and SMS marketing, and interfaces, also works with a handful of eCommerce platforms, such as Bigcommerce, WooCommerce, and Magento. It's an ideal tool for email marketing automation campaigns.
User.com
User.com is an advanced and powerful advertising automation tool for enterprises, small-scale businesses, agencies, and firms at all levels. It boosts overall conversion rates by engaging clients and streamlines the entire process.
Email marketing, visitor monitoring, live chat, super-smart automation, analytics are just a few of the features provided by this platform. User.com is a cost-effective and efficient way to expand your business.
Oracle Eloqua
Oracle Eloqua helps you get more out of your marketing and sales efforts. It's a flexible marketing automation tool that lets you run B2B marketing campaigns and develop prospects at every stage. Customer segmentation, artificial intelligence, sales alignment, and market evaluation are a few of the features that it will offer. It is ideal for businesses with no budget constraints and a wish to grow their sales and establish excellent client relationships.
GetResponse
GeResponse is an excellent email marketing platform. It's been around for more than two decades and offers good functionality to its clients.
It has features like marketing automation, autoresponders, email monitoring, and customized engagement. This marketing automation product is user-friendly and comes with excellent client support.
SendX
SendX is a creative and robust marketing automation tool. This automation platform has the most user-friendly interface and effective tool for expanding your reach.
You can conduct automated email drip campaigns, unlimited email campaigns, segment audiences, and build your email list to expand your client base. SendX also includes pre-built email templates, personalization, and other features.
Autopilot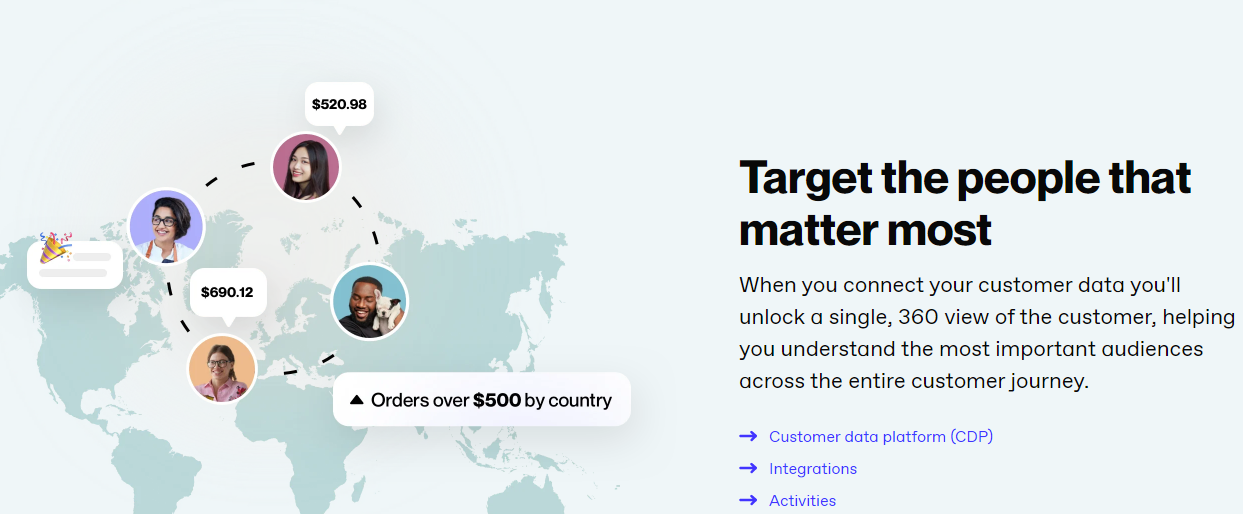 Autopilot is an excellent software for marketing automation that is a good option for any business. Using Autopilot's extensive automation, you can automate the complete customer's journey. That will help you connect better with them and their prospects. It's among the most user-friendly marketing automation platforms, with functions like lead segmentation, real-time team cooperation, email marketing, and marketing automation. You can surely take your business to heights with this automation tool.
MoEngage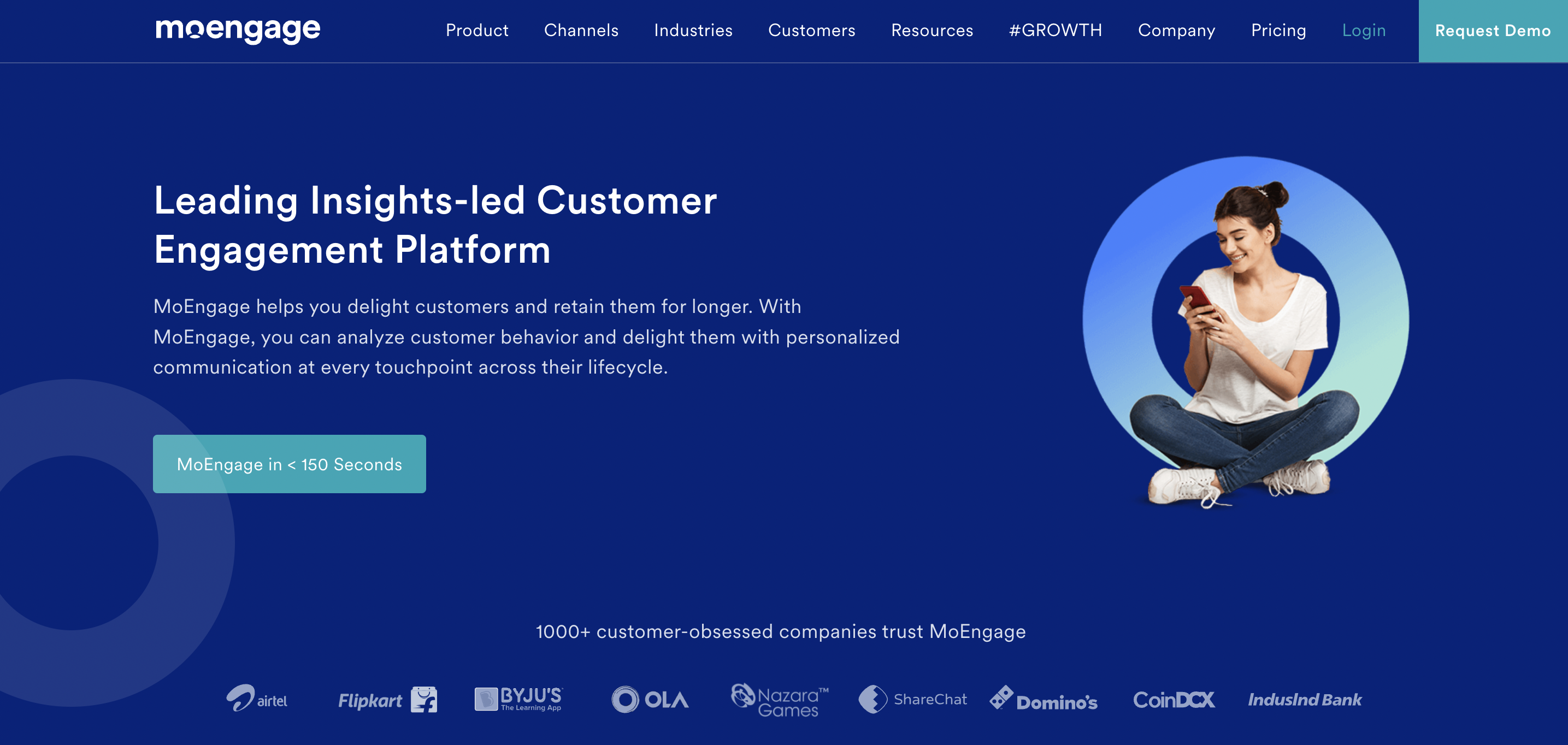 MoEngage is an insights-led customer engagement platform built for the customer-obsessed. With AI-powered automation, optimization capabilities, and in-built analytics, MoEngage is built specifically to cater to your customer-driven needs and enables hyper-personalization at scale across multiple channels like mobile push, email, in-app, and website push, on-site messages, Whatsapp, and SMS.
With MoEngage, you can create marketing workflows and engage customers contextually and real-time. Its features include Smart Triggers that deliver automated messages to your customers based on their past activity. It also allows you to segment your audience based on their behavior, attributes, geo-location, and preferences. It lets you analyze app installs and uninstalls, purchase history, and more to deliver contextual messages.
Moosend
With basic functionality and a short learning curve, Moosend is among the top email marketing and marketing automation tool for SMBs and Fortune-500 enterprises. Its powerful Drag-and-Drop email editor and template library ensure that you always send the relevant message at the proper time.
Moosend also has a robust set of lead-generating features, including landing pages and subscription forms, as well as reporting and analytics tools that help users make informed, data-driven decisions.
Finally, Moosend's platform has over 100 interfaces with your preferred tools, ensuring a smooth and painless transfer.
Plezi
Plezi is a specialized marketing automation tool for small and medium-sized B2B companies. This tool helps you automate many marketing tasks and power your campaigns by creating emails, forms, workflows and landing pages.
Its "Smart Campaign" feature allows you to create personalized and automated lead nurturing programs that send each of your prospects the most relevant content based on their interests and stage in the buying cycle.
VBOUT
VBOUT is an adaptive, all-in-one marketing automation platform. The platform provides many tools and features to help business owners and marketing professionals centralize and automate their tasks smartly and straightforwardly. VBOUT is suitable for any business size and doesn't require consultancy or extensive training. With VBOUT, you can manage all your social media from one place, engage with your customers by creating and sending winning email campaigns, design dynamic landing pages with no coding, create automation with an intuitive visual builder, grow and maintain your audience lists seamlessly and analyze all your marketing activities on a customizable dashboard
Aspects To Consider when selecting a marketing automation software
You'll need the most suitable marketing automation software for your company, one that meets your needs while also working well with your team. So, before you choose marketing automation software, think about the following things.
Prices: Begin with a basic plan and update to the expensive one as your business grows.
Usability: Learn about the convenience of utilizing automation software so that your staff can use it without difficulty.
Analytics and reporting: You'll need marketing automation software that offers you immediate insights into the efficacy of your drip campaigns, email marketing campaigns, and other data.
Integrity: Choose a marketing automation platform that integrates well with your current tools.
Support: Choose marketing automation software with a responsive support team.
So, keep these considerations in mind when selecting a marketing automation software system, and you'll be well on your way to achieving your objectives.
Popup Maker
Popup Maker provides a complete popup creation platform. It provides many popup types that can increase the conversion rate, and subscribers, and bring you more leads. Besides the popup types, it provides Email Marketing tools like Newsletter and Autoresponder.
Also, Popup Maker has a WebPush notification feature where the user can send push notifications to his visitors.
As a SAAS service Popup Maker can be used on any website via our embed code that you can include on any website. Once the page has the embed code the popup will be opened. To make the embedding process easy Popup Maker has created plugins/addons for different website building platforms, so the user can include popups and configure in a few clicks.
Scalify
Ranked #1 in value and ease of use by Gartner, Scalify is the advertising automation software for small and large businesses. It helps you launch paid ads easily on Meta (Facebook, Instagram, Messenger, and Whastapp) and Google.
Scalify facilitates the advertising workflow and helps you launch new ads fast, analyze your performance, automate ad optimization, and scale your ads with a positive ROI. If you want to eliminate your ad spend loss and maximize your ad profits, Scalify is your go tool for not only that but also for saving time spent on ads with pre-built audience targeting templates, AI ad copywriter, 1-click campaign setup, etc.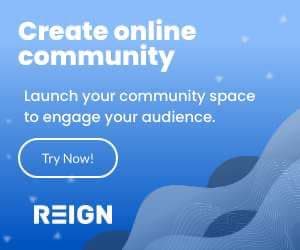 Bottom Line
There are numerous options and methods available when it comes to a company's marketing efforts. A marketing automation technology simplifies the entire customer journey to give an enhanced user experience. It also promotes client retention, which is one of the essential steps for any firm.
There are many options available. But you must first examine your company's needs before selecting the best marketing automation software. The shortlist of automation tools presented above includes all types of great marketing automation tools. So you can pick one that suits your budget, meets your needs, and offers additional assistance for your business.
---
Interesting Reads:
Top 5 BaseCamp Alternatives to Manage Project