As the leading platform for online website curation, WordPress has given birth to abundantly available themes and innovative and flexible plugins to enhance its existing features and make them adept and efficient. In their own accord, these themes have been very stimulating and productive in procuring results based on visual and aesthetic senses. This product enhances the user experience in technological terms and lets users and businesses flourish to form a brand's exquisite image and stance. These themes are available in premium and free versions, where users can access unlimited features and functions with nominal or no charges. Here we have explained the most popular social networking plugin known as BuddyPress and its fully compatible WordPress theme. BuddyX is an ultimate theme compatible with BuddyPress, also available in the WordPress repository, and has unique features to create communities with expression and innovation. 
Build Online Community Site with BuddyPress and WordPress
WordPress as a content management system lets the brands Ideate and create websites based on any professional niche. With additional BuddyPress integration, the initial site can evolve into a social networking website to increase user traffic and cultivate new social trends and ethics. 
With remarkable built-in features of WordPress that lets the brands create stunning websites in minutes, BuddyPress, on the other hand, is a unique plugin made for WordPress to expand the website's credibility and transform it into a fully functioning social networking site. BuddyPress is a complete package that allows any WordPress website to modify and revamp itself in a multidisciplinary social networking site with additional attributes such as engaging user and member profiles, fun activity streams, private texting, forming social groups, and engaging in interactive forums for freedom of expression. 
The plugin is essential in delivering an extraordinary social media experience rivaling Facebook and Twitter to explore and expand the brands and their image into a credible sourcing outlet.
Also Read: Top 7 Online Reputation Management Tools
What is BuddyPress?
BuddyPress Plugin allows users to create social network websites on WordPress by simply integrating the plugin and adapting and inheriting the features to the website. The BuddyPress plugin is fully customizable and is open for any further tweaking and amendments to style, layout, templates, and basic settings.
With BuddyPress, Users can create member profiles like Facebook, send friend invites and requests, have features such as private texting or conversations, and an option for group forums to engage conversations and connections across the world. BuddyPress is excellent for social networking and interactions where users can come, have a meaningful discussion, set up their activity and newsfeed to have a fun social media experience. 
Build Your WordPress Social Network Using BuddyX Theme
BuddyX theme is one of the highly recommended themes available on WordPress to adapt to your social networking features like a pro. The music is open for customization and welcomes any usual rectifications that the users make to serve all their social website wants and desires. 
Create Multiple Header Variations with BuddyX
BuddyX is a theme that lets the users take command and maneuver the usual setting with their individual needs and requirements. The multiple header variation options in BuddyX can be changed and customized at any given point and will get the website noticed to make a great first impression.
Create stunning Members and Group Layouts
As a website administrator working towards building a stable reputation for the website, it becomes crucial to create attractive members and group layouts to add a layer of distinction to the website and make it more distinguished and unique. BuddyX comes with different member and group layout options to secure more strength in the niche of social media layouts and create compelling designs to lure more consumers. 
Ready to Conduct Online Sales With WooCommerce Support
BuddyX theme is well equipped with extended WooCommerce support that lets the brands transform the website into a social networking cum marketplace where consumers can make direct sales and sell their products and merchandise through their own social media website. 
Create and Sell Engaging Online Courses with LearnDash Support
As if a marketplace was not enough! BuddyX, with its advanced methodology and vision, has also integrated additional LearnDash support that lets the website admin create interactive courses and study curriculums which can be later sold to students to build their skill set via virtual learning. The concept has been widely acclaimed and adapted by many learning institutions and colleges to make education accessible to all. With BuddyX's support, the process has become ten times easier to pursue and acknowledge.
Also Read: Strategies to Keep People at Your Online Community
Making the Website More Fun with Social Gamification
The social gamification feature of BuddyX lets the users explore and collect online badges, credentials, and coupons that can later be redeemed to provide an authentic look and feel in the domain of learning and marketplace. Social gamification allows users to get badges and certifications, social rewards, and much more on their active participation in online fun activities. 
BuddyX vs. BuddyX Pro, What's the Difference?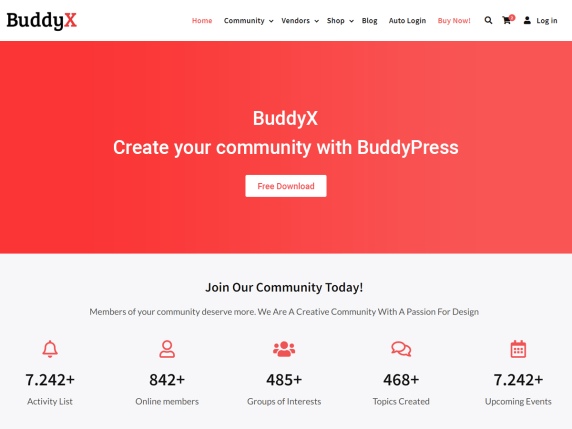 While BuddyX includes urban features to accommodate the needs of WordPress in an organized manner, BuddyX Pro comprises and accumulates all existing features of BuddyX in an amplified form to make the most out of the box. Let's take a look at some premium features that BuddyX Pro boasts of in the domain of social website navigation. 
More header variations options with BuddyX Pro
Unlike BuddyX offers restricted header variations with limited availability and rectification options. BuddyXPro offers unlimited variations to be made with headers that include customizations done with site search, site cart, and background color. 
Extended BuddyPress Support
BuddyX Pro comprises unlimited support on BuddyPress features and mechanisms that include more activity load, making group directories and reviews, multiple headed layouts on a members profile, group primary navigation layout, and much more. 
Extended WooCommerce and WC Vendor Support to Tackle Sales Issues
BuddyX Pro comes with extended WooCommerce support that lets the brands organize and display their products in a seamless listing style for easy viewing and selection. The modified listing stack with BuddyX Pro offers compelling viewership and accessible cart selections to make timely sales and purchases. Similarly, with WC vendor integration, the website can transform into a full-fledged marketplace fully equipped and ready to make viable sales of products and services. 
LifterLMS Support for Easy Learning and Building Social Etiquette 
With advanced Lifter LMS and Learndash Support, BuddyX Pro can fully function as a theme that lets brands create and sell products and merchandise online without any apparent interruptions. With BuddyXPro, the article cultivates the idea of social learning and teaching to cater to many organizations supporting the idea of virtual learning and education. 
Integrate Contact Forms with BuddyX Pro
BuddyX Pro lets brands embed contact forms such as Gravity, WPForms, and Ninja Forms to inculcate more user interaction and gather crucial marketing data. 
To top it all, here's presenting the difference between BuddyX and BuddyXPro in a table form:- 
Also Read: Must try ways while establishing your online marketplace
Site Blog Settings
| | | |
| --- | --- | --- |
| Features | BuddyX | BuddyX Pro |
| List/Grid and Masonry Layout | Available | Available |
| Blog Layout Style and Post-Per Row | Unavailable | Available |
BuddyPress Support
| | | |
| --- | --- | --- |
| Features | BuddyX | BuddyX Pro |
| Activity Load More | Limited | Available |
| Members multiple directory layout | Limited | Available |
| Members and Group default cover | Limited | Available |
| Member and Group Multiple Header Layout | Limited | Available |
| Member and Group Primary Navigation Layout | Limited | Available |
WooCommerce Support
| | | |
| --- | --- | --- |
| Features | BuddyX | BuddyX Pro |
| WooCommerce | Limited | Available |
| Product Listing Style | Unavailable | Available |
Plugin Integrations
| | | |
| --- | --- | --- |
| Plugin Name | BuddyX | BuddyX Pro |
| BuddyPress or BuddyBoss Platform | Available | Available |
| LMS Plugin (LearnDash, LearnPress, LifterLMS, TutorLMS) | Limited | Available |
| bbPress, WC Vendors | Limited | Available |
| GamiPress | Available | Available |
Conclusion On Free BuddyPress Theme
BuddyX and BuddyX Pro include a safe space for creating a community for non-profit organizations where various stakeholders, investors, and volunteers can join hands to enhance the futuristic prospects and serve clients worldwide. The themes are highly Lightweight and fast, with minimal loading time to give customers a smooth flow of operations. Well designed layout with a modern approach enables the piece to look attractive and beautiful.
Interesting Reads:
How to Create Training Module with WordPress Education Theme
Market Networks: The Future of Service Marketplaces?