There is a great number of social networking sites, among them, some are holding a very popular and strong place on the Internet. People are so open-minded these days and curious to know the other's activities too. What is more effective and powerful than social networks to share your casual and business thoughts and ideas. These are the platforms where people can share their life stories, photos, memories, thoughts, ideas, business proposals, and can engage with the people they want to be. If you're going to create your community website like Facebook, Twitter, Pinterest, we are sharing here with you the plenty of attractive WordPress community themes that can catch the people's attention to a large extent.
Check Out The List Of Best WordPress Community Themes For Your Websites
The primary objective of every community sites is to catch people for sharing social topics and engage with their close ones, and business associates, so these are the themes, that can make every aspect of community sites possible.
Reign BuddyPress Theme
With Reign BuddyPress thems, you can create a social network website for your business, company, school. You can build any of the community websites with this powerful and feature-rich theme. This theme offers you the plenty of advanced features like drag and drops header and footer builders, member directory, group directory, different Reign offers, forums, and different activities by the users.
BuddyX Pro Theme


BuddyX theme is a flexible WordPress social network theme that saves your time & creates unforgettable impact On your members. This theme gives you live customizer, individual page settings and Elementor support. It has a lightweight framework that increases your website performance and thus load pages faster, unlimited color options, optimized mobile menu panel. Also supports the most widely used WordPress e-commerce plugin WooCommerce Plugin that helps you to create your online store also. So using this you can get Your site ready with just one click.
Flocks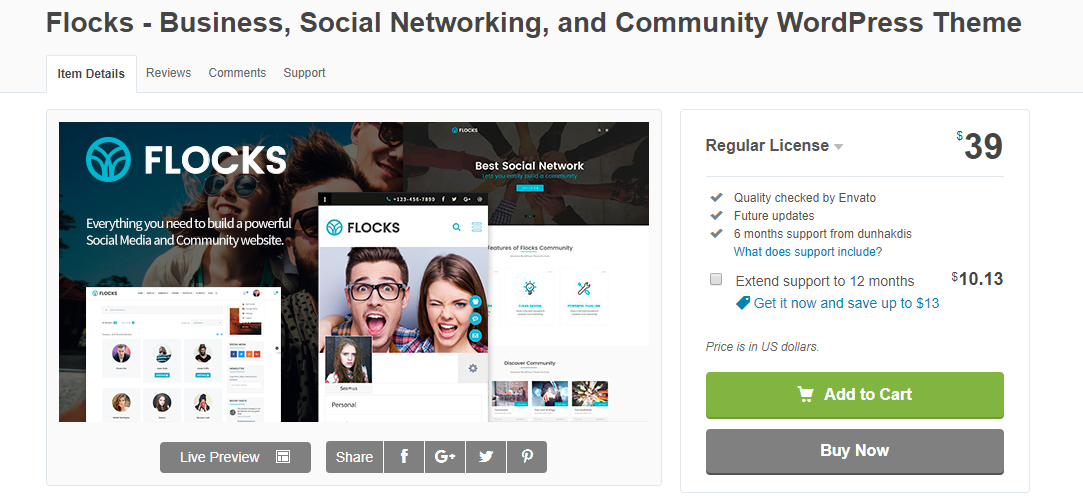 Flocks is a social networking WordPress theme. It is ready with lots of advanced features to handle any niche or purpose. This theme is responsive, as it automatically adapts any screen resolution including but not limited to Mobile Phones, Tablets, and Desktops. By using Flocks, you can build a Social Network, Community Forums, or Corporate Websites. This theme is compatible with WooCommerce plugin that allows you to sell your products and services online.
BuddyApp
BuddyApp is one of the most popular WordPress themes to meet the community website requirements. This theme gives its best to any kind of Private or Public community, Intranet or Extranet websites. This theme comes with plenty of awesome features and its creative design allows you to build a community website that can able to attract huge traffic.
Thrive
Thrive theme is WordPress theme designed to give an ultimate look and features to your online community website. This theme for community helps you to bring together social networking, messaging, forums, events, project and task management, e-commerce and e-learning. This popular theme for WordPress can be tailored to your needs so that your members can easily share messages, files, events, tickets, and forms, edit and collaborate on documents, and manage files and projects.
Kleo

Kleo is a responsive, one of the most popular and retina ready, community WordPress Theme. This theme is rich with various advanced features that will help you to give your website an awesome an attractive community look. Kleo theme integrates with BuddyPress as a complete package & includes demos by using you can get started with Kleo theme.
Klein
Klein is a highly opted and very innovative theme for WordPress. This theme is providing well support to BuddyPress, bbPress, and WooCommerce. If you are holding a website, that is interacting with so many users, you can pick Klein theme, it will be the perfect option for your website. By using this theme, you can create profiles, send unlimited messages, share events and ideas, add connections, and also allows you to sell your products.
Wrapping Words!
Here, I am wrapping my words in this article. I have covered the best WordPress Community Themes you can download or buy. If you are managing a social media or community website. The above-listed themes will be the best choice for you. Hope you like this article and if you have something to suggest on it, feel free to write in the comment box below.
Interesting Reads