As the world becomes increasingly social, how businesses interact with their customers has also changed. It's no longer enough to have a website acting as your placeholder, and you now have to create communities of customers and engage with them effectively. The current decade has seen the steady rise of community websites dedicated to building tribes and leveraging social networks to attract more customers. No matter what type of business you're running, you need a community of followers who believe in your business. Today in this article, we will discuss some of the best community plugins for your community website.
Finding the best plugin for your community website in a market full of unrealistic community plugins is difficult. However, you can sort differences if you follow the steps mentioned below:
The plugin should create a "user-friendly" effect.
It must be adaptable and compatible with the fast-moving tech.
It must work in tandem with any other WordPress plugins you're utilizing.
The plugin must be dependable: Even if there is a heavy load on your community website, the plugin must hold on.
The plugin must be responsive on any device used to surf the community website.
Reign WordPress Social Network Theme – BuddyBoss Platform Support
Best Community Website Themes on WBCOM
WBCOM has created amazing community building themes. Here you go with the best community website themes on WBCOM:
Reign Theme
Reign is the all-in-one community platform powered by WordPress. Create your social community website with WordPress, BuddyPress, and Reign Theme. It is the best white-level community solution for growing your business and selling memberships, goods, online courses, services, events, and more.
It is your key to a successful community of delighted customers. Create, engage and monetize your online community by bringing people together, engaging them in activity posts, discussions, membership, online store, and learning platform using Reign.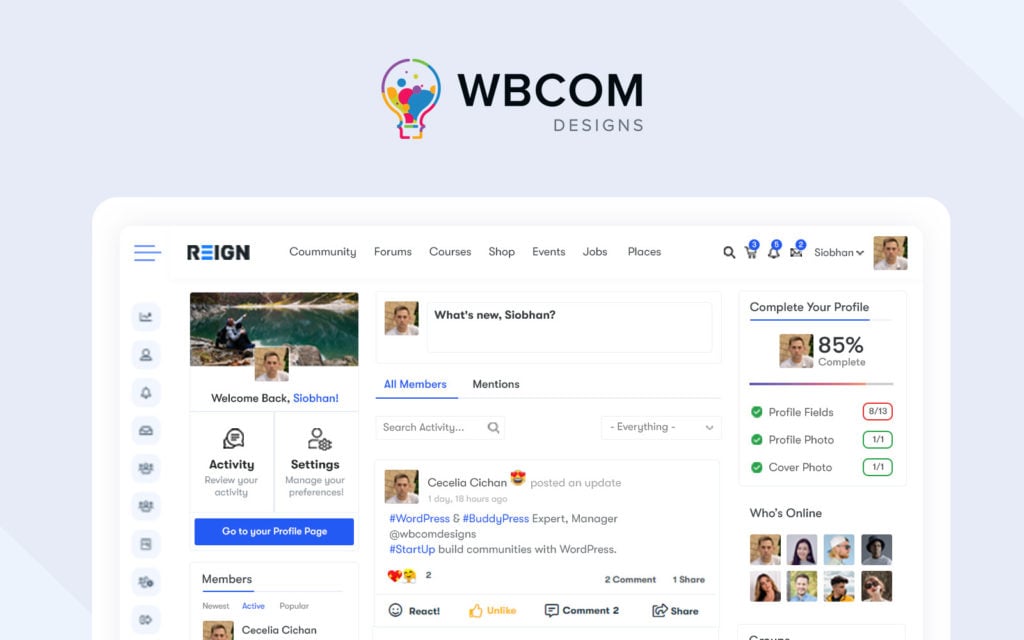 Supports popular e-commerce plugins WooCommerce, Dokan, WC Vendors, WCFM, and Easy Digital Downloads to bring social marketplace or eCommerce shop functionality to your community.
BuddyX Theme
BuddyX is the finest Facebook-like responsive WordPress social network theme. It is t he fastest BuddyPress and BuddyBoss Platform WordPress theme for creating a community, membership, social learning, or social marketplace website.
With just a single click, you can set up an entirre public or private membership community website. It's BuddyPress integration with WordPress plugins for LMS, commerce, event, gamification, and membership opens up endless possibilities. It is a free BuddyPress and BuddyBoss WordPress Theme.
BuddySocial Theme
You can create a collaborative online community, social networking, intranet/extranet, forum-based, and other community specialised websites easily with BuddySocial and BuddyPress. It is the most powerful and versatile theme for creating stunning and responsive WordPress websites in any genre.
WooCommerce is supported including an online store area and selling physical things from the same site. BuddySocial theme is a responsive design, it supports all the major WordPress plugins.
Community Plugins will help to Create Your Own Social Network
1. BuddyPress

BuddyPress is the most popular social networking tool to integrate into your WordPress site. This plugin turns out to be beneficial for those users who are new to this WordPress world and offers good quality products and great support.
Numerous plugins for extending the functionality.
Laced with tons of advanced features.
Available in varied languages, BuddyPress is a modern and sophisticated social network software with fantastic add-on features.
Makes addition of points system to ignite user engagement.
You can also give a try BuddyPress and bbPress fork BuddyBoss platform. Check out the Premium BuddyBoss Platform theme and free BuddyBoss Platform Theme compatible with both BuddyPress and BuddyBoss platforms.
Also Read: Top BuddyPress Plugins for Growing Online Communities
2. PeepSo
PeepSo is a WordPress plugin that lets users create Social Network like community-based websites. This plugin is available for free as well as well as premium version. PeepSo has many features such as private messaging, adding friends, deleting friends, etc. It also provides options to add widgets for user's photos, videos, and friends. One can easily place these widgets wherever he wishes to inside the theme. But one of the major features of PeepSso is that it lets users add moods. You can show your mood by updating a status on your website just like facebook. It also has various additional free plugins such as:
Moods to allow members to set status
Tags to have hashtags in activity posts
Sharing Location
This plugin provides various free plugins that add more functionality to a website. This plugin is by far the best alternative to BuddyPress and is praised by many users as complete solutions. PeepSo support third party addons and have integration at Wbcom Designs we have developed several addons. PeepSo can easily be integrated with WordPress LMS Plugins using integration like PeepSo LearnDash and LifterLMS and create social Learning experience. Checkout All Wbcom Designs PeepSo addons.
Also Read: Advantages Of Having Your Own Website To Offer Services Online
3. UserPro – WordPress Community Plugin
UserPro is among the best WordPress community plugins that integrate seamlessly with several other WordPress plugins. This plugin comes with the option to follow/unfollow users, content restrictions, one-click sign up, or photo uploads. In addition to this, it also comes with a whole range of payment methods, email marketing, a social wall, and much more.
Fully responsive design that makes it look utterly flawless on any screen size.
This customizable plugin comes with five ready-to-use skins if you wish to set it up and go live asap.
Being available in 12 languages, this plugin also comes with translation-ready features.
With the help of the enhanced member directory option, you can showcase members in a beautiful way.
Also Read: Best Social Network Plugin for creating Community website
4. WP Symposium Pro – WordPress Community Plugin

WP Symposium Pro is the perfect substitute for BuddyPress which includes social networking features integrated into various groups and forums. This plugin is designed in a way that it can be integrated with any WordPress theme.
Laced with impressive features like events, galleries, and more.
Can be integrated with Facebook, Instagram, etc.
Multivarious style templates come built into the plugin.
Premium support is also available once you upgrade to the premium membership.
Also Read: Top 6 WordPress BuddyPress Theme
5. Profile Builder – User Profile & User Registration Forms
Profile Builder is one of the best plugins available on the internet. It allows you to manage all user-profiles and registrations. It is user-friendly and allows editing by using shortcodes.
Profile Builder allows you to personalize your website by adding a front-end menu for all of your users, providing them with a more flexible approach to alter their user profile or register (front-end user registration). Administrators can edit basic user fields and add custom user fields to front-end forms.
Features provided by Profile Builder:
Reorder user profile information by dragging and dropping.
Email Confirmation
Login with email and username
Customizable user login widget
Minimum password strength and length
And, many more!
6. Youzify (formerly Youzer) – BuddyPress Community & WordPress User Profile Plugin
Youzify is a feature-rich plugin that allows you to display your unique brand experience and immerse your users in a vibrant community of devoted and engaged consumers, propelling your business ahead. Youzify turns your website into a powerful, effective, and captivating social hotspot, harnessing the power of the crowd to boost sales and achieve incredible ROI.
Features of Youzify:
Fully Customizable
MyCRED, bbPress, WooCommerce, Giphy, Mailchimp, and Mailster Integrations are offered.
Superior coding quality and a fully responsive design.
Secure membership system – social login, sophisticated Captcha, secure password reset, restricted login attempts, and information privacy.
7. Ultimate Membership Pro – WordPress Membership Plugin
Ultimate Membership Pro has been named the best WordPress Membership Plugin for the eighth year in a row, allowing you to build and manage multi-level exclusive access for your Members based on basic free memberships or paid recurring subscriptions. Unlike many other membership plugins, Ultimate Membership Pro is robust, well-designed, and loaded with features.
Ultimate Membership Pro's Features:
Partial Content Restriction
Built-in Integrations
Content Access Management
Easy Setup
Members Management
8. myCred
MyCred is an intelligent and adaptable points management system that enables you to create and administer a variety of digital incentives, including points, rankings, and badges on your WordPress/WooCommerce-driven website.
Create brand loyalty by rewarding your consumers through in-store incentive programs, online leaderboards, and the monetization of your website content, among other methods. There are countless options with myCred.
9. PeerBoard
PeerBoard is a state-of-the-art community platform designed to work seamlessly with your present website or product. PeerBoard is a collaboration solution that can be quickly and simply implemented onto any website without requiring any programming knowledge. It provides the option to build admin panels, complex user profile pages, membership portals, and privacy settings. PeerBoard may be quickly and easily incorporated into your WordPress set up as a completely customizable page. PeerBoard is the industry innovator in managing and constructing online communities because of its adaptability and creative design.
10. ProfileGrid – User Profiles, Memberships, Groups, and Communities
ProfileGrid is a robust member, user profile, and directory extension plugin. While ProfileGrid is mostly an online profile creator It also provides Users Groups. They are similar to Profile types in that you can build diverse profiles for different user groups.
ProfileGrid's Features:
There are several User Profile kinds available.
There may be a unique set of fields for each Group.
Each group may have a separate group moderator or manager.
For group members, the group manager may choose a unique degree of privacy.
Every group is allowed to have its own registration process.
11. wpForo Forum
wpForo Forums is one of the best WordPress forum plugins. It is a fully functional forum plugin for the WordPress website that is both lightweight and easy. It includes responsive forum layouts and designs that are modern. It has everything you need to operate an efficient, professionally organized community in this WordPress forum plugin. A stunning and strong forum with unique features.
wpForo Forum's Features:
Designed for both extremely tiny and very big forums and communities.
Utilize the Go2wpForo tool to migrate from other forums.
Four distinct forum themes and layouts.
The dark style is one of six sets of color schemes for the forum.
The forum is really responsive across all devices.
12. PrivateContent – Multilevel Content Plugin
PrivateContent is a highly effective and simple solution to improve the performance of WordPress and transform it into an actual multi-level membership platform. A complete user management system A modern form framework, and an exclusive engine that can make it difficult to restrict any portion of your site. It's all done without programming skills!
PrivateContent's Features:
Absolute community website protection
Hide your website in a single click
Track your website's users
WP builder's integration
13. ARMember – WordPress Membership Plugin
WordPress membership plugin ARMember was introduced in 2022. It is a one-stop-shop for selling WordPress subscriptions as well as plugins for user registration, user profiles, and much more. Fundamental knowledge of programming is all that is required to use this plugin.
ARMember's Features:
Built-in security options
All kinds of membership models
Social login facility
Drip content facility
Multiple payment methods
14. Team Showcase – WordPress Plugin
You may show a collection of images and information with Team Showcase in a variety of ways. Although it may be used for other things, the plugin's primary function is to display the team's or staff members.
It's ideal for displaying your employees, team, or labor force, even when they are grouped into different categories or groupings. It may also be used to display testimonials or other information that needs both a text and a picture!
15. DW Question & Answer Pro – WordPress Plugin
An all-time favorite question and answer plugin for WordPress is DW Question & Answer Pro. A fully functional question and answer area, a la StackOverflow, Quora, or Yahoo Answers, will be available on your WordPress website.
DW Question & Answer Pro's Features:
Question listing
Manage questions via front-end
Type of question (public/private)
Additional features such as "voting" and "Pick Best Answer".
Modern theme and style
What is an online community?
A few weeks back I was having a discussion with my friend about the value of online communities. Most people would say that they are absolutely essential for business and marketing, but just what does "community" mean in this context?
I don't think there is one definition of the word that fits all situations. Online communities can be as small or large as you want them to be:
Small – a forum site such as WordPress or TypePad where users post questions with answers from other users
Large – A Facebook group; LinkedIn Group, Twitter chats, etc.
Importance of online communities
"Social networking sites have changed everything."
In March 2007, a survey by Nielsen found that 61% of teens and 29% of adults are actively using social networks. This number continues to rise every year as new websites emerge for sharing photos, videos, or audio clips with other members of the community. These sites are called "social networks". They allow users to create profiles that describe them and their interests. Social networks like MySpace, Friendster, Bebo, Facebook, Orkut, and LiveJournal are some examples. Users can also join groups within these sites that share common interests or hobbies.
One of the major advantages of having an online community is that everyone has access to the same information at the same time. If someone wants to know anything, s/he only needs to log into his/her account to view the information. One disadvantage is that the community grows larger and larger each day. Another downside of this approach is that many people don't go through the effort to contribute. There is a huge difference between contributing your thoughts on a blog versus being part of a real-life community. For those who do not have the time, tools, or skills to participate, we have come up with several ways to encourage user participation. These include:
Create an incentive (i.e., points) for users to make contributions.
Provide easy access to resources needed to support community creation and management.
Use a variety of means to monitor discussions and ensure quality content.
What Community Tools are required for a proper run?
Online Communities require robust plugins that satisfy the expectations of the members. You need those tools to boost engagement in your online community.
For example, if your goal is to build a community around a project at work, then having a discussion board would be ideal. On the other hand, if your main goal is to get more people to subscribe to your newsletter, then you'll probably need help from e-mail marketing experts.
You're not required to understand how these tools function, but it's important that you know what they can do for your product so you can get the maximum benefit out of them.
Some of those tools are:
Membership tools, i.e. sign up, log in, and create a profile.
Activity stream to engage your members with advanced features like hashtags, reactions, comments, and likes.
Private messaging, friend or follower plugin to provide a better social network experience.
Sub-communities or micro-communities to convey small group activities within a large community.
Final Thoughts on WordPress Community Plugins
I hope that this article helped you a lot to find the perfect WordPress Community Plugins for your website. So, which one is your's favorite? For any queries feel free to comment below. You can also check out the BuddyPress ultimate theme, i.e., the Reign theme. Reign, The Ultimate WordPress/BuddyPress Theme! With BuddyPress, you can build a social network for your company, school, sports team, or niche community all based on the power and flexibility of WordPress. Thanks for reading.
How to Create a Social Community Website
Exploring ways you can create a community. Get leading info here.