With the dent of falling sales, and losing customer reach due to shattering and crumbling coronavirus. Everything might get grey for you if you do not work smart now. CRM system or Customer Relationship Management has also taken a back-seat due to weathering off of customer purchase and their losing hold of income. With top-notch usability and integration of the best SaaS CRM software or sales and leads, things can work great for your business in no time.
This integration in real-time will give access to CRM functionality and support that doesn't need any investment for installation and maintenance. Being a purely cloud-based software, it will give a hang of transparency to the relationships with customers and help businesses automate, and promote personalized marketing, customer services, and sales at large.
SaaS Funnel Guide : How to boost growth with marketing and sales
So, there is something great and valuable for days to come as things will still its time to back to their normal shape in the economy.
Best SaaS CRM software for Sales and Leads
1. Pipedrive
Pipedrive CRM is a free, open-source and highly customizable CRM software. It has been designed to be easy to use for non-technical users. Pipedrive CRM offers an extensive set of features that include sales management, marketing automation, project management, collaboration tools, reporting, email marketing, web analytics and more.
Key Features:
Intelligent Lifecycle Marketing.
Engaging Web Rules.
A beautiful display of pop-up.
Smart exit layout.
Track key-growth metrics.
View funnel stages.
Analyze cohorts.
Apply filters.
Reporting by date range.
Systematic email report scheduling.
2. Salesforce Sales Cloud
Being counted among the top 10 CRM software, you have got Salesforce here. Being the leading software in the domain, you can aim in automating the sales process, assisting both sales managers and reps. Further, it is also said in creating a well-structured sales process, how it is getting followed, sharing extensive customer details, and maintaining efficient customer communication through multiple channels.
Key Features:
The sales path allows sales managers to handle the complete sales process, and thus makes it easel manageable.
Lead conversion sales that harness sales cloud which simplifies business needs. This will improve conversion into better opportunities in business.
Products and Price books allow drawing up rules that come with options of products and services. It also allows leaving large discounts to customers based on their geographic positioning, industry, and more.
It also comes with a process builder that helps to create automated workflows which empower sales, manage additional opportunities for supervision.
3. SAP
Being one of the global solutions stands as the best SaaS CRM software for sales and leads. SAP aids to attract and retain customers which nurture growth in the system. It also helps to acknowledge the right chunk of your audience, engage your customers and thus provide a simple and quick buying experience. Further, it also counts upon eCommerce solutions, outreaching customer data solutions promote sales solutions, shares service solutions, and further marketing solutions.
Key Features:
Customer experience solution demo.
Commerce solution.
Customer data solution.
Sales solutions.
Service solution marketing solutions.
4. HubSpot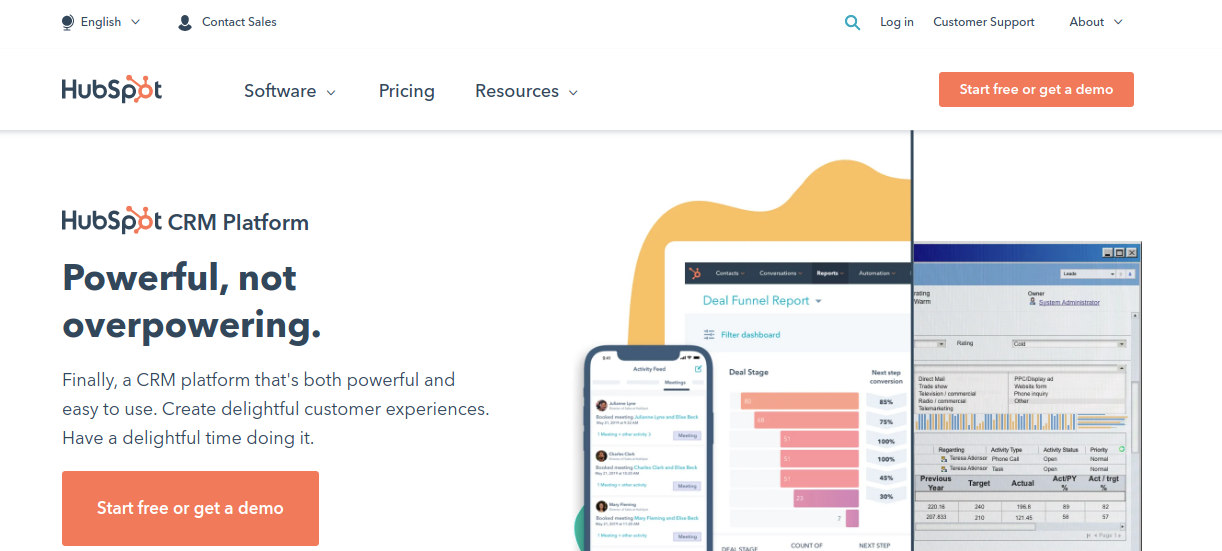 Being the leading option for imparting innovative marketing technology solutions, HubSpot stands as the best SaaS CRM software for sales and leads. It builds a reputation as an innovator in the area leading to marketing automation, social media campaign, and of course customer relationship management. Additionally, it is also added that HubSpot CRM includes a free version of the marketing, sales, services, and products. Furthermore, it is also seen that the product adds lead-generating tools, web forms, live chats, advertising tools, and helpdesk tools.
Key Features:
Shares email marketing tactics.
Live chats and bots.
Helpdesk tool.
Advertising tool.
Lead generation tools.
An email marketing tool.
5. Freshsales
If you a small business and stand as the newbie in the industry, here is the solution for you to scale fast and easily. Welcome, Freshsales onboard. This helps with simplifying the CRM process, extensive customization options, proactive AI and assistant, and various integrations to stimulate functionality. Additionally, it also counts upon a reasonable price with an easy-to-learn interface. Being one of the best SaaS CRM software for sales and leads, it also delivers other business software which offers a more in-depth feature set if your business incorporates CRM for better working and functioning.
Key Features:
Helps with contact leads, deals, and reports.
Have a conversation with context.
Drive deals to closure, faster. Improve sales conversion with AI-powered insights.
Helps to grow customer value with integrated sales and support.
Lessen the number of IT complexity and cost with the comprehensive solution.
6. Snov.io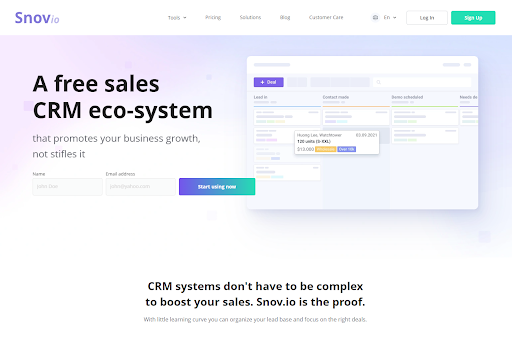 One of the most versatile platforms for B2B cold outreach, Snov.io has recently launched its sales CRM that helps you aggregate all the important data about your customers, sales, marketing or business overall. This user-friendly CRM is an absolutely free solution with many compelling options.
You can create pipelines with up to 100 stages and always track which stage your prospects are on. Besides, you can stay maximum focused on the deals that matter most, see how many deals have been won and lost, monitor how your team communicates to close the deal, and analyze how you can improve your sales strategy in general.
Meanwhile, your prospects will never feel abandoned. The CRM has an embedded email service that allows you to reach out to your prospective customers at the right time and never miss a chance to follow up.
Key Features:
Multiple pipelines
Deal stage management
Unlimited teamwork
Deal and prospect notes
Automated data capture with deal timeline
Lead tracking using tags
Integrated email service
Email finder and verification tools
Conclusion
Phew! These are the top used CRM software that can help our business to come out from the marsh of economic stagnation. So now you can track every customer who is onboard at your app and website. With the advanced technology of the best SaaS CRM software for sales and leads, you can understand your audience better which will further empower you to make our next move toward your business and scale up your sales smartly.
---
Interesting Reads:
Top WordPress Payment Gateway Plugins For Easy Digital Downloads