Are you looking for the best WordPress URL Shortener Plugin for your website? Long URLs significantly affect your website appearance and SEO. That's why website owners use URL shorteners to make it simple for users to minimize their lengthy and unattractive links. Additionally, they also allow you to effortlessly edit your affiliate links and eliminate any extraneous letters and numbers.

Below we'll discuss some of the top WordPress URL shorteners. But first, let's learn what URL shorteners do and why you need them. So are you ready to experience the ease of shortening URLs and cloaking affiliate links with free and paid plugins?  Let's find out.
What is a URL Shortening Plugin?
Before we learn about the best WordPress URL shorteners, first you need to learn what it is. A URL shortening tool typically helps website owners to shorten their long and cluttered URLs quickly.
WordPress website owners can use a tool called URL shortener to edit their lengthy URLs and turn them into short and shareable links. It is among the top methods used by bloggers and social media platforms to make URLs that are simple to remember.
A URL shortener helps create custom links that redirect users to the right page quickly. Also, these Shortened URLs adhere to the standard 301 redirects, which doesn't impact your website's SEO rankings.
You can easily create short URLs for your complicated links using a robust plugin. Additionally, these short URLs are easy to share via emails, texts, social networks, and other channels.
List of Best URL Shortening WordPress Plugins
Pretty Links is considered a top choice among the popular WordPress URL shortener plugins for affiliate cloaking. It allows website owners to make shareable affiliate links for YouTube, podcasts, emails, and more.
The Pretty Links plugin is an excellent choice to shorten your lengthy and unattractive URLs effortlessly. Make all your links presentable with one of the most convenient and free plugins to shorten URLs all over your website.
Additionally, you can also use this plugin to add affiliate links to the various content of your WordPress website. It comes in both free and paid versions so you can take a free trial before purchasing the plugin.
Why Do We Prefer Pretty Links?
It allows you to create custom URLs for your WordPress website.
Create Shareable and Branded affiliate links for email, Podcasts, YouTube, etc.
Turn your long and ugly links into short and attractive URLs in a single click.
It comes with a social sharing tool to broaden your audience's reach.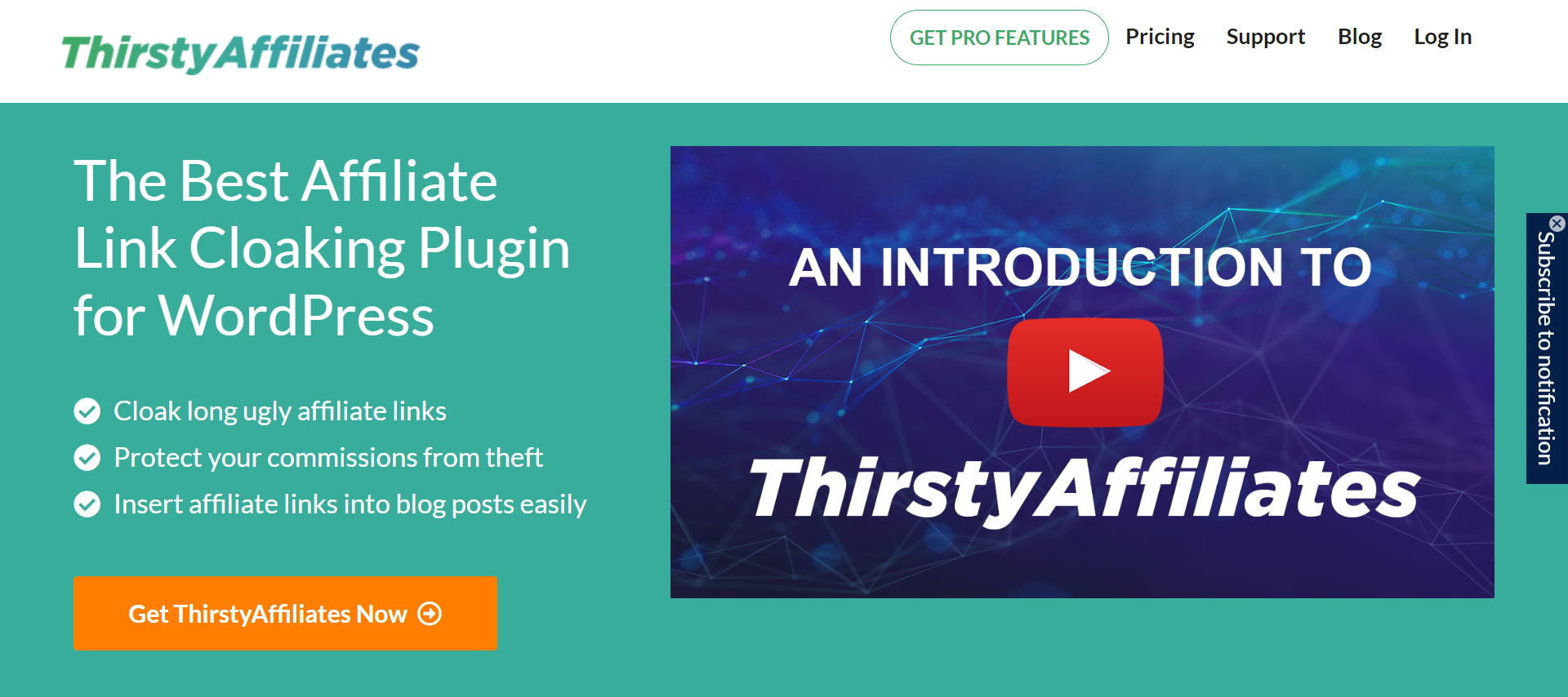 Are you looking for the perfect way to cloak your affiliate links and shorten long URLs? The Thirstyaffiliates plugin offers an easy way to add custom and attractive affiliate links to your blog posts quickly and conveniently.
In addition to cloaking affiliate links, and showing clicks in your analytics reports, this WordPress URL shortener plugin seamlessly integrates with Google Analytics.
Often known as the frontend link fixer, it ensures that all your links are up-to-date. Moreover, it also checks the 404 links and fixes errors automatically. This is a paid URL shortening plugin to help you shorten URLs with ease. Monetize your average WordPress blog quickly with the ThirstyAffiliates plugin. It also allows you to add, edit, and include affiliate links in your content.
Why Do We Prefer ThirstyAffiliates?
The ThirstyAffiliates plugin allows you to cloak long affiliate links effortlessly and create short links automatically.
It makes it easier for website owners to include affiliate links to blog posts.
It is not just a plugin to cloak affiliate links, but a tool designed for bloggers to monetize their websites.
Unlike other WordPress URL shortener plugins on this list, URL Shortify enables you to create stunning custom URLs for your website. Through this plugin, you can hide broken links and monitor their effectiveness on different platforms such as Twitter, email, YouTube, etc.
URL Shortify also comes with the ability to password-protect your URLs from unwanted access. One more thing that sets it apart from other plugins in the market is the easy compatibility with other WordPress plugins to improve website performance and efficiency.
A quick and lightweight plugin that doesn't include extra load on your website. Instead, it lets you manage and organize all your custom links from a single dashboard to keep track of all the URLs of your website.
Why Do We Prefer URL Shortify?
URL Shortify offers extra protection for WordPress websites through password-protected links.
Organize and segment your audience based on their location to send them to different landing pages.
It also comes with a built-in analytics link to make your decisions more convenient.
Shorten links, create custom links, generate QR codes, and link in-bios.
Bitly has been considered one of the best WordPress URL shortener plugins available. It offers the ultimate and simplest solution to replace long and cluttered URLs with short and attractive ones. Moreover, it also enables you to see who has clicked on your links and where they are being shared.
However, the main feature of this plugin is that it is a full-featured link management platform that allows you to modify links, build campaigns, create custom URLs, and redirect links. You'll get all the products you need to build brand connections, manage links, generate QR Codes, and connect with audiences everywhere in a single platform.
Why Do We Prefer Bitly?
Bitly offers a comprehensive solution for WordPress website owners to help their audience connect with their content smoothly.
It allows you to create branded URLs and connect with Twitter for automatic and scheduled posts.
It also offers link engagement strategies to track performance and find more ways to reach the audience.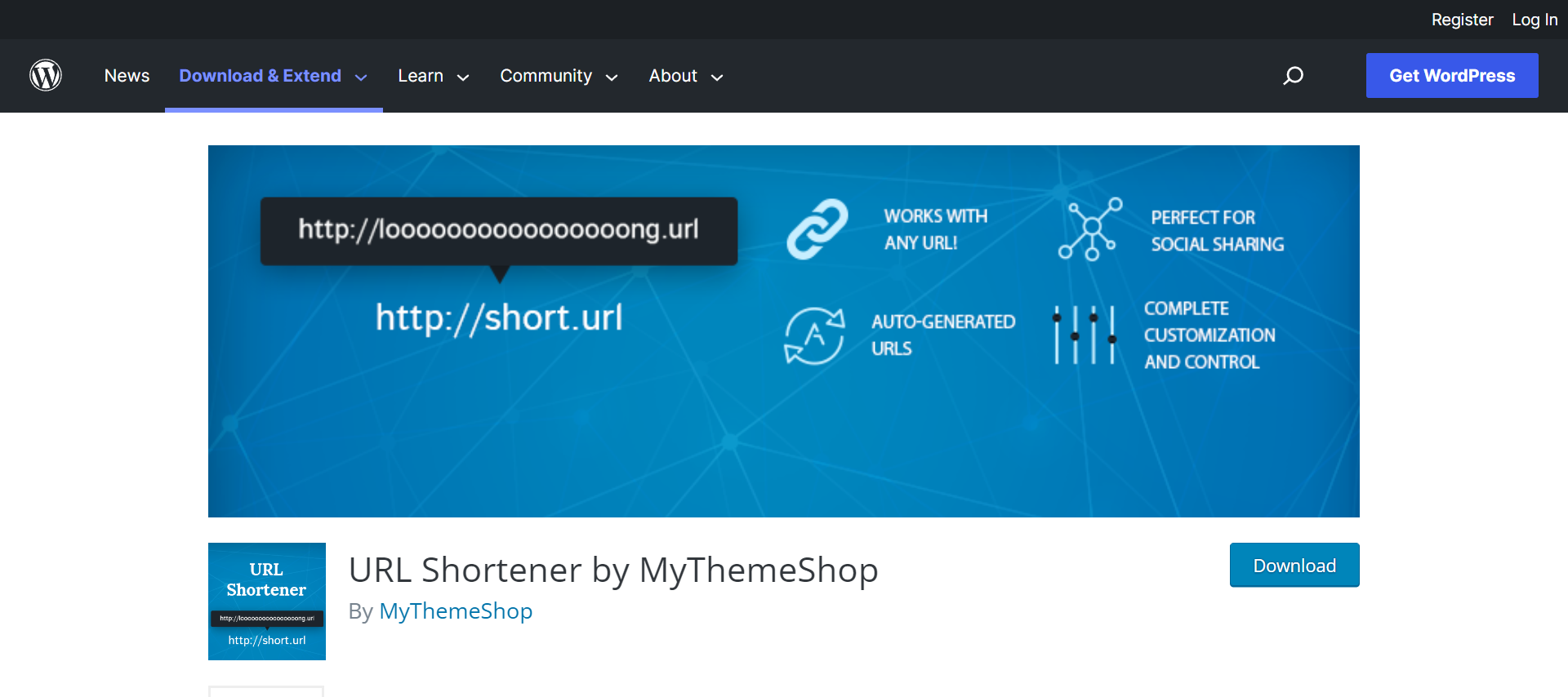 URL Shortener by MyThemeShop is an excellent WordPress URL Shortener plugin that enables you to make unique and easy-to-remember URLs. Whether you want to completely hide your links or need to shorten and improve your URLs, URL Shortener makes everything quick. Additionally, it enables website owners to create unique redirects including (301, 302, 303, 307, and JavaScript redirection).
URL Shortener is a stunning plugin that helps you keep track of the number of clicks on your link in real time. Thus, this is considered among the fastest when compared to other tools. No need to use third-party plugins as the URL shortener offers a complete and reliable solution for WordPress websites.
Why Do We Prefer URL Shorteners?
URL Shortener is an easy-to-use plugin that allows you to create and insert URLs into social media posts.
An excellent tool that lets you save time to help you replace old or broken links in bulk.
It enables you to get complete control over your URLs with a wide range of URLs.

Final Verdict
So have you chosen the best WordPress URL shortener plugin for your website yet? We have listed the top URL shortener plugins for your WordPress site. It is up to you whether you want to start with a free or paid option. Another best part is that all the above plugins work seamlessly with the other plugins installed on your WordPress website. So you don't have to fear compatibility and extra load on your website. So are you ready to attract your audience with small and effective URLs? Keep reading our blogs for more information.
---
Interesting Reads:
How to Duplicate WordPress Pages or Posts? – A Beginner's Guide
Top 5 Online Engagement Strategies For e-Learning