It is the 'trick or treats season'. The time of the year when little skeletons and green Hulks walk around with their large sacks ready to store years' worth of candies. Halloween is near and now is the time to dress up your site with Halloween effects. Halloween WordPress themes can help you a lot in giving your simple WordPress site a Halloween look with spooky elements. Would you like to make your site ready with Halloween occasions to engage your site visitors with beautiful and interactive design options?
Businesses have to utilize this opportunity and gear up their websites with spooky Halloween designs. While the discounts will pour in from all sides, your website has to stand out to get the homebound person to stop sniffing through websites and order from you.
Through this article, we will help you make your website Halloween Sale ready and about amazing Halloween WordPress themes that give your site the look you ever wanted.
Top WordPress Halloween Themes
1. What Looks is What Sells
Halloween essentially is all about the pizzaz. The costumes, the props, the pumpkins they all set the mood for Halloween. Hence, treat your website like your storefront. Put on some dark, ghastly or candy theme. Use the wide array of Halloween plugins to bring the Spooktober to your website.
You can not go wrong with Halloween 3D plugin, it provides a premium Halloween 3D atmosphere to your website. While adding a funny, spook factor with a pop-up by Halloween Pop-Up Card plugin. Whereas Spooky is your perfect go-to theme for getting your website Halloween ready.
2. Turn on Offer Mode
The perfect way for you to carve an inroad to the heart of your customers is through freebies, gift cards, and discounts. These offerings make them feel good, draws them to shop from your website. Make your customer feel special. Lay the ground into a bigger audience this Halloween season with unique freebies, coupons, and discounts.
Mind you your offer might knock a few dollars of your profit. But in the long run, you get a loyal customer, good word of mouth, and orders.
3.  Run E-Mail Campaign
Do I have to even tell you about this?
Run a Halloween special campaign, Right Now. Email marketing is an efficient and effective way of keeping your existing customers up to date with what's happening. New deals on your website? Or just updated new stock? Then let your customers know about it through emails.
And please for the sake of Halloween make the email theme align with the eve. Creative, engaging content in your mail will drive customers to your website.
4. Reward Patrons
When will a customer remain loyal to a business? When you give them something in return! A tailor-made offer for your regular customers will give them more than enough reasons to return. Add extra discounts or a special gift of thier own choice. Send personalized emails. Give them warmth, provide them a sense of value.
5. Hourly Sales
For example, "Flat 35% off from 2pm to 5pm". Schedule these sales during the peak activity hours on your website. Nighttime offers get the most conversions because obviously most people work when the sun is out.
What these limited time deals do is create a sense of urgency and excitement amongst your buyers or prospects, it nudges them to make a purchase.<
6. End the Sale with a Countdown
You can put your customer favourites up for grabs, a last time before the sale ends. Offer an exclusive. Or Put a timer to the end of the sale with "Quickly Running Out" kind of tags. Employing this tactic you are attracting customers. Think of yourself as the gravity, the customer as Newton and the apple being your sale end countdown, a customer favourite or an exclusive.
Also, do check out the best WordPress Halloween Plugins that gear up your website with some spooky and brilliant functionality.
Top WordPress Halloween Themes To Make Your Site Ready For Halloween Season
1. Spooky
Exploring something scary to put on your WordPress website? Try out the Spooky WordPress Halloween theme that offers all the fun and fear within itself. If your website is solely devoted to Halloween Samhain, this theme is suitable for you. You can decorate your site with all kinds of horrors, witchery, witchcraft, Wicca, and demons.
What's Included?
Offers free page templates
It comes with lovely witchy fonts, custom widgets.
Simple Home page with one menu and a footer widget area
RTL Language Support
Translation ready
2. Halloween Responsive WordPress Theme

This is another responsive best theme for Halloween stores you can take a look at. You can showcase your primary talents and projects in an easy approach using this theme.
What's Included?
WPML ready WordPress Halloween theme
Offers real-time messaging online chat feature
Search Engine Friendly and responsive WordPress Theme
Based on Cherry Framework
3. Halloween Atmosphere WordPress Theme

This is a perfect option for you if you're looking for a celebration WP theme with Portfolio. You can beautifully showcase your projects and merchandise using its easy-to-use theme options. The theme offers a page layout that transforms according to the width of the screen.
What's Included?
Create Portfolios in an attractive style
Responsive and search engine friendly WordPress theme
Compatible with WPML
Based on Cherry Framework
4. Halloween

If you are looking for a free WordPress Halloween theme, this theme offered by SM Themes is perfect for you. It includes Halloween spirit in your web posts and pages. It comes in two dominant colors – orange and black along with you can easily design your blog and website for children.
What's Included?
Easy to use administrative panel
Offers custom widgets along with eye-catching related posts
Based on SMT Framework 2.0
Ecwid and WooCommerce Supported
Offers Dynamic Content Loader and Custom Sidebars
Includes Google Maps Shortcode
Social Share Bar and Translation Options
Slider And Shortcodes Ready
SEO Optimization
Antispam without Captcha
5. Halloween Store WordPress Theme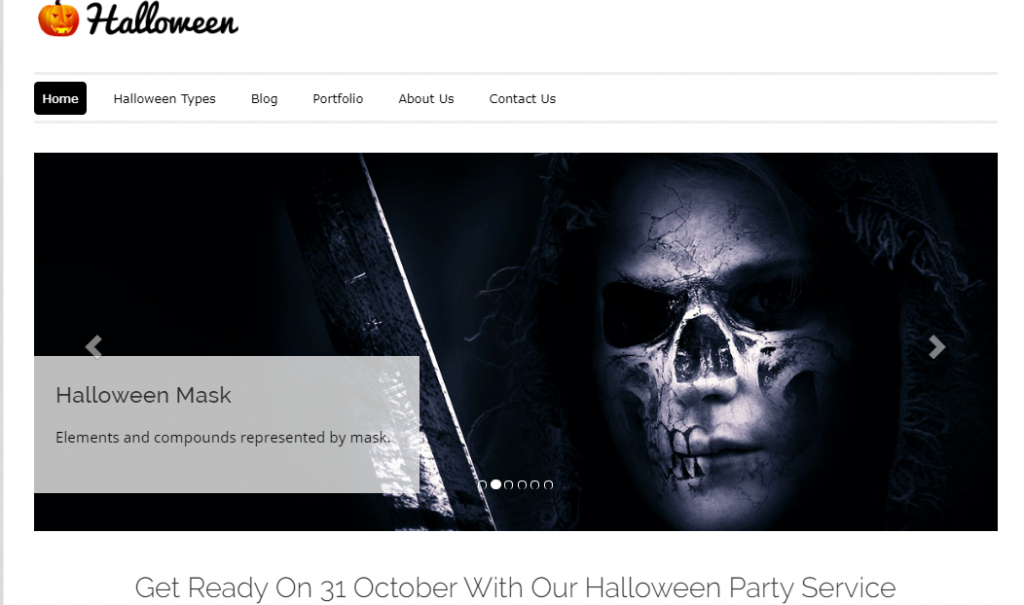 This theme is best designed for Party, Halloween decor, Halloween shoppers, party organizers, and suppliers. Organize your site with various options like slider images, slider descriptions, business logos, Halloween events, social icons, and many more.
What's included?
Slider section to showcase your Halloween items
Showcase your featured Halloween services
Set Forth Your Halloween Store In Gallery
Multiple color schemes and responsive layouts
Powerful admin panel and cross-browser support
Social share functionality
Offers retina-ready icons and custom widget area
Custom logo and favicon uploader and, many more.
6. PartyMaker – Halloween Party WordPress Theme
If you are lacking for ideas to decorate your WordPress site with Halloween effects, try Party Maker WordPress Halloween theme. It gives your site a rich experience with its user-friendly theme features.
What's Included?
Set out glass jars with candy and loot Bags
Decorate your site with eye-catchy pages
Elelmentor page builder and WPML support
Get tons of high-quality images and jet elements
Built-in support for booking appointment plugin
And, many more.
7. Divi Theme
Divi is developed by Elegant Themes. It is a multi-purpose theme that offers its own Divi Builder from which you can customize the theme as much as you want. Furthermore, Elegant themes offer festive themes on occasions. You can grab one of the spookiest WordPress themes at Halloween time.
What's Included?
Divi Page Builder
In-line Editor
Responsive Editing
Fonts and Text Styling
Shape Dividers
Border Options
8. BeTheme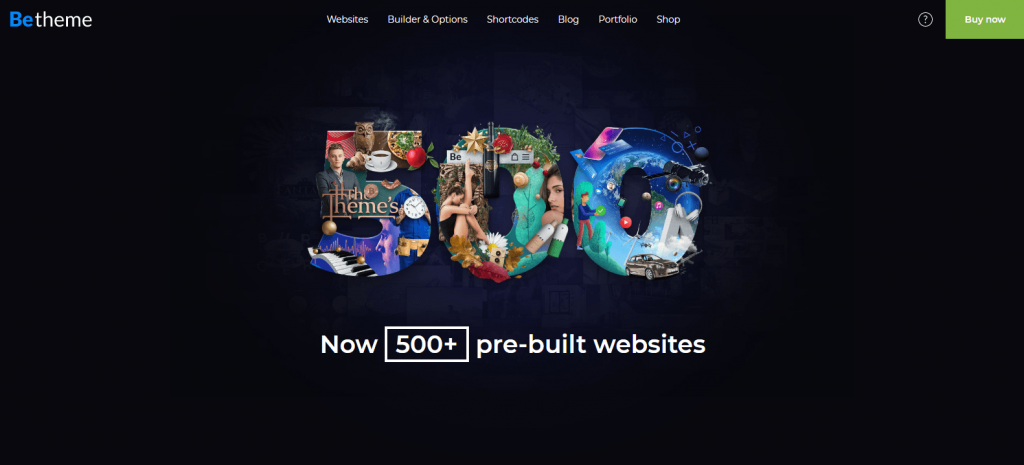 BeTheme is another multi-purpose theme that offers festive and occasion-based themes. It can be installed with just one-click and a large amount of pre-built themes. BeTheme comes with MuffinBuilder which is of their own and can be used to easily customize the pages and personalize them.
What's Included
GDPR Ready
500+ Pre-built websites
Single-Click Installation
Powerful Admin Panel
Fully Customizable
Before I bid adieu,
Halloween is a difficult time for kids this year because of the whole COVID restrictions in regions and self-imposed lockdown. But the holiday must not be sullen, give a reason for your customers to be excited. There are so many aspects to Halloween- the pumpkin, candy, candles, costumes- the list is endless. Put some of these things on offer on your site if not already.
The possibilities are endless for online business owners with the Halloween season.
Check out The Best Halloween WordPress Deals Here!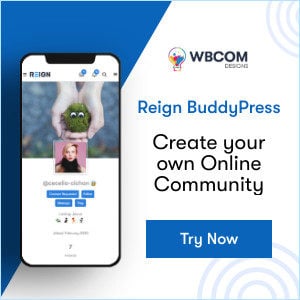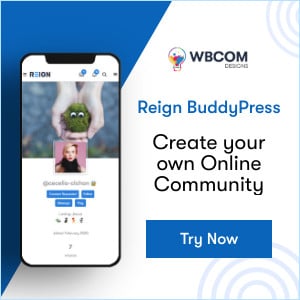 Moreover, if you want to check out the best spooky treat for WordPress Halloween deals, do take a look at these best WordPress deals for 2019 here. Grab the opportunity now.
Stay tuned with us to know what's trending in web designing and don't forget to share your opinions with us in the comments below.
Interesting Read
Track Google Algorithm Updates
Content Marketing vs Link Building