WordPress was introduced to the world in 2003. Since then, it has taken its place as the most popular content management system (CMS) on the internet. Even today its popularity is unparalleled since it runs millions of websites every day. Stats have shown that half of all the websites on the internet that use a CMS are run by WordPress. One of the main reasons it has been so successful is because it is free. But that does not mean the CMS does not garner its own revenue.
The founder of the CMS itself is no billionaire. But, since more than 20% of the sites present on the internet are run by WordPress, it has a huge economy. Due to its name in the industry, WP has brought in millions of dollars each year. How did the ubiquity of this CMS turn into a multi-billion dollar industry?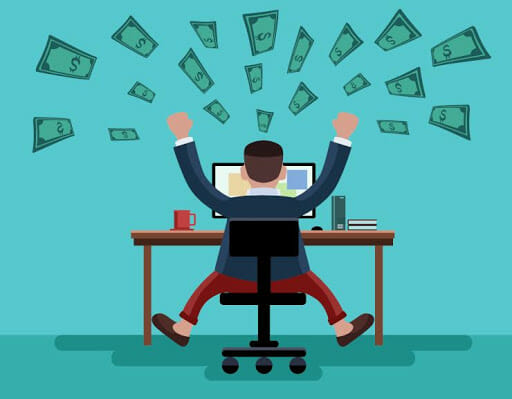 WordPress Online and Offline
WordPress is a software with a range of utilities. It is used in theme design, development of plugins, hosting, and maintenance of websites. The first version of the CMS did not come with all these features. Themes and plugins were not even added until version 1.2, which came with new capabilities and functions. It was born out of the desire for a well-structured system that could meet the modern needs of developers and designers. With the stability of WordPress that came with high standards and management, it began to boom offline. There have been thousands of books published that took WordPress as their subject line and around the same number of people earn their livelihood through the software.
How Does WordPress Make Money?
WordPress is being used by almost 75 million sites as we speak (crazy, right?) but the thing is that none of them have to pay for it. The excellence of WordPress stems from the fact that there is no subscription or licensing fees or any other charges. Even premium memberships are not offered unless you use the hosted service. The question then remains: how has WP generated more than $10 billion?
The facilitation of such a large sum is not entirely impossible. There are many ways that the creators of WP have managed to build this economy. Some methods are more direct than others, but they get the job done.
WooCommerce
The creators of WordPress acquired WooCommerce in 2015. It does not cost anything upon download but it does come with a variety of add-ons that make around $300 a year. Premium sites frequently use this which helps in turning the plugin into a cash cow. The WP economy has benefited from WooCommerce in several ways as e-commerce sites generate billions in sales each year. The amalgamation of these sales with other profits made perfectly explains how the WP economy is so vast.
Themes and Plugins
The main focus of WordPress is the unlimited number of themes and plugins. Not only do these allow customization of sites but also increase accessibility and usability. Millions of these themes and plugins are available for free with a range of functions. So whether users need to make a custom animated video with the CSS animation plugin or update their security system with Sucuri, WP has them covered.
With over 44,000 themes and around 30,000 plugins available, users can pick what they need from free ones or pay for extra functionality. The cheapest ones start at only $2 and can generate a lot of income if millions of users are downloading them. There are also themes and plugins that users can purchase directly from individuals developers or online marketplaces and use according to their requirements.
Ads and Affiliates
Affiliate sites and content sites that exist for filling up ad space tend to favor WP sites. Viral sites and listicles are a part of this group and they make up for a significant number of neglected websites. These sites, although flimsy in their creation, do make a lot of money by running ads. A rough estimate of the earnings made from affiliate links is about $200 billion a year. WP accounts for 30% of these sites, which means that it also makes about $60 billion a year simply from ad revenue.
The Freelance Community
WordPress agencies are charging companies more than $5000 to make them custom themes and optimization for their sites. SEO and troubleshooting are also offered along with other support for considerable remuneration. This makes the creators of WP quite a lot of money each year. The specific niche of these agencies is popularized because they are less in number and yet high in expertise. They help big brands grow their companies, give employment to thousands of people and generate an impressive amount.
The freelance community is the target audience for these agencies as their work is displayed mainly on their site. They can make up to $300 each hour depending on their skills, which is a very respectable wage. With thousands of designers, writers and SEO experts, the WordPress economy is only growing.
Is WordPress Decreasing in Popularity?
The WordPress economy was almost nonexistent in 2005. There was no such thing are paid themes and plugins and WP only had a few developers. In 2018, this changed to a great extent. Plugins and themes were everywhere last years and the good ones almost always cost users something. Actively looking for a relevant theme or plugin became common as the century progressed, and suddenly nothing was free anymore. While this is not a negative thing, there are some issues that come with WP's money-making ideas.
WP used to promise customization for your site during its early days. This emphasis was sold to the masses and proved successful because, for the most part, it was free. But today, it does not make sense that people would spend hundreds of dollars for a CMS to modify their sites according to their needs. Technology has advanced greatly, which means that people can make their own customized sites through many different means.
Impact of the New Digital Age
The internet has changed a lot since the early 2000s and now content is posted and handled differently. Social media sites like YouTube and Twitter do not have direct competition with WP but they do represent a distinct and innovative ideology. The idea that an "open internet" exists has been replaced by other strategies. WP represents what we used to know about the maintenance of our sites and growing businesses. People still argue that the CMS is very useful because it is customizable and opens source, but experts are gradually shying away from it. However, the service is still considered to be of high quality and people are willing to pay for it. The flexible and friendly first-rate experience that comes with WP simply cannot be replaced by anything else.
Conclusion
With an ecosystem that has been striving towards quality for more than a year, the WordPress economy is going to keep growing. Although it will face the eventual 'ebb and flow', it will kick back with ease. WP has a stronghold of almost 30% on a worldwide market which means that it is staying in power despite the many changes of the 21st century.
Read More…
Create Discussion Forum Website