Podcast popularity has skyrocketed in the last decade, with 57 percent of American adults regularly tuning in. The use of Podcast Recording Software has also increased a lot, many companies like Spotify have distributed their own podcast recording software. Listening to podcasts wherever and whenever is a significant factor in their meteoric rise in popularity. This appealing advantage is why people who find a show they like tend to stick with it.
However, this expanding media platform has a great deal of unexplored potential. There are approximately 2 million podcasts compared to the 600 million blogs and 37 million YouTube channels on the web. If you want in on the podcasting action before the competition, now is the time to do it.
What do you need to record a podcast?
1. Microphone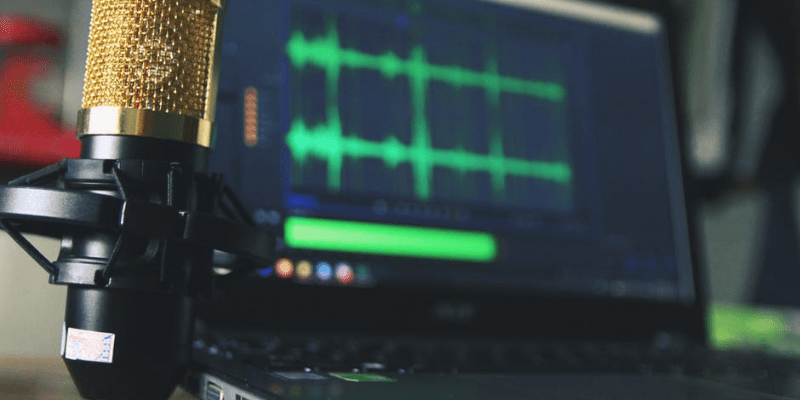 The audio-only nature of podcasts means that visual aids cannot be used to mask subpar audio. In this way, listeners associate your podcast's value with your audio production's professionalism. Few people will listen to your podcast even if it contains the most original content anyone has ever conceived of saying.
Good audio quality can only be achieved with a high-quality microphone. At the beginning of your podcasting career, a good-quality microphone that costs less than $100 is all you need. A microphone's connector type and its method of sound capture are two essential factors to consider when making your selection.
2. Types of connectors
Two common microphone connectors are the USB plug and the XLR connector. USB microphones are convenient because they can be plugged into a computer's USB port and used immediately. This is why they are typically cheaper than comparable alternatives. The use of an audio interface, like a mixer, is necessary when using an XLR microphone. XLR microphones require an audio interface, which is an extra cost for new podcasters.
3. Recording audio
There are two primary varieties of microphones used for recording audio. Due to their sensitivity, condenser microphones are best used in quiet, isolated spaces where they can pick up all ambient noise. Since they pick up sound from multiple sources simultaneously with less distortion than condenser mics, dynamic mics are ideal for recording in noisy environments with multiple subjects.
4. Computer
To use your podcast recording software, you'll need access to a computer. Your podcast recording app will require access to a computer, such as a desktop, laptop, or tablet. The app would take care of the recording, but you'd need a computer to handle the app's backend processing, file downloads, audio editing, etc.
Your recording will be saved as an audio file that can be edited in the software. As long as the application you want to use is compatible with your OS of choice, it doesn't matter which one you use. Your digital audio workstation requires a computer that is up to the task (DAW).
5. Podcast recording software
When it comes to audio recording, you'll find a wide variety of solutions. Some podcast recording software is expensive but can help you create high-quality audio, while other software is free and can help you save money as you enter the world of podcasting. Although, the more advanced and costly the podcasting software, the more work it will be for your computer to handle.
6. Different Accessories
Accessories, such as a mixer, mic stand, headphones, a pop filter, etc., can significantly improve your podcasting experience and are not required but are recommended.
7. Finding the Right Podcasting Software
There are several factors to consider when choosing a DAW, including the need for technical support, the ability to save files locally, and the presence of podcasting software with adequate editing features. The best audio editing software is not always free, so consider your budget.
8. Convenience of use
Consistency is as important as staying relevant in today's hypercompetitive business climate. When making a podcast, you may find it challenging to maintain your motivation if you encounter difficulties. That's why selecting a program with a minimal learning curve is crucial. If you can get your podcast recorded quickly and easily, you'll be more likely to record regularly and reach out to more people. Having a web-based tool that allows you to record your podcast from anywhere is also preferable.
9. Features
The ability to record your voice is only one part of podcasting, and you'll need some audio editing software to integrate things like music, sound effects, and voiceovers. Similarly, interview podcasts should have the option to include guests. Besides adding levity to the production process, these additions also make the podcast more attractive to listeners.
10. Support
How much of a techie are you? If you're uncomfortable delving into software issues, you should find a DAW with robust technical support and detailed online documentation. There should be somewhere to turn for help when something goes wrong with the program.
Price
To cut costs drastically? To make high-quality podcast audio, use free software that can record audio. Studio-quality results and a plethora of extra features may necessitate a paid tool.
Best Podcast Recording Software
1. Podcastle
To record and edit podcasts, you can use a service like Podcastle.ai. It should not be confused with the popular podcast of the same name that focuses on fantasy fiction. Podcastle stands out from other recorders because of the extensive features included in its free version. In addition, it brags about using AI in functions like text-to-speech transcription and noise cancellation.
Podcastle AI uses artificial intelligence (AI) based technology to memorize audio and enhance it to a high degree, depending on the feature used. The background noise will be eliminated while the user's voice remains intact when using the AI noise cancellation function. It also includes a library of synthetic voices that can be added to your writing. The AI will analyze the text and then read it aloud using human-sounding speech it has learned.
2. Adobe Audition
Adobe Audition is an audio editing software developed for educational institutions and commercial enterprises. Administrators can use waveform scaling to fine-tune the volume of individual clips, reverberate ambient noise, and standardize the volume of music files. Audition is excellent for mixing and mastering audio for a video or podcast, creating sound effects for games, and muting background music to highlight voiceovers.
The Waveform view is used for stereo editing, and the Multitrack view is used for mixing tracks on a timeline, both of which are available in Audition. You can easily switch back and forth between the two. Waveform view makes it easy to record audio and adjust the volume, and a spectral frequency editor adds visual appeal while allowing for granular editing of the recorded wave. If you need to quickly clean up an interview, podcast, or another multitrack recording, Audition's new Strip Silence feature will come in handy.
3. Restream

Any online presence that wants to take it to the next level can benefit from using Restream, a full-featured, professional live streaming software. Publish high-quality, hassle-free live broadcasts directly from your web browser to any number of popular social networks. During your live broadcasts, you can tailor the experience for your audience, interact with them in real time, and motivate them to take action. Our community of streamers exceeds 5 million strong, and they use Restream to broadcast simultaneously to Facebook, YouTube, Twitter, LinkedIn, and more than 30 other sites.
This live streaming platform is excellent for concerts and corporate events of any size, regardless of the number of viewers. It was inevitable that the business world would change in this way in light of the new, chaotic era. When you use Restream, you're responding to the demands of the market and your own unique set of circumstances. Restream is an all-in-one streaming solution that provides several free features and tools to help you go live in style while providing high-quality content, expanding your audience, and outperforming the competition.
4. Logic Pro
However, enjoy composing with loops. You'll find Live Loops to be a rewarding experience, as it gives you the freedom to experiment with new loop combinations and unconventional trigger points on the fly. Each cell in the Logic Pro Live Loops interface can be programmed with a loop, an Apple Loop, a virtual instrument, or an audio recording. The cells are organized into scenes that appear in columns to make it easier to activate multiple loops at once.
To create a multisampling instrument, drag many samples into the mapping area. As you move your mouse over a particular part of the keyboard, the sampler adjusts the zone size and the number of zones to match your needs. Plus, there are 230 new instrument and audio patches, 50 new drum kits, and more than 2,800 new loops to choose from in various styles. That's a staggering addition to what was already a remarkable collection of books.
5. Audacity
The goal of the open-source and on-premise audio editing software Audacity is to provide musicians with a centralized platform from which they can easily export, edit, and import audio files of a wide variety of formats; manipulate soundtracks via keyboard shortcuts, and perform frequency analyses of sounds. By using Audacity, musicians can preview LADSPA, LV2, VST, and Audio Unit effects in real-time; create voiceovers for DJ sets or podcasts, and eliminate static and other noises from audio tracks.
Artists can record via microphones, dub over existing tracks, and utilize the device toolbar to manage multiple playbacks or recording devices. You can use Audacity on Mac OS X, Windows, or Linux, making it one of the most cross-platform audio editors available. Simple tools, like those used to adjust the bass and treble, and more advanced tools, like those used to analyze frequencies, are readily available. An audacity is an excellent option for those interested in audio editing but hesitant to invest in a paid program.
6. REAPER- Podcast Recording Software
The REAPER on-premises solution simplifies audio production, editing, transformation, and customization for small businesses and non-profits. Staff members can customize their workflows by overdubbing and recording audio and MIDI in multiple takes or layers across multiple formats and disks. With REAPER, collaborators can use a simple drag-and-drop interface to work with audio files in various ways, including importing, rearranging, splitting, resizing, looping, crossfading, pitch shifting, and rendering.
As with any professional audio program, Reaper music software contains all of the basic and advanced features you'd expect. A large number of tracks can be recorded at once, provided that your hardware supports it. You can use any new channel in Reaper to record audio or MIDI without worrying about the program recognizing the difference between the two.
Reaper Digital Audio Workstation (DAW) features reduce CPU usage, including track freezing and bouncing. Advanced automation features, the ability to freeze and bounce tracks to reduce CPU usage, and more are all included in the Reaper digital audio workstation.
Also Read: Video, Audio, And Content- Three Major Forces To Reckon For Website Traffic
7. Buzzsprout
Buzzsprout is an online podcast hosting service that facilitates the production and distribution of audio content for businesses. Professionals can use the site to upload audio files and set air dates for episodes. Buzzsprout facilitates the incorporation of a podcast player into a website, enabling subscribers to listen to and share podcast episodes directly from the website.
Buzzsprout works with many popular podcast platforms, such as Apple, Spotify, Google, and Amazon Music. This is a big plus for podcasters hoping to expand their listener base to help you transcribe an episode, Buzzsprout partners with outside transcription service providers. When using Buzzsprout, you can forget about worrying about file formats, bit rates, or ID3 tags. Buzzsprout takes care of everything else; all you have to do is upload the audio file.
8. Anchor
Using anchor, a cloud-based podcast hosting solution, businesses can quickly produce, record, and disseminate podcasts to various streaming media outlets. The dashboard provides professionals with actionable analytics to monitor content performance for individual applications. Anchor allows organizations to analyze audience breakdown based on various factors, including age, gender, geolocation, and more. It lets users record audio from several devices, including computers, tablets, or phones.
With a focus on simplicity, the anchor has created a mobile app and website that are intuitive and easy to use. Getting a podcast up and running is so simple that I didn't even bother looking up instructions on using their site or perusing their list of resources. The audio from the website or app is automatically added to a timeline, and the anchor processes the audio to play each segment in sequence, creating a finished episode.
9. Alitu- Podcast Recording Software
Alitu is an online application that can transform your raw recordings into a fantastic, viewership-increasing show. Alitu will handle the process of converting and cleaning up your audio, sparing you the trouble. You can easily edit out blunders, replace the stock music, and add fades for a professional touch. Formal education in audio engineering is not required to create a professional-sounding program. You can directly record short solo segments into Alitu. All the audio you need for your next smash episode is just a few clicks and drags away.
With Alitu, you can jump right into doing what you need to do because the user interface (UI) is straightforward and easy to understand. Alitu automatically corrects volume levels and removes unwanted noise from your audio files, making them sound better than ever. With Alitu, you have easy access to and control over your files, including a library of your recordings, uploads, and music, as well as Alito's extensive collection of songs. When you create a new episode in Alitu, the app will automatically include the intro and outro you specified in the app's Settings.
Also Read: Best WordPress Podcast Plugins 
10. Spreaker
With a focus on podcast hosting, distribution, monetization, and audience analytics, Spreaker is a top-tier platform. It's also possible to tune in to various on-demand, live radio programs. Regardless, audio producers from all over the United States and the rest of the world use Spreaker as a hosting platform. The features available in Spreaker Studio simplify the process of maintaining your podcast. Finding what you need, finishing projects, and switching between podcasts can all be done rapidly.
The podcast recording app available on Spreaker is one of its most appealing features. They have versions of the app for both iOS and Android. As a result of Spreaker's extensive podcast distribution network, your show will be made available on every major podcast platform and directory. Apple Podcasts and Spotify are included in this category. Using Spreaker's Analytics features, you can monitor the success of your podcast in real time.
Conclusion of Podcast Recording Software
If you want your podcast to be successful, you should work to improve the audio quality. Finding the best podcasting software among the many options for recording, editing, and publishing podcasts can be challenging. That's why we spent time researching and reviewing 10 different podcast recording programs for you. It's a safe bet that you won't go far wrong if you choose one of the 10 options we've provided.
---
Intersting Reads:
4 Best Podcasts Posting Software