If you are selling products online, you need an amazing website. WordPress is an excellent content management system that gives you the freedom to create beautiful websites for your business. Additionally, dealing with products means dealing with Inventory Management Plugins.

Inventory Management Plugins
To make things easier for you, WordPress provides you with exemplary themes and plugins. Managing an eCommerce store comes with its fair share of challenges. It is typically stress-inducing, time-consuming, and prone to errors. 
Usefulness of an inventory management plugin: 
Bulk editing of stock. 
Quick and accurate calculations. 
Allows the addition of bulk products. 
Export of data for further analysis. 
In this article, we will go through some of the widely used plugins out there to help you manage your inventory effectively and efficiently. They include all prime features, such as advanced search and filter, out-of-stock notifications, and others. Keep reading to explore our list. 
1. Smart Manager for WooCommerce:
Smart Manager is a free plugin that consists of premium-like features. It has been designed keeping in mind your requirements, focuses on speed and has a superior workflow. And aids you with stock management, advanced searching, and so much more. If you want more, you can also sign up for its premium version that consists of out of the world features. If you want to manage your inventory in a better and efficient manner, this plugin is a lifesaver for you! 
Know more about Smart Manager – here. 
2. Scanventory – Mobile Inventory Management:
This is yet another must-have plugin if you are dealing with huge amounts of inventory. The most important feature is that the plugin lets you manage your inventory with the help of your mobile device! You can even edit your inventory account. Moreover, it is affordable and has premium features. It lets you print custom labels, custom label layouts, and provides you with detailed inventory reports so that you can take decisions accordingly. All in all, it is everything you can ever need. 
Check out the plugin – here. 
3. ATUM Inventory Management for WooCommerce:
If you are looking for a robust inventory management plugin for your business, you are in the right place. With a user-friendly interface and high-level features, this feature is used widely by businesses across the world. It provides you with a practical view of your products including their stock. Maintain your inventory seamlessly with this plugin! It also has tons of extra super-amazing features that make it a highly-sought plugin in the market. 
If you want to know more about the plugin, click here.
Also Read: Practices for Product Recommendation on E-commerce Store
4. WooCommerce Out of Stock Manager: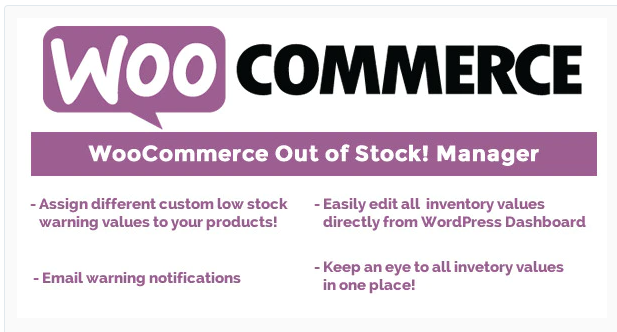 Be on top of your store's inventory with the help of this fantastic plugin. It has a pool of features that makes management so simple! There is a menu that displays the products you sell along with the current inventory. Additionally, it provides you with automated email notifications that help you maintain track of your products. If you want to use WooCommerce, this plugin is definitely ideal for your website. Setting up the plugin is easy and it is compatible and user-friendly. 
You can check it out – here. 
Also Read: Best Free WordPress Themes
5. Rapid Stock Manager:
A premium plugin, Rapid Stock Manager has everything you need. It automatically updates stock inventory on product pages and aims to provide your users with an enhanced experience. With its awesome dashboard, you can manage access and update stock with ease. When the stock is low, it notifies you via email. It has some other notable features such as a high level of customization, search filter, audit, and so on. It even generates different reports to help you with analysis. 
6. Katana:
This plugin was designed especially for modern manufacturers like you. It helps you to manage your inventory such as raw material, schedule operations, and monitor processes easily, aims to enhance the functionality of your online store by giving you high-utility tools. Katana is one of the best inventory plugins out there for WooCommerce. Moreover, it can integrate seamlessly with other popular plugins. Download it right away to know what we are talking about! 
Know more about this plugin – here. 

Conclusion
So, this was our list of free and premium inventory management plugins to help you sort out your inventory in a better manner! If you have worked hard to build an eCommerce website, it is only fair that you spend an equal amount of time sorting the most important aspect of your store – inventory. We hope the article was helpful to you and has aided you in making a significant decision. All the best with your website! 
---
Interesting Reads:
Top LearnDash Add-ons To Give Your E-Learning Website New Heights
Importance of Micro Community Websites
How To Build A Micro-Community Website In Just a Few Minutes