One of the most effective options to improve your site's engagement is by providing your customers or subscribers with timely reminders of important occasions. These occasions may include anniversaries, birthdays, holidays, or any other special occasions. Today we will tell you about some amazing WordPress Birthday Reminder plugins that you can use to notify your site users about various occasions and shower them with discounts and coupons on such occasions. All these plugins are easy to install, highly customizable, and offer compatibility with various popular plugins such as WooCommerce, BuddyPress, and more. Take a look:
Birthday Reminder Plugins
Birthday Reminder For WooCommerce
WooCommerce reminder plugin for birthday allows a store owner to send wishes to their customers on their birthdays. With this plugin, you can also send exciting offers and discounts to your customers on their birthdays. Furthermore, this plugin is fully automated so you really do not need to do much to make this plugin work. Other features of this plugin include allow users to set birthdays when registering, customizable email templates, send exciting offers and discounts and a lot more.
WooCommerce BirthdayReminder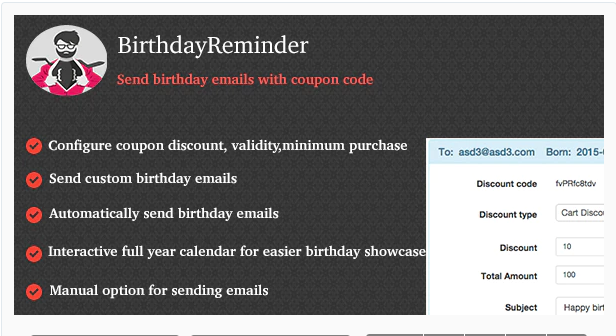 An awesome and easy to use WordPress plugin, BirthdayReminder prompts the new registered user on your site to enter their birthdays upon registration and then send email reminders to your customers on their birthdays with various discounts and coupons of your services. This plugin also offers a calendar with year, month, week and date view, allows you to manually email your customers, set reminders, give percentages or fixed amount discount, set coupon validity, automatic gift email template and much more.
Get The Plugin
WooCommerce Special Occasion Reminder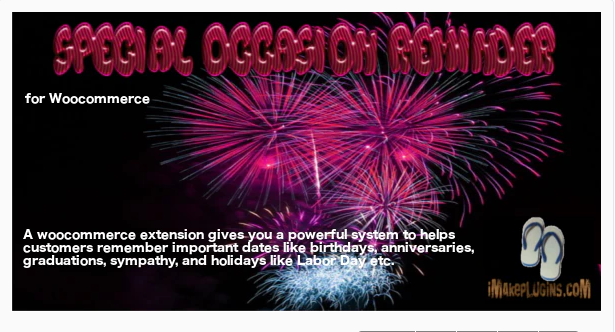 Another very useful and easy to use WordPress Birthday Reminder Plugin, WooCommerce special occasion reminders help your site users to remember important occasions such as birthdays, anniversaries, graduations, and holidays like Labor Day and other special occasions.
With this plugin, an admin can remind users via emails about various special occasions along with his products and other services. Other features that this plugin offers is a flexible admin interface, customizable email templates, multiple events feature, manage all the reminders on one page and more.
Business Calendar
A very useful event calendar and reminder plugin, WordPress Business calendar plugin will help you create a fully featured internal calendar for each user. This plugin is very fast and offers a powerful setup to create amazing reminders for your users. It allows you to send each user an event reminder about special occasions such as birthdays. It also comes with smart invitation system, that allows you to track users invited to your event. Also, this plugin will continuously check if you have any events set up and will inform about the same.
Get The Plugin
Birthday Emails
This is a free and simple plugin that allows your WordPress or BuddyPress site members to enter their birthdate and then automatically sends an email to such members on their birthdays. It also allows you to customize the email that is sent to all your users and also request an email notification to be sent to you for each birthday mail that has been automatically sent.
Furthermore, this plugin is translatable so you can send your email in the language of your choice.
The Takeaway
The above-mentioned WordPress birthday reminder plugins are really amazing when it comes to sending emails to your customers about their birthdays and other occasions along with exciting deals curated just for them. This not only makes your customers feel privileged but also improves your sales. You can simply use any of these plugins and make your customer feel special about their big day.
If you are using any other WordPress Birthday Reminder Plugin, do let us know in the comments below.
Interesting Read: BuddyPress Vs Open Source Social Network