WP Job Manager plugin has a huge range of features using which you will be able to develop a perfect job website for all your users. One such feature of this plugin is that it allows you to set a price for your job listings. It does so with the help of an add-on which is known as Simple Paid Listings. Here, in our article, we will discuss the various features and functionalities of the Simple Paid Listings addon.
What is the use of Simple Paid Listings?
Simple Paid Listings will allow you to add page listing functionality to your job website. You will be able to set a particular price for each of your listings and accept payments through PayPal or Stripe. You will be able to make the payments before the listings are published. The plugin is very useful for a job website and it will help you to take your business to new dimensions.
How do you receive payments using Simple Paid Listings?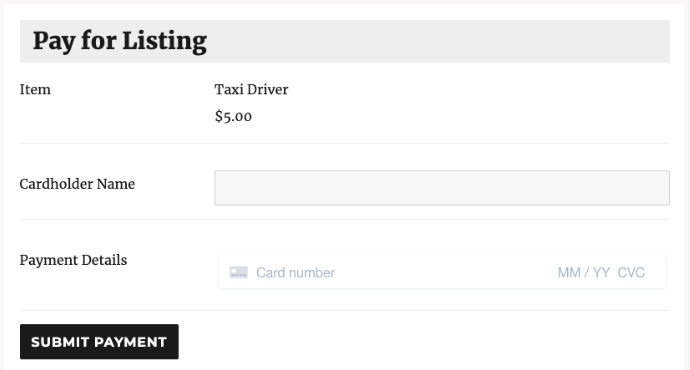 Simple Paid Listings plugin comes with Stripe and PayPal support and you will be able to accept payments from your users by means of PayPal Standard and Stripe Checkout. The payments are accepted by means of submission forms. 
If you are a PayPal standard user, your users will be redirected to the PayPal page so that they are easily able to make their payments. If the auto-return feature is enabled, the users will once again be redirected to your website once their payment is complete and they will be given a confirmation of their listing.
For Stripe Checkout, you will be able to show a model-based checkout form to your users for accepting credit card payments. The entire process is carried out in an extremely simple and hassle-free way. In order to use Stripe, you need to have a Stripe merchant account. You must also have SSL setup in the listing page of your website to make sure that the payment method is carried out in a safe and secured way.
Also Read: Car Repair WordPress Theme
How to configure the plugin?
There are different options using which you will be able to configure the settings of your plugin. Some of the important options have been mentioned below:
Listing Cost: Here you will enter the cost of your listing. Do not include the currency symbol along with the cost.
Currency Code: Here you will have to include the currency code. However, make sure that the currency code that you choose is supported by your selected payment gateway.
Payment Gateway: From this option, you will have to select your payment gateway i.e either PayPal Standard or Stripe Checkout.
How do you maintain security?
Even though Stripe Checkout does not store any personal information while the customer is making payments through credit cards, yet it is always recommended that you set up your Job Submission page in such a way that is served over HTTPs. For that, various useful plugins are available and one such plugin is the WordPress HTTPS plugin. 
To end with
In this way, you will be able to charge your customers for job listings and create a complete job listing website for all your customers.
Interesting Reads:
WooCommerce Apps For Your Online Store
What Kind Of Products You Can Sell With WooCommerce