Given that more and more consumers are making purchases on their mobile devices instead of desktop computers, adapting to this shift demands a mobile-first strategy. Users increasingly prefer to shop via eCommerce apps rather than traditional websites. You're spoilt for choice when it comes to mobile apps for your online store. There are applications for anything a business needs, from inventory and order management to customer service and delivery tracking to real-time alerts and brand promotion.
If you own an online store, check out these top 9 mobile applications for 2022.
Inventory Management Apps
1. Zoho Inventory
Zoho Inventory is a web-based tool for handling stock and orders. With the advent of multichannel selling, shipping connectivity, and complete inventory control, businesses can better manage their stock and orders from start to finish, from purchasing to packing to processing payments. Online marketplaces like Amazon, eBay, and Etsy, shipping companies like AfterShip and DPD, e-commerce platforms like Shopify, and other Zoho applications like Zoho Books accounting software, Zoho Analytics, and Zoho CRM are all compatible with the platform.
Sales orders, shipping labels, shipments, delivery status updates, and invoices can all be generated, printed, tracked, and emailed to clients with the help of this platform. Reports on inventory levels, order fulfillment rates, product sales, purchase order history, and more can be accessed immediately by using Zoho Inventory's robust dashboard feature. Users may view sales data to identify what items are the most popular and information on repeat buyers and how they have paid in the past.
2. Veeqo- Mobile Apps For Your eCommerce Store
Veeqo is an e-commerce company growth tool that handles inventory and delivery for you. This is multichannel inventory management and order fulfillment platform that integrates with 30+ eCommerce and shipping solutions to provide a single source of truth for all multichannel reporting. It will remove roadblocks to business growth by automating processes like demand forecasting, buying, and refunds.
Veeqo's inventory management tools will save you time and effort, and you may program rules to perform mundane errands on your behalf. The Veeqo platform may also be used to assist your multichannel sales strategy by automatically updating inventory across channels. All the bases are covered in terms of what is required for effective inventory management.
It also includes valuable automation and extras that improve customer service quality by maintaining timely and precise order fulfillment. Get low stock notifications, sync your returned stock, audit your stock history, and regulate access with user permissions, all while keeping inventory in sync in real time between stores and warehouses.
Customer Management Apps
3. Zendesk- Mobile Apps For Your eCommerce Store
One of the top help desk software solutions is provided by Zendesk, a software company that helps organizations with support, sales, and customer interaction. The company's flagship product is Zendesk Service, a customer support ticketing system, and its more advanced offering, Zendesk Support Suite, adds omnichannel features to Support. Over 165,000 organizations of all kinds and in numerous sectors have benefited from Zendesk's service and support, which is available in more than 60 tongues.
Using Zendesk, agents can centralize all client discussions (across all channels) in a single place: the Agent Workspace. By means of automated triggers, customers can be proactively engaged in the time they require assistance, even before they pose their query. Measurable data on customer satisfaction and agent performance may be gleaned from live chat analytics, allowing organizations to fine-tune their support offerings.
Web widgets, pre-defined ticket replies, and complete customer history are just some of the features that can be found in a single, dynamic interface for managing all of your interactions with customers.
Hubspot CRM
HubSpot CRM was built from the ground up to streamline business processes and increase productivity for sales teams. The product was developed with the current market in mind to facilitate quick setup and early sales. HubSpot CRM's straightforward interface makes quick work of tasks like email tracking, call recording, and data management, allowing sales reps to focus on closing deals instead of administrative tasks. Deals closed, appointments made, and contracts delivered may all be sorted by date range, and user performance can be measured against targets.
You may make quick calls straight from your browser, and you can even record them if you'd want to retain a record of them for your customer relationship management system. The Real-time alerts feature also helps your sales staff stay on top of things like new leads, form submissions, deal comments, and more. These customizable notifications may benefit web, desktop, and mobile apps. The HubSpot Prospect tool will tell you which businesses are visiting your site and which pages they are most interested in.
Also Read: Best Lead Generation Tools & Software
Vendor and Supply Management Apps
1. StockIQ- Mobile Apps For Your eCommerce Store
StockIQ is an SCM suite for manufacturers and distributors of various sizes. The software may be deployed in the cloud or on a company's servers. Supply chain planning, demand forecasting, vendor management, and material sourcing are just a few essential functions. StockIQ provides its customers with a unique demand forecasting algorithm that may be used to make predictions about specific clients or sales channels.
Purchase orders, transfer orders, and labor orders may all be created with the help of the corresponding module in the shopping cart. StockIQ can adapt to real-world conditions, such as order cycle intervals, holidays, and supplier delivery timetables. Instead of averages or hard-and-fast statistics, the supplier management module in StockIQ may provide accurate lead times based on past receipt data.
The module for managing promotions keeps tabs on how well advertisements are doing. Finding surplus, setting service level objectives, keeping tabs on inventory turns, managing back orders, predicting when items will expire, and keeping tabs on the success of new products are all possible thanks to effective inventory management.
Also Read: Why is a Multivendor Marketplace Solution the Best Idea for an eCommerce Business?
2. Kissflow Procurement Cloud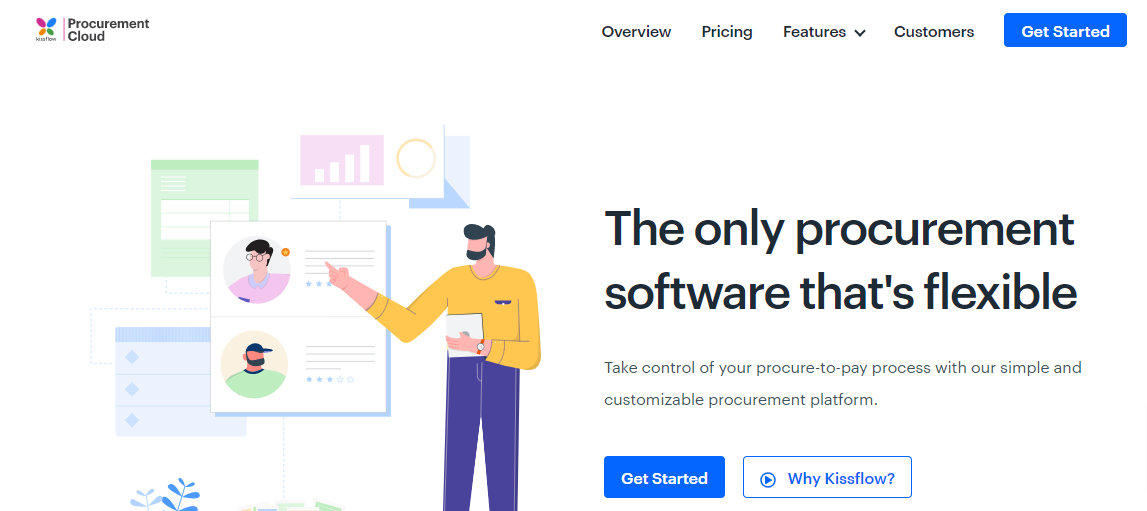 The Kissflow Procurement Cloud is a scalable and customizable procure-to-pay solution that helps companies of all sizes improve their purchasing operations. All aspects of purchasing—from requests to payments—are managed inside a single, streamlined system. Kissflow Procurement is a cloud-based procurement software that aims to streamline your procurement operations and provide you with the best possible user experience. It does more than manage your vendors and buy orders; it also allows you to analyze your purchase data and draw actionable, data-driven conclusions.
Kissflow Procurement allows users to record, review, and manage their requests for goods and services. Kissflow's user-friendly interface and powerful features make it ideal for users to monitor and control their vendor relationships. Further, it lets customers integrate their procurement cloud with other critical financial applications.
In addition to validating your buy invoices and conducting the three-way matching, Kissflow Procurement allows you to issue and generate automated orders based on accepted purchase requests. Customers may see precisely where their requests stand and get real-time notifications when anything changes.
Also Read: Top Inventory Management Plugins
Market and Promotion Apps
3. Hootsuite
Hootsuite is a household name and a powerhouse in social media management. Because of its extensive history, Hootsuite has adapted to fit today's enterprises' requirements. There is less allure at the lower end of the price spectrum. Still, in the professional bundles, you will find a wealth of excellent resources for maintaining and monitoring your social media presence. In addition to a full suite for posting to social media platforms, Hootsuite offers several tools for listening to conversations, finding key influencers, and engaging with those people.
My Hootsuite dashboard's streams were immediately updated with the user's social data, which I could filter by network, keyword, or social search. As of late, Hootsuite has been working to improve its video-first support for Facebook, Instagram, Twitter, and YouTube, in addition to its existing support for Twitter accounts, Facebook profiles, Pages, and Groups, LinkedIn accounts, Groups, and Companies, WordPress blogs, Instagram profiles, and YouTube channels.
Also Read: Ecommerce Inventory Management Software
4. Later- Mobile Apps For Your eCommerce Store
Later is a web-based marketing tool that helps firms organize their social media marketing efforts across several channels. Users may schedule their social media content for the week ahead using the drag-and-drop calendar and then track the results in real-time. With the visual content calendar, you can see what will be posted and when without having to do any more work after the plan has been put up.
Instagram feed style and post-publication photo presentation may be previewed in Later's visual planner. With the planner's convenient drag-and-drop interface, users may rearrange their planned posts to their liking. Later's other capabilities include importing media from mobile devices, Google Drive, Dropbox, and more, managing multiple accounts with a simple account switch tool, managing user-generated content, tracking performance data, and monetizing articles connected with Linkedin.
Also Read: Dokan Compatible Themes For Your Multivendor Marketplace
Post Shipment Management Apps
5. Aftership- Mobile Apps For Your eCommerce Store
AfterShip is a web service that allows online stores to instantly and automatically update clients on the delivery status of their orders. With AfterShip, you can quickly and automatically inform your clients of the status of their orders. When you integrate AfterShip with your shopping cart, you can provide your customers with real-time updates on the status of their purchases. Additionally, AfterShip provides a track button that can be easily integrated into your site.
If you provide an order tracking number, it will automatically assign you to the correct courier. The content of the alerts may be modified, and a one-click link can be included. With AfterShip, you can inform your consumers through email, SMS, and a Webhook. AfterShip's shipping statistics and filters provide an accurate picture of your results and consolidate your shipment tracking into a single interface.
Conclusion of Mobile Apps For Your eCommerce Store
To a large extent, the success of apps may be attributed to the enhanced user experience they provide. Several advantages to using a mobile app for shopping include:
A design optimized for mobile use.
Rapid page loads.
A safe payment process.
One-tap access from the home screen.
This concludes our list of recommended applications for use with your online business. Please use this list as a starting point in your search for the ideal business app.
---
Intersting Reads:
Ten Knowledge-Based Cloud Services to Use for Different Business Processes
The Best Google My Business Tools You Need To Try
Twelve Essential WooCommerce Extensions For Every Marketplace Owner