Setting up a job listing website is quite a challenge. There are various technicalities that you must fulfill while designing a perfect website for your users. Your website should be fully functional to give all your users an amazing browsing experience. WP Job Manager is one such plugin which will allow you to design a job listing website of your choice. The plugin comes with various extensions and add-ons using which you can add different features and functions to your job website. One such add-on is the Application Deadline. 
What is Application Deadline?
Application Deadline add-on is an add-on for the WP Job Manager plugin which will allow the job listers to set a deadline for the jobs that they have posted on your website. They will be able to add the closing date by adding a new field on the application form. Once the deadline closes, the job listing will automatically get expired.
Also Read: Car Repair WordPress Theme
What are the features of the Application Deadline?
Some of the most important functions of Application Deadline include:
You will be able to add a closing date field for each of your job listings.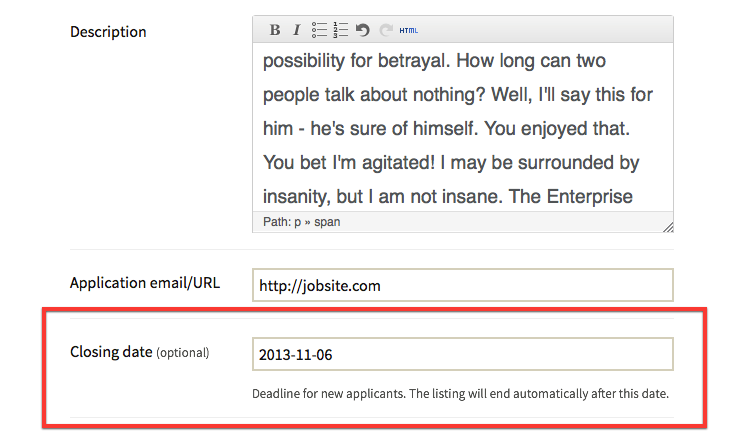 The jobs will be automatically expired after your closing date passes.
You will be able to sort the job listings on the basis of their closing date.
How does Application Deadline function?
Application deadline takes the help of jQuery UI date picker to add a date field to your submission form. The closing dates will be automatically displayed on the job listings. 
You will be able to change the color of the listing based on whether they have already expired or about to expire.
You will also be able to add a sorting option to your job listing. This can be done simply by using a shortcode.
What are the different ways to configure the plugin?
Once you have successfully installed the plugin on your WordPress website, you will have to enable the "Automatic deadline expiry" option so that the jobs get expired automatically once the expiry date passes. The expiry can be checked daily at midnight from WordPress cron. There are different options available using which you will be able to configure the settings of your plugin. Some of the options have been listed below:
Setting up a particular closing date for a job listing: The job application field has a particular field named Closing Date from where you will be able to set the closing date of your form. You may either use the datepicker or fill this field manually.
Setting the dates from the admin area: You will also be able to set the expiry date of a job listing form the admin area. You will see an option called "Application closing date" from where you can enter the date in yyyy-mm-dd format.
Sorting the jobs: The jobs can easily be sorted by using a shortcode. By default, the jobs are sorted in descending order but you can sort them in ascending order by including a parameter in the shortcode.
Conclusion:
Application Deadline is a very useful plugin for your job board website. It will allow you to run your website seamlessly and will also help you to attract more and more users towards your job listing website.
Interesting Reads:
WooCommerce Apps For Your Online Store
What Kind Of Products You Can Sell With WooCommerce