Did you know that WordPress is powering around 33% of the world's web platforms? According to W3Tech, users of this platform are publishing 41.7 MILLION new posts every month. That's around 1.4 million new posts every single day!
These numbers probably sound unbelievable. However, keep in mind that WP achieved this success after 16 years of improvement. Back to May 27, 2003, Matt Mullenweg, one of the founders of WordPress, announced that the first version of this platform is available for users.
The first version was quite simple. It included admin interface, new templates, and generated XHTML 1.1 compliant templates.
Who would have said that WordPress will achieve today's success? The founders of this "tool" were probably not expecting that as well in the beginning.
Yet, things have changed a lot in the last 10 years. Many new plugins and themes have been published since then. They have made the lives of millions of business owners a lot easier.
The popularity of WordPress tends to grow in the future. In this article, we will analyze the development of WordPress in the last 10 years. And, there were many good and bad ideas in the past that you should know. Besides that, you will find out what to expect from this platform in the future.
Overview of WordPress Improvement (2009-2019)
There is a good reason why WordPress is the fastest growing web publication software. Many good moves have been made that improved the usage of this tool. From 2003 to 2019 there were 32 major versions of WP, and the current WordPress version is 5.2.1.
However, there were also some bad decisions that had a negative impact on the development of WP. We want to stay objective, so we will analyze them both!
Early Development Issues
We cannot say there were so many issues in the past 10 years. Yet, it would be good to mention some of them.
1. Started as a Blogging System
It is not a secret that WP started as a blogging system, and if you wanted to change each of your pages, you just had to be familiar with coding. Since many people didn't fully understand how to use this tool, they were unsatisfied. Today, it is a powerful content management system. It helps different sort of businesses to promote themselves in the online world. Of course, you can still only use it as your blog, but also for many other things.
2. Traditional Editors
This is probably the most controversial subject among programmers and WP users. Some of the users would agree the newest changes are a complete mistake. Before the new type of editor arrived, WP allowed web developers to do many things on their own hand. And if you ask them, the latest updates impose a different way of platform development and limit their work.
Still, others would disagree with that. For a long period of time, users were only able to use the traditional editors. Since 2018, this is replaced with block-based Gutenberg editor. More precisely, this change allowed users to spend less of their time on coding. The main goal of this update was to help users to design their website "with only a few clicks". We still wait which benefits Gutenberg will actually bring.
Time will show if these updates were good or bad practices.
3. Security
The development of WordPress was incredible, but it was also attractive for many hackers. Many business owners complained that their websites were hacked and that those hacks reduced the profit of their businesses.
WordPress owners had to do something, and they improved the security of this platform. There are many plugins that can help you to stay secure, and one of them is definitely – Sucuri.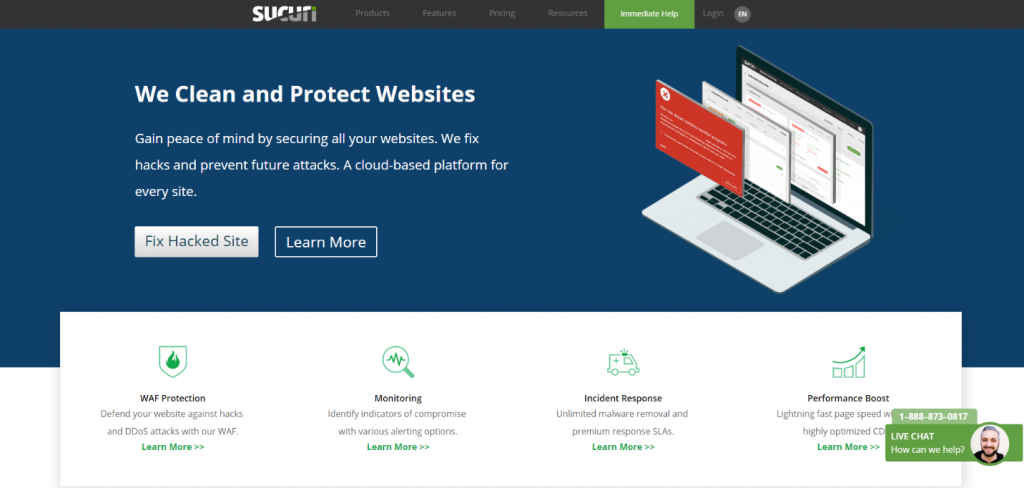 WordPress Improvements
It is not a secret that there were many improvements, but we would like to highlight the most important ones:
Improvement of web design
Improvement of SEO (Search Engine Optimization)
Running an e-commerce business
1. Improvement of Web Design
Every business owner knows how important it is to have a beautiful looking website. A website is a digital mirror of your company, so if the first impression of your visitor is not good, there is a big chance that he won't start exploring the entire website.
The number of themes that you can find on WordPress is growing on a daily basis. According to CodinWP, there are more than 11000 available themes at the moment. There a few of them that are very popular at the moment, but we would like to highlight the DIVI theme.
It's a very modern looking theme that allows you to make a beautiful website even if you are not an experienced web developer. Thanks to Divi Builder default editor, every user can easily drag and drop columns, rows, elements, etc. You will be able to make a fully-customized website without any knowledge related to coding.
2. Improvement of SEO
WordPress owners know that every website wants to be highly-ranked on Google. Google's algorithm is sometimes complicated, even for the well-experienced SEO experts. So, WordPress decided to help.
You can install many plugins that will improve your position on Google and increase organic traffic to your website. One of the most popular plugins is definitely a Yoast SEO plugin. According to Builtwith.com, around 6.6 million websites use this plugin.
3. Running an E-Commerce Business
Since the number of e-commerce and drop shipping businesses is growing each day. WordPress decided to satisfy the requirements of e-commerce business owners. You can easily now set up an online store thanks to WooCommerce, the most popular e-commerce plugin. According to BuiltWith statistics, there are around 3.3 million websites that use WooCommerce.
You can now use different payment and shipping options as well, sell digital or physical goods, sell affiliate or external products, etc. This is probably one of the best moves WordPress made so far.
Future of WordPress – What can we expect?
The latest news about WordPress future comes from Craig Federighi, Apple's senior vice president of Software Engineering. He mentioned WP in his iPadOS keynote.
Craig Federighi, Apple's senior vice president of Software Engineering just mentioned #WordPress in his #iPadOS keynote 😱 Are these the first signs of WordPress becoming a household name for websites in general? Or has it already happened in the US? 🤔 #WWDC pic.twitter.com/gujhHYlTC8

— Nick Weisser (@nickweisser) June 3, 2019
This is a good sign that WordPress is going to become the unbeatable CMS leader in the world! Mike Little, the second co-founder of WP, says that Gutenberg will attract new WP users that do not have anything in common with coding and technology.
After new updates and news we got, it is hard to determine precisely how many percentages of websites will use WordPress in the future. However, we can easily say the popularity of this platform will grow rapidly!
Author bio:
Antonija Bozickovic
Antonija is an internet marketing specialist at Point Visible, a marketing agency providing custom outreach and link building service. She has a great interest in digital marketing and a soft spot for graphic design. She's never tired of searching for new inspirations, listening to her favorite music and creating digital illustrations.