If you are up for simplicity and quality, then building a website with Elementor is the right choice. It is a drag-and-drop page builder for WordPress websites. In this article, you will find 10+ free and paid Elementor templates.
Still, let's see why Elementor is worth using:
it is easy to use. The navigation is intuitive. Plus, you don't have to know any of the programming languages. You pick up a template and fill it with content;
it has free themes, plugins, and content widgets. You have a wide choice of tools to increase the functionality of the website. It offers 100+ themes and 300+ content blocks;
it offers plenty of additional features such as Background Overlays, Hover and Heading Effects, Animations, etc.;
it's fast. Elementor is an instant builder with instant live edit and page load. You see right away how the page will look;
it's free. You can buy a Pro version. The prices start at $49 per website per year. Still, a free version is enough to build a good-looking website.
Though Elementor has free templates, there are more options compatible with it. Check out this collection with top web templates. There are variants for different purposes.
If you need some help in building a website, you can check out this guideline.
6 Premium Elementor Templates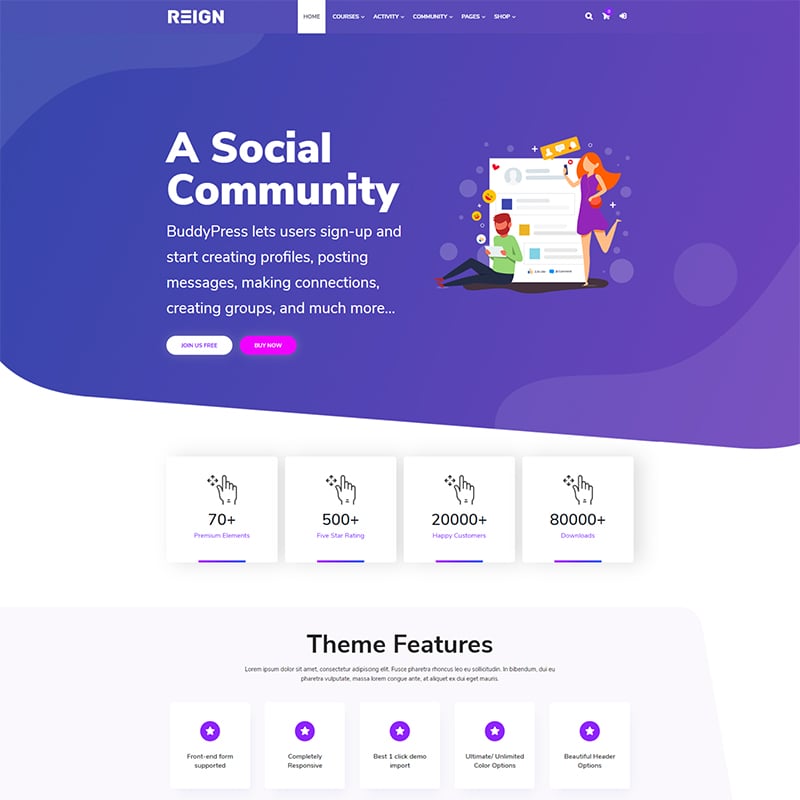 Ready to be a new Mark Zuckerberg? With Reign, you can create a network like Facebook. WooCommerce functionality allows creating an online store. It's also possible to launch an online course.
Besides, it offers:
1-click demo import;
Installation Wizzard;
unique header layouts;
unlimited color options;
inbuilt social profile module;
extra widgets;
support of 15 plugins.
The theme supports the front-end form. It goes with all documentation. You can contact a support team to fix any issue.
Reign is a good option to build your community.
Yoha – Fashion Ultra Minimalist WordPress Theme
Yoha
is a good choice for photographers willing to shows their works. For this purpose it has:
Gallery layouts with extra options such as zoom;
collection with banners to place a full-width introduction on the homepage;
Parallax to add some motion to the motionless text;
Pick up contacts to let your customers contact you fast;
50+ widgets starting with headers and ending with content blocks.
You will create dropdown menus, add sidebars, and change the background in a matter of clicks. For fixing any issues, a friendly support team is available 24/7.
Richard Dream – Podcast Website WordPress Theme
For sharing audios and videos, this theme has:
Richard Dream audio player to create a library with audio and media;
a collection of images and banners for a homepage;
social options. You can transfer an Instagram feed that will show pictures and parts of posts when hovering;
dropdown menu options;
advanced theme options;
commenting system;
subscription form;
Live Customizer;
Sidebar Manager;
Visual editor.
There are 10 free and premium Elementor add-ons to enrich the website's functionality.
Poli Nails – Nail Salon Elementor WordPress Theme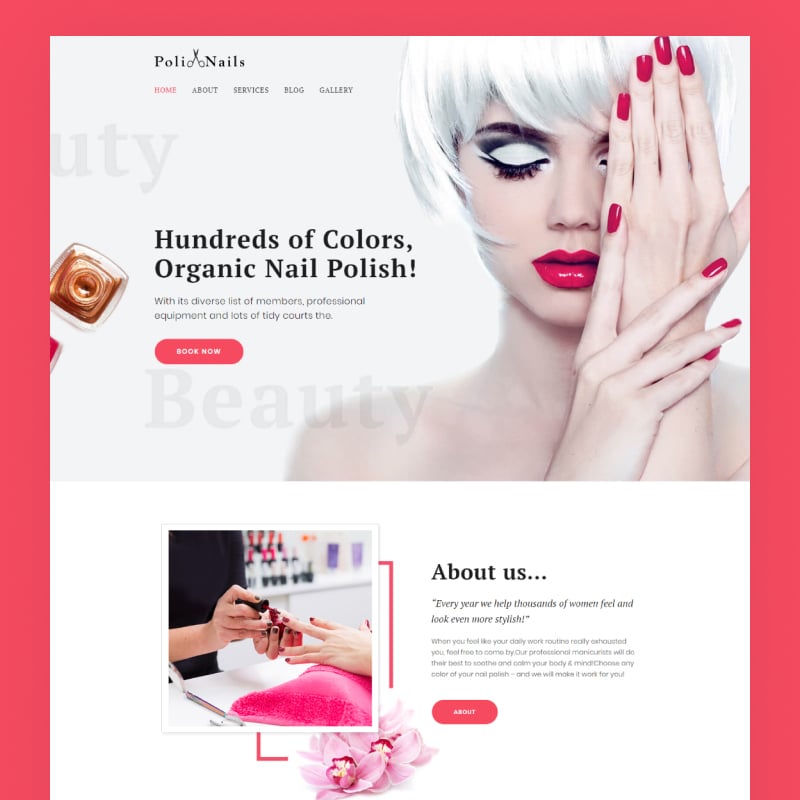 Poli Nails
theme suits a nail salon website. You can tell about your business on the About Us page. It's possible to present the services in the special tab. Your clients can check out the works in the Gallery or Single Photo Post. They can check out the latest news in the news tab.
Plus, the theme has a collection of widgets:
Accordion
Progress Bar
Audio and video players
Circle counter and countdown timers
Sliders and tabs
Typography options.
In general, it has 50+ widgets. It also has JetElements for richer functionality.
A website is a perfect way to present your works as a designer.
Patrick
theme has a toolkit to create a vivid presentation:
create pages for your projects and works;
add pictures in Galleries and choose the most appropriate type for each;
share social profiles to tell more about your personality;
leave your contacts on the Contact page;
use fonts to highlight your unicity;
add text blocks to leave the description/comments;
create price lists.
You can create a unique header, footer, add sliders and banners. The theme is editable. Plus, you don't have to know any programming language to make changes.
Egrowit – Digital Marketing Consultant Elementor WordPress Theme
Elementor's popularity among tech industry websites is growing.
2,43%
of the electronics websites are using Elementor. Does your website fall into this percentage? Then, check out
Egrowit
one of the
best website design templates
. It's a digital marketing consultant theme that offers:
JetElements
50+ widgets
bonus images
24/7 support.
JetElements allow creating a powerful functionality. You can organize content appealingly. It's possible to fill a website with forms, tabs, popups. There is a library with sliders, headers, and footers.
The developers optimized it toward search engines.
5 Free Elementor Themes
Webion lite – Minimal Elementor Multipurpose WordPress Theme
Webion
is another Elementor template that will suit any kind of project. It's multipurpose and editable. It's a good combination for creating all niche websites. Webion is minimalistic. Still, you can change colors, fonts, add widgets, banners, sliders. etc.
You can make changes in a matter of clicks right in the admin panel. Due to the Live Customizer, you will see how the updated website looks right away.
JetElements offer plenty of tools for web design.
Easy WordPress Theme
The last item in the collection with free Elementor themes suits a fashion website. It has tools to attract customers:
collection with headers and footers;
banners and sliders;
layouts for Gallery and Blog;
forms, carousels, buttons, tabs, accordions, progress bars.
All the widgets are customizable. You can change their location and content.
Tourizto lite – Travel Company Elementor WordPress Theme
Though the theme is free, it has plenty of perks for the users. As well as the premium Elementor templates, it has JetElements. It means that you get a powerful toolkit for web design by default.
You get access to 50+ widgets. A text editor allows organizing content in columns. It has gallery layouts, image boxes, and an image carousel to show the images in an appealing way. You can add buttons, icons, counters, progress bars, and more within a click.
Dropdown menu options and sidebar manager are there to help you make intuitive navigation. The developers optimized a theme toward search engines. You will deal with less work to make your website visible to the clients.
It has a Live Customizer. You will see how the upgraded website looks right away.
Max Paxton Lite – Copywriter Website WordPress Theme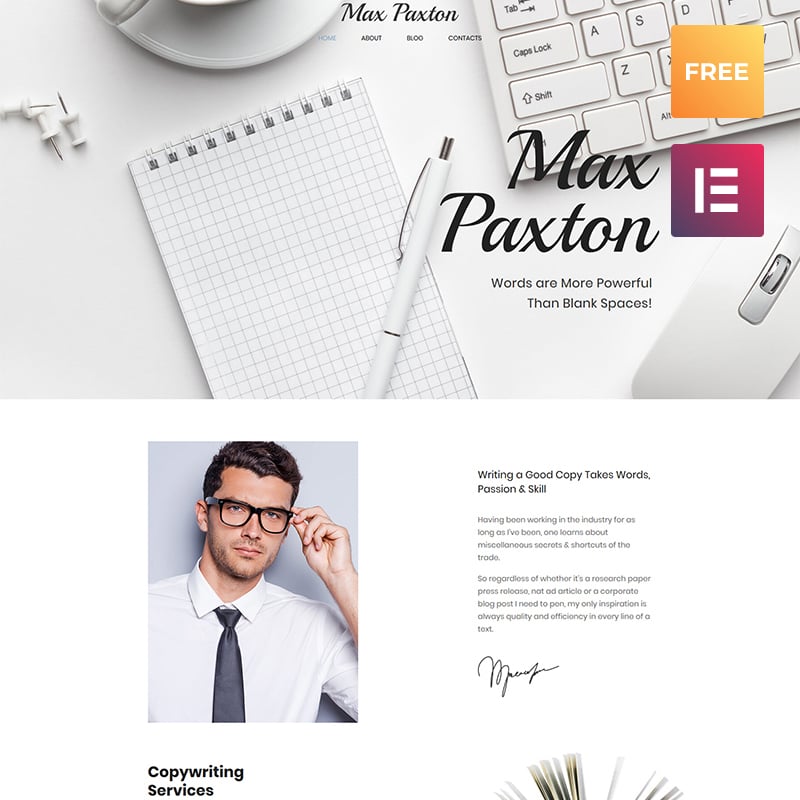 Another minimalistic Elementor template is free to download. With this product, you will present yourself as a copywriter. Within clicks, you can create pages to present your works. You can add price lists to outline the pricing policy for the services. Plus, you can leave your contacts on the Contact Page.
This theme has everything to create a good-looking minimalistic website with good performance.
Imperion Free – Multipurpose Corporate Elementor WordPress Theme
Building a website for a consulting company? Imperion is a good choice. A free version of Imperion is even better. It's Retina ready. It has a powerful toolkit for web design:
dropdown menu layouts;
advanced theme options;
backgrounds library;
Visual Editor;
JetElements;
plugins and widgets;
sample content;
Google fonts.
Due to the drag-and-drop nature, you don't have to deal with code. You fill the website with content and organize it.
If you want to dive into web design, you can check out which tools and services can help.
Final Thoughts On Elementor Templates
All Elementor templates are worth your attention. Clean coding underlies every product. Still, even if an issue appears, friendly support teams will help. Plus, they are optimized for speed and search engines. A website will get more chances to appear in the top results.
Most of them are editable or suitable for all kinds of projects by default. Working with WordPress and Elementor is a pleasure.
So, consider using one of those templates and stay tuned for more reviews.
---
Interesting Read
Free WordPress Themes for Elementor Page Builder
Top 15 Reasons To Use A Custom Web Design Over Templates