If you want a content management system that fulfills all your needs and is highly functional, you should choose WordPress. In fact, WordPress is the most popular content management system that is widely used across the globe. A lot of brands rely on the flawless functioning of WordPress – and you should too! It has themes and plugins for all kinds of businesses.
Having a weather forecasting company means you constantly have to be on your toes. Your content needs constant updating and that is why – we suggest that you depend on WordPress weather plugins for your needs. Weather plugins are required to display the latest and updated information related to weather on the website. Weather applications make your site much more relevant to its users. It is particularly used for travel websites or activities that deal with specialized activities such as sailing and skiing. When you put customers' needs on your website, engagements automatically increase.
In this blog, we have listed down some of the best weather plugins for your brand.
1. WP Forecast:
Visitors want accurate information from your website. WP Forecast is a weather plugin that collects information from reliable sources and displays it on your website. It is a perfect solution because of its many great features. It also provides you with localization customization. Also, the plugin is available in more than 12 languages. WP Forecast is easy to use and gives your users a satisfactory experience. It's compatible with many popular plugins such as WooCommerce, BuddyPress, and so on. Lastly, this plugin publishes forecasted weather for the next seven days and up to nine nights.
Check out this plugin – here.
2. Simple Weather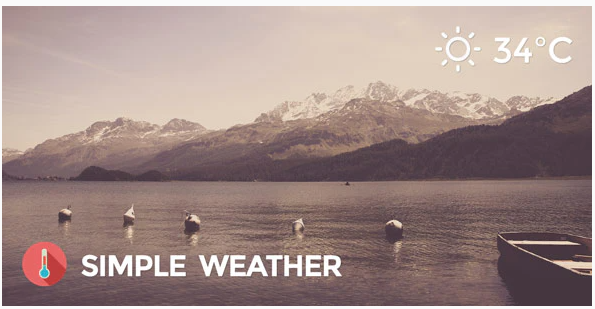 Simple Weather is one of the most beautiful weather plugins out there. It provides you with a lot of customization options and beautifies your websites. It can display weather forecasts for the next 7 days. People can look up weather forecasts with IP addresses, GPS, and also has a search option. This plugin also gives you an option to define the number of times you want the weather details to get updated. Choose this plugin if you want custom date formats, unlimited color options, weather reports in 18 languages, and its other powerful features.
To know more about this plugin, click here.
3. Awesome Weather:
This widget is developed especially for your WordPress needs. It shows weather details graphically. You can add custom background images and has built-in custom layouts. Professionals from all over the world use this one-of-a-kind plugin. You can project weather reports in various ways through its multiple layouts. It uses the location of your user to display weather forecasts and other data of the nearest location. The customizations provided by this theme are amazing!
Check out this plugin – here.
4. WP Cloudy:
A flexible and user-friendly plugin, WP Cloudy is the perfect choice for any kind of WordPress site. The color textures make your website look attractive. The overall look is professional and clean. The features are exemplary and it aims to satisfy all your needs. Some notable features include forecast precipitations, language packs, 5-day forecasts, lots of cities, and unlimited weather options.
Check out this highly-sought theme – here.
5. Weather Master: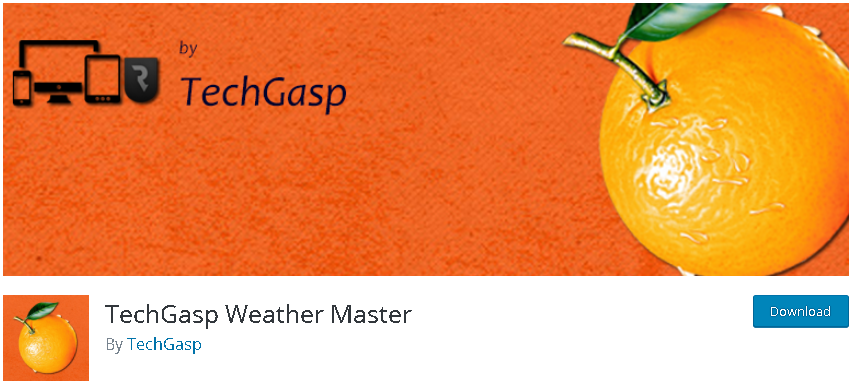 Using this plugin's amazing facilities, you can display weather updates at the city, state, or country level on your WordPress site. It is mobile responsive, SEO friendly, and displays information based on the location of your user. This plugin aims to provide real-time updates and forecasts. Further, it also provides you an option to select your choice of temperature units. It is considered to be one of the best plugins for weather forecasts. Weather Master has a lot of things to offer that will enrich your overall user experience.
To know more about this plugin, click here.
6. Location Weather:
Location Weather is a simple, easy-to-use, and highly flexible plugin that will work well with your WordPress site. You can add unlimited widgets and receive information that is up-to-date keeping in need of the dynamic requirements of a weather forecast website. All you have to do is create weather, choose your country and customize the look as per your choice – all of this in a few simple steps!
Check out this plugin – here.
7. Astero:
All the features you would expect in a great plugin are included in Astero. It can be displayed in multiple sizes and styles, has clean lines, and has 600 Google Fonts that aid you in customization. It will look perfect on all user devices due to its responsiveness. It allows you to use a video as your background or a static image. It is also easy to use – users have to search the city or zip code to find weather reports of a particular location. It has been designed keeping in mind the requirements of a typical weather forecasting website.
To know more about Astero, click here.
8. WP Open Weather:
This plugin is yet another great example of an ideal WordPress plugin for weather forecasting. It has flexible features and a clean look. It provides you with current weather and forecast widgets, city name with Google Map, multiple templates, font-based weather icons and so much more. It is an excellent choice for your site.
Know more about WP Open Weather – here.
Final words:
There you go! We hope this article has given you the much-needed information about different kinds of weather plugins. Depending on the kind of features your brand needs, pick one! Give your visitors an instant weather update easily with these plugins. Choose the best one according to your requirements and give your visitors what they need!
Interesting Reads:
WordPress Language Plugin
How To Grow Your Social Community Website
How To Grow Your E-learning Website
---