Sidebars play a very important role in any type of website. You can add them anywhere on your site and offer various different functionalities by adding different widgets to it. Such as recent posts, a search bar, related posts and a lot more. With the help of a sidebar, you can make navigation easier for users. Moreover, with various WordPress sidebar plugins, you can even make your sidebar even more engaging and visually appealing for your users.
In today's collection of plugins, we are going to tell you about some free and premium WordPress sidebar plugins that will let you manage the sidebars of your WordPress website effectively.
1. Custom Sidebars:
Custom Sidebar WordPress plugin lets you manage and replace sidebars and other widget areas on your WordPress site with the help of custom sidebars. With the help of this plugin, you can make custom sidebar configurations and be able to choose the widgets you want to display on your site's post and pages.
Few of the interesting features of this plugin include custom sidebars, Unlimited custom widget configurations, Works with well-coded themes, Author specific sidebars and a lot more.
2. Lightweight Sidebar Manager
The lightweight WordPress manage sidebars plugin allows you to create new sidebars and display them conditionally on certain posts and pages of your website.
Once you have created a sidebar, you can display it on any page you like and can add relevant widgets in it.
Few amazing features of this plugin include unlimited sidebars, compatible with any theme, display sidebars based on user roles and a lot more.
3. WP Sticky Sidebar
This sidebar WordPress plugin will make your floating sidebar visible permanently while scrolling. A default sidebar can be seen only when the user is one a particular page where the sidebar appears. This makes it difficult for your visitors to navigate easily from anywhere on the site using the sidebar menu which might result in higher bounce rates as your site users won't be able to find what they are looking for.
This plugin once installed, will offer you a fixed sidebar menu that will always be visible thus increasing your site's usability, accessibility and conversion rate.
4. Fuse Social Floating Sidebar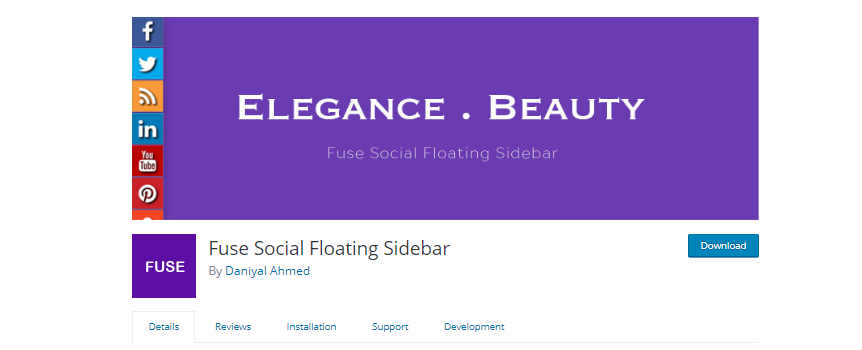 Fuse Social Floating Sidebar is another free WordPress plugin that allows you to add social media floating sidebar icons which you can connect with your social media profiles.
This plugin also offers a very attractive interface and many useful settings for social media icons such as types of icons, animated rotation effect, a shadow in icons, widget and shortcodes.
5. Custom Share Buttons with Floating Sidebar
This popular social share plugin lets you display social share buttons on your website with the help of floating sidebar. These social share buttons are easily customizable and extensible social share buttons. They will also not affect your site's speed.
Moreover, this plugin is lightweight, comes with shortcodes and many options to manage these buttons.
6. Simple Page Sidebars
Another free sidebar plugin, Simple Page Sidebar plugin allows you to assign custom sidebars to individual pages without making any template changes. You can also assign existing sidebars in quick edit and bulk edit modes thus saving you a lot of time.
Moreover, this plugin comes with a widget area widget that pulls all the widgets from one sidebar into another.
This plugin is super easy to use and offers basic functionality for your website.
7. Content-Aware Sidebars
This is a free and powerful WordPress Sidebar plugin that lets you create tailored widgets for any of your site's post, page or even custom post type.
You can display your theme sidebars on different conditions or insert sidebars with shortcodes.
Moreover, this plugin offers built-in support for most popular WordPress plugins such as WooCommerce, bbPress, BuddyPress, EDD, Pods, Polylang and a lot more.
8. Smart Sidebars Slider
Smart Sidebars Slider is a premium WordPress plugin that lets you add one or more extra sidebars those will be hidden behind the tab on the left or right side of the screen. You can also add more than one sidebars and control their visibility across WordPress pages.
With the help of this plugin, you can add one or more extra features such as controlling sidebar position, size, visibility and a lot more.
9. Custom Sidebar Visual Editor WordPress Plugin
This WordPress sidebar plugin creates dynamically displaying custom sidebars on posts and pages. You can create unlimited custom sidebars or replace whole sidebars for specific posts and pages. Moreover, it integrates with Visual Composer to let you easily create custom sidebars.
It is easy to set up and use the plugin with many advanced features.
Get This Plugin
Also Reads: New Release: Reign WP Job Manager with advanced features
10. Kakapo
Kakapo WordPress sidebar plugin allows you to choose an already existing sidebar to display on your site or create a completely new one. You can create an unlimited number of sidebars and manage them via the WordPress admin panel.
This plugin also gives a possibility to set individual sidebars on every page.
The Takeaway
These sidebar plugins for WordPress will help you give your sidebars a new look and feel. Moreover, they will help you improve users engagement and interactivity on your site. You can use any of these plugins as per your convenience.
Interesting Reads: