Online collaboration software is easy to use and makes it simple for teams to collaborate on various general and specialized tasks.
Collaboration is becoming the norm in the workplace. Employees are no longer expected or expected to work independently. This emphasis on collaboration should lead to increased efficiency and productivity. However, this can only be achieved with the right tools.
These tools can offer everything, from cloud file storage to manage daily tasks to video conferences for online meetings. Moreover, they all work equally well on mobile devices, laptops, and computers. Everything should be easy to understand, clear, and simple to use. Each employee should have the ability to communicate with the right person at the right time, no matter where they may be located in the company.
Then, solve the problem in a satisfactory workflow. Collaboration is a new way of working. Here are our top picks for the best online collaboration tools.
Online Collaboration Software 2022
1. Microsoft 365
Microsoft Office might not be your first choice for collaboration, but it is now at the core of the Microsoft 365 cloud-based workplace suite.
This is because Microsoft Office remains the most important and widely used office suite even though many competitors like OpenOffice or Google Workspace (previously G Suite) don't have the same functionality and ease of use.
Microsoft Office will be the core of many businesses' operations, so the migration to Microsoft 365 has many benefits, including the possibility of teams working together on the same set of documents. It could be anything, from work shifts in Excel to presentations in PowerPoint or client reports written in Word.
Additionally, Microsoft Teams is now available bundled with a variety of Microsoft 365 packages. This allows for Unified Communications integration with traditional office software. Microsoft 365 is more appealing because it is a cloud-hosted platform that can be used with Windows, Mac, Android, and iOS.
Microsoft 365 is not only a great office suite; it's also firmly designed to facilitate collaboration and sharing of information with teams.
2. Slack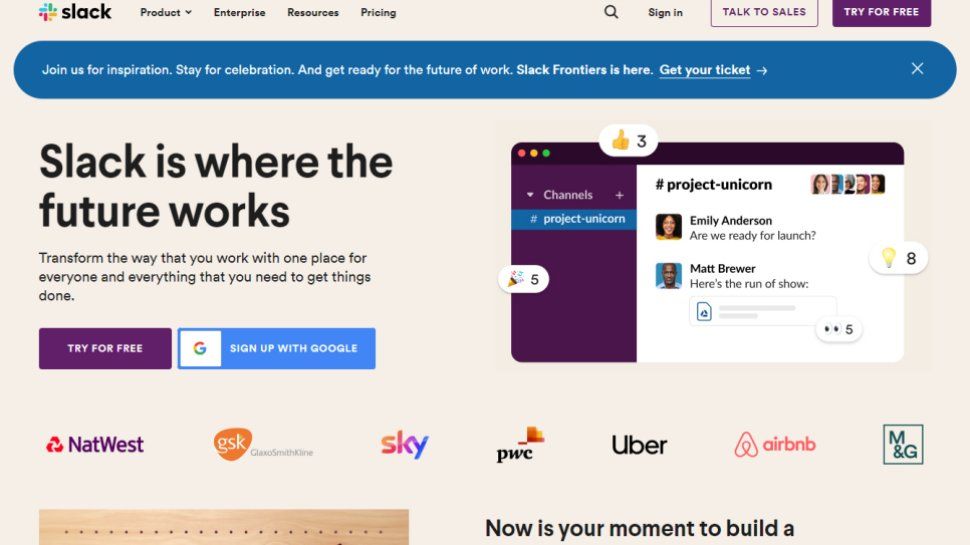 Slack has millions of users worldwide and is a powerful collaboration tool. It is a smart platform that you can access on mobile and desktop devices. You can send files and direct messages (DMs) and organize conversations into different channels (perhaps to support specific projects or general chats).
Video calling is also possible with the app. The feature allows you to communicate with your colleagues directly about projects and work without using a DM. Although this feature is not a replacement for cloud storage, it allows you to drag and drop files and share them with your colleagues within Slack. It is compatible with Dropbox, Google Drive, and Box.
Slack also offers a free version. However, it does have limitations in terms of storage space, messages stored, and the total number of messages.
3. Asana
Asana is a well-known collaboration tool that has been around since 2008. Companies such as Intel and Uber use it to communicate.
It was created to make it easy for companies to keep track of their employees' work and get the best results. The platform allows you to create to-do lists, remind yourself of deadlines, and send out requests to colleagues. In addition, the app allows team members to add comments to existing posts.
All your projects can be organized in a board or list format. There's also a search function to quickly find past work. Asana can be used to organize your work and facilitate communication about the project's progress.
4. Trello
Trello is also known as project management tool that allows you to organize projects easily. It is available on the web as well as with mobile apps. This allows you to organize and collaborate on projects.
You can use the platform to create boards or lists. These lists can be organized by teams or assigned different tasks. These boards allow you to create task lists and share delegated tasks with colleagues. You can also assign comments to cards, which is a quick way for others to provide feedback.
Trello also integrates with many apps like Evernote, GitHub, and Google Drive. The app is free to download, but premium options allow you to access more features.
The Premium pricing tier gives you access to additional administrative features that will help improve your organization. The Enterprise edition is priced based on the number of users and offers additional organizational management tools.
5. Podio
Podio is an online platform that allows for flexible collaboration and collaboration between teams. It allows you to manage large amounts of work and delegate tasks among employees.
Podio is a business collaboration app that allows you to view and share files with others, get feedback, and see the status of your ongoing projects. All of these functions are combined into an intuitive interface.
Podio also comes with high-quality mobile apps that you can use when you are out and about and has a lot of integration with third-party services and apps like Evernote, Google Drive, Evernote, Zendesk, Evernote, and Dropbox.

Conclusion on Online Collaboration Software
Collaboration and communication tools must have a company culture. It doesn't work to give a tool to everyone and tell them they should use it over email. All the members of the team must agree to use a collaboration tool. It must be part of the culture.
Once you have a working collaboration app, you may be surprised at how organized and productive your team is.
---
Interesting Read:
10 Essential BuddyPress plugins For a Community Website
The Best Premium WordPress BuddyPress Themes
Useful Hacks And Customizations For Your BuddyPress Powered Website Via Reign Theme