Most of us have used Google Drive for Business at some stage or the other in our work or personal lives. For those of you who haven't, Google Drive is a file storage and synchronization service launched by Google in April 2012. It allows users to store different types of files, synchronize them across various devices and share them with others. These files can be pictures, videos, relevant documents or any other thing.
Google Drive is ideal for businesses running on WordPress. It helps them to keep records and share data within the organization conveniently. Not only this, but it also plays a significant role as your WordPress Business Manager and helps you manage your data and plans efficiently.
You can use Google Drive to power your WordPress Business successfully in the following ways.
Google Drive offers seamless sharing opportunities for your WordPress Business. It works on a file sharing system in which the creator of a file or a folder is its default owner. This gives them the right to regulate the visibility and ownership of that particular file or folder. This is especially desirable if you want to maintain a streamlined workforce and manage work responsibility. The files and folders can be easily shared among users with or without Google accounts. For users with a Google account, these can be shared privately to their @gmail.com addresses. For users without a Google account, these can be shared by making them accessible with 'anybody with the link' feature. This feature generates a URL for that particular file. Anybody can now access these files with the help of that particular URL from any device in wherever needed.
For all the above features, Google allows you to set 3 access levels. These are 'can edit', 'can comment' and 'can view'. Only users with access to editing can invite others to edit. These sharing options work similarly for all Google Drive services like Docs, Sheets, Slides and Forms. Use these in your workspace and save your valuable time and resources.
Real-Time Collaboration and Live Chat
The best feature that Google Drive for Business offers is undoubtedly real-time collaboration. This allows multiple users to work on the same document at the same time. Enabling real-time edits, this feature is especially helpful if you have remote teams working at different locations. This feature is a blessing if your business relies heavily on content. Writers and editors can edit the same document in real time. This saves confusion as well as the time and energy consumed in sending drafts for the same document again and again.
With real-time collaboration, Google Drive for Business offers a live chat option in each document. You can click on the chat icon next to the document participants and send a message to users working simultaneously on the doc, sheet or slide at one time.
Using Google Sheets as Team Dashboards
Google spreadsheets cover a wide array of useful services apart from data storage. The most important out of these services is data analysis. However, for this, you need an addon named 'Supermetrics'. This addon lets you manage entire analytics and monitoring for your WordPress business using Drive. In simple words, the data that you save in these Google spreadsheets lets you analyze essential things like your site rankings, SEO and social reach. This works best for aggregation and analysis and assessing improvement areas and successes.
Typing is time-consuming and quite an unproductive activity for anyone managing their business. Not only this, there are many times when you feel like writing something down in a meeting but you cannot. For these situations, Google Drive for Business offers the voice typing functionality. Under this, you have to click a 'mic' shaped button and start dictating the text. What you dictate will be entered on the screen instantly. You can dictate anything from important emails to personal notes. Just check the final draft in the end and the work is done.
Another significant use of the voice typing functionality is for typing notes during client meetings. Using it in a meeting helps you to note down everything without interrupting the flow of the discussion with typing.
Google Slides for Webinars and other presentations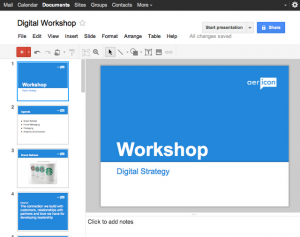 Webinars and presentations help businesses to spread brand awareness and enable brand recognition. No matter how good you speak, if your slides are not good, your webinars and presentations are considered futile. Hence, slides play a critical role in the overall impact of your presentations. Google Slides, an important aspect of Google Drive, helps you lessen the pain here. Equipped with amazing templates, Google Slides can be prepared within minutes. What's better is that the same presentation can be launched directly from your Drive. These impressive presentations can also be added to your WordPress site if needed. Hope you know now what to do in your next presentation.
Use Google Forms for things like Contact Forms, Client Questionnaires, and Surveys
All businesses rely heavily on data these days. Thankfully, Google has simplified collecting and manipulating data miraculously with Google Forms. Simple yet powerful, Google Forms allows businesses to create diverse forms matching their portfolio. These forms can be easily embedded in your WordPress site. All the responses are saved in a separate sheet on Google Drive automatically. These responses can be studied to assess your market, WordPress business, employees, customer expectations and a lot more. Use Google forms today to create contact forms, questionnaires or surveys and collect data and understand it in the easiest way possible.

Nobody knows what will happen in the next moment. Thus, backups are necessary. Although, there are many plugins and software available to back up your WordPress site, only a few of them are free. Most of these free solutions store backups on the client's server which is prone to crash. Hence, the best solution to your backup issues is Google Drive. This is because it offers 15GB free storage space and also can be accessed from anywhere at any time. As a tip, download the UpdraftPlus plugin on WordPress, to create a drive backup of your WordPress site for free.
Real-time collaboration with multiple users gets confusing due to the changed versions of a particular document. It is also challenging to remember who made the changes and at what time. However, these things are essential for a project manager to estimate the time spent on a project and minimize it. Google Drive handles it smartly though. It has a feature that shows the revisions of a particular file with time and username. You just have to go to File Tab and then select Version History. After this click on See Version History and you will be able to see all revisions in the left sidebar at one place. You must click the revision you want to view. Google Drive supports revision tracking in Google Docs, Sheets, Slides and Forms.
Trust and Security are as important as any of the aspects mentioned above. These are the most critical aspects of all if we look at the current market trends. The number of hackers and their efficiency have also gone up in recent times. Hence, big firms like Google ensure that they are adequately protected. Although, small firms hardly have the funds to develop their security infrastructure. So, what should you do? Use Google Drive and keep your WordPress business safe with features such as 2-step verification.
Wrapping Up!
Remember, management is all about managing in the short term while developing the plans for the long term. And, Google Drive for Business exactly lets you do that. Hope this article has helped helps you to understand the most dynamic Google Drive services and their use.
If you love to use keyboard shortcuts while working, you can press 'Ctrl + /'  on PC and '⌘ + /' on Mac to know all keyboard shortcuts that are enabled and disabled for your Google Drive.