Are you looking for the best web fonts manager plugin for your WordPress? You are in the right place. Fonts play an important role in web design and are crucial in determining how a visitor perceives your website. It improves readability and having a good font significantly increases the time users spend on your website. Read on to know some ideal font manager plugins 2022 for your website that will improve your design drastically: 
1. Fonts Master and Google Fonts – The WordPress Plugin for Fonts Management – ShuFont: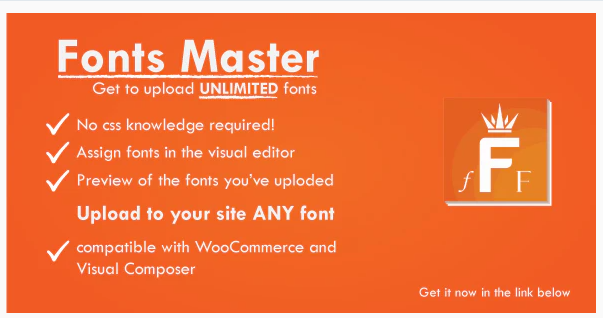 Typography is extremely important for a website and this plugin understands that. It aims to provide you with the right fonts that make your website attractive and improve engagement by generating much-needed traffic. You have the option to choose from hundreds of fonts – all you have to do is import them through the admin page. It showcases you a preview of the fonts you have uploaded, is compatible with WooCommerce and Visual Composer, and is used widely! We highly recommend this plugin. 
You can check out this plugin – here. 
Also Read: WordPress Themes For Artists 
2. Ultimate Google Web Fonts – WordPress Plugin: 
This is a premium WordPress plugin that lets you instantly access all of Google's open-source web fonts, preview, and use them with any theme. There are more than 800 fonts to choose from. The plugin is easy and fun to use. Moreover, you have full control over typography in your theme. You can use this plugin to your benefit in a matter of minutes. Some notable features include a live, instant preview of any font with any theme, locator tool, high performance, easy-to-use interface, and so on. 
Know more about this theme – here. 
3. Simple Google Fonts – Web Fonts Manager WordPress Plugin: 
This plugin is the fastest way to add Google Web Fonts to your WordPress theme. It is an extremely easy way to manage your fonts in the admin area – and it can all be done in a few clicks! With this plugin, you can load multiple font files at once, choose any fonts from its unlimited options, and add fonts in your page header. It provides you with full documentation, is easy to set up, and has unlimited styles – so go on and create a website as per your preferences! 
Check it out – here. 
4. FontPress – WordPress Font Manager:
FontPress is an awesome typography tool that easily empowers your theme and manages any font. It mixes Google Fonts, Adobe Typekits, or simple CSS together. You just have to add or select the fonts that you plan to use. It previews your fonts in all their formats (standard, bold, italics, bold italics, and so on)and you can even preview the text in different font sizes! It is loaded with features and makes your content readable on all devices. Lastly, it provides you with automatic updates. We definitely suggest trying this one out for your website!
Know more – here. 
5. Easy Post Google Fonts: 
This plugin is used by people all over the world! It has over 600 fonts and allows you to use multiple fonts in one post/page. That's not all – you can also specify every page element and specify which Google font to use. The plugin is easy to load and use, is cross-browser compatible, responsive, and flexible. Download it today to know what we are talking about!
Know more – here. 
Also Read: How To Improve CTR Instantly
6. Frontend Text Customizer – WordPress Visual Editor: 
Customize any text on your WordPress – menu, template, and so on with Frontend Text Customizer Toolbar. It provides you with the most essential functions to add your custom style. There are over 650 font styles and you can make your text bold, italics, or underlined. It is super-easy to set the font color with its RGB HTML5 color picker. The plugin is powerful, packed with features, and clean. Moreover, the support is excellent!
Get it today – here. 
7. iOS7 Style Font Icons – WordPress Plugin: 
With this plugin, you can customize the size, color, shadow, and anything else that CSS has to offer. It aims to improve user navigation experience with visual cues and customizes each icon seamlessly. It is a simple plugin with exemplary features. It also has cross-browser compatibility. Now you can introduce iOS 7 style icons on your site with ease! Lastly, this plugin can make infinite combinations of color and size of icons to make your website appealing for its visitors. 
You can check out this plugin – here. 
8. Self-Hosted Google Fonts Pro: 
This plugin provides you with a hassle-free conversion for all themes and plugins. It has a unique feature for modern browsers that makes use of a fallback font immediately. It automatically handles the subsets defined by the theme/plugins and gives you more control. Lastly, the support team is excellent. Download it right away to know what are we talking about!
Check out this plugin – here.
9. Taqyeem – WordPress Review Plugin: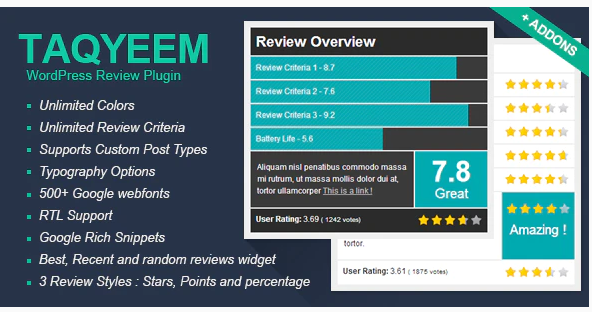 This is a premium reviewing and rating plugin that was built to fulfill all your needs. You can custom post types and use its varied customization options to create an amazing rating and review feature on your website. You can change the fonts, images, colors, style, and so much more with this simple plugin. It has a plethora of typography options and 500+ Google Web Fonts that can be accessed through theme settings. It makes your website look professional, sophisticated, and amazing! 
Know more about this plugin – here. 
Well, there you go! We hope this article was helpful to you. Depending on the features, you can choose a font manager that works amazingly with your website. Pick one from the list and get going! Thank you for reading and all the best!
Interesting Reads:
wordpress client portal. plugins