If you are handling a digital agency or intend to begin one, this is a catalog of the finest digital agency WordPress themes that you can employ to design your business site. It is useful for those among you who are preparing to develop a powerful online presence regarding your business. Whether you're a designer, developer, SEO guy, or operate any other type of agency, there is something for you.
This is a collection of the 20 leading premium WordPress Themes 2022 for all kinds of digital agencies.
Digital Agency WordPress Themes 2022
1. BuddyX Theme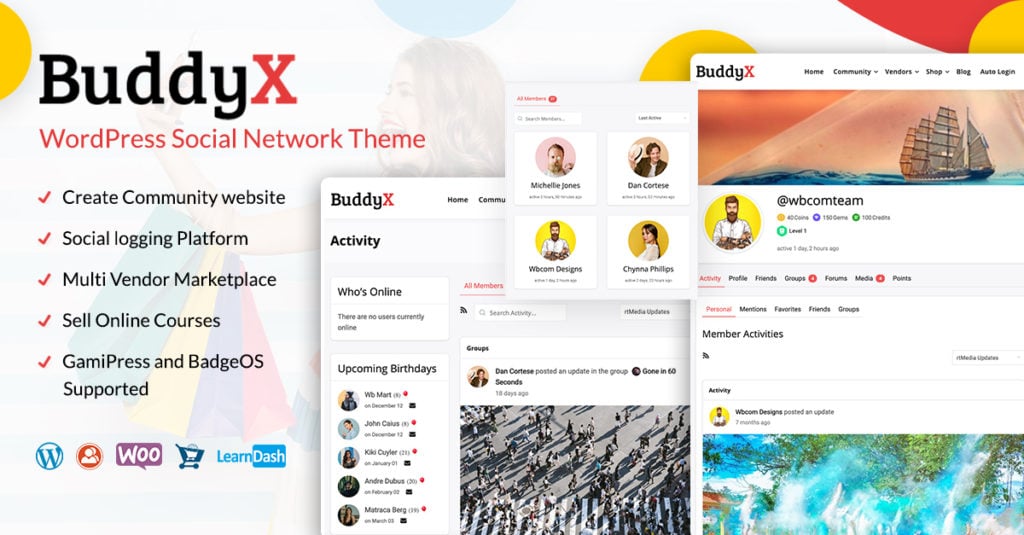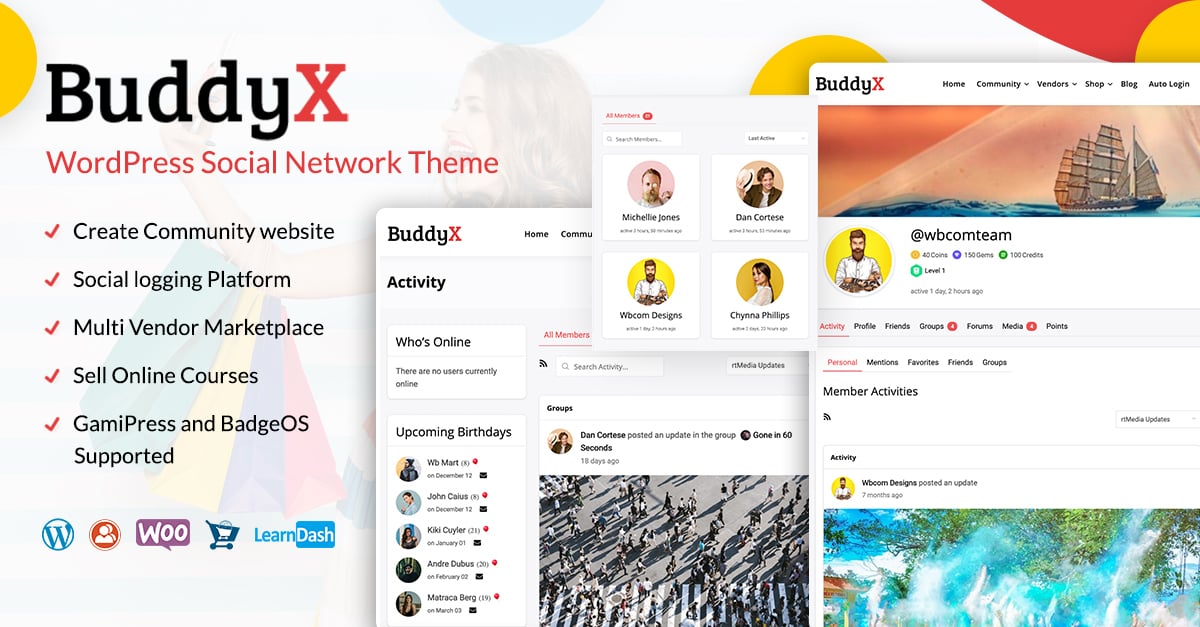 BuddyX is a multipurpose WordPress agency theme that helps you launch the website for your digital agency with WordPress. This theme helps build websites easily for business owners, freelancers, and agencies. It helps you to build a web page of your choice.
Main features:-
WooCommerce Ready:- BuddyX made it easy to create a website with eCommerce functionality. This plugin allows the integration of an online store and selling brand products.
Smartphone Optimized:- BuddyX theme is user-friendly. This theme is mobile optimized and is responsive on all major devices. Your website will align perfectly with all screen sizes.
BuddyBoss Platform:- BuddyX is compatible with the most advanced WordPress social network plugin i.e. BuddyBoss which is helpful to make your site user-friendly. You can add innovative community features to your site and provide a natural social network feel to your website.
2. Reign Theme
Reign is a creative, elegant, and modern WordPress theme that is used for multipurpose business needs. It works well on all devices and browsers. This WordPress theme is cross-browser compatible and works well with the legacy editor too. It comes with a WooCommerce plugin and hence you can use your website for selling purposes of services and products.
Main features:-
Multiple Header Variations:- Reign theme comes with stunning multiple header layouts for both groups and members. With a single click, you can change your header layout as per your preferences.
Fully Gutenberg Ready:- Reign theme is fully ready for Gutenberg content editor. Now you can use the latest WYSIWYG editor provided by WordPress for content editing.
Dedicated support to Elementor:- It includes an advanced Drag & Drop Visual Page Builder tool. It will let you control every aspect of your web design in a real-time view.
3. Divi- Digital Agency WordPress Themes
Divi stands apart from different themes due to its customized features ideal for digital agencies with multiple website feature needs.
Main Features:
Completely Visual Content Editor: Usually, free themes permit you to alter page and post content simply whereas Divi's entirely visual content editor tool offers you the liberty to alter all portions of a website. Starting from a default theme, you can build your website matching your requirement list.
Simple to use interface: The inbuilt features such as drag and drop, undo and redo, copy and paste, saving designs for further use, etc., enables you to customize the whole design with the aid of just a few clicks.
Optimal Effects Of Animation: It permits you to add animation in your portal without indulging in hard code typing. Animation effects beautify your website, offering it a trendy look and standing out your brand from others.
4. Neve
Neve constitutes a WordPress theme performed by Romanian Theme Isle, which is among the preferred WordPress theme developers. Although their best-selling theme is Hestia, Neve is a remarkably cool theme with plenty of nice features. A few of the finest features comprise that Neve is extremely rapid and lightweight, and the theme contains Theme Isle's excellent usability. It is a perfect choice for bloggers that desire quality and high usability.
5. Hestia
Hestia theme constitutes a multi-purpose WordPress theme performed by Romanian pioneers of WordPress Theme Isle. It is among the extremely common themes and contains 100,000 plus active installations upon WordPress.org. The theme carries a free version as well as a premium version. It is recommended to check out the free version of the theme before buying the paid version. It comprises an excellent option and suits most websites and blogs.
Also Read: Top 5 Lightbox WordPress Plugins
6. Ombrello- Digital Agency WordPress Themes
Ombrello comprises a multipurpose WordPress theme for designing websites with a professional look for your business. It is ideal for creative agencies, consulting businesses, IT firms, law offices, Accounting agencies, or every other business you can conceive. The pages are built using the Elementor Page builder, enabling you to edit them through easy drag and drop choices. The admin panel contains options that will allow you complete freedom of your website. Ombrello theme presently accompanies a creative agency demo, with numerous others to arrive in the future, for further options and versatility of what you can build with it.
7. Seocify
Seocify is more common for the supply of high-tech and upgraded templates to cater to the contemporary needs of digital agencies.
Main Features:
Elementor Page Builder Tool: It aids you in altering the appearance of pre-designed content.
Animating Tools: The Seocify theme provides you icons, animated sliders, and different elements for building a constantly mobile website to grab the immediate attention of the latest web visitors.
Many Templates For Every Page: If the preset design of every page does not satisfy you, you can choose a separate template for every page. Your portal is not restricted to what's already contained in the theme. Options always exist to pick from.
8. POFO
The POFO theme resembles an online innovative studio for digital agencies chasing creativity limits in the matter of design.
Main Features:
Drag And Drop Plugin For Page Builder: This plugin not just permits you to edit the site very easily but even assists you in building the whole design from scratch.
Counting Section: The POFO theme offers you a segment on the homepage showing the number of customers you have performed with, the number of projects finished by you, and various countable data.
Slider Revolution: It enables you to design slideshow presentations inside your website.
9. Holmes
Holmes presents 16 separate themes to pick from.
Main Features:
Elements And Widgets: Having 16 separate designs, you obtain an extensive quantity of elements and widgets to make your preferred number of alterations in your content portion, like call-to-actions, testimonials, etc.
Mini-Website Option: If you desire a website on an instant basis, you can set up holmes with an easy landing page offering concise information to users regarding your business together with contact details. Later you can include pages as you advance with web designing.
10. SEO Crawler
SEO Crawler is created for every kind of digital agency such as online marketing, social media marketing, digital marketing, etc.
Main Features:
Many Templates: SEO crawler arrives with three website themes to select from. Every theme includes many templates to choose from for every page design. You can mix and tally templates from the entire 3 themes to design your individual custom website.
Goodlayer Page Builder: It is a complete module of drag and drops features, rendering it highly easier for you to design a custom website with just a few clicks.
11. Marketing Pro
Marketing pro is an ideal game for multi-purpose digital agencies.
Main Features:
Customer-Friendly Homepage: Irrespective of the theme chosen by you, the whole of Marketing Pro's home pages arrives with inspirational designs to guide your client along the sales funnel. Entire home pages are filled with resources displaying your credentials.
Multi-purpose Themes: Marketing pro contains preset demos to aid you in developing customized designs for every one of your services. For instance, a different template is present for social media marketing services and a separate demo for SEO services.
Customer Logo Sliders: Slides offer you the choice to upload earlier clients' testimonials with quotes and logos to cast a nice impression on wannabe customers.
12. TheGem
TheGem highlights your key purpose and provides you with a theme likewise.
Main Features:
Mobile-Interactive Design: Nearly all sites of TheGem are mobile-interactive, removing you the bother of the growing quantity of smartphone users and small mobile user practice.
Purpose-designed Website Demos: Within the selection of seventy web designs, TheGem offers you 9 purpose-designed websites mirroring the promise and purpose of your brand.
Social Support: TheGem theme is wholly-featured containing social media widgets to pave the way for your brand for customers through social media. They will remain in your contact through their preferred social media network.
13. The SEO- Digital Agency WordPress Themes
True to its name, SEO is common for providing marketing-related themes.
Main Features:
Visual Composer: It contains an inbuilt drag and drops tool to assist you in personalizing the whole design without using up hours.
Import Design: The SEO permits you to import its design for your portal and make the required alterations according to your needs.
Selection Of Tools: The SEO contains an extensive range of tools like slider revolution composer, icons to add reactive characters to your designs, supper menu tools, modifiable photoshop pictures, etc. You will discover them handy for marketing purposes.
14. Optimize
Optimize present designs resembling its name – an ideal blend to grow your site's display on search engines.
Main Features:
Lead Generation Characteristic: Call-to-action buttons, email opt-ins, contact page, footer form, etc., are all present inside the theme, assimilating to accord a warm welcome door to your latest clients.
Optimization Code: Optimized themes deliver the neat code of optimization to aid you to build search engine-interactive content, indexes, structure, etc.
Customize Template For Every Design: Whether it's a case study showcase, homepage design, analytics, etc. You obtain a personalized template for every one of your design requirements.
15. Unicorn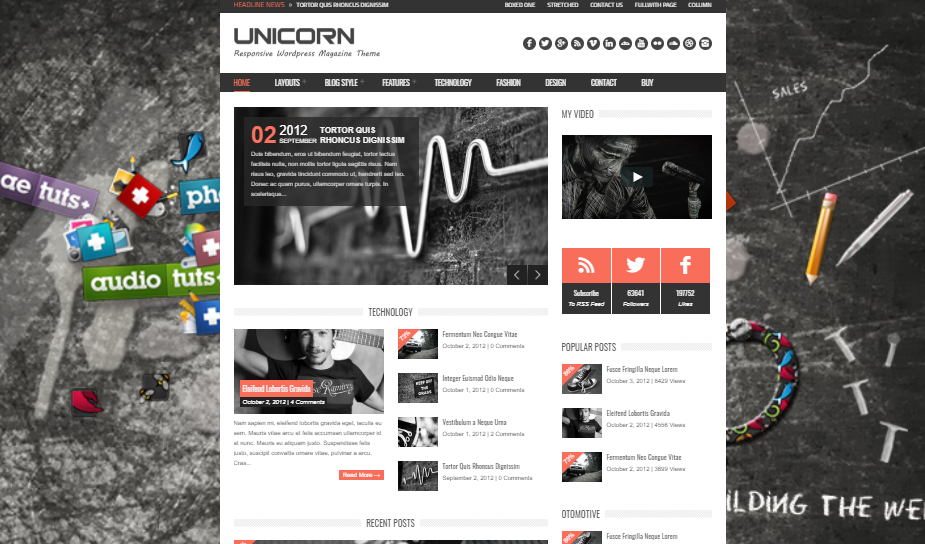 Unicorn comprises a multipurpose WordPress theme that's completely design-based. The theme has been designed with additional care to details, user interface, and different facets, so none can even do quibbling with this perfect design.
In general, the theme contains the effective Visual Composer page builder and nearly 50 custom elements of page builder. You also obtain features such as many header designs, single-page scrolling, wide or boxed layouts, more than 50 preinstalled layouts, sticky headers, inbuilt mega menus, and plenty more. Additionally, there is bbPress and WooCommerce compatibility together with Revolution Slider and a potent admin panel to handle all this.
You receive a comprehensive page with effective design and all the essential features along with e-commerce support to design yourself a digital agency website.
16. Ezio- Digital Agency WordPress Themes

Ezio constitutes a multipurpose WordPress theme for inventive use and is the least expensive. Nevertheless, despite the low price, you will receive an impressive array of features to design a striking website.
The theme incorporates 17 splendid demos and also includes the Visual Composer and Live Customizer to aid you in framing your intended site. Next, you can tinker with more than fourteen portfolio layouts, ten header layouts, more than twenty-four blog layouts, three customizable footer layouts, and limitless colors.
Moreover, you'll also receive final VC add-ons to supplement the already reported pre-integrated Visual Composer; next, you have Slider Revolution, QUBE+Elements, and LayerSlider.
Considering all this, Ezio is simply among the finest paying themes you may receive for constructing your digital agency website.
17. Conrad
Conrad presents a multipurpose WordPress theme for innovative people and provides some awesome and exceptional features. Mainly you will receive entry to plenty of multi-page and single-page demos for inventive agencies, which you can employ to obtain your digital agency online.
Scrolling down to the catalog of features that you will receive, the theme offers you nearly 25 specific and graceful layouts, 2 to 6-column grids, masonry grids, fixed or whole-width grids, and the choice to delete margins.
You will even receive the superb Premium Summit Lightbox and Avalanche Slider to aid you to offer your content. Moreover, you obtain multipage and single-page versions, parallax segment, whole screen slider segment, and bullet navigation. 2 header styles and two footer styles are also included to insert further options for your customization endeavors.
18. Studio8
Studio 8 constitutes a versatile WordPress theme for agencies and other slots that require a professional website to display their work and sway likely clients. The theme's distinct capacity to put forth a big background video renders it an extremely bold option when you wish to announce your online presence worldwide.
Rather than the aforesaid homepage video, you can also include multimedia homepage sliders or snapshots or also both to capture and allure clients.
The theme includes support for an extensive assortment of post types, all of which can be shown on one page. Regarding pages, you can also access plenty of preset pages, pricing table templates, and templates to aid you in configuring your site more rapidly.
If you desire to cast effective control on your visitors with bold and "within your face" style content, then Studio 8 forms a superb theme.
19. Pitch
Pitch WordPress theme flings unrestricted possibilities for freelancers and inventive agencies to aid them to build the ideal site. The theme is striking, contemporary, and packs plenty of powerful demos to afford your site a bright appearance.
You will be able, to begin with, an assortment of 12 inventive home page designs, supplemented with precast case study templates, motivating portfolio layouts, and a pick of demo pages and templates to build yourself the flawless digital agency website.
The theme also includes wonderful options, creative menu types, and plenty of customization options to further aid you in optimizing your site to your preferred level of expertise.
You won't get anything improved than Pitch if you desire a young and dynamic digital agency website.
20. Heli- Digital Agency WordPress Themes
Heli comprises an inventive multipurpose WordPress theme, which is mainly black and white-oriented. You won't get anything more perfect than Heli if you wish to boast that look on your digital agency website.
The theme is equipped with more than 36 preset home pages, and an assembly of business and art-centric design elements to form an excellent digital agency website that is vibrant, plain, and also rare.
Its features include a fistful of demo contents, a live customizer, pre-built styles and designs, blog layouts, and an advanced portfolio, among others.
You will also get lightning load speeds, WPML compatibility, premium plugins, limitless color schemes, parallax effects, SEO optimization, and tons of fine improvements.
21. Zelle Pro- Digital Agency WordPress Themes
Zelle Pro (previously Zerif Pro) is considered among the finest single-page multipurpose WordPress themes for ingenious agencies. The theme includes plenty of downloads, and it's a top rating amongst its users.
To begin its features list, the theme arrives packaged with the Site Origin drag and drop page builder, live Customizer, backing for custom backgrounds, RTL compliance, mega menus, and a lot more. The theme is even WooCommerce compliant. Besides, you can build online carts and e-shops.
You will love Zelle Pro's hugely professional features and top-rated customer service offered by the theme and the developers.
22. Full Pane-Digital Agency WordPress Themes

Full Pane constitutes a multipurpose WordPress theme that has the capacity of designing stunning websites and is mainly employed by personal blogs or agency portals. If you are familiar with the Themify Parallax theme, have utilized the iPhone 5c, and love the JOBS movie site, then you can find FullPane pleasant.
The complete code of the theme is handwritten, with nothing being borrowed. You will discover the theme to effectively and smoothly blend with JavaScript, CSS3, and HTML 5 to offer your site a lively ambiance. You will also love the various layout options, the animation effects, and the numerous custom post types that accompany the theme.
A few of the focused features of the theme include Themify Builder, one-page and multipage demos, whole section scrolling, complete section gallery, custom menus, fly-in animations, RTL language support, animated bars, and plenty more.
Conclusion on Digital Agency WordPress Themes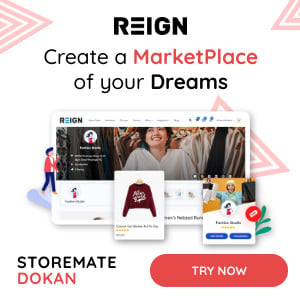 Fortunately, due to the brilliant collection of finest digital agency WordPress themes that you can conveniently set up in your website to render it suitable, professional, and WordPress dependable like any large brand. Besides, these themes won't burn a hole in your pocket.
---
Interesting Reads:
10 Leading Ecommerce Platforms Compared And Reviewed
15 Bookstore And Library WordPress Themes