Do you wish to customize the resume applications forms for your job website? Well, WP Job Manager plugin is here for you. It will allow you to customize the jobs of your website is whichever way to want to. Here, we are going to talk about a very popular add-on for WP Job Manager which is WordPress Job Manager integration, a product of Matador Jobs.
What is Matador Jobs?
Matador Jobs is a premium WordPress plugin that will allow you to integrate your WordPress website to the very powerful Bullhorn CRM subscription. The plugin is extremely useful for job websites. You will be able to publish different kinds of jobs and allow the candidates to apply for the jobs directly from your website. Matador Jobs also comes with a powerful feature to display, import, and organize your jobs for your clients. It has excellent Search Engine Optimisation features. Matador also comes with built-in support for Google job search.
Also Read: Best WooCommerce Apps For Your Online Store
What are the various features of Matador Jobs?
Imports Jobs from Bullhorn: Using Matador Jobs, you will easily be able to import the jobs to your job website from Bullhorn. Your users can even view the jobs when Bullhorn is offline.
Multiple Search Vectors: The users will be able to look for jobs by their title, salary, category, job description, region, and many more. In this way, the users will easily be able to narrow down their search by enabling categories.
Search Engine Optimisation: Each of the jobs comes with a unique URL. This will help in Search Engine Optimisation and increase the visibility of your website on popular platforms.
Data optimization for Google job search: All the jobs which will be visible on your website will be properly optimized. This will help the users to easily look for jobs of their choice. 
All Jobs Fields Supported: A number of different job fields will be provided to you. The plugin also supports Bullhorn custom job fields.
Add-on Plugins: you will be able to access all the useful add-ons and plugins. You will also be able to customize the data as per your choice.
Also Read: Car Repair WordPress Theme
How does Matador Jobs works?
Matador Jobs uses Bullhorn Rest API to make exact copies of jobs and categories that are created in Bullhorn. You will be provided with numerous templates using which you will be able to display the jobs on your website from Bullhorn. The plugin will handle all the applications which have been made on your WordPress website. The applications will automatically be synced to Bullhorn.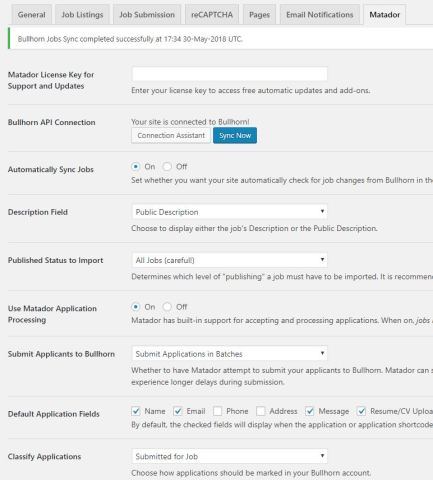 Also Read: Best WooCommerce Apps For Your Online Store
Why should you have WordPress Job Manager integration?
 Matador jobs also allow you to integrate with the WP Job Manager plugin. In this way, you will be able to get access to all the features of Matador jobs. The settings page will directly be integrated into the WPJM settings page. All the applications will also be integrated with WP Job Manager.
In this way, you can use Matador Jobs to make different types of customizations to your website. In case you have any queries regarding Matador Jobs, you must let us know of it.
Interesting Read:
BEST WORDPRESS MEMBERSHIP PLUGINS