Get the perfect design and customize your website, install CSS Live Editor plugins. Customization is a tough task and requires effort and time to be done with perfection. You can install the CSS live video editor plugin to create a different and unique website that matches your requirements and can boost your brand's image. CSS was the only option left for the web designers to perform edition but now the scenario has changed. At present, there are several CSS live editor plugins that are available allowing you to customize your website. Though few plugins require skills and knowledge regarding coding many do not require you to possess those skills at all. These plugins let you perform several actions on the front end of your website.
You will go through several CSS live editor WordPress plugins which you can install on your website to enjoy the benefits provided by them. These plugins let you customize the design. The most interesting feature or privilege you enjoy is to monitor the changes you have applied to your website instantly on the screen. You can also manage the controls on the front end and you can monitor changes the time you make.
BuddyPress Poll – CSS Adjustment with Thrive theme
These are some best CS live editor WordPress plugins 2022:
1. CSS Hero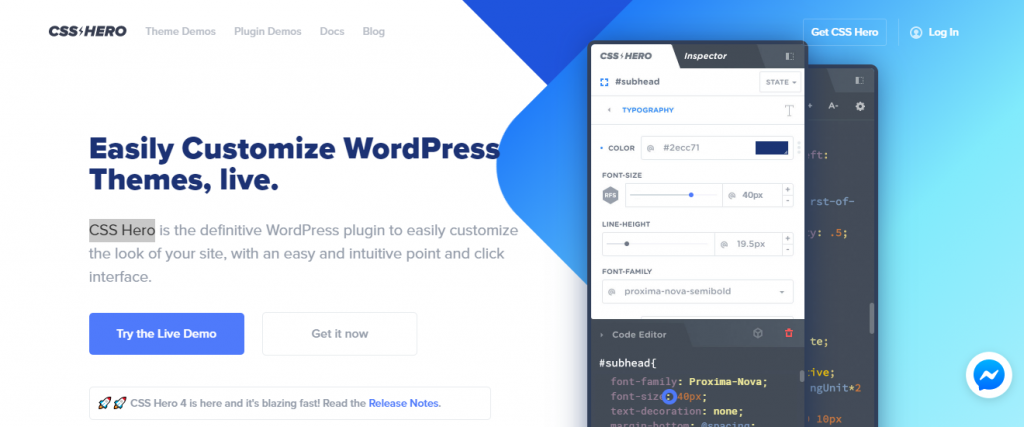 This plugin has a premium version available enabling customization of each aspect of your theme's design. It uses click interface working on the front end of your website. If you lack coding skills so don't worry as you can use this plugin to change the design of your website. CSS hero has few but some outstanding features. The first one is that It can save all your changes or edits and can undo your work instantly. So no need to worry about the mistakes you have committed as it can reverse the action instantly letting you start fresh.
2. Yellow Pencil
Falls into the category of visual CSS style editor and is a plugin that does not require coding skills at all. You can use a CSS editor which is pre-built if you are willing to edit the stylesheets using your hands. It works perfectly on the front end and allows you to watch and work on your website instantly. It lets you customize several elements on any kind of plugin and theme. This free yellow pencil plugin allows you to edit the theme within a couple of minutes and also lets your reframe the design of your website.
3. TJ Custom CSS
It is a creation by Theme Junkie and is free plugin letting you customize your website on the front end. It demands coding skills and is an edition for people having accurate knowledge about coding. It shouldn't be installed by those who lack coding skills as you won't be able to operate it further. With the help of a CSS manager, it adds the custom CSS to your website. You can access it using your dashboard at any time. Install this free plugin now.
<h5″>Download Plugin Now
Top Effective Blog Monetization Tips
4. SiteOrigin CSS
It is an ultimate CSS editor WordPress plugin that comes free and is developed by SiteOrigin. It has great compatibility with almost every WordPress theme and it lets you choose the tools for catering to the needs of the users irrespective of their coding skills. If you are a beginner and looking for a visual editor, you hit the right spot. Easy controls allow you to easily pick styles, colors and make changes to the settings. You won't have to be a coding junkie to use this plugin. You can instantly make changes that are a few clicks away.
5. Microthemer
It is a premium CSSeditor WordPress plugin which is powerful and automatically customizes the look of every WordPress theme or plugin. It is not a heavy plugin slowing down your website performance. Both beginners and skilled people can use this plugin to change the elements such as colors, fonts and site layouts. The live preview mode facility is provided for the developers and can also perform coding in CSS, javascript and even manually do their task. You can easily switch to the draft mode to work and can also test a new design for your website. There are several styling options that you can use without bothering your website appearance and customer experience.
Look after these qualities before installing a CSS editor WordPress plugin on your website:
search depends upon your coding skills and knowledge regarding CSS If you are a beginner and looking for easy to use plugins, install free plugins listed above. Look after the customization menu before making a decision. Developers usually seek such plugin which allows them to manually enter code or edit them.
Compatible with every WordPress themes and plugins
Do you get any pre-installed designs
A feature like draft mode is available or not
CSS3 Responsive: WordPress Plugin for Pricing Tables
Final thoughts
Always try to match your requirements with any sort of plugin or software before making a decision. You may end up being confused about the functionality if you skip this part. Never decide instantly and read the information regarding the plugin before installing it. You can grab better opportunities if you wait patiently and then decide. Try to act professionally as it is a matter of your brand's image. You can end up ruining your website image if you believe in what you read. Always read first and then try. This way, you can have a better idea about the functionality and uses of any such plugin.