Are you looking for the best premium WordPress themes for your website? When starting your blog, choosing a suitable theme is very significant for you. There are thousands of WordPress themes available, but choosing the right one for your site can be overwhelming. It is necessary for you to pick the right one better!
During the process of choosing a theme, you will have to decide between free WordPress themes vs premium WordPress themes. Often users suffer which one is better and what's our selection process when choosing a premium WordPress theme.
In this article, I'll guide you to the best premium theme that must buy for your website. By the end, you will be very clear about which theme you must keep and which you must discard.
Free WordPress Theme Vs Premium WordPress Theme
Following ways why Premium Themes are best –
It provides good documentation, good support, and regular updates to your website
Through the premium theme, you can get guaranteed support, while in the free theme you are not guaranteed to get support or updates.
The premium theme gives better enhancement than a free theme.
Premium themes make your website more unique because free themes are being used by everyone.
So, you go with a free theme or buy a premium theme? choice is yours
What features do you want?
If you want awesome features on your website to make your website look attractive. Want landing page template and mobile responsiveness then the premium theme is the best option to buy. Every feature has its own role. But there are several other features that you can add to your website for better enhancement.
Some of the features like the advanced search bar, templates, designs, image sliders, and much more are most important for your business to grow and present it in a most appealing way for the users.
1. Modern Design
You are using any free theme for a long time. Your users have become habitual to your boring theme since it is a free theme you don't get the option to update which results in instant decrease in the viewability of your website.
That's why you need to choose an aesthetically pleasing theme that can be used for a long time without requiring major changes.
There are some aspects of design that are used by all good designers to create beautiful websites are Good Color Combinations, Awesome Typography, Clean Layout, and Beautiful Images.
Most premium themes come with unlimited color choices and built-in tools to select fonts. You need to make sure that your premium WordPress theme uses better typography out of the box.
In premium themes, you get plenty of page templates and layouts to use.
2. Security and Performance
When it comes to security and performance no one takes risks.
Most of the newbie WordPress beginners lags behind in terms of speed and security, even if they chose a premium theme for their website. Because they don't know how to use codes behind the premium theme. To understand the work process of the premium theme you need to –
First, you need to buy your premium themes from trusted and well-reputed WordPress theme shops. Some of the theme shops that we trust and recommend are Themify, Elegant Themes, StudioPress, ThemesFuse, ArrayThemes
Secondly, you need to look around for reviews and customer testimonials. See who else is using themes developed by that particular theme shop or developer. Are there any big websites or blogs using their themes? Check out the testimonials page on the theme shop or search for their reviews on Google. Now let's discuss some best premium WordPress themes.
Now Let's Discuss Some Best Premium WordPress Theme
1. Reign Theme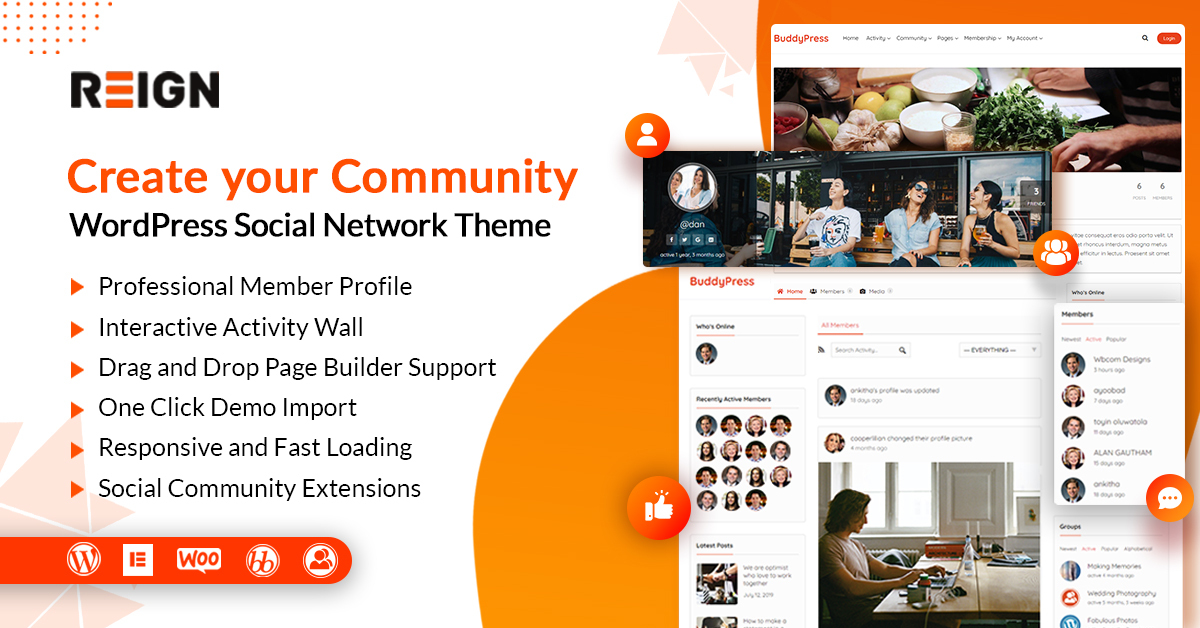 Reign theme is a popular multipurpose Premium WordPress theme. It has an elegant design that can help you create any website with WordPress. This theme supports popular plugins, including WooCommerce, Elementor page builder, bbPress and more. The drag-and-drop tool makes it easy to create and design custom layouts for the pages of your WordPress website, including the homepage.
Reign comes with multiple members or group directory layouts. This helps you to choose the right layout for your community website depending upon the type of community you are running. With just a few clicks a different layout is ready to use. It is fully responsive and mobile-friendly.
2. BuddyX Pro
BuddyX Pro is the most powerful and responsive Premium WordPress theme, which is developed to create all kinds of websites with social features like Social marketplace and social learning websites. It is a multipurpose WordPress theme. This theme is designed with attractive header styles that make your site look more interactive. You can try various header designs and select the best one for your community website.
BuddyX Pro theme provides attractive header styles that make your site look more interactive. BuddyX Pro works with the most popular plugins, including WooCommerce, bbPress, WC Vendors, LearnDash, BuddyPress, and Elementor page builder, to ensure maximum compatibility with any tools you want to add to your site.

3. StudioPress Themes
Studiopress themes combine bank-grade security with stunning looks and flexibility. They are recommended as the most trustworthy for your blogs. They even have many awesome child themes, so you can be sure of finding one that meets your taste. These themes give a fantastic look they give my blogs. They provide a complete look and feel for your website, And most important they are within your budget; you don't need to empty your pocket. I recommend you should go with Studiopress themes. Read through the features of any of the themes you're considering buying before you make a purchase.
4. WPLauncher
This amazing-looking theme is the best premium theme to make your website look awesome. WpLauncher is a free premium WordPress theme, that is simple with a single purpose: to provide an attractive, customizable domain parking theme for WordPress users. This theme proves a great solution for WordPress users who already own their site.
After Selecting the Perfect Premium WordPress Theme
Install a premium WordPress theme
So, go ahead and make it the envy of others.
Congrats, now you know how to choose the best premium WordPress themes for your blog. I hope this article is quite informative and you get the idea which theme is best for you.
5. AwpBusinessPress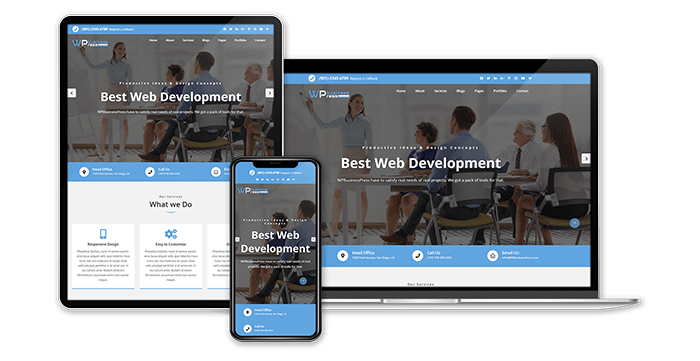 A responsive and fully customizable WordPress theme to create beautiful business websites. The advanced admin panel will allow you to customize your website without having any technical knowledge. This theme is lightweight and can load your content very fast. You can create almost any type of website like business, blog, portfolio, news, magazine, corporate, agency, etc. AwpBusinessPress is also RTL & translation ready and compatible with all popular WordPress plugins like Elementor, Yoast SEO, Jetpack, Contact Form 7, etc. This WordPress theme gives you everything required for your business to shine online.
Interesting Reads:
How To Create An Online Resume Using WordPress – Elegant Themes